How to make ornaments to decorate this Christmas. 🎄 Do it at home. Tutorial.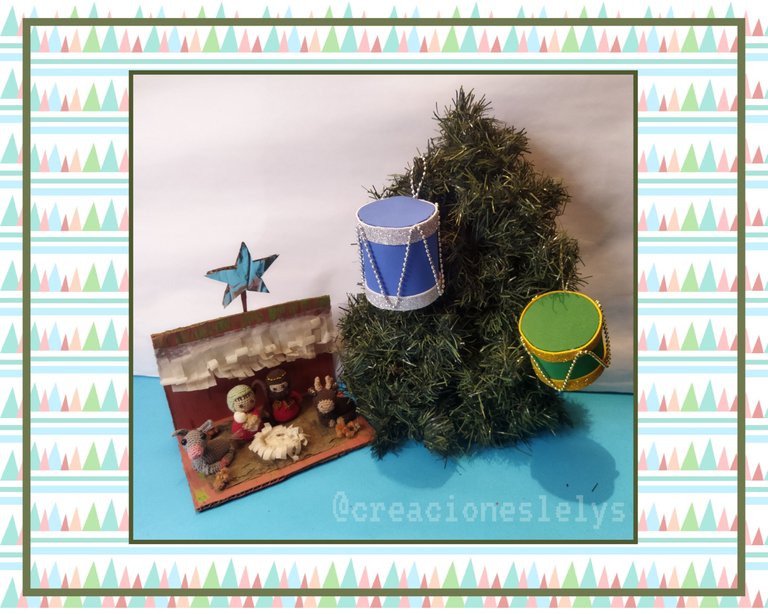 Hola amigos, espero que estén muy bien hoy. Falta poco para iniciar las fiestas de navidad 🎄 en Venezuela y en muchas partes del mundo 🤶 es por ello que en la mayoría de los hogares se procura crear un ambiente propicio para estas fechas. Decorar la casa con adornos alusivos a la navidad es tradición en todas las casas de mi país, hasta el que menos piensa hacerlo de alguna manera lo ha hecho planificado o no. Mi publicación estará dedicada a todos aquellos que aún no se animan a recibir el espíritu de la navidad, invitándolos a abrir su corazón ❤️ para que este espíritu les permita conocer y sentir más al respecto.

En los árboles de navidad solemos colocar variados adornos, todos alusivos a la llegada del niño Dios. Es en el pie del árbol que el Niño Jesús deja los regalos 🎁 por ello debemos esmerarnos en su decoración. Todos los años hay nuevas tendencias, sin embargo prevalece el uso de los colores, plateado, dorado, verde y azul, cada uno con su simbología y significado según las creencias cristianas.
Para mi creación de hoy utilicé los siguientes materiales: un rollo de cartón, tijeras, lápiz, regla, foami liso y escarchado, pegamento, cuentas corridas e hilo dorado.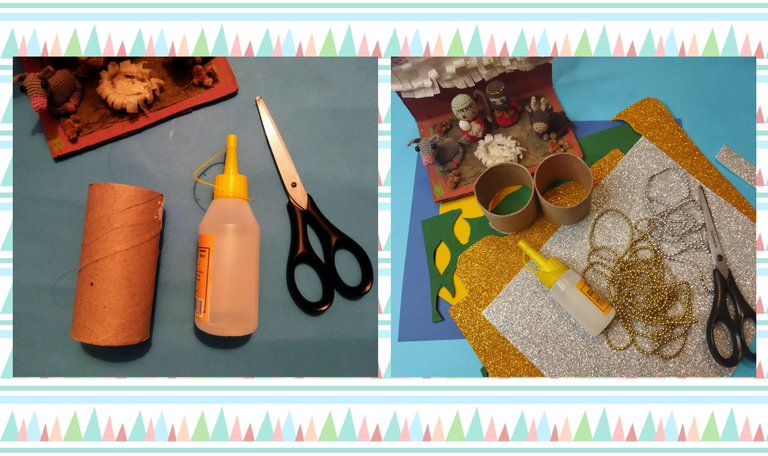 Realicé un modelo muy bonito para tambores de navidad. Estos suelen encontrarse a precios muy elevados en los comercios. Los he visto elaborados en colores rojo y azul. Yo elegí hacerlos en color verde y azul, combinados con dorado y plateado.
🤶 Empecé cortando el rollo casi a la mitad. Me quedó un trozo de 5 cm y otro de 4,50 cm.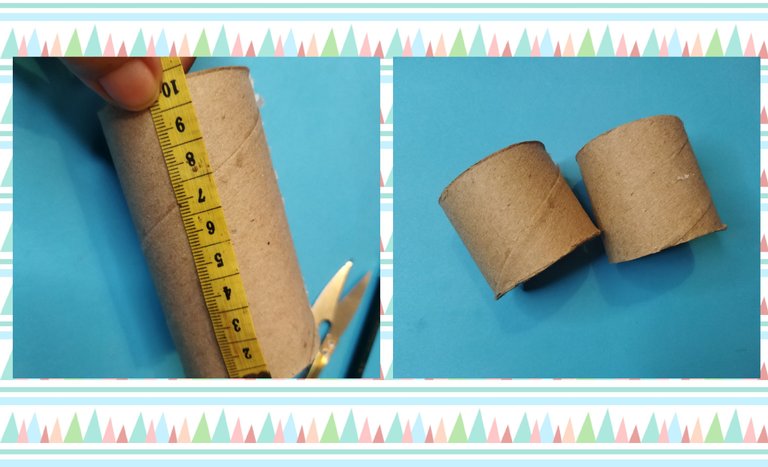 🤶 Para forrar el rollo más grande usé el foami azul. Medí 6 cm de ancho y 16 cm de largo. Corté y con este listón cubrí el rollo usando pegamento. Igualmente usé foami azul para hacer ambas tapas del tambor. Tomé las medidas marcando con un lápiz sobre el foami. Después corté y pegué cada tapa en el lugar correspondiente.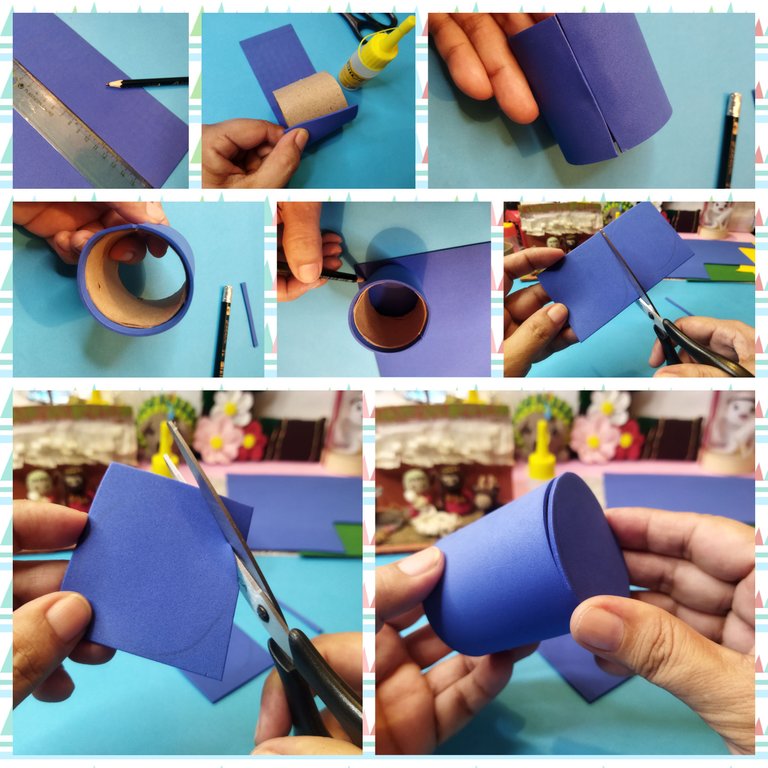 🤶 Con el foami en color verde repetí el proceso en el otro rollo. En este la medida del foami fue exacta. Procedí a cortar y forrar hasta cubrir por completo y hacer también las tapas del tambor. Esta vez no marqué con lápiz sobre el foami sino que de una vez pegué en el rollo y luego corté todo el sobrante.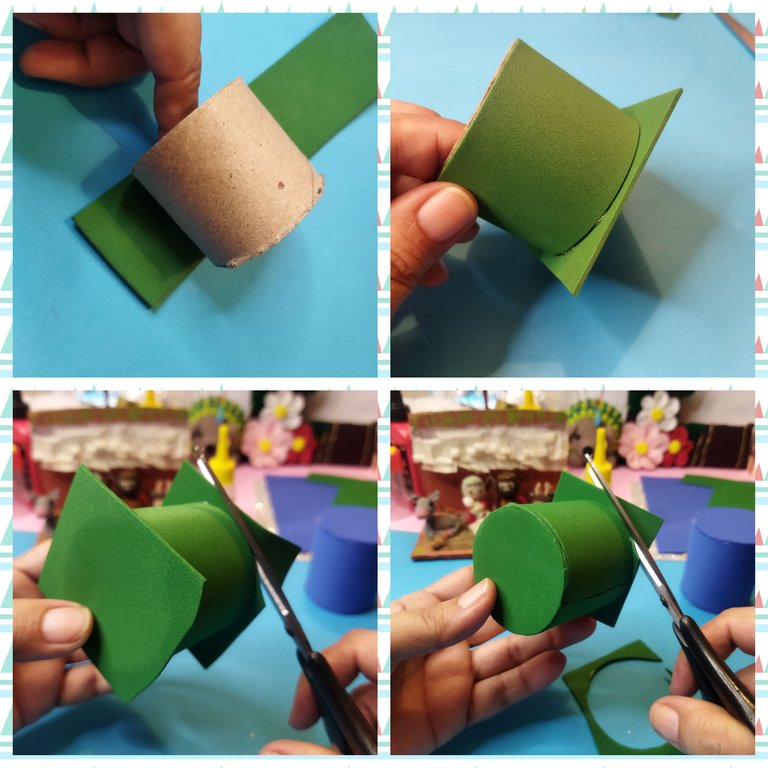 Teniendo ya forrados los rollos me di cuenta que el de tamaño más pequeño se ve más bonito, al menos me gusta más.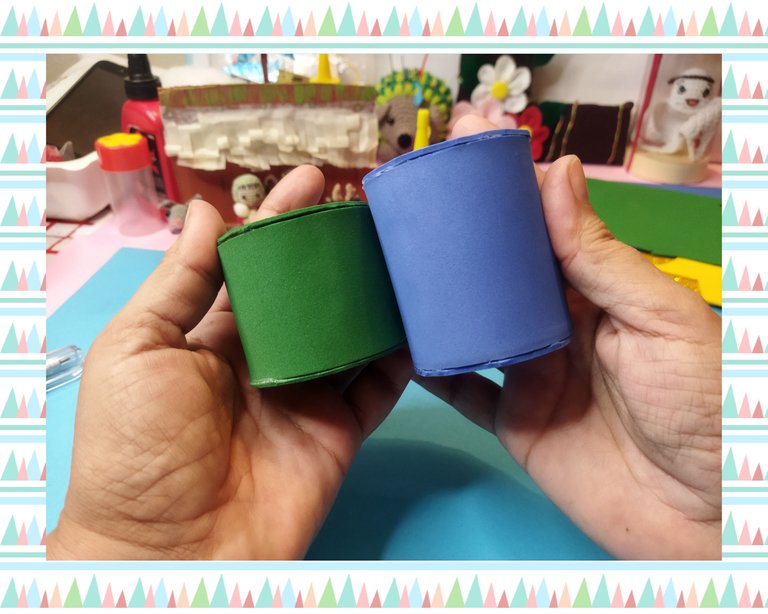 🤶 Para ambos tambores usé la mismas medidas en el listón para decorarlos. Medí y corté dos listones de 1 cm por 16 cm en foami escarchado color dorado y dos en color plateado. No cabe duda que la Navidad es brillo, todo cambia con la iluminación de los adornos brillantes.
🤶 Coloqué dos listones en cada tambor, uno arriba y otro abajo. Para fijar los listones usé pegamento.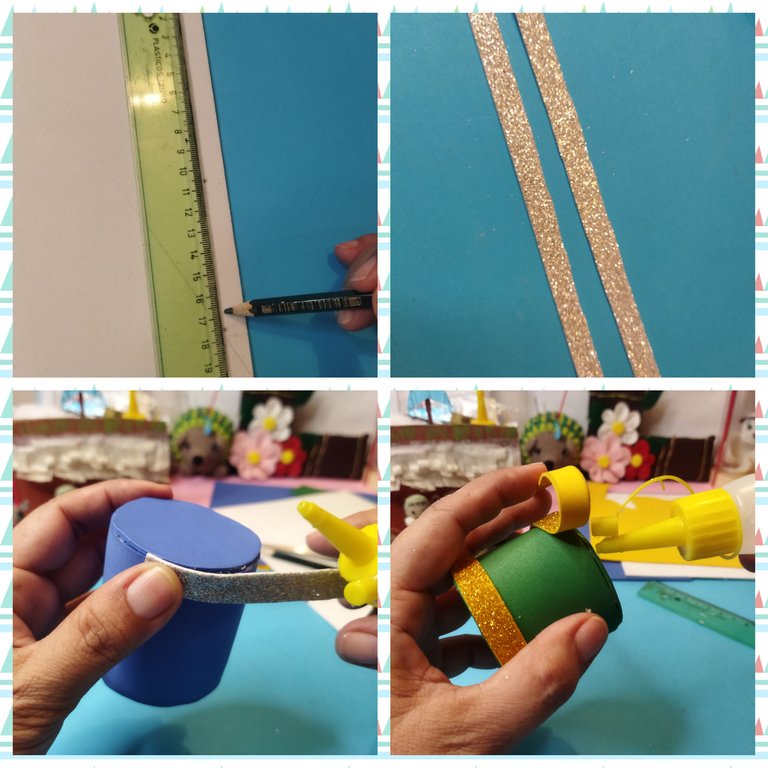 Ya se ven bonitos los tambores. Hace tiempo que no los hacía. Cuando mis hijos estaban pequeños yo hacía casi todos los adornos para nuestro árbol. Nunca tuve un árbol decorado con la tendencia del año, yo colocaba en él luces, bolas de fibra de vidrio de variados colores y todo lo que podíamos hacer ese año. Incluso tarjetas, dibujos de mis hijos y más. Nos encantaba revisar todos los días para encontrar un adorno nuevo.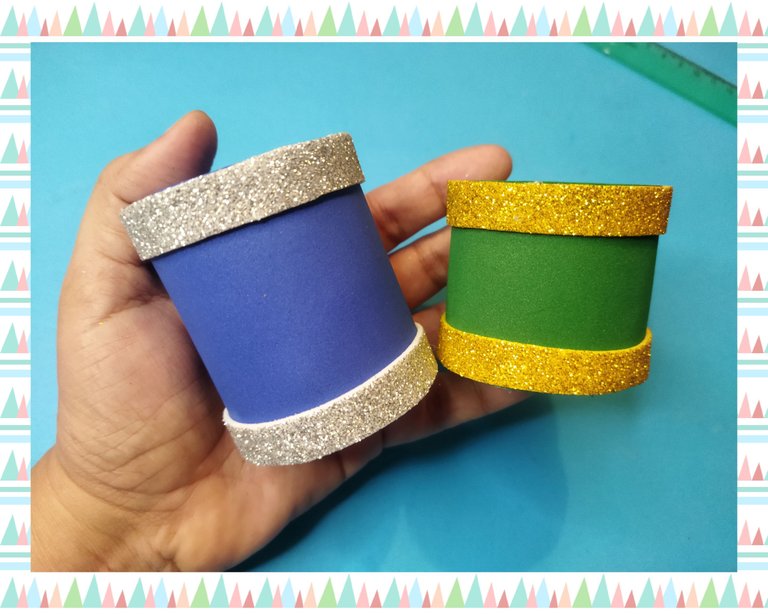 🤶 Estos tambores llevan en la decoración cuentas corridas, también podemos hacer estas líneas con cintas o con el mismo foami, depende de los materiales que tengas en casa. Se empieza desde donde se encuentran las orillas del foami. Iremos formando triángulos por todo el tambor hasta llegar al punto donde comenzamos.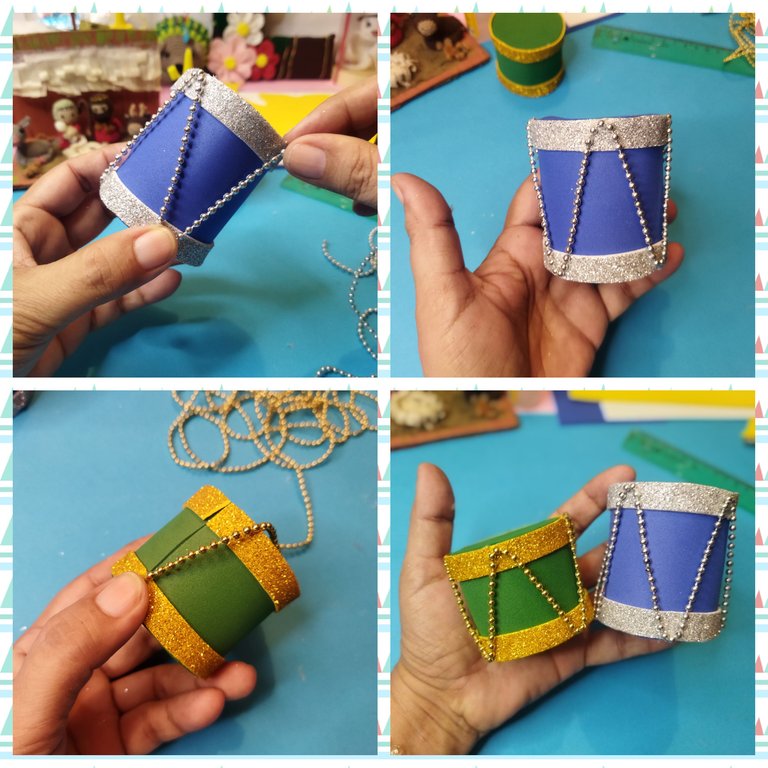 Así se ven los tambores terminados. Si es tu gusto puedes colocar círculos pequeños de foami en color amarillo en cada punto donde pegaste la cuenta corrida. A mi me gustó más así. Ya ven es un proyecto sencillo. Si aún no has hecho los adornos para tu árbol aquí tienes una excelente opción. ¡Luces y acción! Empieza a trabajar 🤶🎄🙋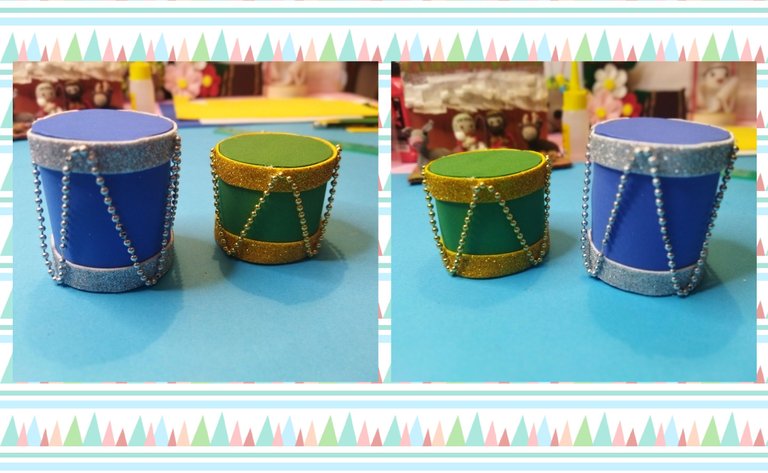 Todas las fotos son de mi propiedad. Edité con Polish. Usé el traductor de Deelp. Gracias por apoyar este contenido. Hasta pronto.
🎄🤶🎄🤶🎄🤶🎄🤶🎄🤶🎄🤶🎄🤶🎄🤶🎄
English.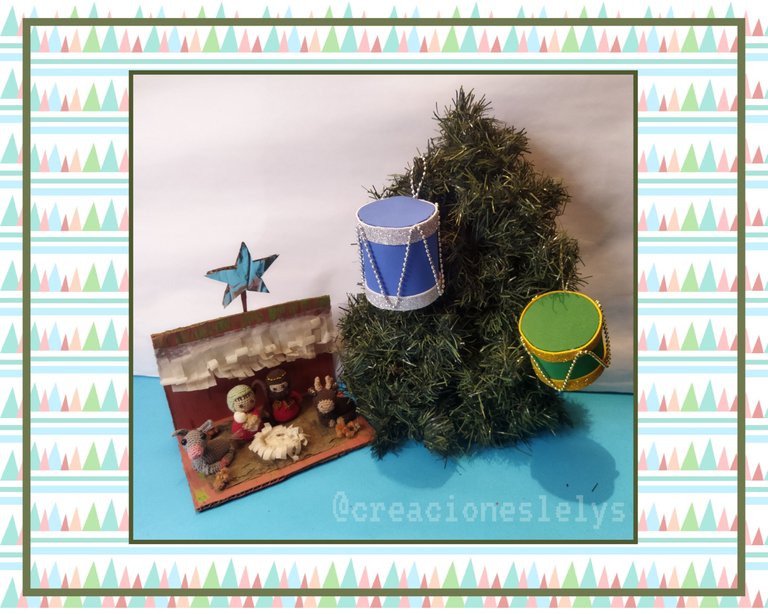 Hello friends, I hope you are very well today. It's not long to start the Christmas holidays 🎄 in Venezuela and in many parts of the world 🤶 that's why in most homes we try to create an atmosphere conducive to these dates. Decorating the house with Christmas decorations is a tradition in all the houses of my country, even the one who least thinks of doing it somehow has done it planned or not. My publication will be dedicated to all those who are not yet encouraged to receive the spirit of Christmas, inviting them to open their hearts ❤️ so that this spirit allows them to know and feel more about it.

On Christmas trees we usually place various ornaments, all allusive to the arrival of the Christ child. It is at the foot of the tree that the Baby Jesus leaves the gifts 🎁 that is why we must take great care in decorating it. Every year there are new trends, however prevails the use of colors, silver, gold, green and blue, each with its symbolism and meaning according to Christian beliefs.
For today's creation I used the following materials: a cardboard roll, scissors, pencil, ruler, plain and frosted foami, glue, beads and golden thread.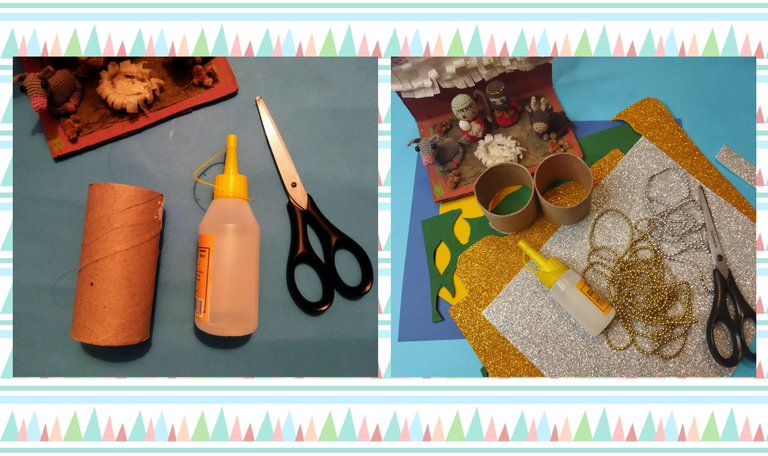 I made a very nice model for Christmas drums. These are usually found at very high prices in stores. I have seen them made in red and blue. I chose to make them in green and blue, combined with gold and silver.
🤶 I started by cutting the roll almost in half. I was left with a piece of 5 cm and another of 4,50 cm.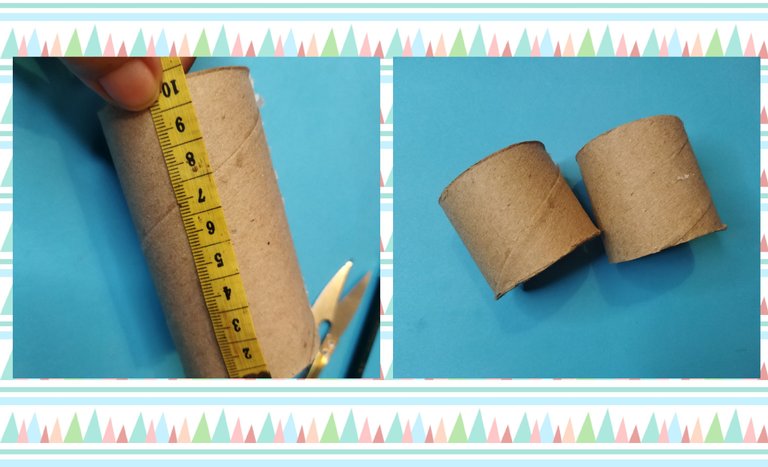 🤶 To line the larger roll I used the blue foami. I measured 6 cm wide and 16 cm long. I cut and with this ribbon I covered the roll using glue. I also used blue foami to make both drum lids. I took the measurements by marking with a pencil on the foami. Then I cut and glued each lid in the corresponding place.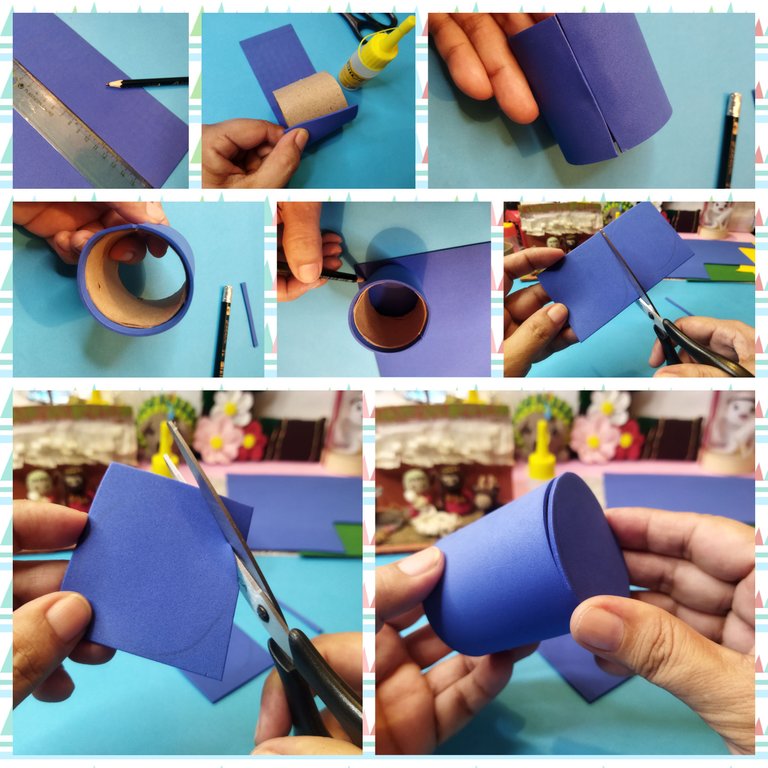 🤶 With the foami in green color I repeated the process on the other roll. In this one the measurement of the foami was exact. I proceeded to cut and line until completely covered and also made the drum lids. This time I didn't mark with pencil on the foami but glued it all at once on the roll and then cut off all the excess.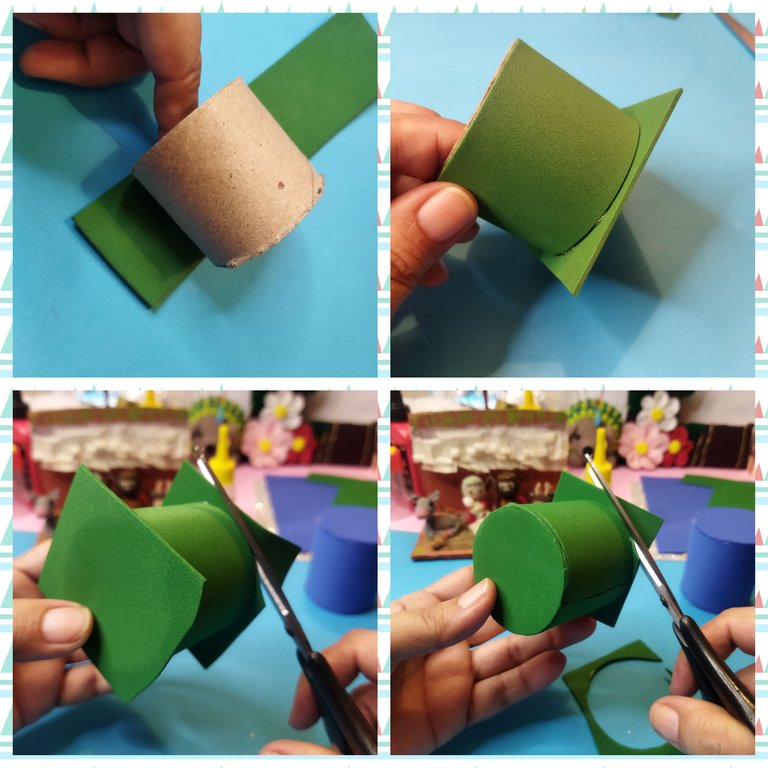 Having already lined the rolls I realized that the smaller size one looks nicer, at least I like it better.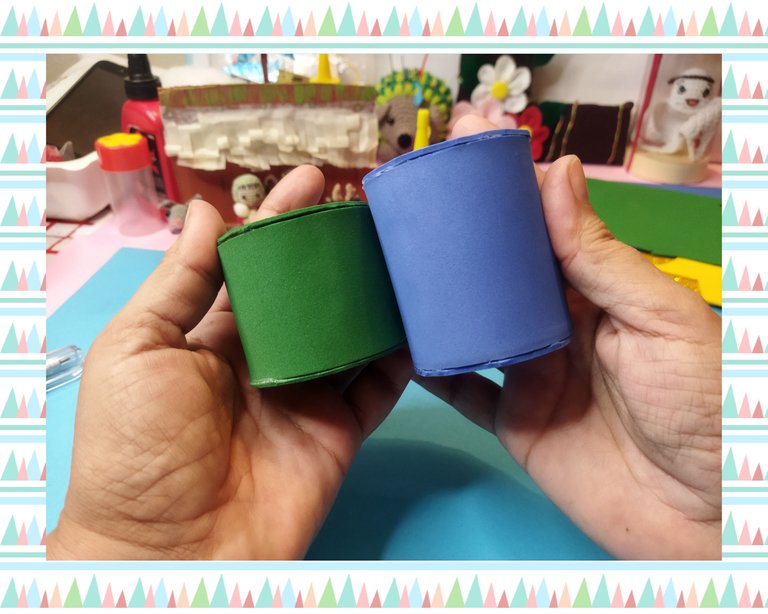 🤶 For both drums I used the same measurements on the ribbon to decorate them. I measured and cut two 1 cm by 16 cm ribbons in gold color frosted foami and two in silver color. There is no doubt that Christmas is glitter, everything changes with the illumination of shiny ornaments.
🤶 I placed two ribbons on each drum, one at the top and one at the bottom. To attach the ribbons I used glue.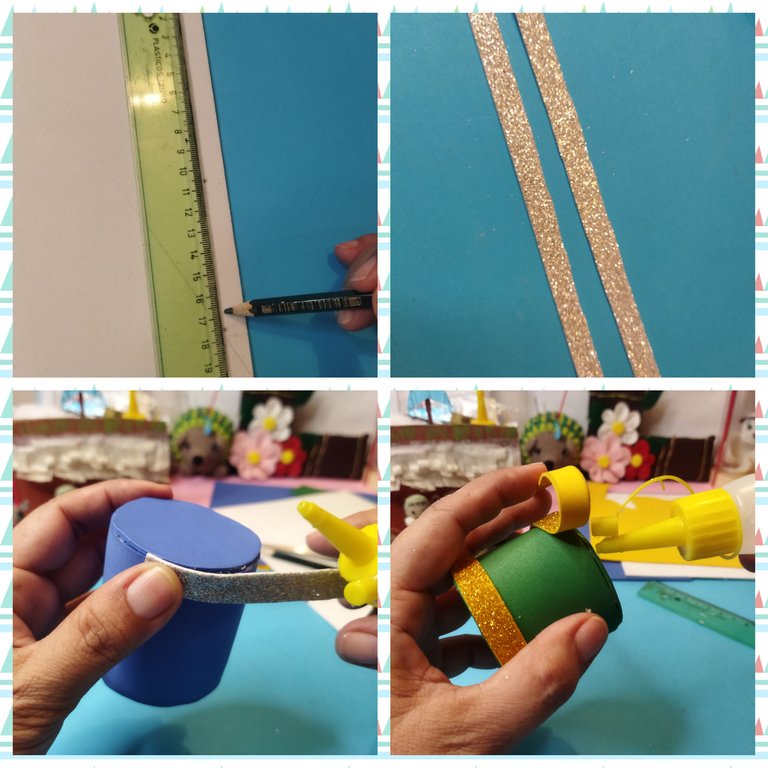 The drums already look nice. I haven't made them in a while. When my kids were little I made almost all the ornaments for our tree. I never had a tree decorated with the trend of the year, I would put lights on it, fiberglass balls of assorted colors and anything else we could make that year. Even cards, pictures of my kids and more. We loved checking every day to find a new ornament.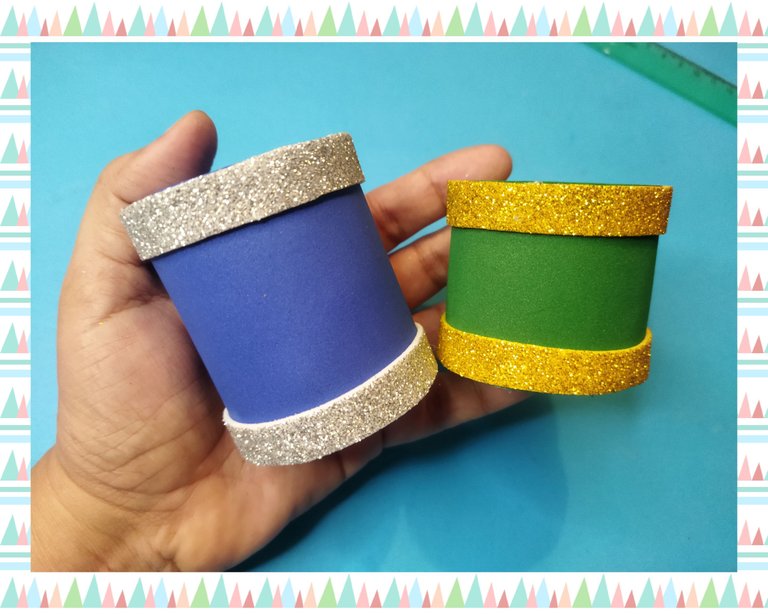 🤶 These drums are decorated with running beads, we can also make these lines with ribbons or with the same foami, depending on the materials you have at home. You start from where the edges of the foami are. We will go forming triangles all over the drum until we get to the point where we started.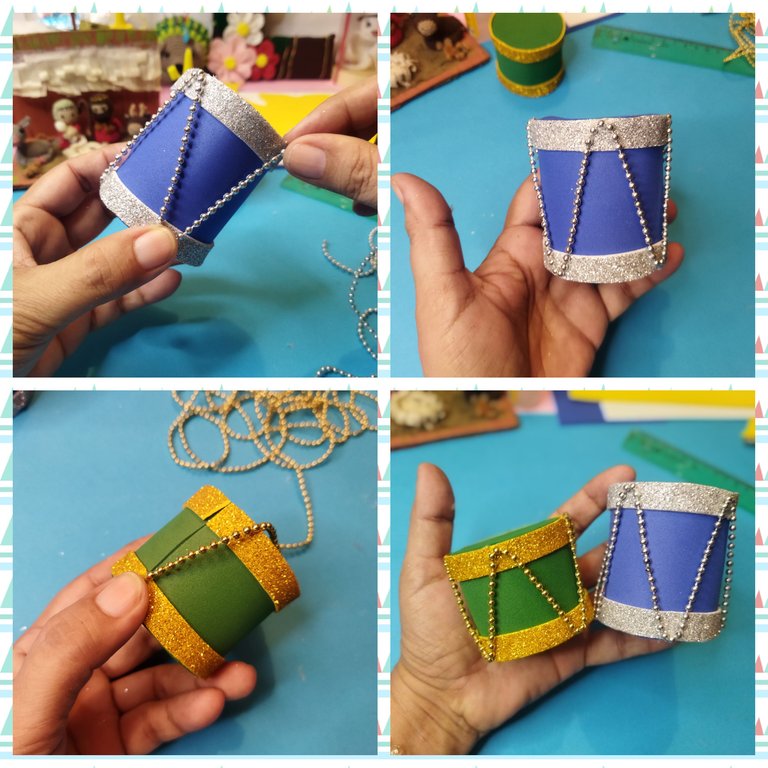 This is how the finished drums look like. If you like you can place small circles of yellow foami at each point where you glued the running bead. I liked it better this way. As you can see it is a simple project. If you haven't made the ornaments for your tree yet here's a great option. lights and action! Get started 🤶🎄🙋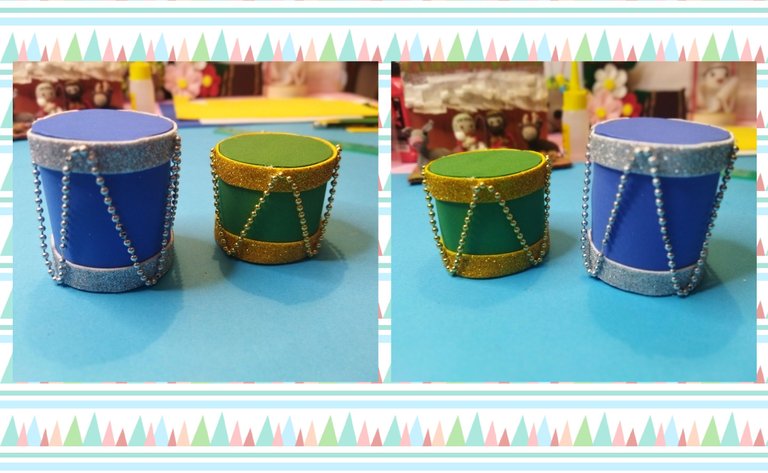 All photos are my property. I edited with Polish. I used Deelp translator. Thanks for supporting this content. See you soon.
---
---