PortaNotas para mamá./Note holder for mom.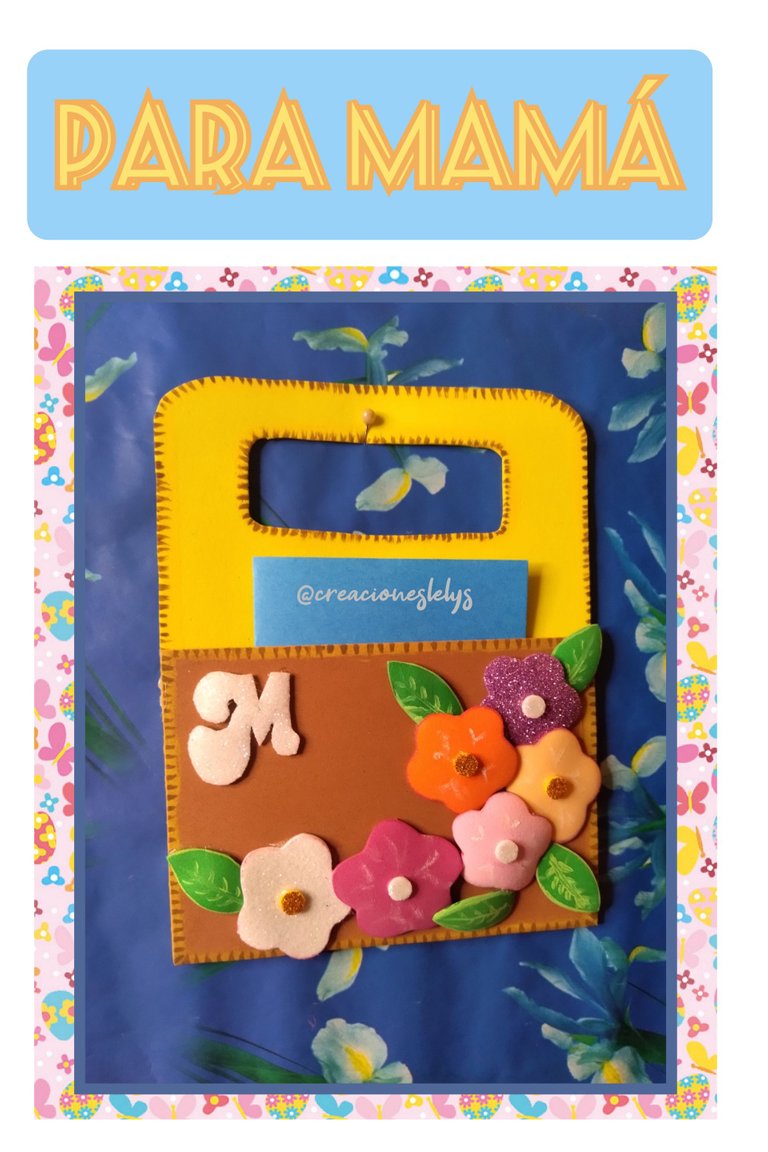 PortaNotas para mamá./Note holder for mom.
Hola amigos míos, espero que estén bien. El día de hoy quiero presentarles un proyecto muy bonito que elaboré en ocasión de celebrarse este mes el día de las Madres, claro que sí, las madres merecen tener no solo un día especial sino todo el mes, todo el año y toda la vida. Vamos a homenajearlas regalándoles un bello PortaNotas muy original y colorido.
Hello my friends, I hope you are well. Today I want to present a very nice project that I made to celebrate Mother's Day this month, of course, mothers deserve to have not only a special day but the whole month, the whole year and their whole lives. We are going to honor them by giving them a beautiful, very original and colorful Note Holder.

Me dediqué a realizar varios proyectos en estos días con la finalidad de mostrarles la variedad de regalos que podemos hacer para mamá. Es posible que en el momento no contemos con los recursos monetarios para salir a comprar obsequios para las madres que nos rodean, entonces tenemos la opción de hacerlos nosotros mismos. No desaprovechen la oportunidad de transmitir todo sus sentimientos hacia los seres más relevantes de la humanidad, las madres merecen ser festejadas siempre.
I dedicated myself to carrying out several projects these days in order to show you the variety of gifts we can make for mom. It is possible that at the moment we do not have the monetary resources to go out and buy gifts for the mothers around us, so we have the option of making them ourselves. Do not miss the opportunity to convey all your feelings towards the most relevant beings of humanity, mothers always deserve to be celebrated.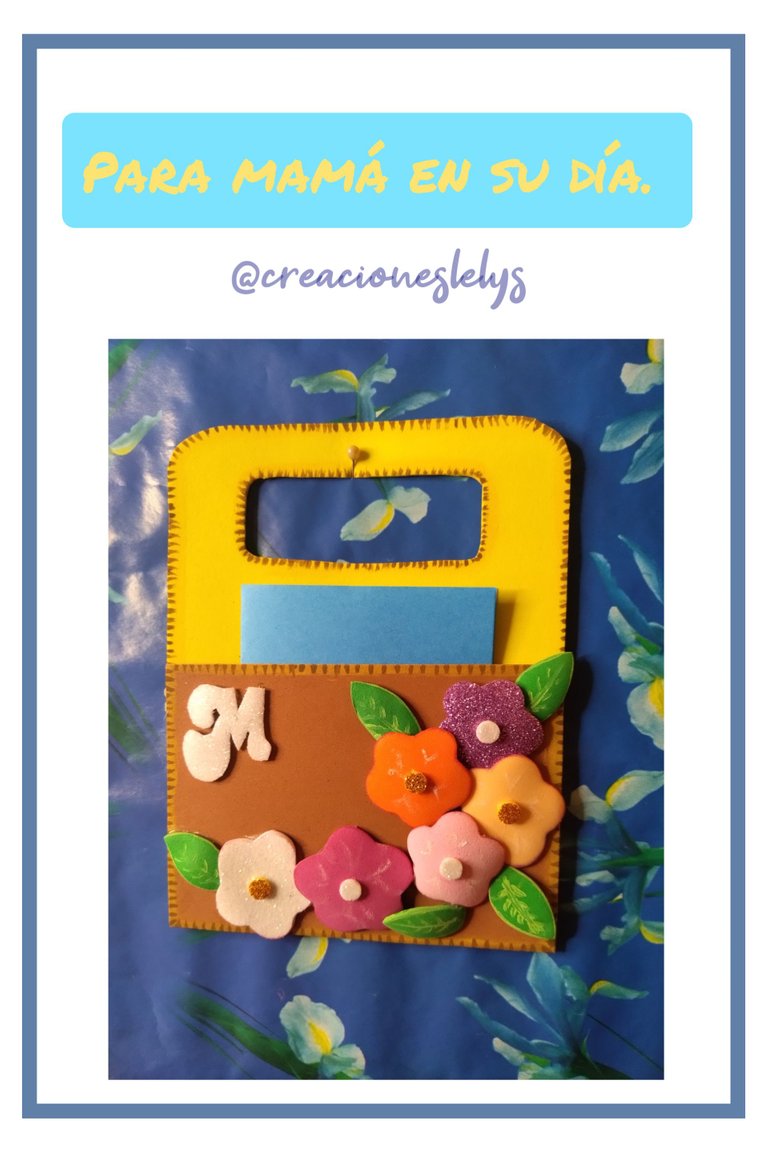 PortaNotas para mamá.
Note Holder for mom.
📝 Para realizar este proyecto usé muy poco materiales:
Foami liso y escarchado.
Pegamento.
Pintura al frío.
Pinceles.
Regla.
Lápiz de grafito.
Plancha de cabello.
📝 To carry out this project I used very few materials:
Smooth and frosty foami.
Glue.
Cold paint.
Brushes.
Ruler.
Graphite pencil.
Hair iron.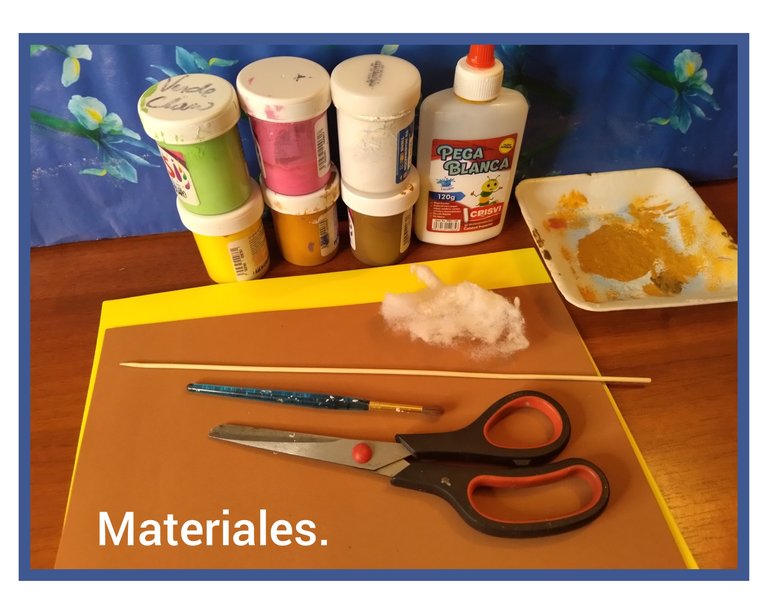 📝 El procedimiento es bastante sencillo:
Primero elegí los colores en foami para hacer el PortaNotas.
Medí y corté dos piezas de diferentes colores. Una será la base del PortaNotas y la otra será el bolsillo donde estarán las notas.
Ustedes pueden variar las medidas de acuerdo al tamaño que deseen su PortaNotas.
A estas dos piezas les pinté un borde con pintura al frío amarillo, este paso lo puedes hacer pasando el dedo con pintura por la pieza de foami o también usando un pincel.
También le dibujé unas rayitas por todo el borde, usé pintura al frío color marrón y un pincel de celdas muy finas.
📝 The procedure is quite simple:
First I chose the colors in foami to make the Note Holder.
I measured and cut two pieces of different colors. One will be the base of the Note Holder and the other will be the pocket where the notes will be.
You can vary the measurements according to the size you want your Note Holder.
To these two pieces I painted an edge with yellow cold paint, you can do this step by passing your finger with paint through the foam piece or also using a brush.
I also drew some lines around the edge, I used cold brown paint and a very fine cell brush.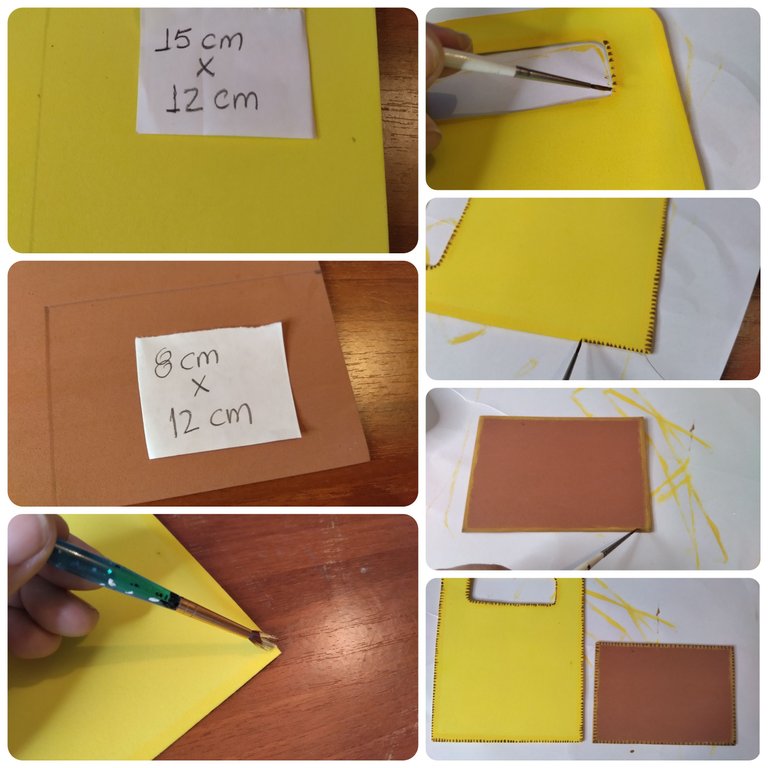 Usando restos de foami de otros proyectos realicé flores de varios colores. Me ayudé con un molde en forma de flores (la tapa de un frasco de palillos) También hice algunas hojitas con foami verde. Les dibujé un borde a todas las piezas, también las termoformé para dar volumen. Termoformar es aplicar calor al foami para que al ablandar podamos darle la forma que queramos.
Using foami remains from other projects I made flowers of various colors. I helped myself with a mold in the shape of flowers (the lid of a toothpick jar) I also made some leaves with green foami. I drew an edge to all the pieces, I also thermoformed them to give volume. Thermoforming is applying heat to the foam so that when it softens we can give it the shape we want.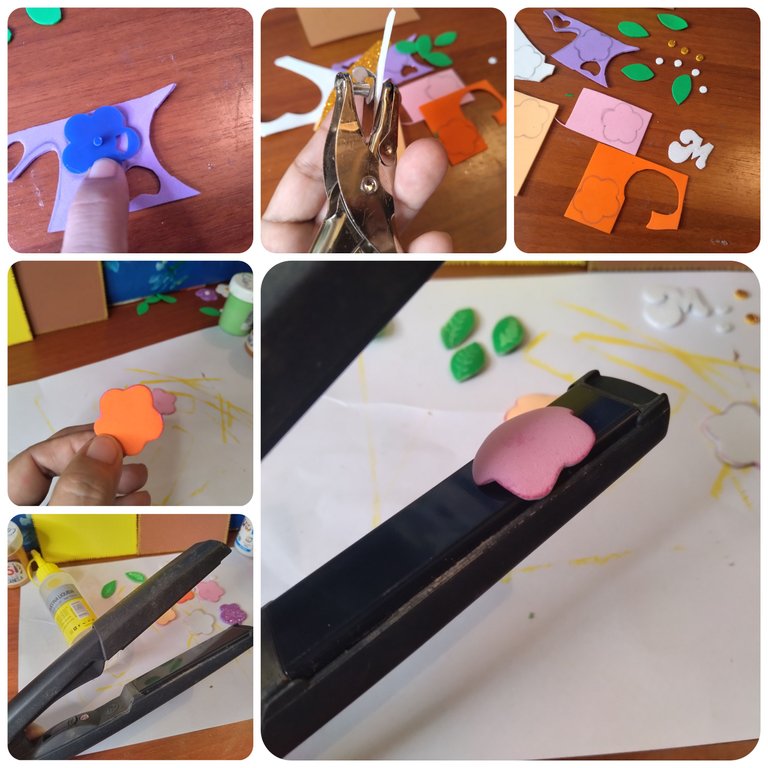 Decidí colocar en el PortaNotas la inicial de la palabra mamá. Dibujé sobre foami escarchado color blanco la letra M, la recorté y termoformé con la plancha.
I decided to place the initial of the word mom on the Note Holder. I drew the letter M on white frosted foam, cut it out and thermoformed with the iron.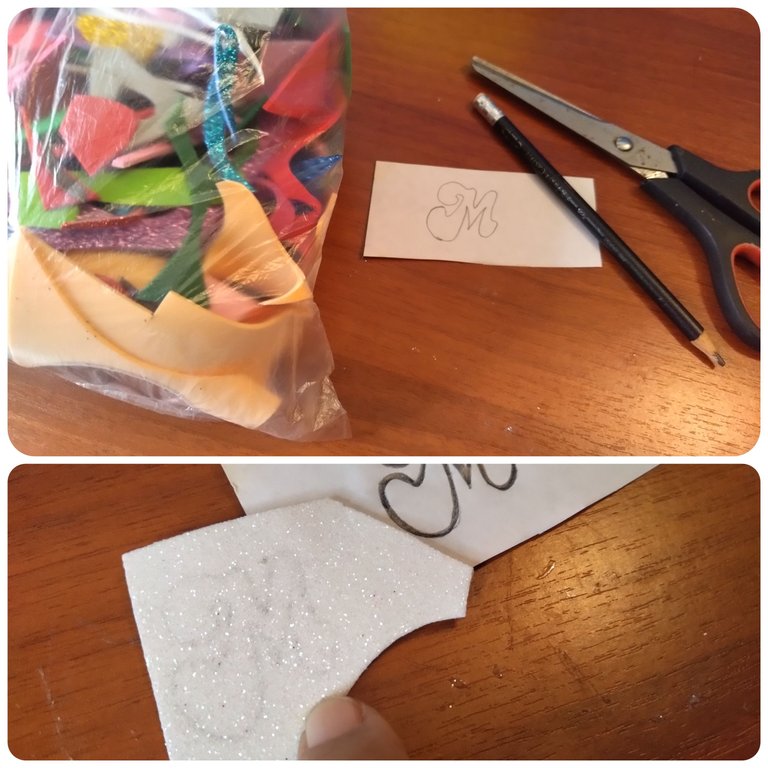 Una vez listas todas las partes procedí a unirlas. Empecé pegando el rectángulo marrón sobre el foami amarillo, solo coloqué pega en los laterales. Como pueden ver al foami amarillo del realicé un hueco que servirá de manilla o agarre.
Seguidamente organicé las flores y las hojas sobre el portanotas, coloqué pegamento en cada una de estas piezas y las fijé tal cual como pueden verlas. También pegué la letra. ¿Cómo lo ven? A mi me encanta como quedó.
Once all the parts are ready I proceeded to join them. I started by gluing the brown rectangle on the yellow foam, I only glued it on the sides. As you can see, I made a hole in the yellow foami that will serve as a handle or grip. * Next I organized the flowers and leaves on the note holder, I placed glue on each of these pieces and fixed them as you can see them. I also pasted the lyrics. How do you see it? I love how it turned out.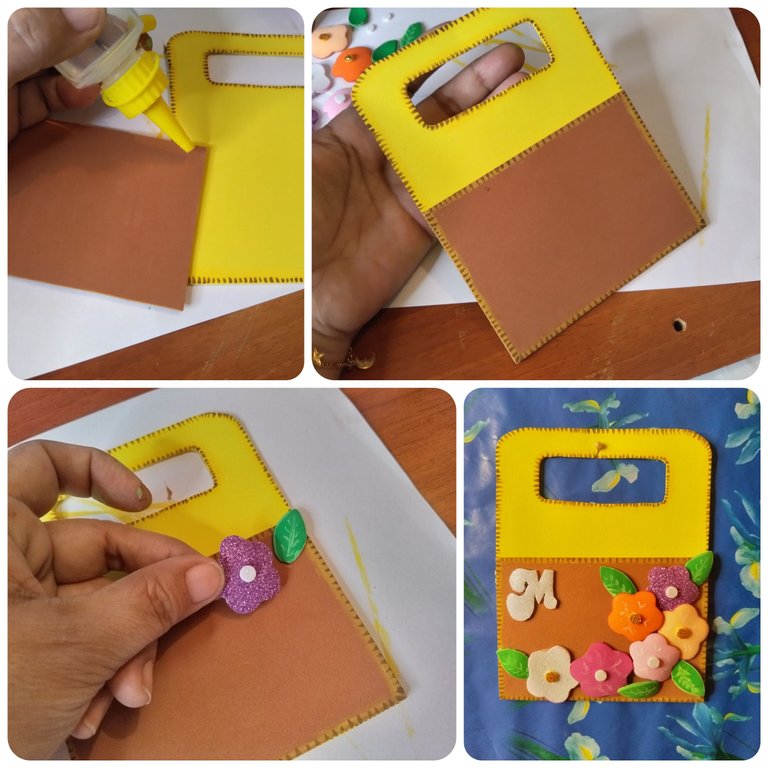 Muchísimas gracias por su apoyo 😊 espero que les haya gustado esta manualidad y que se animen a realizarla. Es un lindo obsequio para las madres en su día. Todas las fotos son de mi propiedad. Usé el traductor de Deepl. Hasta pronto 😊
Thank you very much for your support 😊 I hope you liked this craft and that you are encouraged to do it. It is a nice gift for mothers on their day. All photos are my property. I used the Deepl translator. See you soon 😊
---
---