Tejer es mi pasión. Lo que amo hacer.//Knitting is my passion. What I love to do.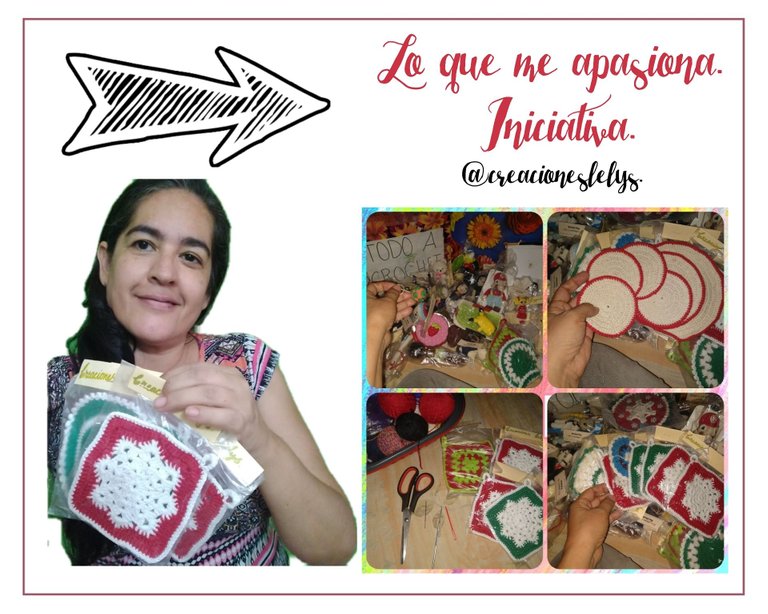 Hola. Yo soy Lelys, hace unos meses leí sobre una iniciativa de @aliento que me gustó mucho: ¿Qué es lo que te ?, no había tenido tiempo para redactar, pero sí lo tenía muy en cuenta porque quiero compartirles cuál es mi pasión.

Desde el año 2013 mi cuerpo solicitó mucha atención y mi mente descanso, por lo que luego de algunos años, en el 2016, tomé la decisión de mantenerme en reposo hasta que mi estado de salud mejorara. En ese tiempo viví agradables momentos en mis encuentros con las agujas y los hilos. Me sumergí en un mundo mágico en el que prácticamente mis dolores desaparecían, mi mente vivía despejada, en paz y tranquilidad. Solo cuando me desprendía de mis ganchillos y enfrentaba el mundo real padecía nuevamente.

En el 2017 me animé a crear un canal de Youtube en el que pudiera tener mayor contacto con el público interesado en aprender e inicié un ciclo de preparación de videos para principiantes. En ellos explico desde los materiales que necesitamos comprar para empezar hasta la lectura de patrones. Agregué allí en mi canal, algunos vídeos explicando el proceso de elaboración de los amigurumis teniendo el proyecto ya terminado. Ya que me parece de suma importancia que los principiantes identifiquen los puntos y las vueltas al ver un producto ya tejido. A mí me ha costado bastante aprender a tejer tan solo viendo el amigurumi terminado. Por lo general nos guiamos por patrones escritos.

Tengo una tía que teje lo que sea tan solo mirando un tejido terminado. Ella jamás hizo curso. Aprendió los puntos con revistas y la ayuda de mi abuela quién la guió mucho. Quizá de mi tía yo heredé la pasión por tejido. Ella actualmente está bastante recuperada de un ACV cerebral y el tejido ha sido para ella una excelente terapia de recuperación.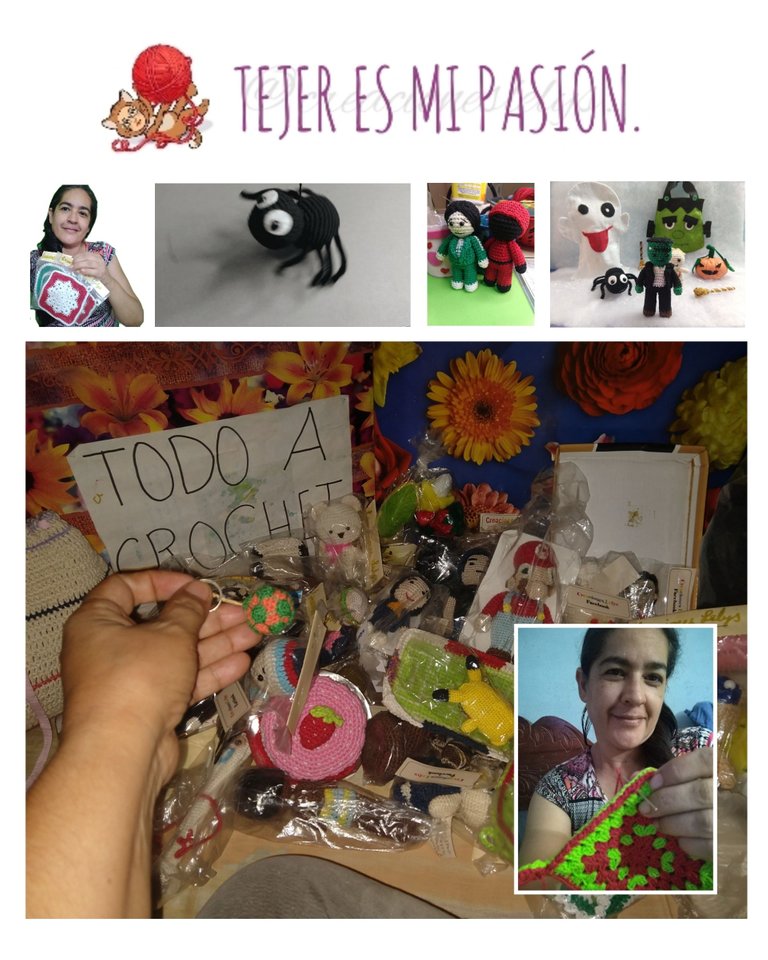 En estos momentos me siento muy motivada a seguir aprendiendo todo sobre el crochet y he estado combinando el hilo con los abalorios. Deseo poder mejorar la técnica y conocer otras nuevas. El arte de tejer a crochet es infinito, podemos tejer todo lo que queramos, el hilo y la aguja de crochet son mis mejores aliados al momento de crear. También son bondadosos ya que el tejido podemos combinarlo con muchos otros materiales y crear cosas preciosas. ¡Se ven muy lindas las pulseras!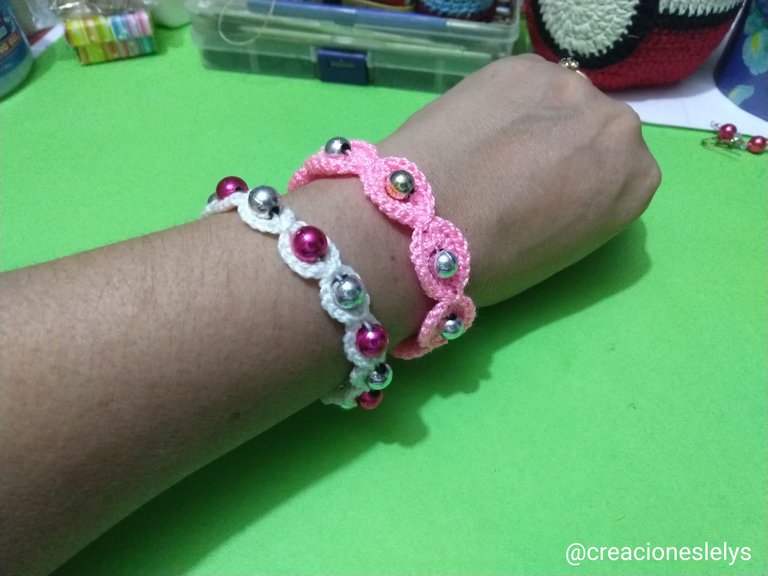 Tejer además de hacerme feliz y mantenerme saludable también me ha permitido tener nuevos ingresos en mi cartera. No he de olvidar jamás que he salido de difíciles situaciones económicas gracias a mis productos terminados; la primera vez cuando tenía 20 años, estudiaba en la universidad y ya tenía mi primer hijo. Le vendí muchos manteles a mis profesores y compañeros de estudio. Fue lo que más tejí durante muchos años. Por segunda vez me sacó de apuros cuando en Venezuela el salario de un docente se convirtió en sal y agua, para esa época tejí muchas carteras, bolsos, bandoleros, cartucheras y portacosméticos. Dos amigas me ayudaban a vender y promocionar los bolsos obteniendo ellas su respectiva ganancia. Y por tercera vez ahora en #hive, cuando la situación en mi país se ha puesto color de hormiga. Fue con un post sobre tejido que obtuve mi primer recompensa por aquí. Estoy sumamente agradecida y aunque suene fastidioso no me cansaré de agradecer haber llegado a esta excelente blockchain.

Tejer es mi pasión, además de educar, guiar y orientar a todos los que deseen aprender cuando tejo pienso siempre en que lo que hago sea de utilidad, haga feliz a alguien o decore algún ambiente. Cuando me preguntan por dónde empezar a tejer, les digo: "Haz algo que quieras, que te guste y que necesites"
Lo primero que tejí fue un bolso, con pabilo del que se usa para amarrar hallacas, eso fue a los 11 años de edad, mi mamá le puso el forro y yo disfruté muchísimo de él cuando estudiaba. Allí me cabía un cuaderno, lápices y mis ganchetas que siempre me acompañan.
Cuando inicié con los amigurumis lo primero que tejí fue un osito, porque me encantan los peluches de oso. Ese se lo regalé a Sofía cuando tenía 6 meses de edad.

He sido y seguiré siendo muy feliz porque elegí tejer como mi mejor terapia. Las consecuencias que acarrea en mi vida el tiempo que le dedico al tejido son realmente positivas. Aunque todavía no se hace posible un sueño, tengo la fe y la esperanza de lograrlo. Les agradezco darme la oportunidad de liberarme mediante estas palabras que deseaba expresar desde hace algún tiempo. Me queda mucho por decirles, cuando uno hace una actividad con pasión es mucho lo que se piensa y siente al hacerlo. Posiblemente haré un post sobre los que pienso y siento cuando tejo. ¿Qué opinan?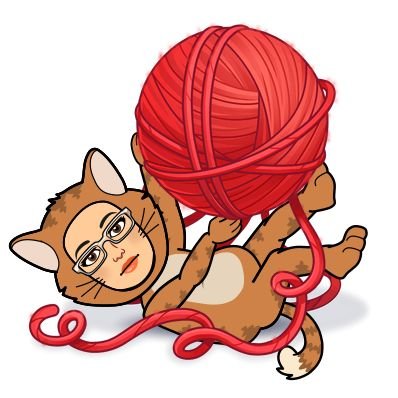 Todas las fotos son de mi propiedad. Edité con Polish. Usé el traductor de DeepL. Mil gracias por leer. Separador cortesía de @eve66 Usé Bitmoji.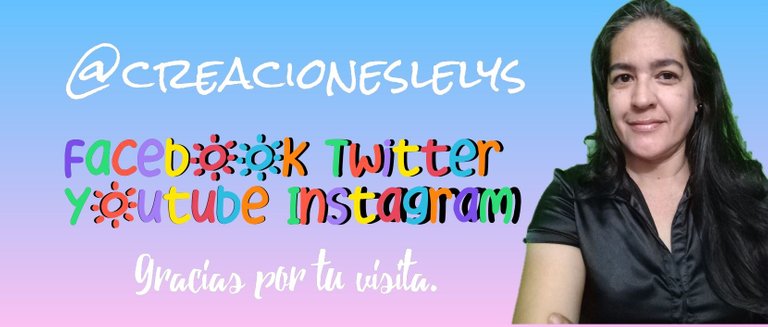 English.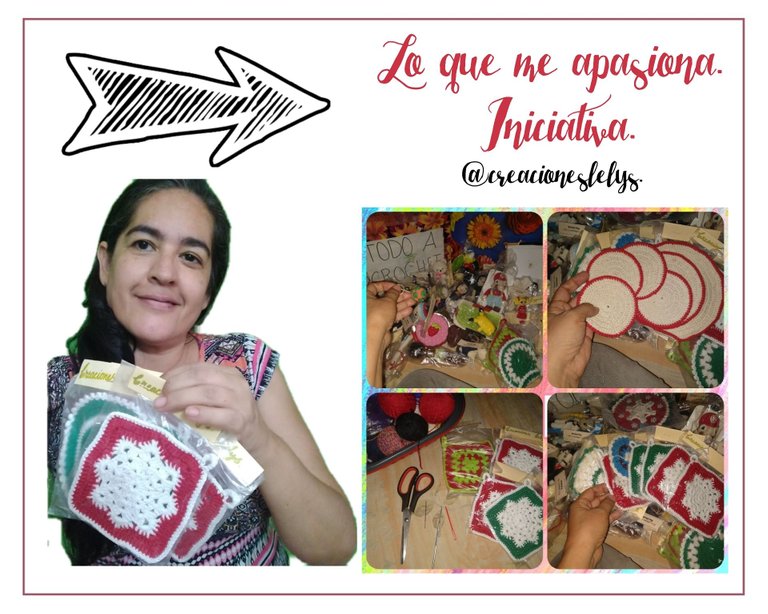 Hi, I'm Lelys, a few months ago I read about an initiative from @aliento that I really liked: What is it that you love, I didn't have time to write about it, but I had it in mind because I want to share with you what my passion is.

Since 2013 my body requested a lot of attention and my mind rest, so after a few years, in 2016, I made the decision to rest until my health condition improved. During that time I lived pleasant moments in my encounters with needles and threads. I immersed myself in a magical world in which my pain practically disappeared, my mind was clear, in peace and tranquility. Only when I got rid of my crochet hooks and faced the real world did I suffer again.

In 2017 I was encouraged to create a Youtube channel where I could have more contact with the public interested in learning and I started a cycle of preparing videos for beginners. In them I explain from the materials we need to buy to start to reading patterns. I added there in my channel, some videos explaining the process of making amigurumis having the project already finished. I think it is very important for beginners to identify the stitches and loops when they see a product already knitted. I have had a hard time learning to knit just by looking at the finished amigurumi. We are usually guided by written patterns.

I have an aunt who will knit anything just by looking at a finished fabric. She never took a course. She learned the stitches with magazines and the help of my grandmother who guided her a lot. Maybe from my aunt I inherited the passion for knitting. She is now quite recovered from a stroke and knitting has been an excellent recovery therapy for her.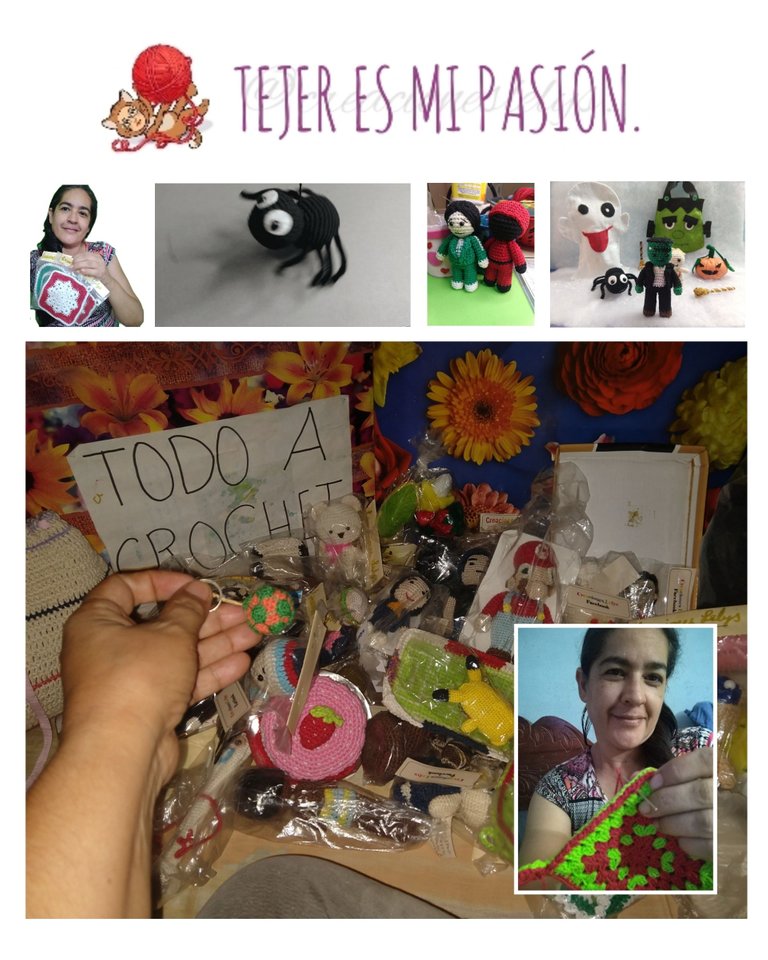 At the moment I feel very motivated to continue learning everything about crochet and I have been combining yarn with beads. I want to improve my technique and learn new ones. The art of crochet is infinite, we can crochet anything we want, the yarn and the crochet needle are my best allies when creating. They are also kind because we can combine the fabric with many other materials and create beautiful things, the bracelets look very nice!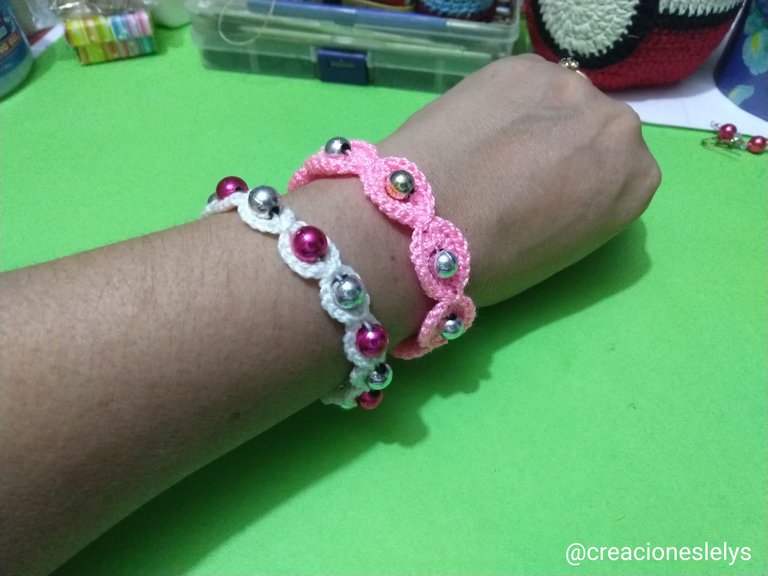 Besides making me happy and keeping me healthy, knitting has also allowed me to have new income in my wallet. I must never forget that I have gotten out of difficult economic situations thanks to my finished products; the first time when I was 20 years old, I was studying at the university and I already had my first child. I sold many tablecloths to my professors and fellow students. It was what I knitted the most for many years. For the second time I got out of trouble when in Venezuela the salary of a teacher became salt and water, by that time I knitted many purses, bags, bandoliers, pencil cases and cosmetic bags. Two friends of mine helped me to sell and promote the bags and they made their respective profit. And for the third time now in #hive, when the situation in my country has gone topsy-turvy. It was with a post about knitting that I got my first reward here. I am extremely grateful and although it sounds annoying I will not get tired of being grateful for having reached this excellent blockchain.

Knitting is my passion, besides educating, guiding and orienting all those who wish to learn, when I knit I always think that what I do is useful, makes someone happy or decorates an environment. When people ask me where to start knitting, I tell them: "Make something that you want, that you like and that you need".
The first thing I knitted was a bag, with wick used to tie hallacas, that was when I was 11 years old, my mom put the lining and I enjoyed it very much when I was studying. There I could fit a notebook, pencils and my crochets that always accompany me.
When I started with amigurumis, the first thing I knitted was a bear, because I love bear stuffed animals. I gave that one to Sofia when she was 6 months old.

I have been and will continue to be very happy because I chose knitting as my best therapy. The consequences of the time I dedicate to knitting in my life are really positive. Although a dream is not yet possible, I have the faith and hope to achieve it. I thank you for giving me the opportunity to free myself through these words that I have wanted to express for some time. I still have a lot to tell you, when one does an activity with passion, there is a lot to think and feel when doing it. Possibly I will make a post about what I think and feel when I knit. What do you think?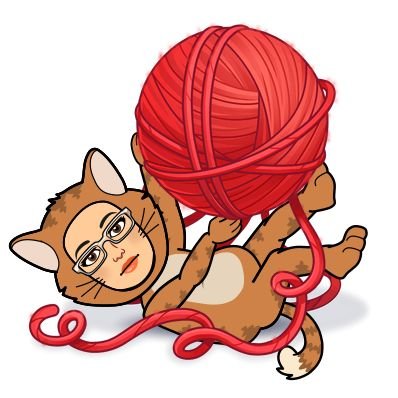 All photos are my property. I edited with Polish. I used DeepL translator. Thanks a lot for reading. Separator courtesy of @eve66 I used Bitmoji.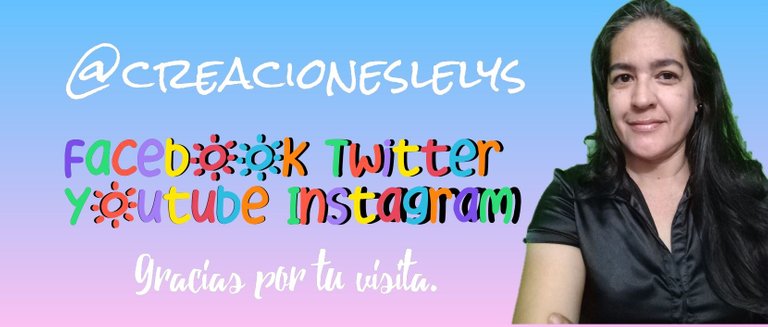 ---
---