Therapeutic effects of crochet. It doesn't always work, does it? Coasters. // Efectos terapéuticos del crochet. No siempre funciona. ¿O sí? Posavasos.
Feliz semana para todos. Heme aqui una vez más con ustedes para contarles de mi más reciente proyecto, el cual inicié con la finalidad de encontrar efectos terapéuticos específicamente. Todos sabemos que la ocupación, especialmente en labores que nos gusten contribuye para la buena salud mental y espiritual; sin embargo hay días de días.
Happy week to all of you. I am here with you once again to tell you about my latest project, which I started with the purpose of finding therapeutic effects specifically. We all know that occupation, especially in work that we enjoy, contributes to good mental and spiritual health; however there are days of days.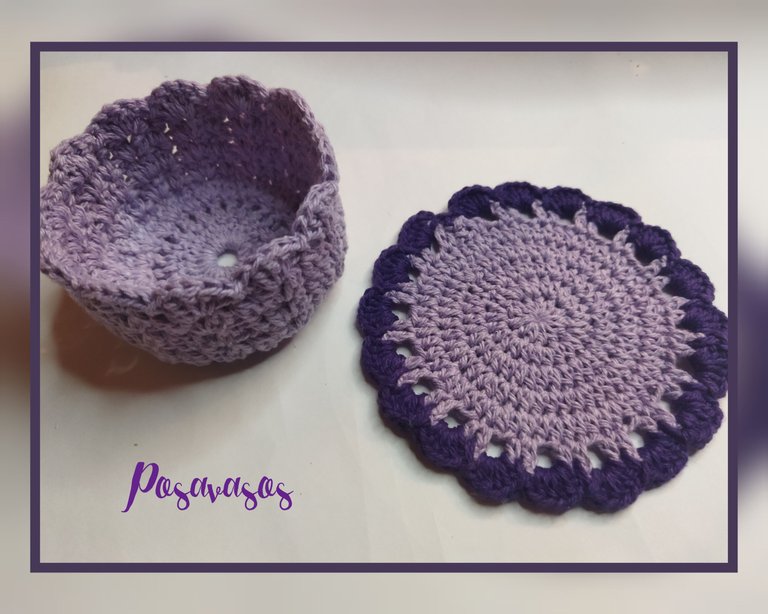 Eran muy pocas las labores domésticas planificadas para este fin de semana por lo que me había propuesto elaborar un juego de mesa de al menos 12 piezas, las cuales empezaría este día. Me levanté bastante temprano como de costumbre, bebí mi café y enseguida preparé mi mesa de trabajo.
There was very little housework planned for this weekend so I had set out to make a board game of at least 12 pieces, which I would start this day. I got up quite early as usual, drank my coffee and immediately prepared my work table.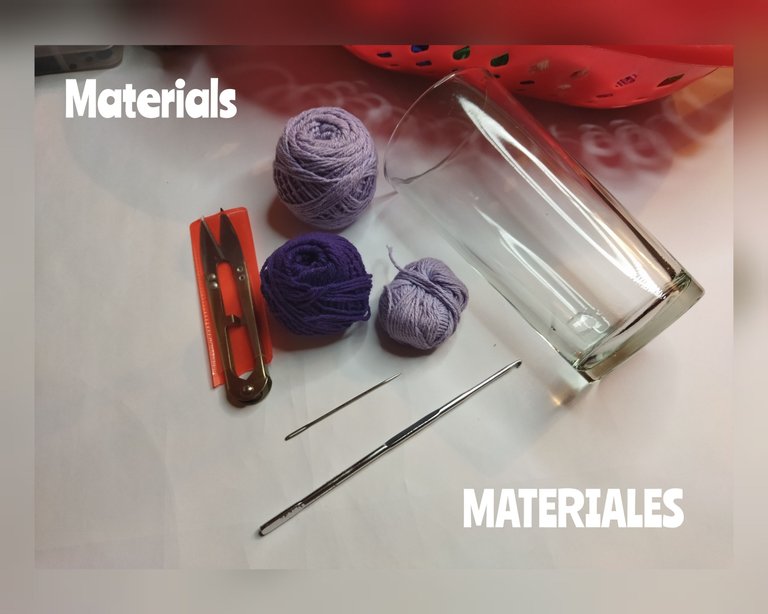 Estaba muy segura del patrón que haría, no era la primera vez que lo tejeria y avancé rápidamente. Creo que estaba muy desconcentrada porque tejí muy rápido, casi de forma automática. A pesar de ello y de algunas fallas que te mostraré más adelante logré tejer la primera pieza que será el primer modelo del juego. Este tejido es muy básico, hacemos un círculo y luego aplicamos un punto fantasía para subir. Puedes elegir el que más te guste en la gama de puntos calados que hay en la web.
I was very sure about the pattern I would make, it was not the first time I would knit it and I advanced quickly. I think I was very unfocused because I knitted very fast, almost automatically. In spite of this and some failures that I will show you later I managed to knit the first piece that will be the first pattern of the set. This knitting is very basic, we make a circle and then we apply a fantasy stitch to go up. You can choose the one you like in the range of openwork stitches available on the web.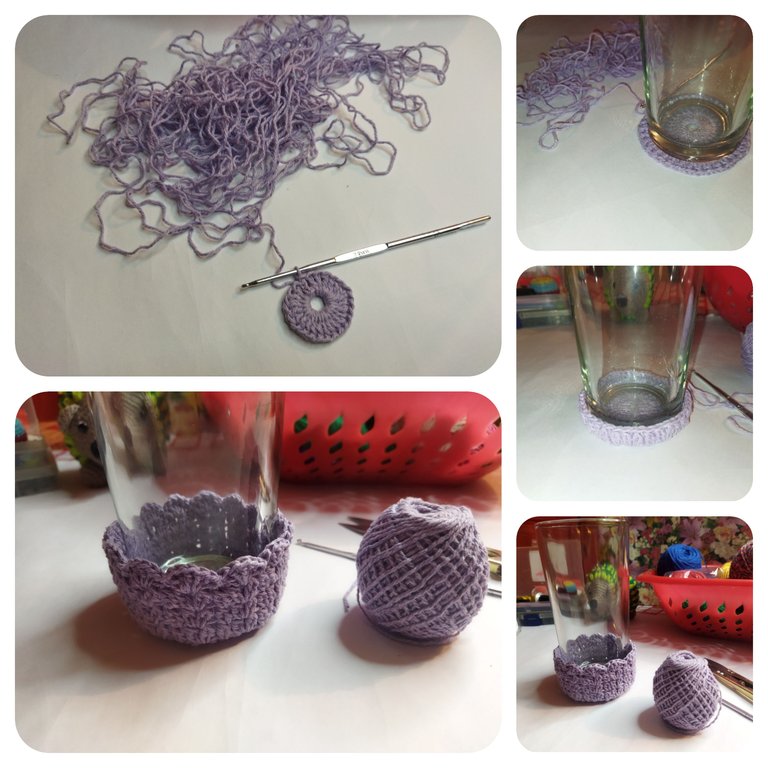 Estuve caminando un rato por la casa, atendí a mi madre al levantarse y luego proseguí con el segundo modelo. Igualmente sencillo, escogeremos un punto fantasía que combine con el primer modelo, pero lo dejaremos plano. El color lila es un color que siempre me ha gustado; realmente toda la gama de colores de los violetas me gustan mucho.
Me encantó hacer el primero antes que este porque como pueden notar me sirvió de cesta para acomodar el hilo morado mientras tejía, lo que me hizo recordar unas cestas navideñas que realicé para usar en casa de mi madre la última navidad que pudimos compartir en familia.
I walked around the house for a while, waited for my mother to get up and then continued with the second pattern. Equally simple, we'll choose a fantasy stitch to match the first pattern, but we'll leave it flat. Lilac is a color I've always liked; actually the whole range of purple colors I really like.
I loved making the first one before this one because as you can see it served as a basket to accommodate the purple yarn while I was knitting, which reminded me of some Christmas baskets I made to use at my mother's house the last Christmas we were able to share as a family.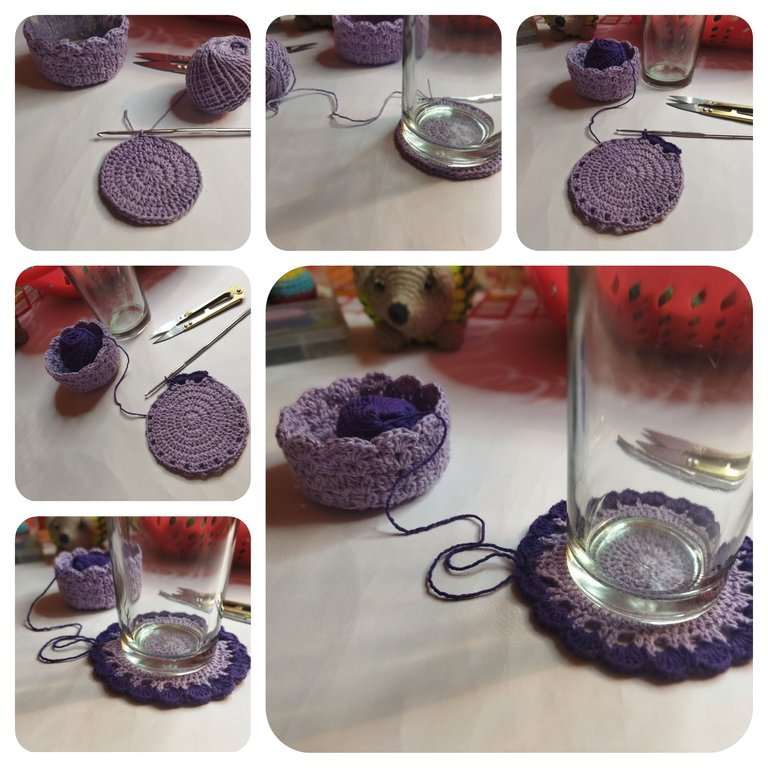 Lamentablemente amigos este proyecto estuvo accidentado y me tocó tejer y destejer dos veces, modestia aparte, muy rara vez me pasa, a menos que esté creando un patrón nuevo suele sucederme. Mis pensamientos estaban distantes de la mesa de trabajo, pensaba en que los hijos no son de uno como repiten los abuelos, yo no estoy preparada para estar sin ellos. Apenas se ausentan temporalmente y mi vida como que se va con ellos. El tejido siempre me ha sido fiel, pero esta vez me falló. Los efectos que esperaba recibir hoy entre mis hilos no dió el resultado esperado, aunque no me di por vencida y pude hacer los dos modelos al menos. Lo malo es que al momento de estar editando las fotografías me fijé que la última vuelta del primer modelo de posavasos debí tejerlo en morado y no en lila. 🙉
Unfortunately, my friends, this project was a little bumpy and I had to knit and unknit twice, modesty aside, this rarely happens to me, unless I am creating a new pattern, it usually does. My thoughts were distant from the work table, I was thinking that children do not belong to you as grandparents repeat, I am not prepared to be without them. They are just temporarily absent and my life kind of goes with them. The fabric has always been faithful to me, but this time it failed me. The effects I expected to receive today among my yarns did not give the expected result, although I did not give up and I was able to make the two models at least. The bad thing is that when I was editing the pictures I noticed that the last round of the first coaster model I should have knit it in purple and not in lilac. 🙉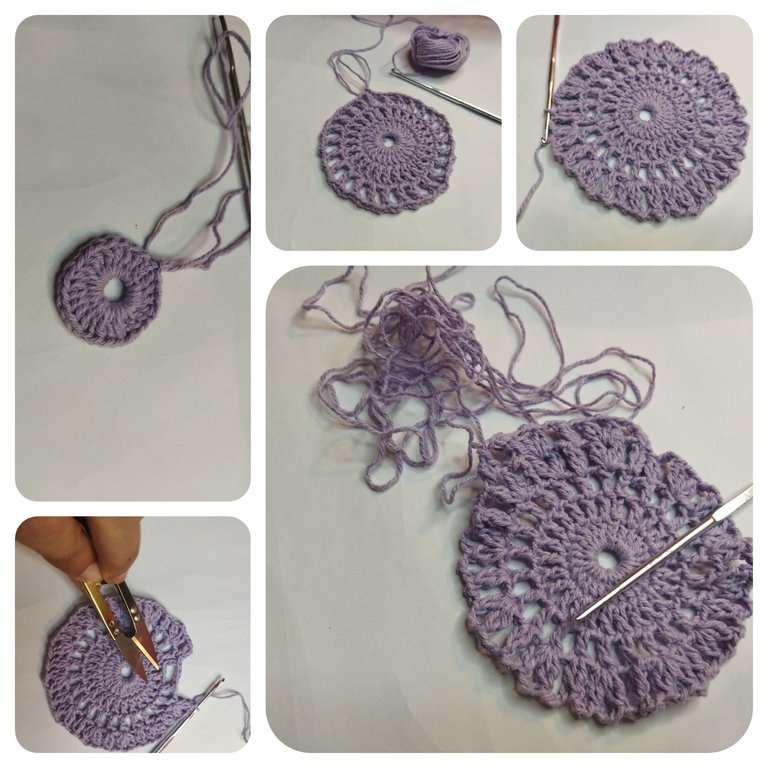 Luego completaré todo el juego. Los posavasos son un accesorio de lencería muy usados en la actualidad, en locales comerciales o en las residencias. Además de embellecer el área del comedor y la mesita de sala al servir las bebidas. Espero que sus días estén siendo buenos y que puedan disfrutar de la cercanía de sus seres queridos.
Todas las fotos son de mi propiedad. Edité con Polish. Usé el traductor de DeepL. Los quiero mucho. Cuidense. Bendiciones 🤗
Then I will complete the whole set. Coasters are a linen accessory widely used nowadays, in commercial premises or in residences. In addition to beautify the dining area and the coffee table when serving drinks. I hope your days are going well and that you are enjoying the closeness of your loved ones.
All photos are my property. I edited with Polish. I used DeepL translator. I love you all very much. Take care of yourselves. Blessings 🤗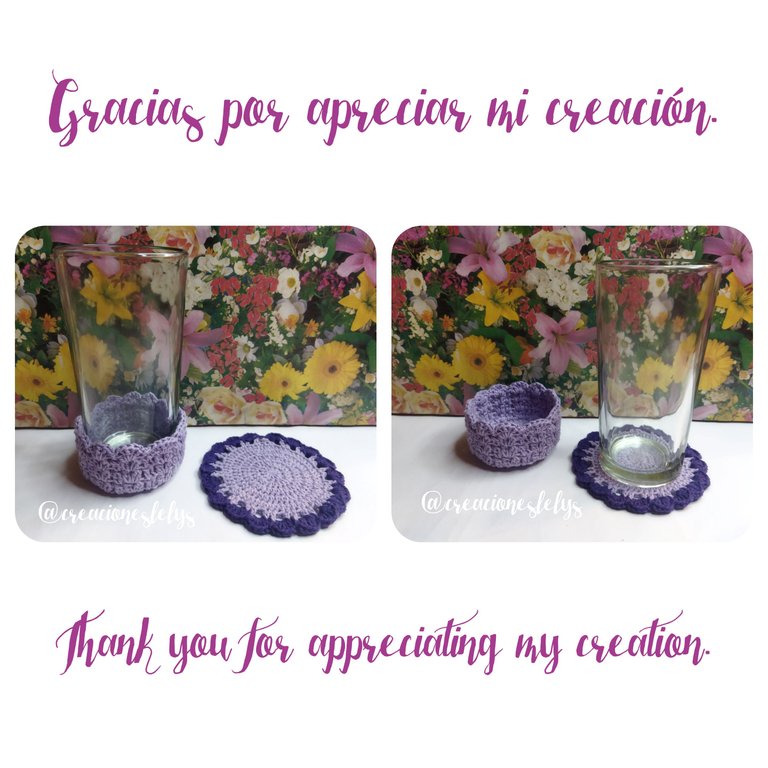 ---
---