Suspect in Walmart mass shooting left 'death note', US police say
Hello InformationWar platform! I bring you greetings from here and it's another opportunity to share with you news around the world.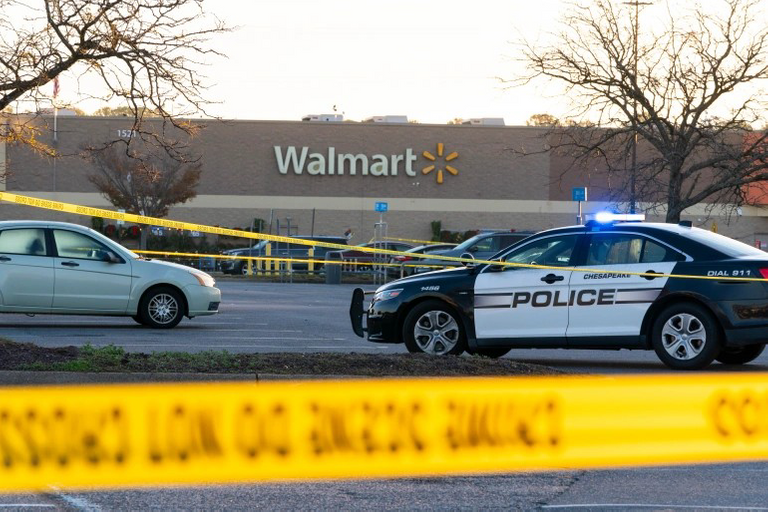 Source
Last week Tuesday night at Chesapeake, Virginia, a man entered Walmart stores, shot killed people and later shot himself. According to the Chesapeake police, the shooter was an employee at Walmart.
In addition to the six people confirmed shot dead, Chesapeake police said that six people were sent to local hospitals to receive medical care and that one is currently in "critical condition".
The attacker died from self-inflicted gunshot wounds, Chesapeake Police Chief Mark Solesky said at a news conference on Wednesday. Soon after, in a Twitter post, the City of Chesapeake identified the shooter as 31-year-old Andre Bing.
The Police Chief promised to further investigate why the shooter killed himself and his colleagues and in less than a week, the police have found a death note on the shooters phone.
In a forensic investigation, the Chesapeake police have released a document that patterns to the reasons why the shooter did what he did and it goes this why:
"I was harassed by idiots with low intelligence and a lack of wisdom," Bing wrote, accusing his colleagues of laughing at him and giving him "evil twisted grins".Source
This is a clear situation that's happening around us on a daily basis. Many on a daily basis bully their friends, family members, neighbors as well as colleagues and tend to get away from it, although this isn't a justification for anyone to take the lives of people around them.
It's said by the Police spokesman that the shooter bought the murder gum - a 9mm handgun in the morning of the incident. It should be noted that Bing had no criminal record prior to the attack.
In describing the incident, the US President Joe Biden in what he described as "scourge" of gun violence, said that it's very alarming to see that the sale of weapons is still allowed in the country. He further stated that the sale of weapons could be as a result of helping arms company to make sales and profits.
His statement is coming just days after a gay nightclub in Colorado Springs was attacked by shooter killing some people at the Club Q nightclub.
"Earlier this year, I signed the most significant gun safety law in nearly three decades, in addition to taking other historic actions," Biden said in the statement. "But we must do more. We need to enact an assault weapons ban to get weapons of war off America's streets."Source
I think signing a law to ban illicit ownership of weapons is a right step towards the right path. This is because the violent use of these semiautomatic shotgun that have killed innocent citizens in recent times have brought pain to the friends and families of the deceased. Today it's the deceased family, tomorrow it could be your friend's or neighbor or relatives. So, we need to support the move to ban unauthorized use of firearms by citizens.
Although, many people will see banning firearms to be an abuse of the citizen's right. What could be obtainable should be a regulation tilted towards licensing firearms to conceal the use of it in public.
---
---