Las Iguanas [ESP - ING]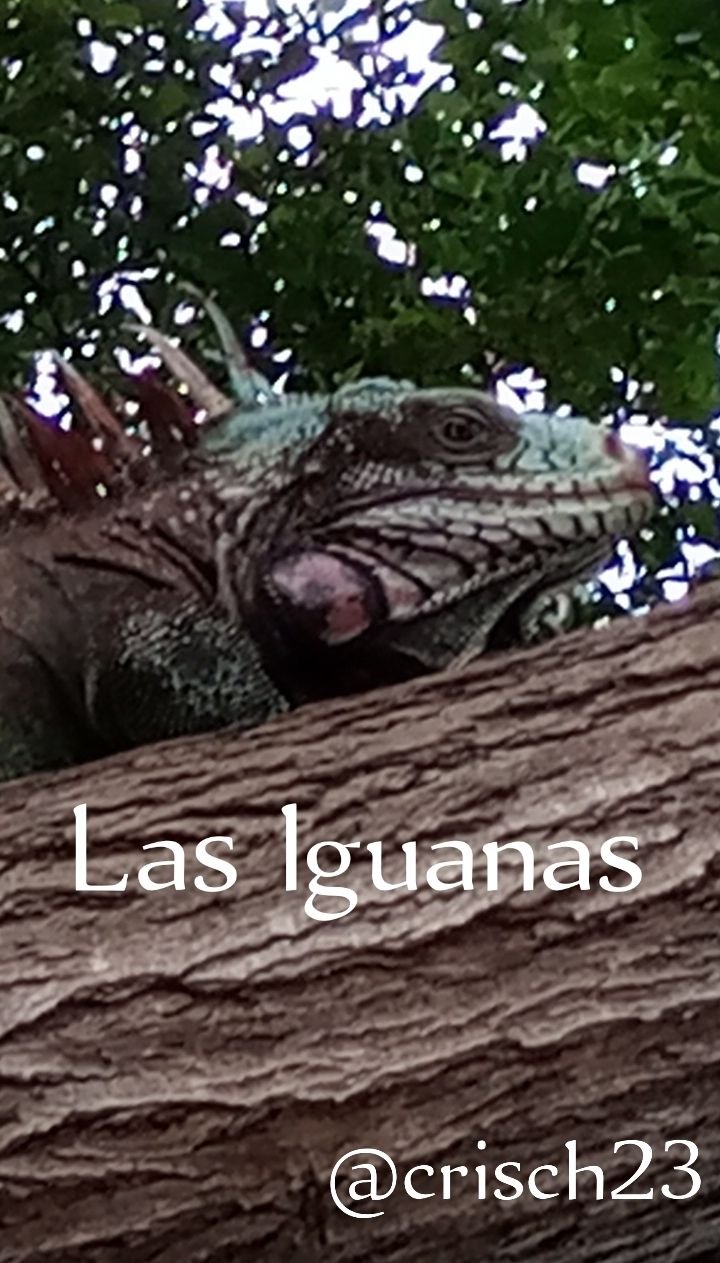 This is my first publication in Amazing Nature, so a very cordial greeting to all, I hope to continue sharing many publications, and in turn learn a lot from the Community, because I like nature, plants and exotic animals, this time I will comment on this nice reptile.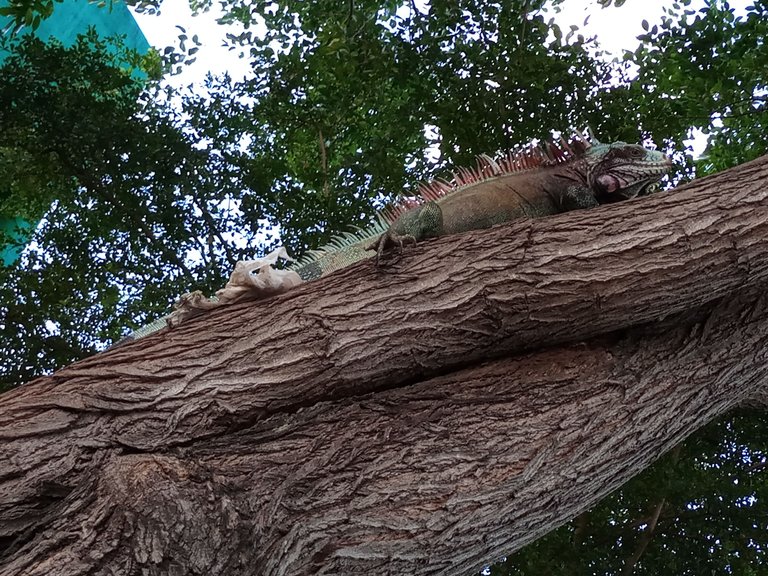 Esta es mi primera publicación en Amazing Nature, así que un saludo muy cordial a todos, espero seguir compartiendo multitud de publicaciones, y a su vez aprender mucho de la Comunidad, porque me gusta la naturaleza, la plantas y animales exóticos, en esta ocasión voy a comentar acerca de este simpático reptil.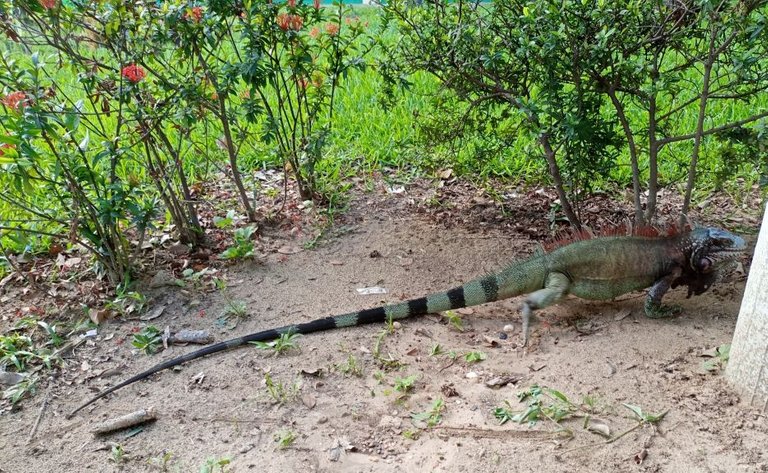 The San Fernando Diocesan School serves as a sanctuary for these beautiful animals, the iguanas are of large size, which are common in the Venezuelan plains, but as there are predators, places have been created to protect this species, here despite the large number of students at the school, everyone is aware of caring for and protecting the iguanas.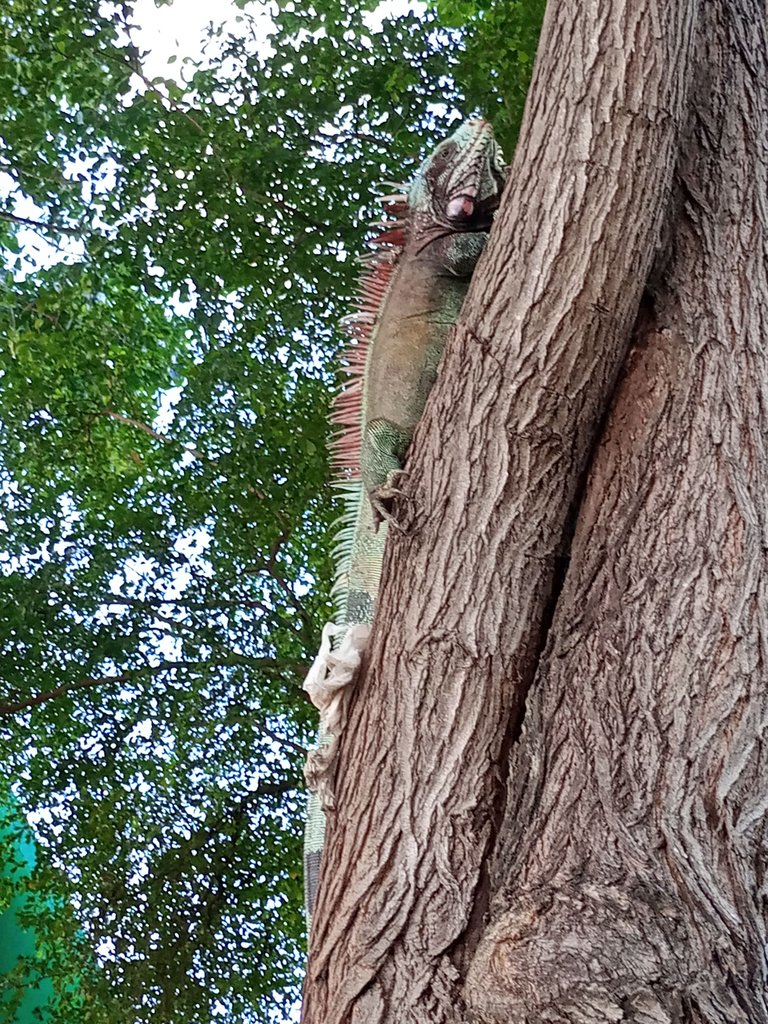 En el Colegio Diocesano San Fernando, sirve de Santuario para estos hermosos animales, las iguanas son de tamaño grande, que son comunes en los Llanos Venezolanos, pero como existen depredadores, se han creado lugares donde protegen está especie, aquí a pesar de gran número de alumnos en el Colegio, todos están pendiente de cuidar y proteger a las Iguanas.
I was surprised to learn that some neighbors opened an iguana, took out its eggs and sewed it back together, they claim that they did not want to threaten its life, but I consider it a barbaric attack, because I consider it a violation of the privacy and reproduction of these animals, however, you can see a large population of iguanas, which coexist in this school.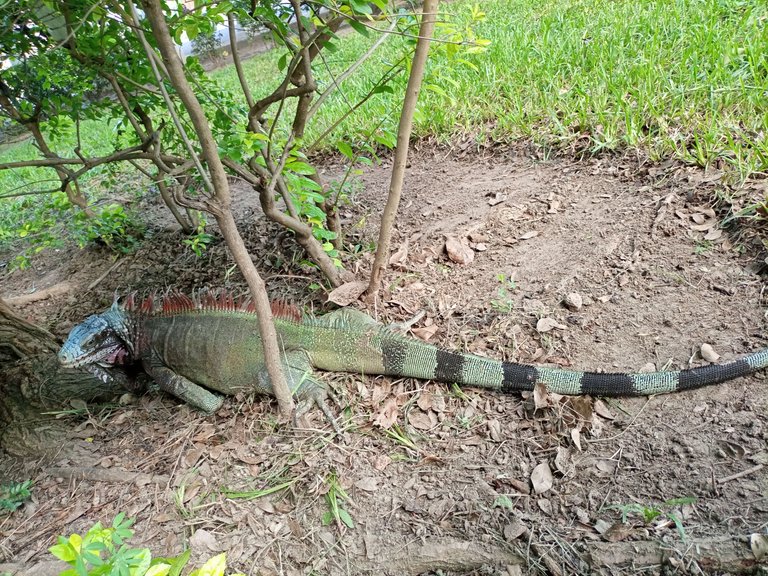 Me sorprendió saber que unos vecinos abrieron una iguana, le sacaron los huevos y la volvieron a coser, ellos alegan que no querían atentar contra la vida de ellas, pero considero un ataque bárbaro, porque considero que es una violación a la intimidad y reproducción de estos animales, sin embargo, se pueden ver una gran población de iguanas, que conviven en este colegio.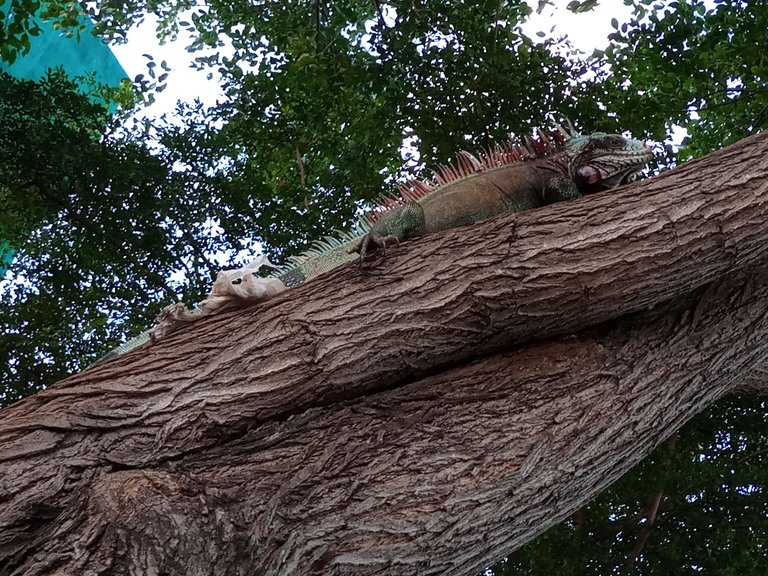 They are used to walk through the corridors and green areas of the campus, it looks like a dinosaur, its striking green color and the variety of shades make their parade is particular, they reproduce through eggs and those that are saved from predators neighbors, make the scope in the care of these reptiles, they feed on fruits and leaves found in this place created especially for them.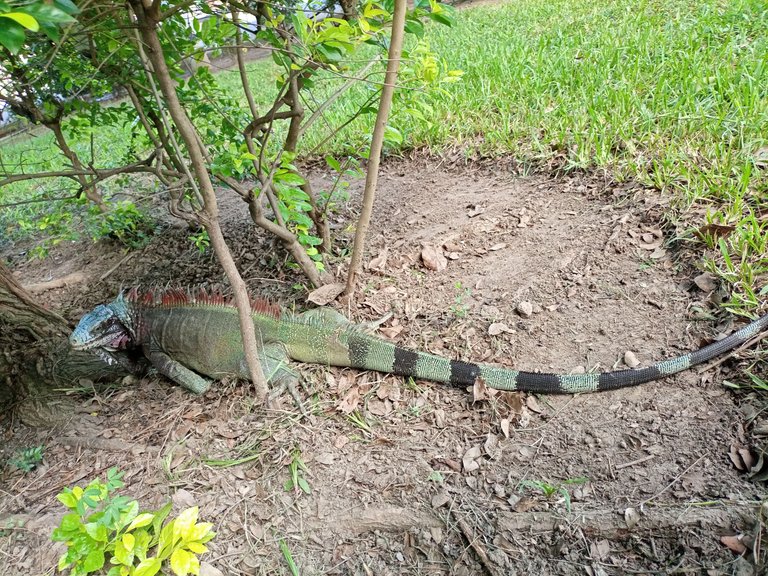 Ellas acostumbran a pasearse por los pasillos y áreas verdes del plantel, parece un dinosaurio, su color verde llamativo y la variedad de tonos hacen que su desfile sea particular, ellos se reproducen a través de huevos y los que se salvan de los depredadores vecinales, hacen que se amplíe el alcance en el cuidado de estos reptiles, ellos se alimentan con las frutas y hojas que encuentran en este lugar creado especialmente para ellos.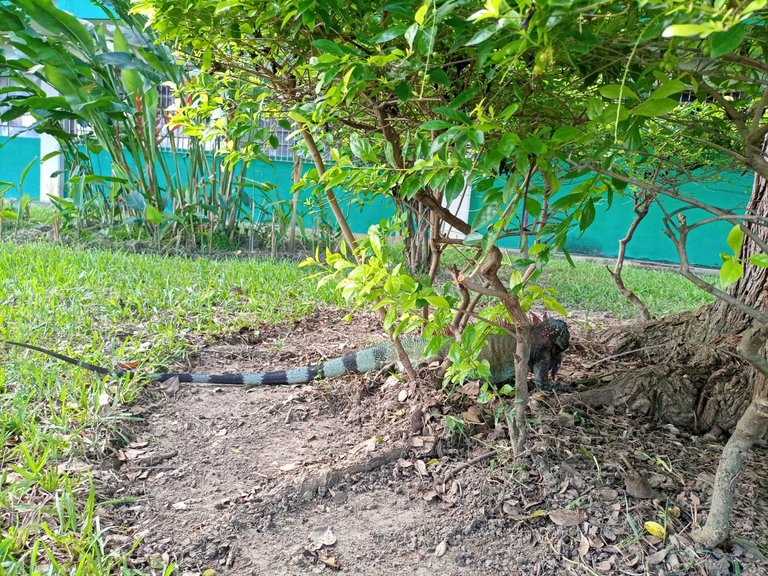 ESPAÑOL
Las iguanas se las pasan en los árboles, paseándose de ramas en ramas, pero también se dan a un chance de tomar el sol, estos lugares se sienten fresco, porque los obreros sacan las mangueras de aguas desde temprano, para mantener las tierras húmedas y el ambiente con una temperatura adecuada, no solo por el cuido y resguardo de las iguanas sino también para que los estudiantes cuando salgan a comer a la hora del receso no sufran con el calor.
English
The iguanas spend their time in the trees, wandering from branch to branch, but they also have a chance to sunbathe, these places feel cool, because the workers take out the water hoses early in the morning to keep the soil moist and the environment at a suitable temperature, not only for the care and protection of the iguanas but also so that the students do not suffer from the heat when they go out to eat at recess time.
---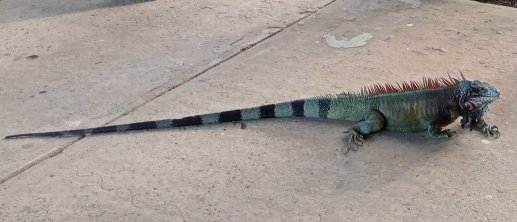 Sería fantástico la idea que vinieran a estudiar este especie en este lugar, no solo para resaltar el rol ambientalista del Colegio, el cual serviría para promoción, sino también para poner el nombre en alto de nuestro estado Apure, y de Venezuela, porque de seguro existe interés de biólogo y estudiosos que tratan de conocer más acerca de este reptil.
It would be a fantastic idea that they come to study this species in this place, not only to highlight the environmental role of the College, which would serve for promotion, but also to put the name of our state of Apure, and Venezuela, because surely there is interest from biologists and scholars who try to learn more about this reptile.
---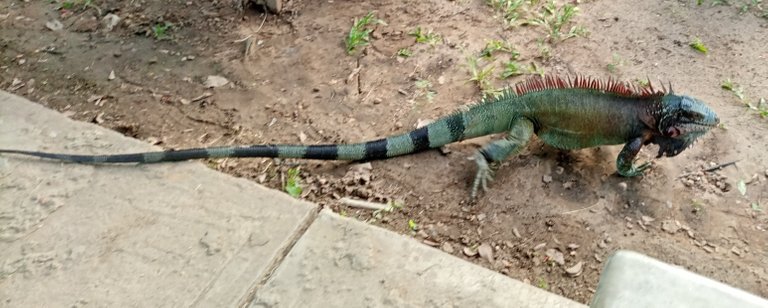 También podría llegar a pensar de fotógrafos especializados, que puedan hacer un contacto más cercanos con ellas y captar con cámaras más grandes y así obtener un acercamiento, porque yo solo tengo una pasión,y quise compartirla con ustedes, no soy fotógrafa especializada, pero busco dejar en alto mi país en todas las formas posible, pero confieso que tenía algo de temor, aunque se que son mansas, podrían ellas sentirse amenazadas y arremeter contra mi persona.
I could also think of specialized photographers, who can make a closer contact with them and capture with larger cameras and thus obtain an approach, because I only have a passion, and I wanted to share it with you, I am not a specialized photographer, but I seek to leave my country high in every way possible, but I confess I had some fear, although I know they are tame, they could feel threatened and lash out against me.
---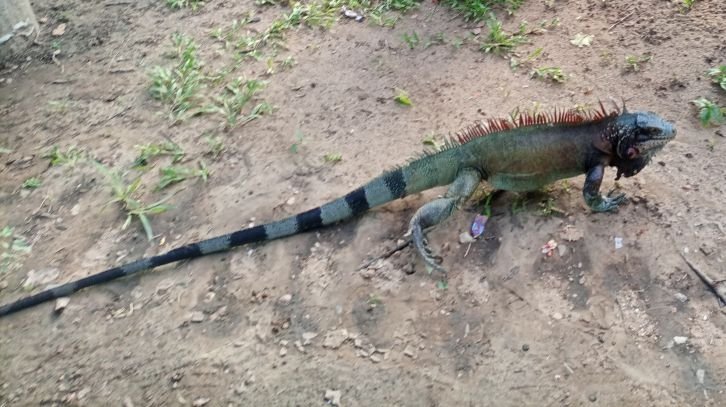 Una vez hace muchos años en una casa que tenía una gran iguana siempre me visitaba, yo por supuesto no solo le tenía temor sino respeto, pero le dejaba estar tranquila mientras se alimentaba, pero acercarme a tomar foto solo con el pasar de los años, manteniendo la debida distancia para cuidarnos.
Once many years ago in a house that had a large iguana always visited me, I of course had not only fear but respect, but let him be quiet while feeding, but approach to take pictures only over the years, keeping the proper distance to take care of us.
---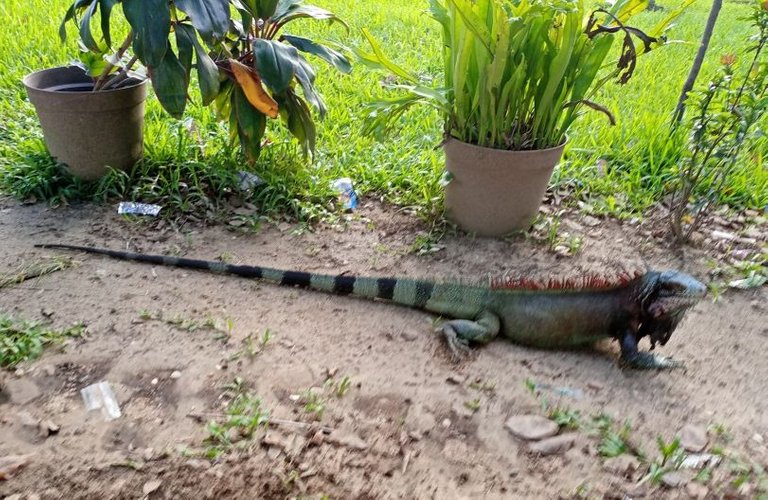 Debemos cuidar no solo de las iguanas, sino de toda la fauna silvestre que nos rodea, permitiendo una adecuada interacción, sin que la mano destructora extinga este especie, ocasionando un daño ambientales innecesario.
We must take care not only of the iguanas, but of all the wildlife that surrounds us, allowing an adequate interaction, without the destructive hand extinguishing this species, causing unnecessary environmental damage.
---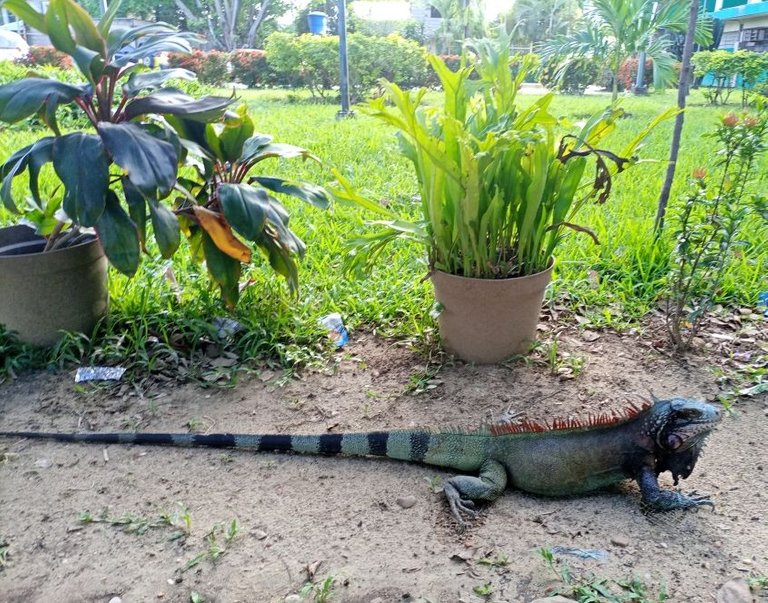 Ellas son unas iguanas tranquilas, de hecho aún se ven pasando a pesar del paso de los estudiantes, claro que salen corriendo si cerca de ella hacen un movimiento brusco que las haga pensar que deben correr a buscar un refugio.
They are calm iguanas, in fact they are still seen passing by despite the passage of students, of course they run away if they make a sudden movement that makes them think they should run for shelter.
---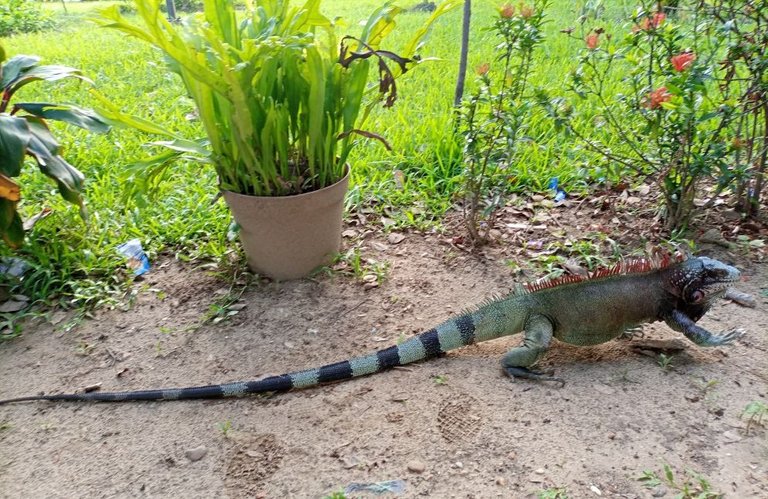 Esperemos que siga el apoyo para el cuido y reproducción de estos animales en el Colegio, considero importante su labor ambiental y como inciden en los jóvenes el hecho de compartir con ellas en el día a día, fomentando un respeto al medio ambiente desde muy jóvenes en el plantel.
Let's hope that support for the care and reproduction of these animals continues at the school. I consider their environmental work to be important and how they affect the young people by sharing with them on a daily basis, fostering respect for the environment from a very young age at the school.
---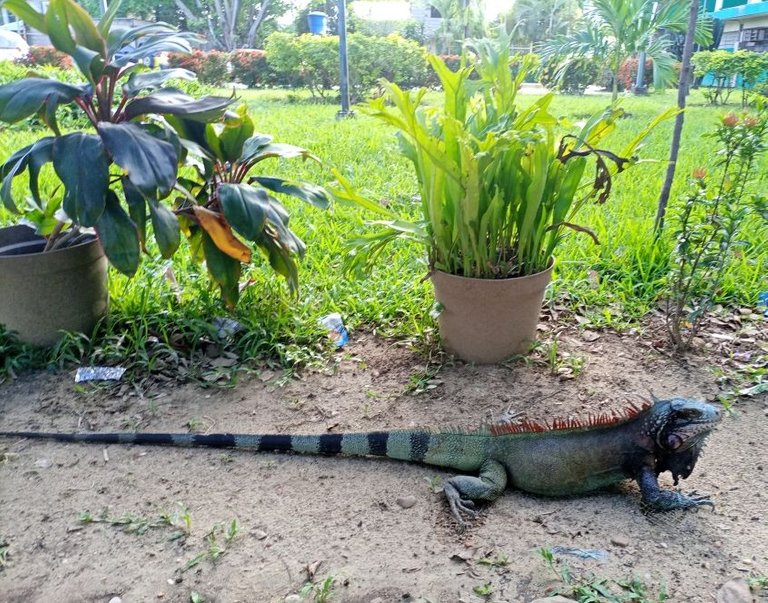 Estas fotos son propias, tomadas con mi teléfono Tecno Camón 17, especialmente para la comunidad Family & Friends, hasta la próxima publicación, es importante añadir el uso de la app Canvas para editar la portada y el banner.
These photos are my own, taken with my phone Tecno Camón 17, especially for the Family & Friends community, until the next publication, it is important to add the use of the Canvas app to edit the cover and the banner.
---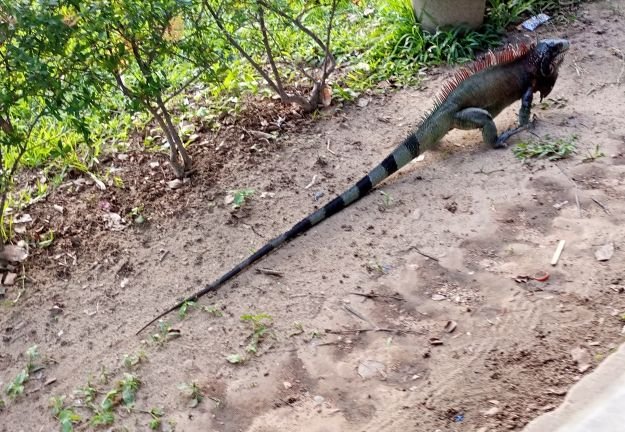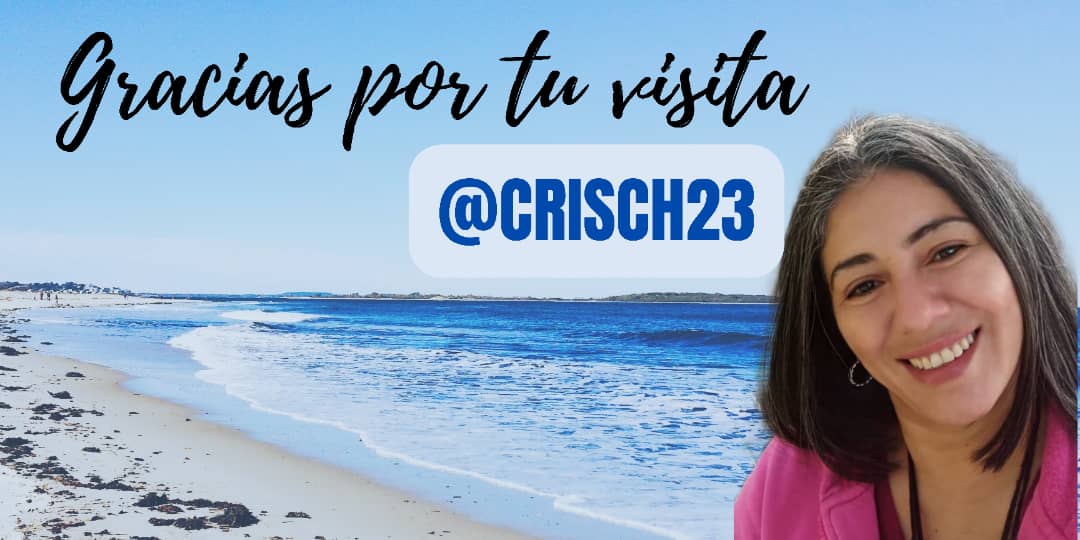 ---
---