🌟MY RISING STAR GAME Journey #49 (39-- OLIVER)
Hi all!!!
I've been buying instruments lately to be prepared in my next goal of fans(50k fans).
In 50k fans, there's an additional increase of ego.
I experienced that increased of ego when I got a lot of drunk fans that resulted for me to have 50k fans.
I saved up my 2 days earnings of starbits to buy some instruments.
This is my stats as of the moment. 😁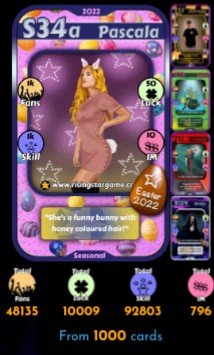 🌟I also bought a discontinued card. This has only 5k in circulation.

🌟I bought it for only 1400 starbits.


🌟Yesterday's daily active player--7485


Thank you for reading my blog.
See you next time.
---
---