4 Splinterlands Tokens of Intrigue on the Hive Engine Market
It's time to see what the charts say about a few Splinterlands tokens.
None of this article is financial/investment/legal advice, it contains a strategic valuation analysis of speculative assets that can be subject to market fluctuations. You are suggested to seek out a Registered Investment Advisor (RIA) for all investments and the author is not an RIA. Splinterlands' Terms of Service identifies Splinterlands/Steem Monsters as not being an Investment Company. As defined by the U.S. Code of Federal Regulations, Steem Monsters (the parent company of Splinterlands) and the Decentralized Autonomous Organization (DAO) that was published by Steem Monsters can be argued to rise to the definition of being classified as Financial Institutions in the United States. This is a duty to warn and inform given that the actions to be described regard the valuation of assets and speculation of events to take place.
Part of the Splinterlands experience is using the Hive Engine market to find deals on all sorts of tokenized assets and then put them to use or wait for a flipping opportunity. There are some intriguing developments within the token market and some may provide opportunities. One way or another, ecosystem participants and those who are on the sidelines looking for an opportunity whether it be in the short-term or a niche long term play are paying attention to the following trends.
1. SPS - Splintershards
SPS is at near all-time lows and many expect that the price could have further to go due to the fact that there are so many more SPS to be printed and there is not enough demand for the Governance Token of Splinterlands. SPS staking requirements for Ranked Rewards and the current staking proposal surrounding membership in the infamous Mavericks House (Mavchat) have not moved the needle in a positive direction.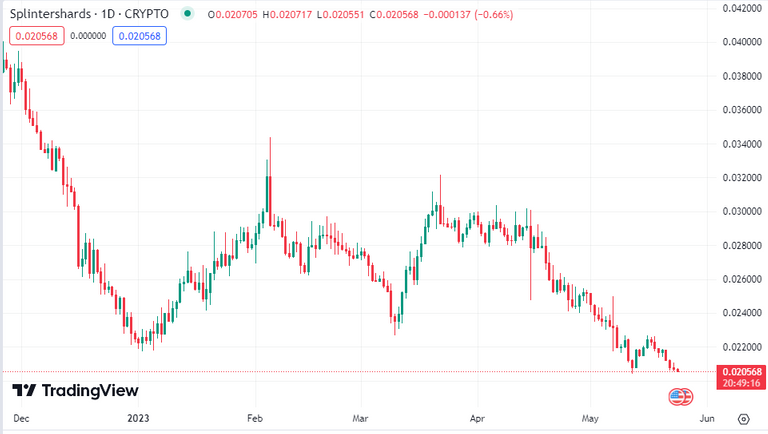 The fortunes of SPS are also tied to the tokenized price of Node Licenses.
Node Licenses (LICENSE)
The price of a Tranche 2 Node License is $5,000 USD without any sort of a VOUCHER discount.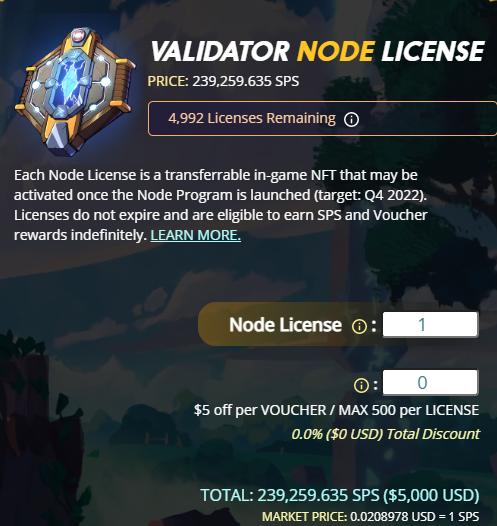 But with a VOUCHER discount, the price changes a bit. It is $2,537.76 total (with the cost of the VOUCHERs included).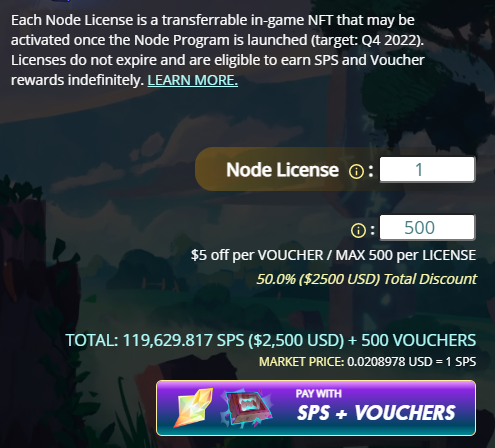 However, this is a tokenized asset, which means Node Licenses (LICENSE) are for sale on Hive Engine and the purchase price is $787.05 at the time that this article is being written. The purchase price is the Ask price and there are a few different Limit Orders on the Buy side out there (prices are all in Hive).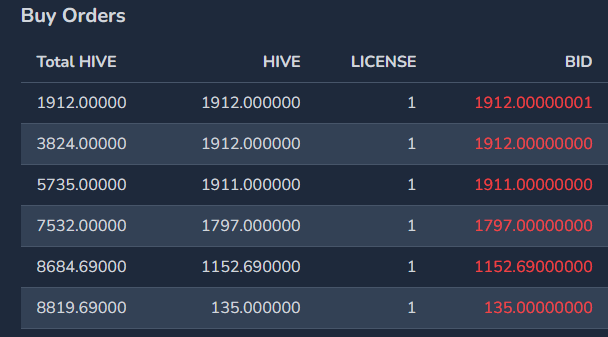 Given the amount that is presently rewarded to Node License holders, if prices remained the same, the payout to License holders would be $.77 per day and those who purchase at market Ask price would earn a 35.71% APR (at this present time the article is being written).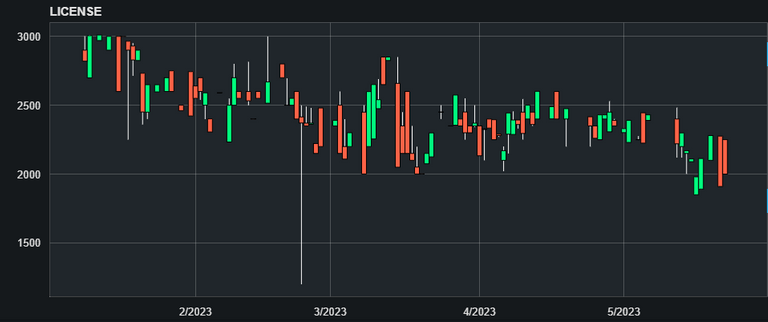 The downward movement in price on the chart of on February 23, 2023 was attributable to a pump in the price of Hive that is known to periodically happen. What is clear is that the price of a Node License is falling both against USD and Hive. The fortunes of SPS are tied strongly to the price of the Node License. An individual buying a Node License is bullish about the price of SPS and VOUCHER.

On a daily chart, it seems that according to the MACD (12,26,9) indicator there is a definite bearish movement taking place for LICENSE and it is quite strong. If the next bar turns green, it's a sign that there could be a movement upward in price. However, right now, it still looks bearish.
Presently, the Relative Strength Index (RSI) measure across 14 days is not pointing to conditions that are strongly oversold.

The Stochastic Oscillator (14,3) is showing that the price could be coming out of the oversold zone. This may be a bullish sign.
Right now, there does seem like based on a few technical indicators that there could be an upward movement on the horizon, but it may be of questionable strength. 2,400 Hive does appear to be a resistance point for LICENSE tokens.
3. Splinterlands Land Plot (PLOT)
Want a Land Plot in Shimmering Coasts? You don't really have much of a choice here, you will have no choice but to claim in Shimmering Coasts with this tokenized Land Plot.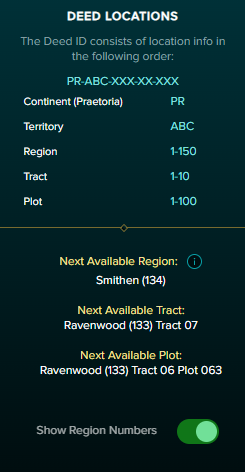 The unpredictability of what you will get upon a survey could mean the difference between a presently valued $45 piece of land that is a COMMON natural plot and a wide variety of possibilities that are selling for much more.
A tokenized, unclaimed plot (PLOT) is $110.97 on the Ask price. Instead of the $110.97 lottery ticket, one can just buy a claimed and surveyed plot on the secondary market.
For the same price or even a bit less, one can get a Rare plot with enhancements like a Building in a Box and Unstable Totem.

The price of these tokenized plots has been falling lately, but is it falling enough?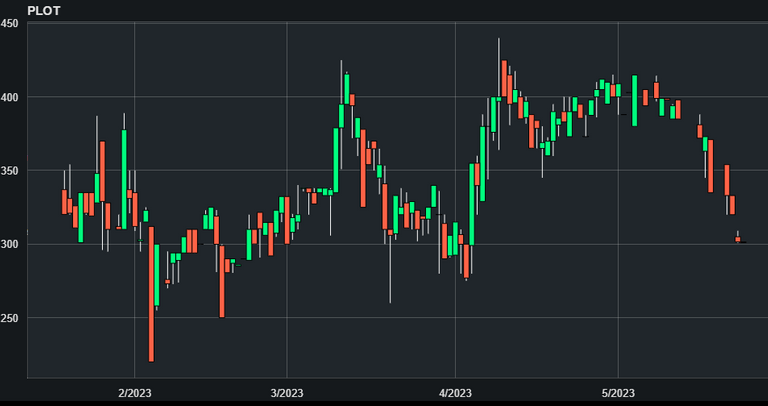 The MACD has been in a bearish sentiment for the past month for PLOT.

RSI is at 32.02 and that is pointing to the price of PLOT almost entering into a more liberal definition of oversold territory.

4. Chaos Legion Pack (CHAOS)
The price of a Chaos Legion pack is $1.36. This is not optimal. With 3,088,000 circulating unopened packs, the value of these packs is not much. Chaos Legion cards have been taking lumps with market participants making alternative investments.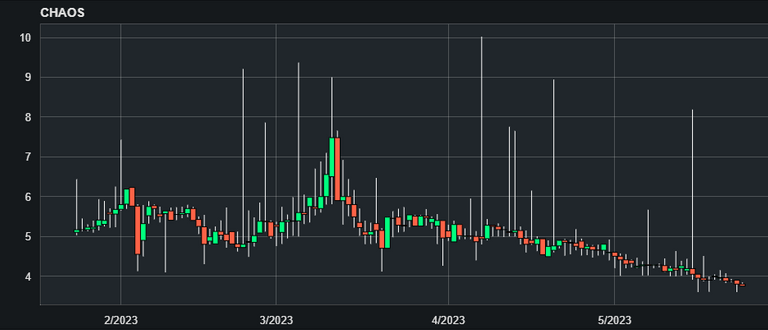 Consistent deterioration of value for these packs is evident. The Gold Rush for Land is over and there are still 15,440,000 cards to be uncovered and inflate the supply of cards. Pushing and shoving has been replaced by social distancing.

Is there hope? Possibly. RSI is in the oversold zone, which means that there could be potential for a turnaround, but notice that RSI bounced off the 30 line, then crossed below it after bouncing off the 40 line, went back above the 30 line and then came right back down below 30 line again and is now at a lower point.

---
---