Flipadelphia Day 21: Splinterlands Cuts Deep, It's an Experiment Wrapped in a Game
The Spirit of 1787 is upon us. Is Splinterlands just a trading card game, anymore?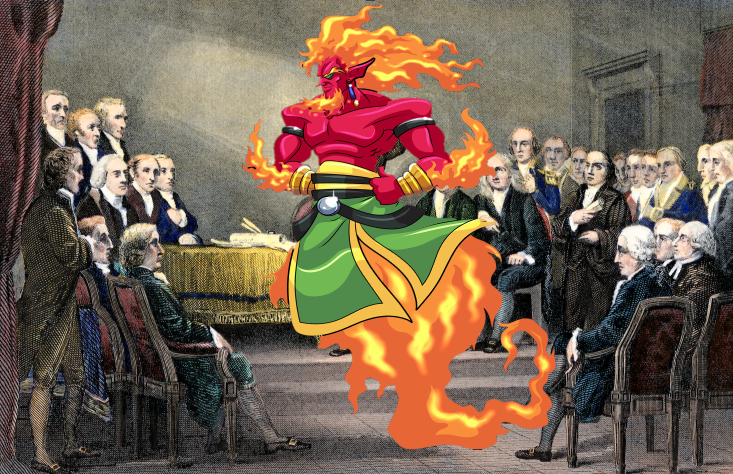 Constitutional Convention image source
Flipadelphia has been very quiet lately, but inside of a noisy Independence Hall (Splinterlands' Discord), the real action is taking place. There are a number of issues that have cropped up and some are directly impacting our dear city of Flipadelphia. The various issues surrounding Splinterlands are laying bare what is obvious, the concept of seeing Splinterlands as merely a Auto-Battler Trading Card Game that rewards players in different ways should be over. This is going so far beyond this being a game and recognizing that this is an experimental project that has quasi-political and quasi-economic tones.
But first... a quick update on transactional movements.
Another card was put up for rent (a Level 2 Gold Foil Venari Spellsmith), it could have been rented out for more, but this issue will be featured in much more detail.

A sale and an immediate purchase took place just as this post was being written.

The Level 4 Gold Foil Cruel Sethropod has a new owner and with the combined proceeds of past sales, a Level 2 Gold Foil Regal Peryton was purchased.
The Entered Apprentice still knows little.
The newcomer, the person who is here to casually Play-to-Earn, does not understand what this project really is and will be astounded to see what it becomes in the second quarter of 2023. Splinterlands and associated projects will no longer be Play-to-Earn and it will become a Stake-to-Earn game. The game will be further financialized and actual players along with bot farm operators will be left with tough choices. The evolution of Splinterlands into a strategic ecosystem with decentralized Finance, Governance, and Business aspects is massive and it goes far above the heads of those who are just looking for a casual game and extracting a few bucks out of it to help pay the bills.
Once one truly moves past this stage and is introduced to more of the dynamics, it is easy to go deeper into Splinterlands and realize the flaws, strengths, opportunities, and pitfalls that exist. One of the hard truths with Splinterlands is that much like the Masons, those that are here to casually play the game much like they did with Axie Infinity have blindfolded themselves to what is really being created here. The scholars and smaller players who choose to not become further involved in every aspect of the ecosystem lose the most.
Going down the Rabbit Hole in Splinterlands is good because it opens up the possibilities beyond the game play and provides challenging opportunities. It is not obvious to the less involved participant that they are on the ground floor of a grand experiment. However, those reading and interacting with these posts know that there is FAR MORE than what meets the eye.
Everyone has a role to play and not everyone wants to nor can do everything in this ecosystem. However, narrowing possibilities and being isolated is a sure-fire way to minimize returns.
The Rental Market is a Mess: Do People Like Money Anymore?
There are a number of issues with the rental market and the obvious mispricing of cards remains an issue. Contrary to the practice of many cardlords, Splinterlands is not a Kibbutz. This may be surprising, but this is not a commune and providing for the greater good is not the objective of the rental market. Supply and Demand should apply for the individual cards, but it does not because of lazy cardlords.
Imagine throwing hundreds of thousands of dollars into NFTs and just settling on less than a 1% return on investment in a year for each NFT if the cards happen to be rented every single day? Splinterlands is a game/ecosystem, NOT a charity.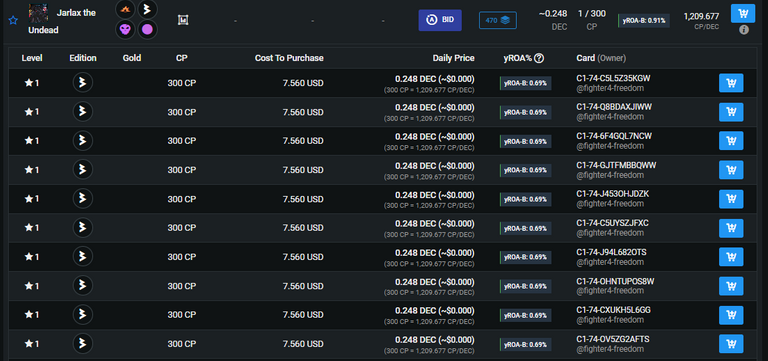 Our Splinterlands Congressional Correspondent for Crootin News Network (CNN), @torran, was live on the scene describing his findings from the rental market and caught up with a prominent power player to get a response.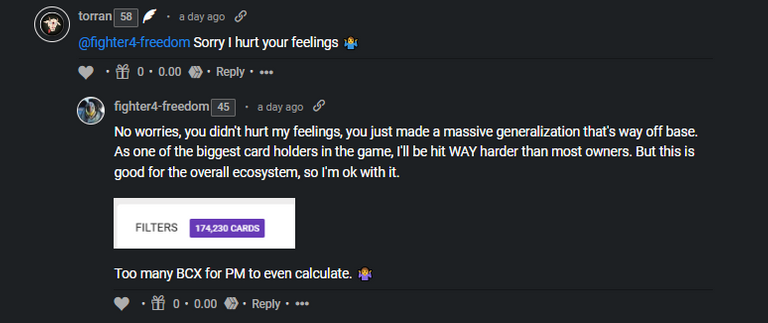 This is not meant as a condemnation of anyone's behavior, it's just an observation that larger players in Splinterlands (such as the esteemed Senator from the Land of Prosperity) fail to understand how much of an impact they have on the markets and how their own inattentiveness or passive management can have negative results for other cardlords.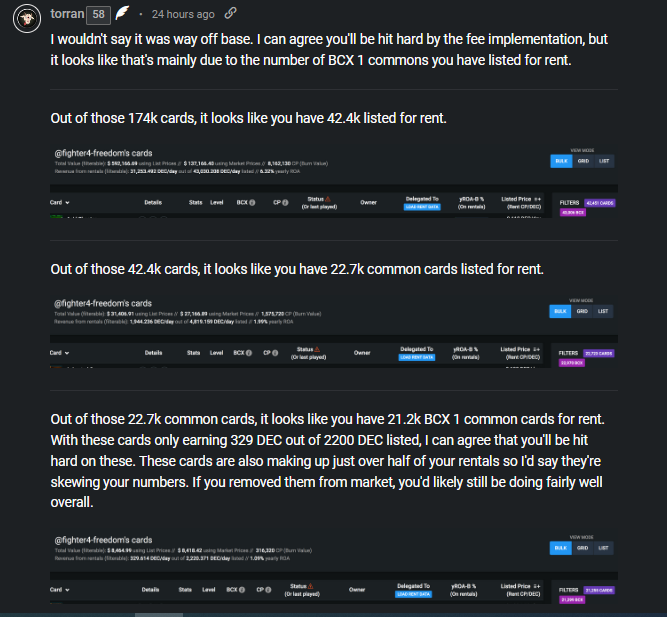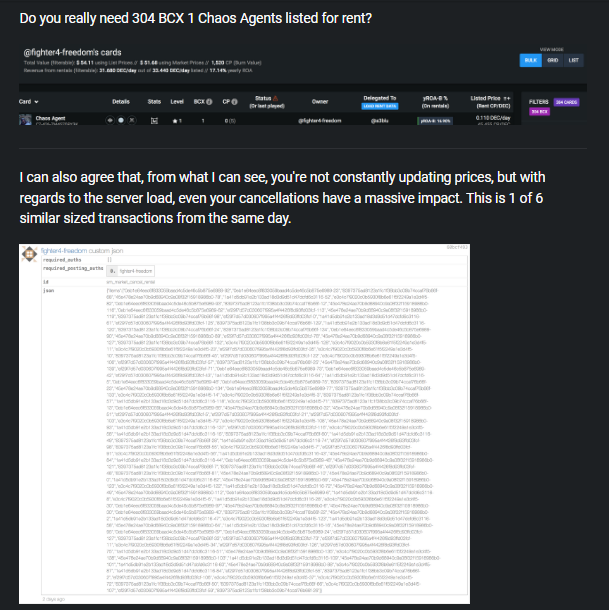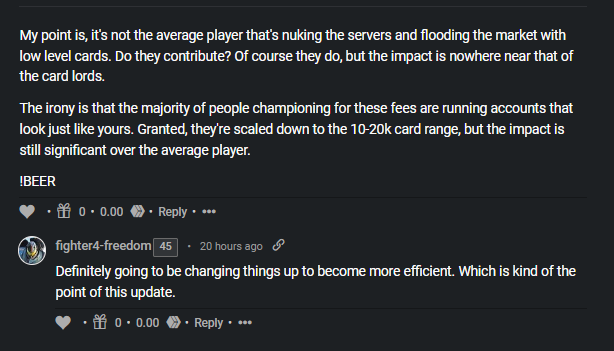 It's a far too common occurrence to see larger holders rent cards out at inappropriate prices given the present supply of cards in the rental market and effectively destroy return on investment for everyone involved. Many larger cardlords use Splex's Rental Golem to manage their holdings, but the pricing does not seem to have adjusted properly. Rental prices take an inappropriately low direction upon the entrance of the powerful cardlords.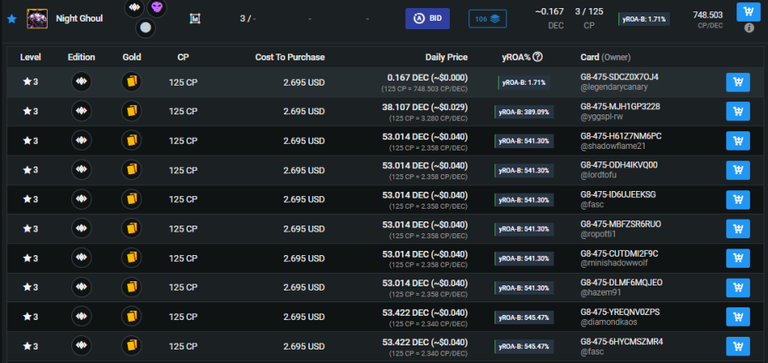 There are inappropriate spreads in the rental market where prices are unnecessarily dragged down. Most seem to think that most renters are actual players, but the reality is that the vast majority are mining accounts that have limits on how much they are to spend for a particular card and that they are to get a card at a particular level.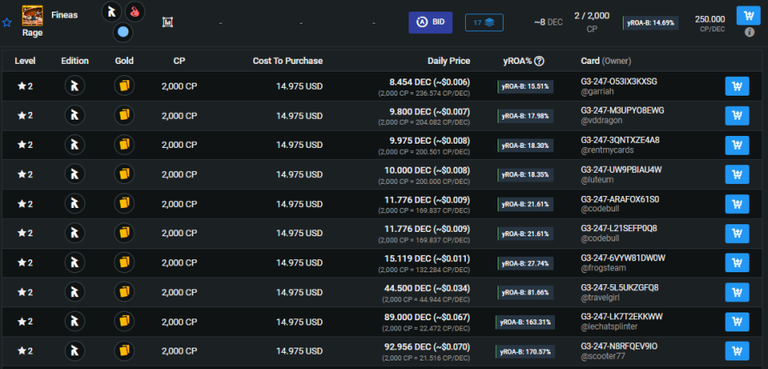 Above is grossly inappropriate pricing for the lack of supply and it is fairly common to see a Rare Gold Foil card go from an excellent return on investment to a terrible return on investment quickly when an inattentive whale jumps in with a wildly inappropriate price and then Splex responds to the inappropriate pricing accordingly, which drives rental prices into a ditch. The biggest winners are miners. The biggest losers are anybody renting out cards.
Knowing that the larger cardlords will rent a large number of cards at rates that are akin to delegating cards to mining accounts, it puts a damper on the desired rental card prices when supply tightens.
The findings from @torran do not stop there, he uncovered issues within the Executive Branch of Praetoria.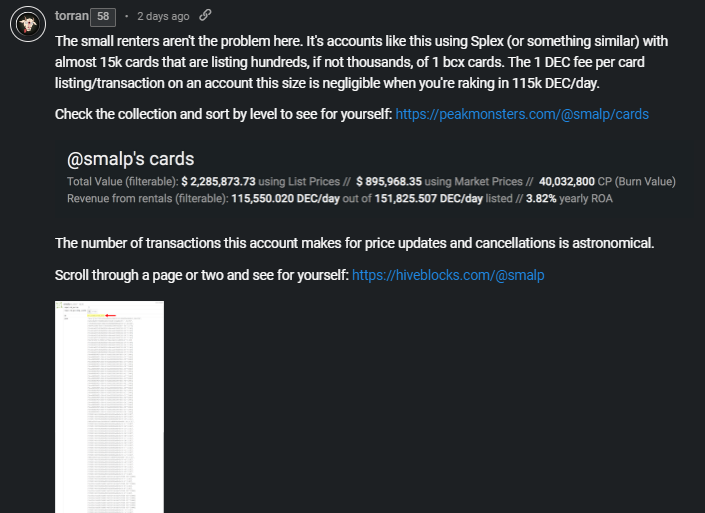 Better rates of return can be found at a local bank with a 1 year Certificate of Deposit (CD).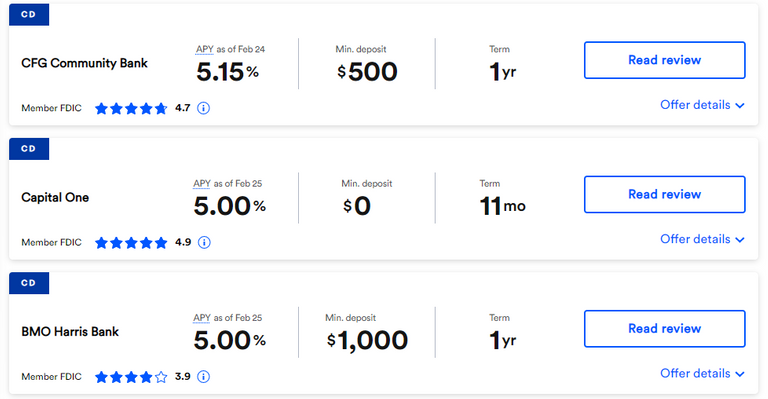 At the time of publishing this post, 91.76% of all cards on the rental market are Level 1 Regular Foil cards.


There are zombie listings just taking up space and many of them are just looking to get any sort of return on Chaos Legion tradeable Common Rewards cards. Level 1 Regular Foil Common Rewards cards make up a large chunk of the rental market and there's no way to make things rough for the Splinterlands API than to just query the rental listings.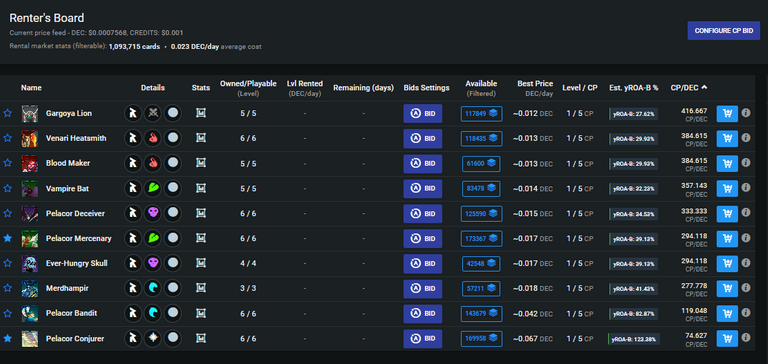 18.04% of the rental market is just Level 1 Regular Foil Common Rewards cards. Is this good? What does it say about a card when it rents for next to nothing? It costs Splinterlands more to process the transaction than the cardlord receives for renting out the card in first place.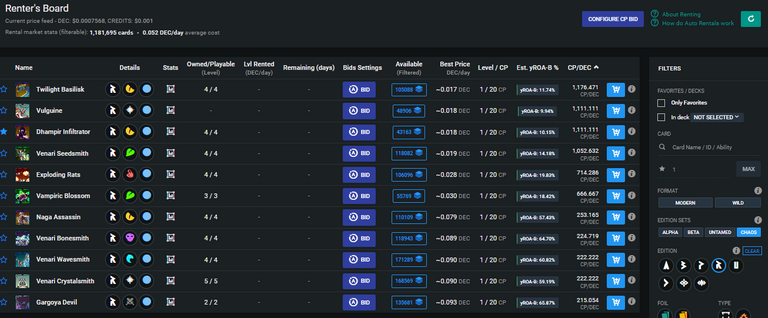 19.49% of cards on the rental market are Level 1 Regular Foil Rare Rewards cards from Chaos Legion. What is a Bronze player really going to do with a Level 1 Vulguine when a Level 2 or 3 card would provide a much more substantial advantage?

44.5% of all cards on the rental market are Level 1 Regular Foil Rewards cards. Charging per listing will not change rental price behavior as a card will be listed in perpetuity at a particular price for 1 DEC and it discourages people from renting out cards as supply dumps at outrageously low prices will discourage the practice of providing a card at an appropriate price given the supply.
The "Student Council" Vote
In college, the Student Government was powerless and had a four year term as an institution, which meant that students would vote to dissolve or maintain the student government at a given point in their time in college. It served as a pack of bootlickers for the corrupt University President and it truly served no purpose. The Community Council would serve as a go-between for the community and Steem Monsters as it related to the various proposals through the SPS DAO.

The role of serving as an ombudsman of sorts with no actual power became a matter where some chose to use bots and multiple accounts to garner votes due to flawed voting methods. It has caused much consternation on the Splinterlands Discord. It is just another example of how Splinterlands is more than just a game with an ecosystem, it's an experiment in governance.
The NFTy Arcade Bot Farm Fiasco
There were assurances and much excitement over NFTy Arcade's ability to bring new participants to the ecosystem and enhance retention rates. Were there are any metrics given or sources shared to justify these claims? No, but the community had to take it on faith that 500,000 Chaos Legion packs would be lent out from Splinterlands to NFTy Arcade's sourced new player base and that these participants would become more invested in the game after their 30 day trial run. Worst case scenario was that if this did not work, Splinterlands would burn the 500,000 packs and Aggroed would declare that the experiment failed, but at least they tried.
It did not take long for the promises and assurances to fall through. Maybe Aggroed is not aware of this, but this is a community that will do their own investigative work. There's no limit to the external auditing of the blockchains. There's nothing hidden from the community as someone will dig up something.

Above is a sentiment that many feel after the hard sale of this experiment was made and then @monsterveritas' findings were released. There were questions about where these players were sourced and how they were vetted, but this situation gives the indication that there was no sourcing nor vetting.
We're closer to the burning of 500,000 Chaos Legion packs.
Much is in play right now, change is afoot.
Splinterlands is an ecosystem that has assets that can be used in any way the community sees fit, which means that there are derivatives with endless possibilities.

It's an experimental project that is community driven. Everyone should be using their voices and abilities in different ways to shape opinion and improve the ecosystem. Builders are welcome and needed.

This has moved so far from being a card game that people could earn SPS (previously DEC) and rewards cards. It's all shaping up to be set up around Land, the Splinterlands/Hive APIs, and the community. This is a strategic game that in many ways mimics the formation of a 21st century society where we are literally wrestling with the same concepts that our forerunners wrestled with when founding the United States.

The council votes, the rental market issues, growth of the ecosystem in terms of participants, marketing, demands for whitepapers, 3rd parties, bot farms, card supply matters, tokenomics, new creations from Land to come, and strategic Land purchases are all more than just a "fantasy" card game that was presented to people years back. It's more compelling than the card game. Given that so many are using bots to play the game, how good is the game? Nobody can bot their way around these strategic quasi-political/economic matters.
So are we really targeting the right audiences w/ NFTy Arcade?
Do we have to re-think everything as far as marketing is concerned? Who would be more inclined to play in this more strategic and potentially lucrative sandbox where they can build upon these NFTs, create their own NFTs, and play a role in the development of a video game ecosystem that mimics real life.
Monopoly was a smashing success even though there were Georgist undertones. Splinterlands and the entire portfolio of games and ecosystems is built under the values of decentralization and self-government. These principles and assets that undergird the community and ecosystem will remain as long as there is demand by individuals to use the NFTs as they see fit.
Be a part of this experiment or be left behind.
---
---