Guidance, Support, Encouragement! A Needed Combo for Success on Hive!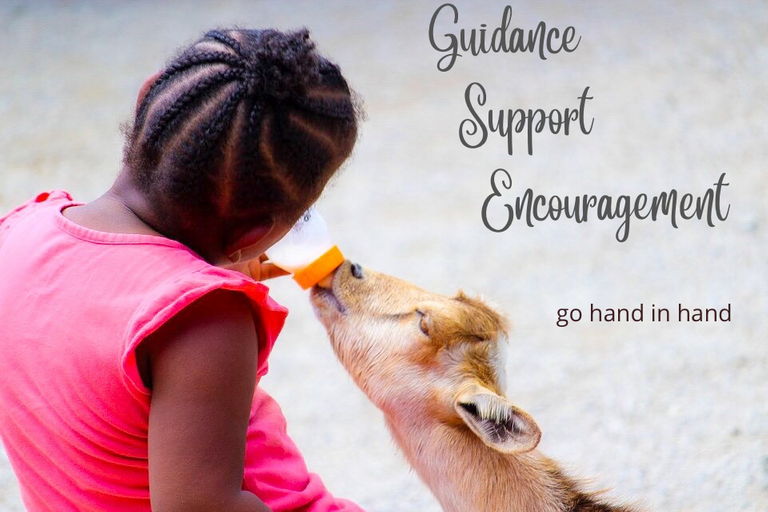 I took this picture of my niece quite a few years back when we visited a petting farm. I still remember that day as if it happened just this year.
It was the first time feeding the baby goats for our kids. As we approached the gate they became more anxious about getting to the other side to be closer to them. The excitement of feeding them with a baby bottle overtook them and they headed straight in with the crowd.
While we were trying to get situated and hand out the bottles the crying had already begun. I was carrying my youngest while the others braved the field to explore the goats. They quickly found out those little energetic babies were interested in eating more so than playing.
The nibbling of the goats was just too much for some of the kiddos and they ran towards the opening of the gate before we could give them their bottles for feeding.
Breathe, start over and let's try this again.
We guided the children to slowly walk back in and focus on one goat they wanted to feed. We explained that waving the bottle around or switching back and forth from goats entices them and causes the aggressive behavior of fighting for attention. Feeding one at a time takes the pressure off the feeder and allows them to enjoy the experience better.
We supported them by blocking the other baby goats to discourage the nibbling while they were feeding the goat of their choice. They were much more relaxed and back to being enthused about taking care of an animal.
We encouraged them to try it again with another goat once they finished with their first one on one. We stayed in sight very close as they roamed around looking for the next hungry goat to feed.
As time went on the nibbling wasn't so bad. The kids were able to laugh about it instead of being afraid. They dealt with it in order to stay in there and keep feeding. Once they experienced how fun it was watching the goats suck on those bottles, it was totally worth it to them in order to keep that fun going.
Before long we saw them taking more control and gently moving the goats out of their way and saying "no, it's not your turn yet." They listened to our guidance and enjoyed their time inside the gate.
---
The reason for my telling of this story is because it reminds me of Hive beginnings.
There's a huge learning curve here and if someone doesn't have these three things, they can easily run outside the gate to get away from all of the confusion and pressure and never really find their place here. They may find a way to enjoy Hive a little bit by reading a few articles and commenting ever so often but they are still only partially involved due to fear of those nibbles.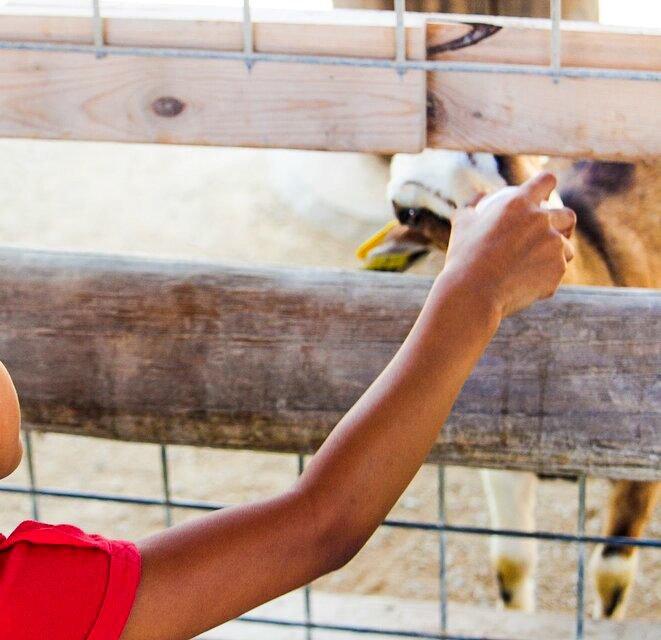 They wish to be fully involved but really don't know how to properly start their journey.
A few years back it was hard to find guidance, support and encouragement right from the start but thankfully that has changed. One can now find these three valuable things at the very beginning of their stay.
We now have curator programs seeking out newbies daily to support and encourage. People are consistently making helpful collections of posts for newcomers to view and learn and comments are being left on posts to help guide and inform. I see this quite often now and I love it.
The way things are being setup now are being put in place for better retention and to keep people inside the gate. They may feel little nibbles of people giving them heads up on certain behaviors or warnings of what not to do but it's all to help them succeed and not fail. Those who accept this guidance and take heed to the warnings usually end up gaining support they need due to showing effort. This then leads to the encouragement they needed to continue on finding their place here on Hive and making it a home.
---
These are just some thoughts I had after onboarding my kiddos @duel-master and @legomaster this week. Thanks to everyone for your visits and comments.
I seen some of the very people I once helped or guided when they were new, step in to support and encourage my kids. I was in awe and appreciation of what I witnessed.
I was just talking to @daltono about the feeling of obligation and sense of duty that I have to share what I have learned to others joining here.
Back then we didn't have all of these available resources to help us figure out our next steps. We had to figure out on our own that connecting with others and supporting their work was an important part of making people aware of us. We had to figure out that quality was way more valuable than quantity and so forth.
You don't have to be here for plus years in order to help guide someone. Once you have an understanding of how things work here you can began helping others find their way. Instead of being irritated by what someone does, take the time to leave suggestions and tips. Don't assume someone is intentionally doing something…most times they are just not informed or misinformed.
I want to thank @joydukeson, @emeka4, @merit.ahama, and @nkemakonam89 for taking the time to leave nice and encouraging comments on my kid's intro posts. You are the ones I was speaking about above that stepped in to continue the cycle of being supportive and encouraging just like I know you have received from others throughout your journey here.
These types of gestures are what's needed for one to feel confident and capable of doing well here and feeling as they belong.
I've noticed the comments you leave on other's posts as well and I appreciate the thoughtfulness in your responses. You may not realize how far this goes but believe me it does go a long way.
My kids are so pumped and excited now that they were at their computers yesterday doing their typing program to better their skill for blogging 😆.
Small gestures cause huge impacts!
I encourage everyone to practice sharing these three key components when browsing through Hive because they do go hand in hand. We can all help make someone's first experience a little less shaky by the guidance, support and encouragement we give. 💓


The Hivers I mentioned above have each been added on as a beneficiary of this post ~
Thank You!
---
---