Our First Industrial Photoshoot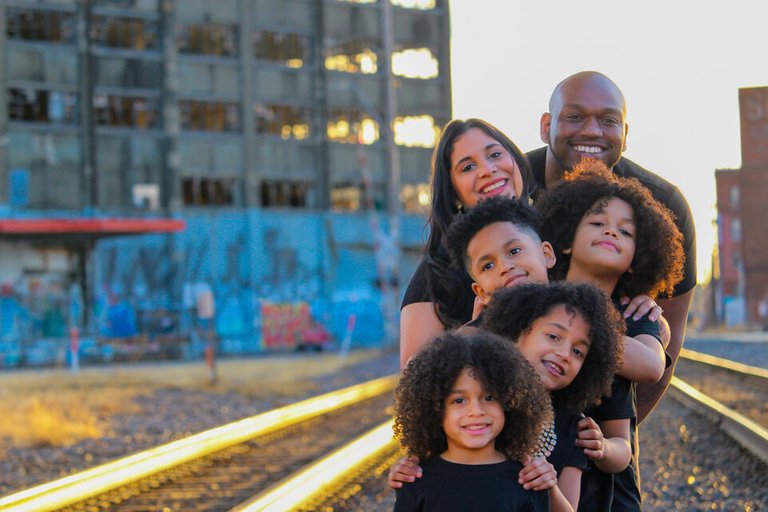 Last month I mentioned we had a few bookings coming up and we most certainly did.
Everything has been going really good for us and I've been busy with editing.
This shoot I'm sharing with you today is of a beautiful family we met last year at our homeschool co-op. They are more than just our friends, they are family. We instantly clicked and have been doing life together every since.
This is the first family photoshoot they have ever done so I had to be sure to really capture some great moments for them.
When I reached out to see what type of scenery they wanted she told me her husband wanted an industrial feel for the photos. We knew just the spot to make that happen.
I was excited about taking these because it would be our first time doing this style of photos. I've always wanted to try this look and finally I would get too. 😊
Being outside photographers is always a gamble when it comes to the weather. We can book a day and time but it always depends on what's happening outdoors. Thankfully once again the Lord allowed us to have such a beautiful sunny day to snap these images.
As always we try to take the majority of our photos right before the sun sets because it's the most beautiful. You don't want the sun too bright to avoid overexposure and you definitely don't want to wait until the sun as set too far. We are always keeping track of the time and where the sun is.
We were able to take advantage of old buildings with broken glass and screens, graffiti walls, train tracks, ledges around buildings, brick walls and a community garden. The fun part about taking photos on the weekend is many places in every city's downtown are closed. You pretty much have free rein to take advantage of the space and not have to worry about lots of people being around.
The cover photo was my friend's, the mother of this beautiful family, favorite photo. My husband picked the spot, I posed the family and then he snapped the shot. There wasn't much I had to do as the background and the train tracks already setup a really nice backdrop for us.
That's one of the advantages about taking industrial photos. All you have to do is position your subjects in the right spot and you have an amazing photo. 😃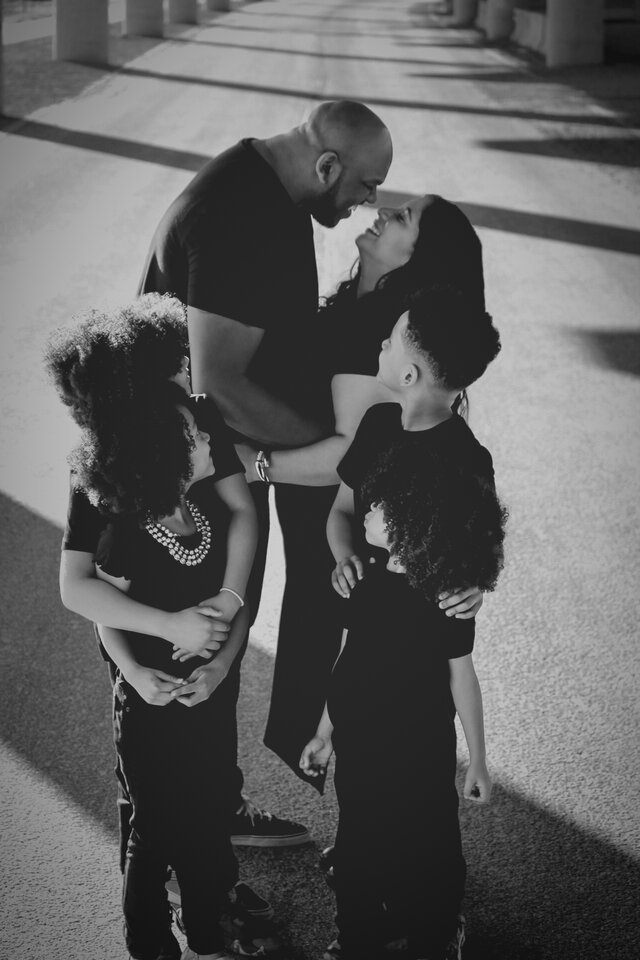 This is my second favorite family photo. I am learning how to set the black and white levels in photoshop to where it gives the image a better looking quality. Deepening the blacks while lightening up the shadows gave me the look I was hoping for. On top of that I think it's beautiful how the kids are admiring their parents while they love on each other. 😍
Father and Sons…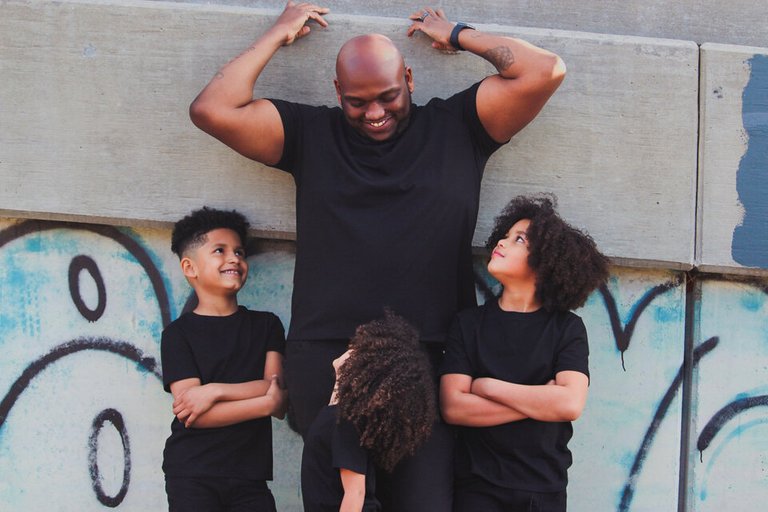 I really cherish this photo because this is how it should be, sons looking up to their fathers. These boys are hoping to one day be as wise and as strong as their dad and it shows in this photo. The love of a father for his sons is also very much evident.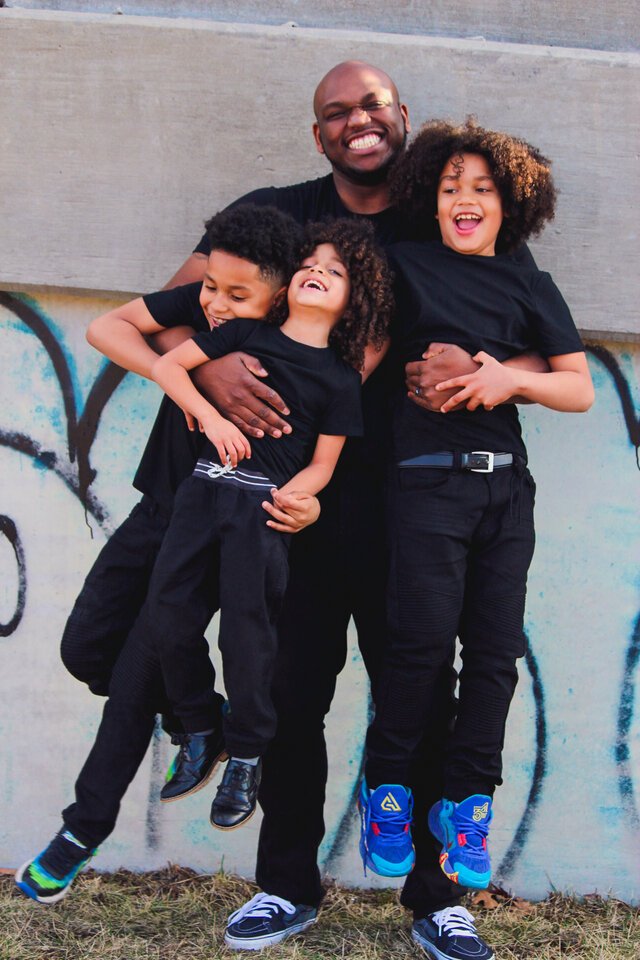 This pose was 100% natural because after the previous shot you just seen he grabbed up his boys without them being prepared. They were having so much fun and I'm glad I was able to catch it.
Mother and Daughter Moment…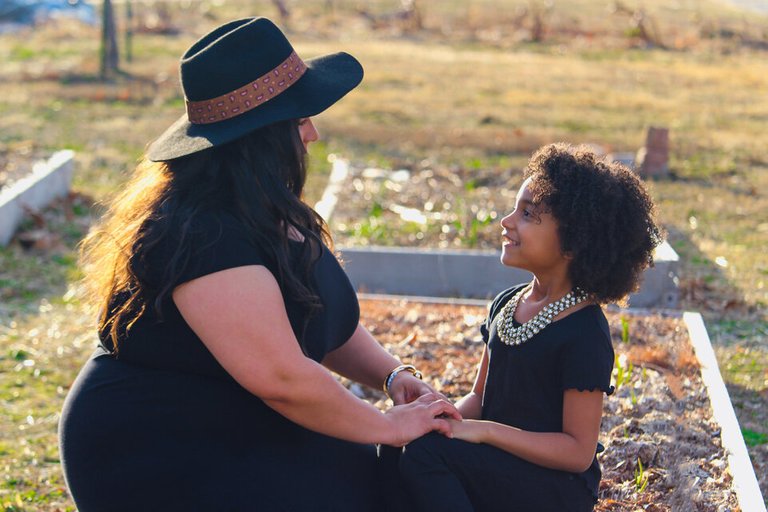 Catching candid shots are one of my favorite things to do. Don't get me wrong, posing is great too. There's just something about those moments when they're not ready for the camera but are just being themselves. I have captured some of the most tender sweet moments this way.
I love how before I said look at the camera this little sweetheart was so focused and interested in whatever her mother was talking about. This moment shows a daughter who grasps on to what her mother teaches her and gets excited about those teachable moments.
Date Night…
At this point my husband stayed with all of the kids (our 5, their 4 and one of their cousins who was there…oh and we can't forget their dog 😆) as I walked the couple over for their date night session. 😄
Once again I let the natural moments take lead. After I asked them to have a seat I told them I will be taking random shots to get my settings and would let them know when I'm ready. Well, when I was ready they were having a moment so I didn't interrupt. Instead I just snapped away. 😁
Once I got this shot they asked
Okay what do you want us to do?
I said
Oh I've already been snapping away and have what I wanted".
They thought it was hilarious! We got a few more in this position but the candids were the best.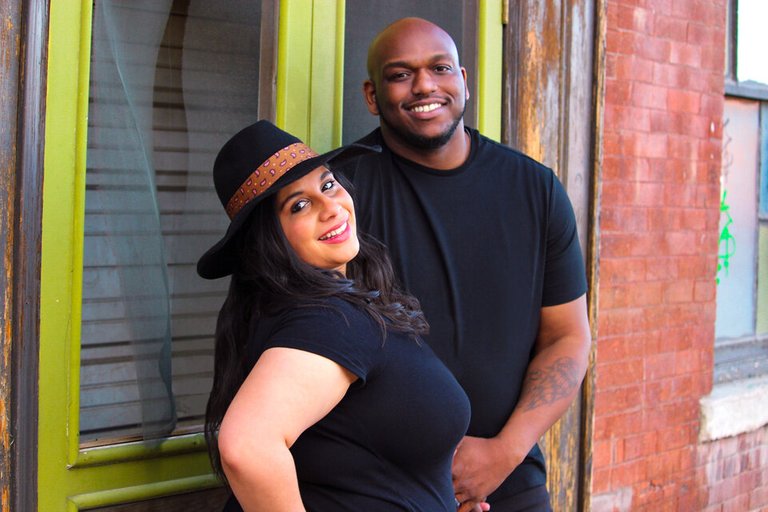 Before walking over to this area the green door had already stood out to them. He mentioned he wanted to take a shot right in front of it. I loved the rigid look of this whole setting and the fact that this door was the only vibrant smooth thing around. I made sure to make it even more vibrant since it sort of worked as a frame for the couple.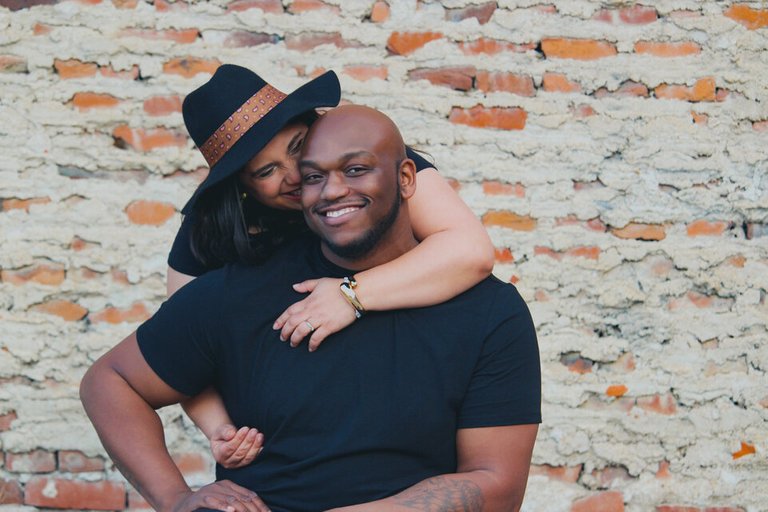 This was another one of those in the moment shots when they thought I was still getting my settings right. I absolutely love my giggly friend and how she was enjoying the moment with her husband and having fun holding him. 🥰
All about the kids…
I took individual shots of all four kiddos on the train tracks but this one was my absolute favorite. The way he positioned himself and those eyes and smile just melts me. He's my little cutie pie and I adore how this photo turned out.
This was taken in the community garden just like the mother and daughter shot. It had just the right sitting for these littles. I coached the oldest two to put their arms around their younger siblings and started snapping from there.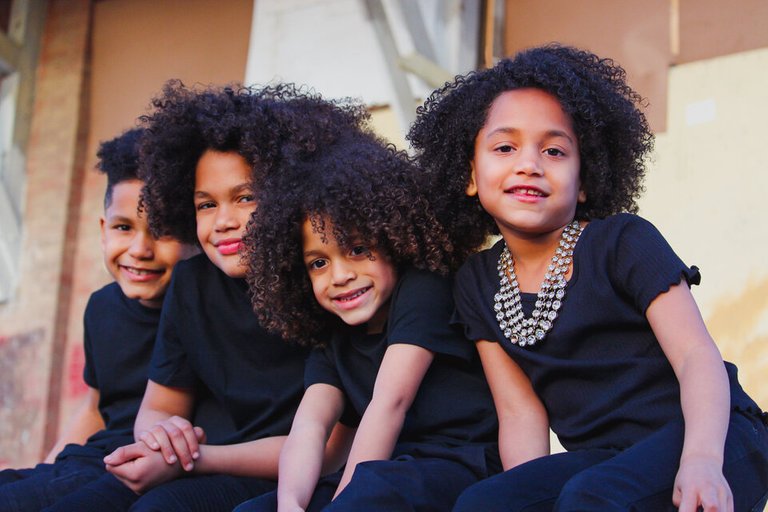 This final photo I'm sharing is my absolute favorite of the four. This idea came to me right when we had finished the shoot. I saw this ledge and the angle I could get and had them quickly climb up and sit down.
Once I get going it's hard to stop me lol.
I'm glad I did this one because it quickly became a favorite of many who saw it. ☺️🤗
---
This photoshoot has become one of my favorites so far. The scenery and playful family all play a big part in that.
As a photographer you learn quickly that not everyone is all smiles and energy. I have photographed adults that would not give me any hint of emotion whatsoever. Even when I asked them they looked at me crazy and continued on with this blank lifeless look.
Due to these experiences I've had with those types of things I appreciate people and families like this who make my job fun and less stressful. It's not hard pulling a smile or a laughing moment from people who are already built that way. 😌


Side Note - I am considering going to photography school to perfect my skills and gain so much more knowledge in this field. This is truly my passion and I want to run with it. If you know of any great online resources please shoot them my way. I most likely will be applying for a scholarship in order to do this and would love any helpful info if you have any. 😘


Thanks So Much For Joining Me! ❤️
---
---