All Eyes On Hive
Does this still count as flying under the radar?
Over the last 48 hours Hive has been the one Crypto that has caught everyone's attention. Up 40% in a bear market and the one standout Crypto that has in my eyes gone up a level ready for a massive sling shot when the Bulls arrive back in town.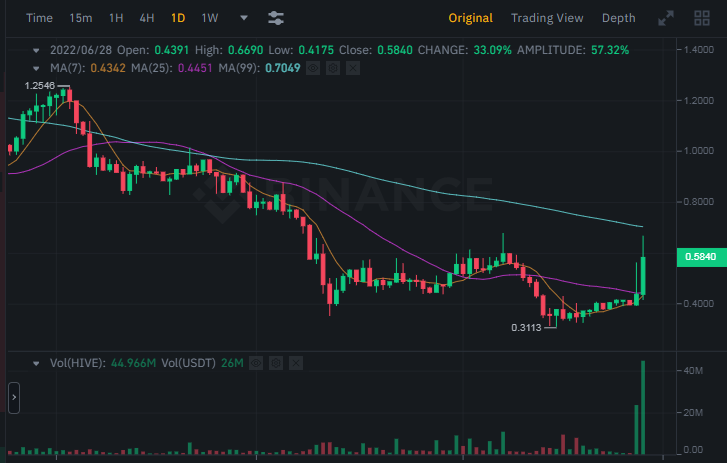 source
I am not saying it will happen, but the idea of Hive being around the $0.60c level when the recovery starts, puts Hive up a notch compared to where we were. The one thing in Crypto is nothing ever stands still and price action is volatile at the best of times.
Hive achieving $3.41 in November last year was a great achievement for a blockchain so young, but the latest price movement has put Hive at another level. Not only have we climbed the rankings in market cap
but this has made a true statement of intent. Looking at where we have come from and where we are heading $3.41 was just the starters and only getting warmed up.
How many investors have traded Hive in the last few days for their first time as the volume tells the story. Having a quick glance at Binance Hive has to be just outside the top 10 for volume which is remarkable as it is not a quick pump and dump. Every time Hive climbs and pulls back we saw this the last time around as some how we reached a new level and clawed our way up. These are exciting times as anything is possible and nothing can ever be rules out. Hive means so much to all of us as we are involved with this project daily and this is more of a personal investment unlike all the others.
Posted Using LeoFinance Beta
---
---