Hive Performing Well In Comparison To Other Projects


Zooming out and seeing what other projects are doing is important as it gives you some perspective how the projects you are involved with are actually fairing. I knew HIVE was doing well, but when seeing this we are doing better than good.
This is the Cryptobubbles site showing what various Crypto projects have done in the 100-200 ranking for the last year. HIVE is at least green with a positive of 36.9%. HIVE's bubble is at the bottom right and forget looking at the 1000's of percent gained by a few others as I have no clue what those projects are and not bothered. One cannot be involved everywhere and needs to research what you are investing in thoroughly. We know HIVE better than anyone else as we are involved working on the blockchain daily.

As you can see against the majority of projects HIVE is actually fairing very well as the majority are down between 60 and 80%. This is actually quite telling and will definitely put HIVE in a much stronger position when the market starts climbing back up at some point. We are ahead of the game in comparison by a good 100% if we add our gains compared to the others losses.


If we look at the top 100 coins by rank the pattern is repeated with the majority all down by a large percentage. Out of the top 200 Cryptocurrencies HIVE is one of 35 to remain green which put us in an elite category of sorts. Forget the ATH we had in November as this is the price from 365 days ago. So much can happen so quickly as this can all change within a week or two.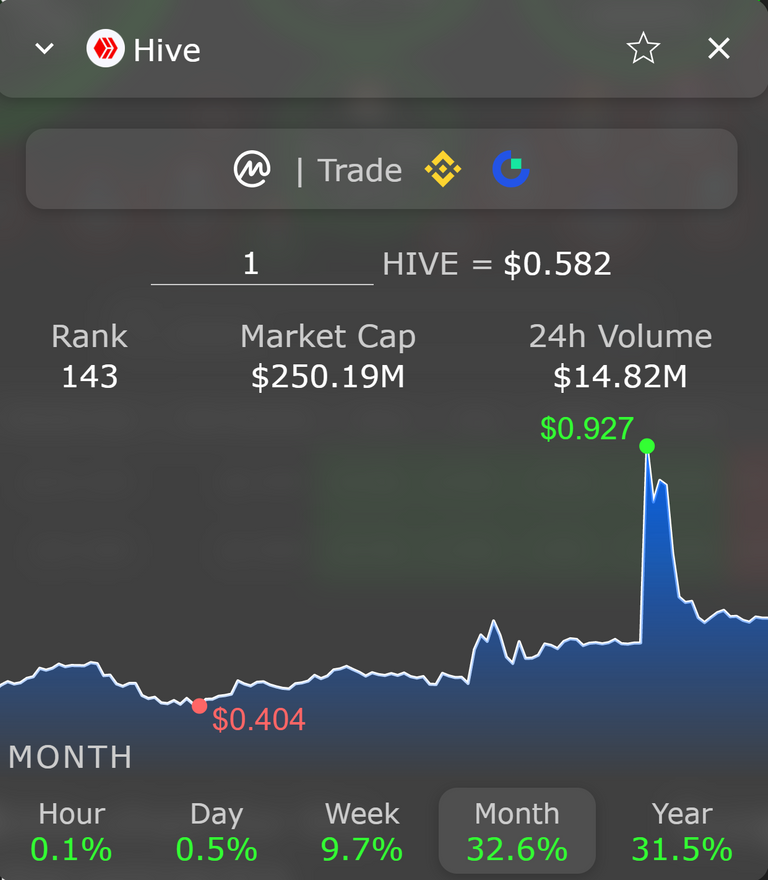 HIVE in a Bear market is doing better than good as the price is slowly climbing due to these regular pumps. Gaining 5% or 10% each time it won't be long before we see a huge gain whilst the rest of the market is going sideways. This is exactly what we saw happening months before we achieved the all time high and I see no difference from those months of August, September and October last year.
With so much happening with regards to development this is going to be exciting to see how this price starts to rise over the next year or two as anything is possible.
Posted Using LeoFinance Beta
---
---