Leo Dex Vote Multiplier - A Must Use Tool

Today @finguru asked me how to use the Leo Dex vote multiplier and thought if he is asking how many others may not even know about it or don't even use it. This would be too long to write and explain in a comment so hence this post. Personally I rate this tool and believe it is the most important tool for growth on HIVE especially in the tribes. I don" have an alt account for Leo so my HIVE account needs to suffice for all the tribes and this is a life saver for Voting Power.
We all know we receive 20% vote power on HIVE every day which equates to 0.83% every hour. The aim is to try and keep your voting power above the 80% threshold to maximize your curation each day. If you are logging off with more than 90% vote power this is like going to bed with your socks on and potentially missing out on curation rewards.
The problem lies in the many tribes we have on HIVE these days as how do you manage to vote when only having 10 x 100% votes. The Leo Dex Vote Multiplier helps you dilute your HIVE vote making it last longer allowing you to support more users. Obviously reducing the percentage works, but what if you are only voting 20% or less on posts? Many authors use generic tags which is where you could be missing out if you are not using the Leodex vote multiplier.

1.Open up your LEODEX wallet and click rewards.

As you can see from mine I am voting and using too much VP on POB so that will have to be adjusted.
On the far right there is a lightning bolt box and you now need to click on this. A box opens up asking you to adjust the vote multiplier for that particular token. I have been voting 3 x on POB and now need to adjust to 2 x as the VP is way too low on that token.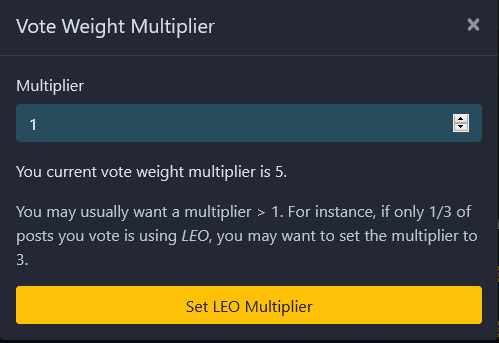 A prime example is I have STEM as stake but am not actively involved within that community. This doesn't stop me from voting the posts as the users I follow may use a STEM tag on one of their posts or another tribe. LeoDex covers this as long as you set the vote multiplier to your advantage. If you are unsure go high and adjust down. I start at 4 and work my way down, but most of my HIVE votes are 10% and higher so you may vote with less VP so be careful and monitor daily and adjust this accordingly.
This is a tool you can play around with as only once you start using it will you see how popular certain tags are and how it affects your Voting power for that particular token. The choice is yours as you will know which tribes you are active in and everyone user will be different.
How it works is if you see a 1 in the vote multiplier that means it is the same as your HIVE vote so if you vote 10% on HIVE then you are voting 10% in that tribe as well. If you adjust it and now shows a 2 that means your 10% vote is now 20% in that tribe even though you only used 10% of your HIVE voting power.
My Leo Vote Power is 2 x which in theory allows me to vote 5 x 100% votes per day on HIVE Vote Power, but equates to me voting the equivalent of 10 x 100% VP whilst only using 50% of my daily HIVE voting allocation. If I am voting more and more then I will reduce the Vote Multiplier accordingly as it can drop very quickly. I used to have my Leo Vote set at 4 x ,but had to reduce to 3 and then 2 as I was voting far more than expected. You will need to adjust as not only does your vote value increase (stake growing), but as the number of comments and votes you upvote increases.
This is a real bonus as you could be supporting so many users with their posts as many use generic tags. This earns you more tokens as long as you set the vote multiplier on all the tribes you have stake in your wallet.
If you are unsure and have any questions then please drop a comment as I will help you wherever I can.
Posted Using LeoFinance Beta
---
---