The First Splinterlands Giveaway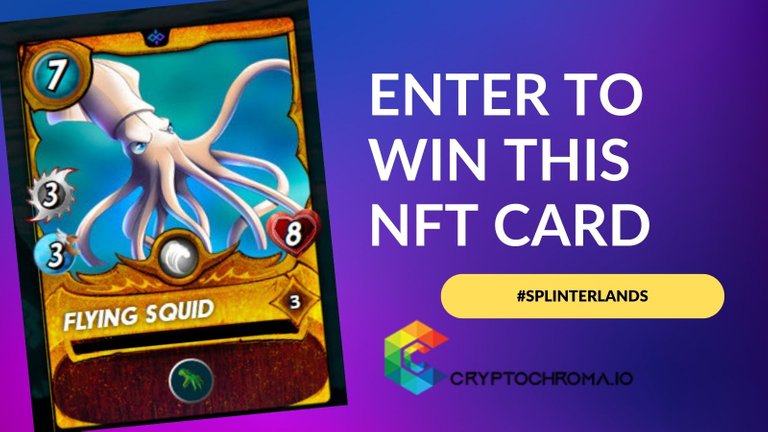 This is the start of what will be many giveaways in the crypto space. It will primarily revolve around #Hive blockchain games but will also incorporate other crypto games and tokens.
These giveaways will vary between having to use a widget to enter on our main site CryptoChroma.io and these types of #giveaways exclusive via a hive blog post like this.

What's up for grabs?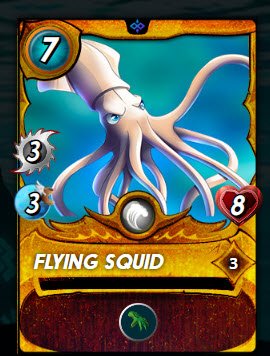 A gold foil Flying Squid!

How To Enter
Since this is our first giveaway the ask is going to be a little higher than normal so we can get some traction. However it wont be overkill and still easy to do.
Actively Follow @cryptochroma on Hive
Drop a comment
Optional: Drop any size upvote on the post
Optional: Share this post with others
Requirements
Must have a Splinterlands account
Must be following @cryptochroma
Must comment from your hive account you want the NFT card sent to

How Is The Winner Picked
After 7 days when this post payout is complete everyone who commented will be entered to win. All valid entries will go on a wheel spin. The winner will then be sent the card to the hive username they commented on this post with and also announced on the next giveaway post we do which means these will be weekly at least for #Splinterlands but might increase as we figure out a smooth system to work with and grow.
How Upvotes Are Used
Special Notes
If you would like to be tagged each time we list a new giveaway here on hive let me know down in the comments.
People Tagged For This Giveaway
@xplosive (Per request)
If you would like to be removed from these tags simple let me know in the comments below. Being tagged is not required it's only to help those who want to enter to not miss it.

The Goal
The goal of all of this is to build one of the most thriving, successful and trustworthy giveaway sites that's primarily center around the gaming and NFT space as well as primarily Hive focused. To me this is a great way to get other involved in Hive games and to grow the entire platforms userbase.
Not all of our posts will be giveaways. We will also include fun articles and training on Splinterlands and other games including some news updates in the gaming and NFT space as another way to drive traffic to our giveaways from outside sources.
Initial functions of these giveaways will be to build some passive income capital which will then be reinvested into games for larger pooled giveaways. As we continue to grow the idea is to partner up with new games launching on hive to help in their release to grow their user base faster and larger.

Seeking Quality Writers For NFT Games
If you write high quality training articles already on hive we want to know! When you comment to enter this giveaway comment a recent post of yours so we can check it out. We want to follow many high quality article writers here on hive and with that support them.
New posts we find interesting and helpful by these writers will be upvoted on by us via curation and also mentioned in some of our giveaways for added exposure.
Check Out Our Other Crypto Giveaways
---
---