Bish1Up Season 1: THE FINALS AT LAST, Call to Champions. Pizza 1UP and a Steam key up for grabs!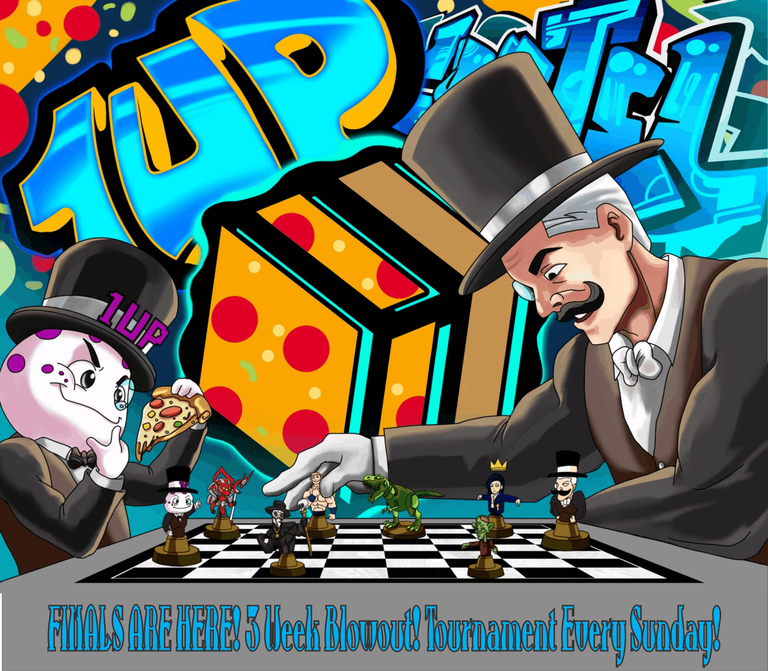 3 Week Finals Blowout
Greetings all you hive chessers. It's been a while, but the finals brackets have finally been created and here we go. The first two tournaments are separated by a factor of ELO and history during these tournaments, these will be held in the manner the rest of the series has been held. AFTER those tournaments the finals will take place and said brackets will be manually created based on the results of THESE 2 tournaments and the performance therein ALONE. I did this to allow opponents to face players that were on more of an "even footing" so to speak. I have looked at the chess history all you of had done in the tournaments leading up to this one (which was fun, many cool matches there). Anyone who placed top 10 in ANY tournament in this series qualifies for the finals. The finals will be held in 3 sessions held a week apart. 1 lower elo bracket, 1 higher elo bracket, and then the final round. The prizes will be what was detailed in the initial post here (yes it's been a while). The finals will start on the second Sunday in august and run weekly until finish. In addition to the finals for this tournament coming to a close, the next FREE OPEN tournament of PizzaChess will be announced next week too for those of you itching to get back into some PizzaChess (I know I am) and held biweekly after that.


Champions heed the call: How to attend the finals
To attend the finals of PizzaChess you must do one of the following combinations of things.
Message me you hive address in lichess.

Message me your discord name etc. in lichess.
Congratulations on making it to the finals! The other tournaments are linked at the bottom. IF YOU ARE ONE OF THESE USERS WHO QUALIFY (TOP 10) PERFORM ONE OF THE ABOVE TASKS FOR EASE OF TOURNAMENT MANAGEMENT PLEASE. Even if your address was @ed above. Perform said steps to know which tournament you will attend (week 1 or 2) and be DMed your passcode to either. Attending and viewing this tournament in the hive.pizza discord or on twitch will additionally be tipped some Za.

Reiteration of the Shoutout to those who donated
"I am excited to announce PIZZA Chess Season 2. The Prize Pool is spilling out of the coffers this time 1UP/Cartel Prizes, PIZZA, and a different format than in the previous series of tournaments (as per the request of commenters in the previous post). This series will be held in 3+2 blitz instead of 5+0 like last series, to pull a greater pool of players. This tournament will be held between 10 tournaments. A grand event to commemorate the grand event that is the 1UP Cartel and hive.pizza partenership, this series will hold a plethora of prizes contributed by: @flauwy 1500 1UP, @thebeardflex 50 PIZZA and a steam key, @dibbler-dabs 50 PIZZA, @huzzah 50 PIZZA, @a1-shroom-spores 80 PIZZA, @h3m4n7 50 PIZZA, and all of you for your participation so far. DEC, LVL, and other various trimming to fill in the gaps will be paid for by myself. Please give all those folks who contributed to this tournament series a round of applause." Definitely give them a second round of applause

Tasty Slices for Engaging: Throwin' some Za
Any 1UP, PIZZA, or Chess related comment will be tipped a slice of tasty PIZZA. Don't forget there will be an FREE OPEN ENTRY tournament (not a finals tournament) announced very soon. To be held in tandem biweekly as the finals draw to a close. May your pieces fare you well, see you on the Chessboard.
Tournament links 1 | 2 | 3 | 4 | 5 |

Thanks you for your Patience
Hive.Pizza Discord link here
1UP/Cartel Discord link here
If you have any additional question feel free to contact me wherever you find me or here in the comments. Exact times TBA later this week to not conflict with other hive chess tournaments. Stay tuned. Cheers Chessers.
PizzaChess Champions passcode: pizzachess
---
---