FLASH REMINDER: First Set of Finals for Bish1Up Next Week: Champion Call (and tag), Finals Series, Prize layout, Bonus loot, First Round at 8/7 9PM GMT nd more!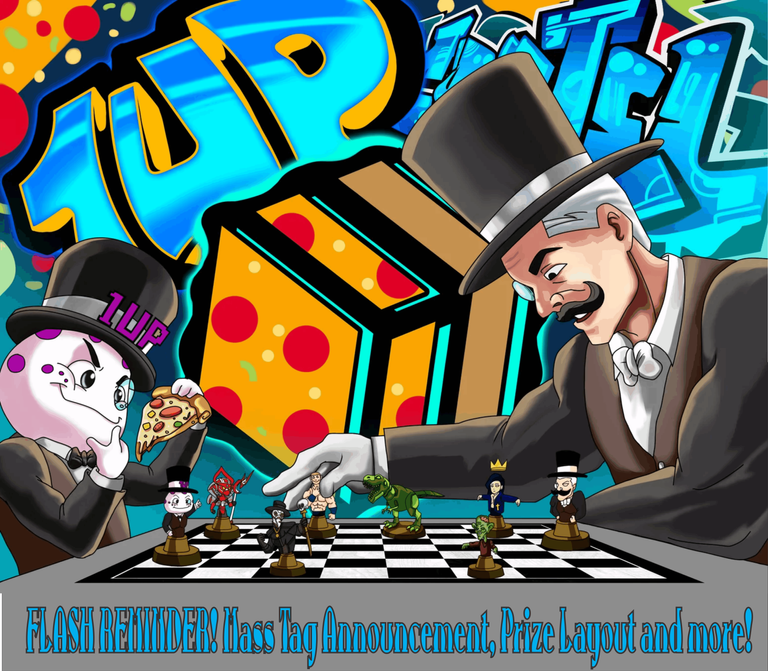 Check to see if you qualify! Information on signup here
PLEASE CHECK TO SEE IF YOU QUALIFIED IN THE POST HERE. ALL TOP 10 PARTICPANTS FROM ANY OF THE TOURNAMENTS QUALIFY
Tagged individuals who qualify (where I remember their hive usernames, and in no particular order) @stayoutoftherez @emic @b0s @taco-pizza @hurtlocker @stranger27 .
Aside from that, this is a flash reminder that the tournamet will be occuring August 7th (9pm GMT) the Second Tournament will occur on August 15th (or the following sunday).
IF YOU QUALIFY FOR THE FINALS AND WISH TO PARTICPATE PLEASE DM ME YOUR INFORMATION ON LICHESS.ORG TO VERIFY IF YOU HAVEN'T ALREADY. This is a necessary formality and how you obtain the passcodes to these tournaments.
Prize distribution will be announced once participation for the manually grouped first rounds of the finals are complete. There are 100s of PIZZA on the line, a steam key, and a big ol stack of Oneup.

Tossing Slices: Engage and get Za-ed
Any Oneup, Hivepizza, or chess related comment will be responded to with a slice of PIZZA. Fresh out the oven. Don't forget to follow for more tournament information for chess, other events, or whatever else I might be doing. May your pieces never falter, and see you guys this weekend.
---
---