PvP DOUBLE TOURNAMENT - Saturday 15th @ 3pm + 9pm EST

---
THIS IS OUR GIVEAWAY ACCOUNT, FOR TEAM UPDATES AND ANNOUNCEMENTS PLEASE FOLLOW @cryptoshots.nft
This article is optimized for Desktop browsers and  Peakd
---
IN THIS POST
- DOUBLE PVP Tournament
Saturday July 15th
@ 3pm EST + 9 pm EST
💥 💥 💥 💥 💥 💥 💥
 
- Giveaway:
PREVIOUS PRIZES + 3 NEW PVP ALPHA PASSES
NOTE:
A PVP Pass is all you need to start playing and earn in the PVP Alpha version of our game !


---
PVP Tournaments
After skipping a beat due to the July 4th weekend, last Saturday we had our 3rd Flash Tournament. And for this weekend, we decided to double down on the fun!
                                                    + LIVE CHAT in our pvp-alpha-testing Discord channel.
 
We are planning on hosting a Tournament every Saturday @ 3 and/or 9pm EST! 😎
Add it to your calendar, NOW !   🙂 📅 ✔️
PRIZES
On top of the auto-rewards in HIVE and DOOM that you regularly earn while playing our PVP Shooter, we'll award the top performers rare NFTs!
 
SURPRISE PRIZES from a previous tournament: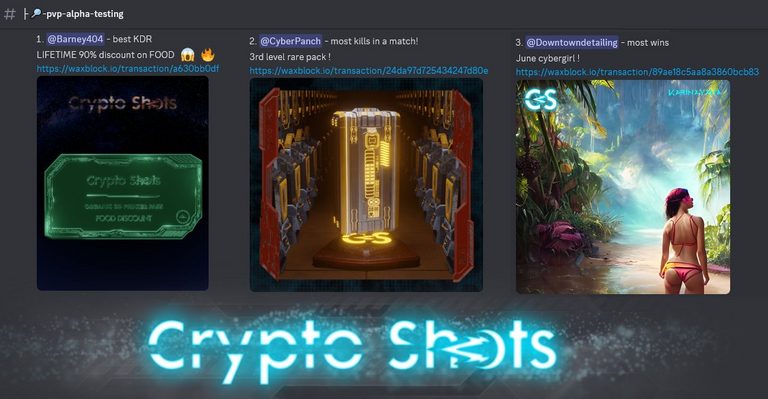 (Hive users will receive Hive prizes and Wax users Wax prizes)
WHO WINS
- 1x player with the most kills in a match, while the tournament is active
- 1x player that achieved the best KDR in the tournament
- 1x player with the most wins in the tournament
Some screen grabs from the last event:
When you are the unpopular kid and your teammates abandon you 🤣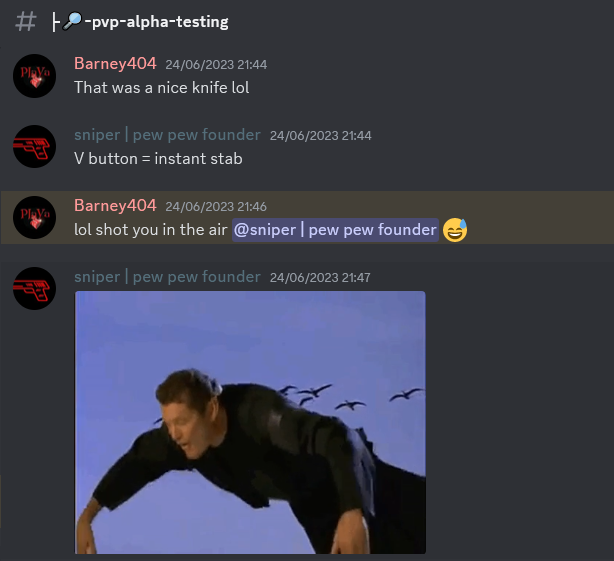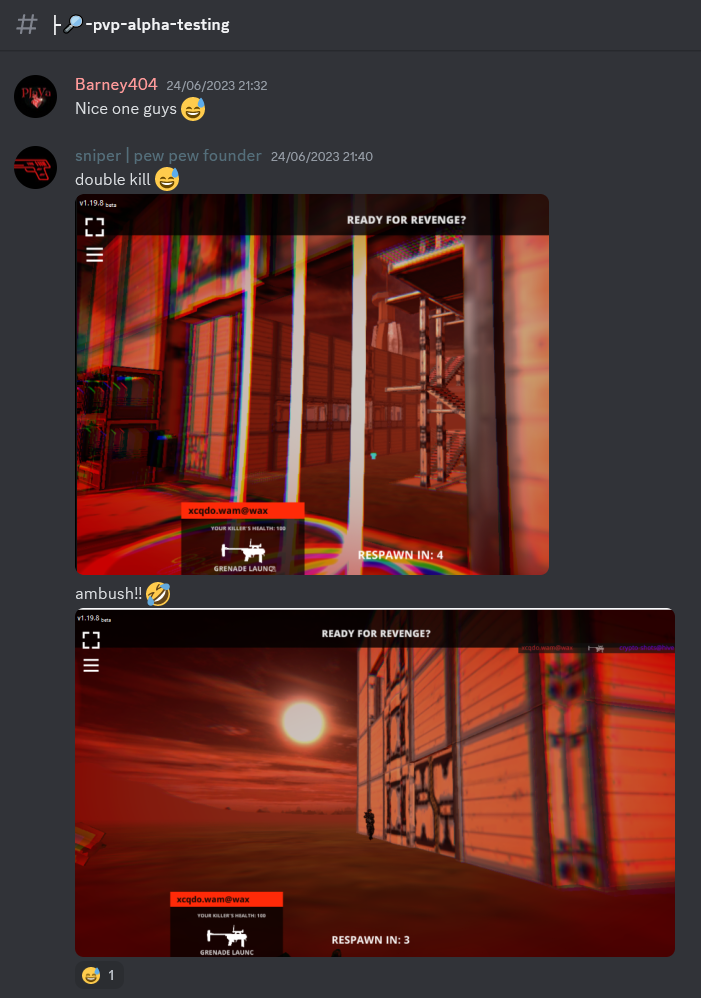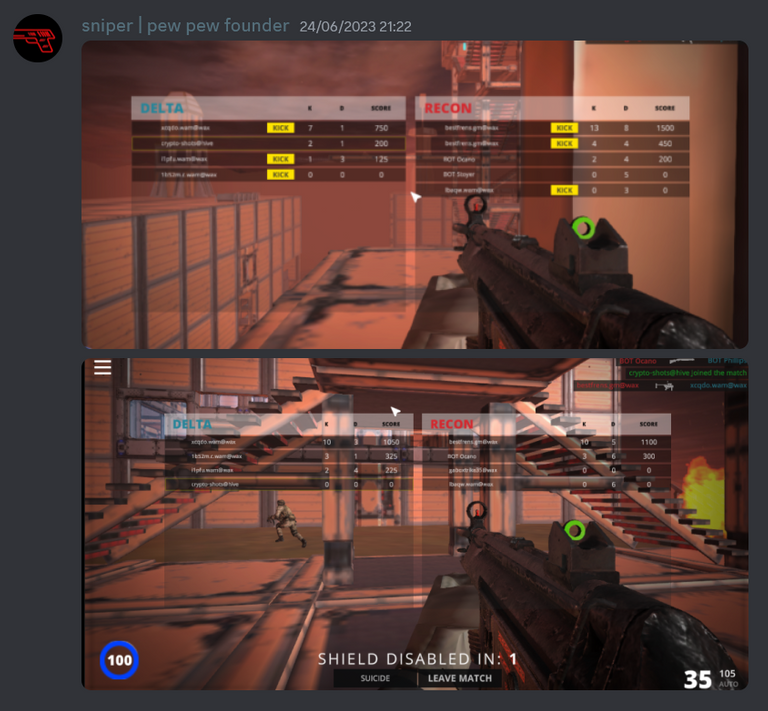 ---
Thanks also to DonBeJ for trying out our PVP shooter yesterday during his 10+ hs live stream! 😎 🔥
Click on the image to start the stream ▶️
And this is nothing in comparison to the HUGE streaming event that we are planning to attend and that will give massive exposure to the whole Hive ecosystem.
Stay tuned for the announcement! 💣 💣 💣
---
GIVEAWAY
Tag a friend in the comments to enter the raffle for 1x PVP Alpha pass!
+ 2x PVP Alpha passes to 2 random Rebloggers

---
    CG WINNERS!
    👑   @alicia2022 @littlehony @mickvir
]
More luck next time taggers   @sacra97 @panch3505
Thanks for the reblogs   @alicia2022 @anthonyadavisii @cribbio @cryptoshots.nft @gaottantacinque @keys-defender @marcocasario @mickvir @moisesjohan @oadissin @sacra97 @treefrognada @zillionz
---
RECENT ARTICLES:
-----   New TEAM UPDATE blog post coming out soon!   👈
---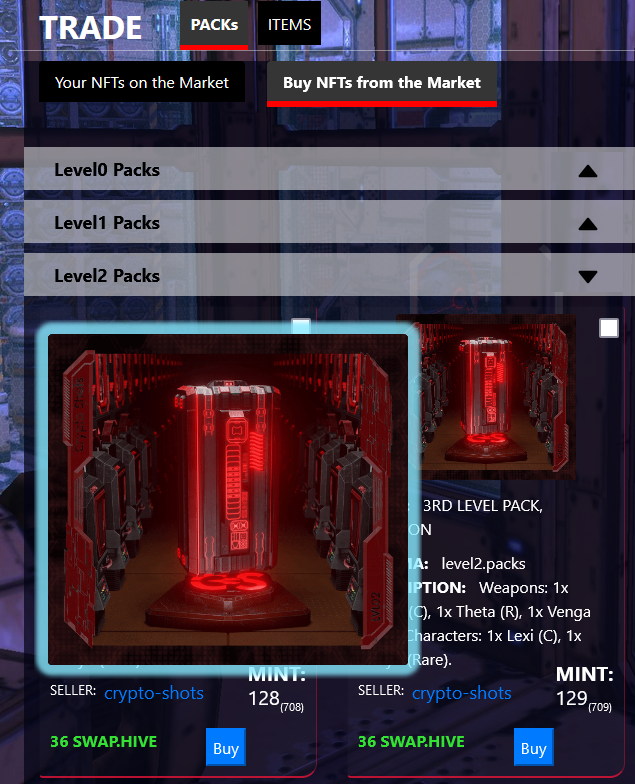 WHERE YOU CAN TRADE
OUR HIVE NFTs:
---

---
---