GALA GAMES - A PLATFORM FOR BLOCKCHAIN GAMES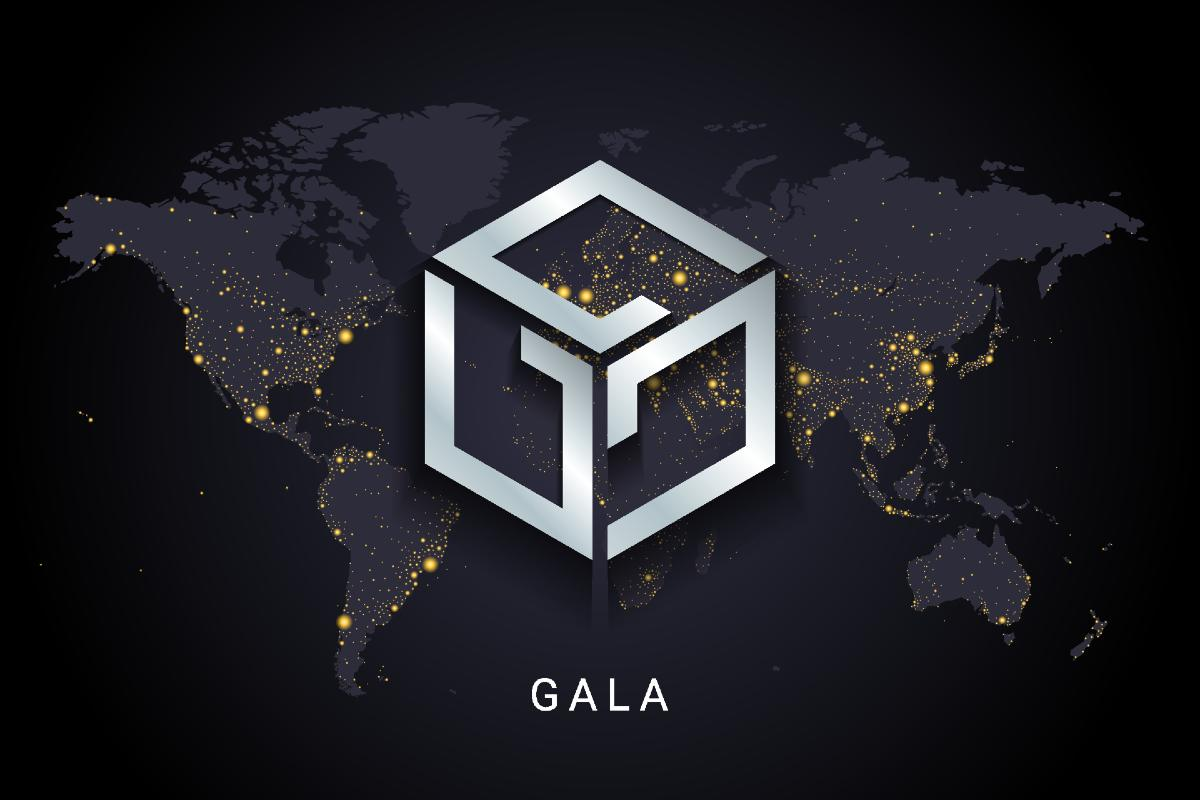 Image Source
Over the past six months, the GameFi industry has taken over an important part of the blockchain and cryptoactives universe, with the growth of play-to-earn games and non-fungible tokens (NFTs). Let's analyze a project different from those of just one game, which brings with it the proposal of being a platform for several blockchain games.
Let's get to know Gala Games.
WHAT IS IT
Launched in 2020, Gala Games is a decentralized platform
of blockchain games.
It offers a full range of different blockchain games, each of which provides players with true ownership of their items through the use of non-fungible tokens (NFTs).
Thus, one of the main goals of the project is to provide players with control of the games as well as game assets and rewards to users for their participation. The idea is somewhat similar to Steam, which features a wide variety of games, but operates in a centralized format - and is not very crypto-friendly.
Unlike Steam, in Gala all games are 100% free and are accessed through a Dapp. The bill wants to change the fact that players can spend hundreds of dollars on assets, playing, and still lose their assets through a single decision by game owners.
SECURITY
A rede Gala utilizando três mecanismos de segurança: Prova de Trabalho, Prova de Participação e o Prova de Armazenamento. Esse sistema é conhecido como "sistema de nós de prova tripla". Assim, ela é protegida por seu próprio conjunto de nodes, que são os chamados nodes do fundador.
Hoje existem aproximadamente 25,775 mil nodes ativos e o número máximo será de 50 mil. Eles validam as transações, protegem a rede e têm direito a voto nas decisões ligadas à plataforma. Em troca, esses nós fornecem tokens Gala como recompensa.
Para ser um nó validador, o cost é relativamente alto.
Aproximadamente US $ 25 mil, sendo que a cada 100 nós vendidos o preço do nó aumenta US $ 88,7.
TEAM
Gala Games was founded by Eric Schiermeyer, co-founder of Zynga, which is a popular gaming company and is listed on Nasdaq. Under Schiermeyer's leadership, Zynga launched popular hits such as Mafia Wars and the famous Facebook app social game: Farmville.
The company has about 100 employees on LinkedIn, who have vast experience in the gaming and cryptoactive business.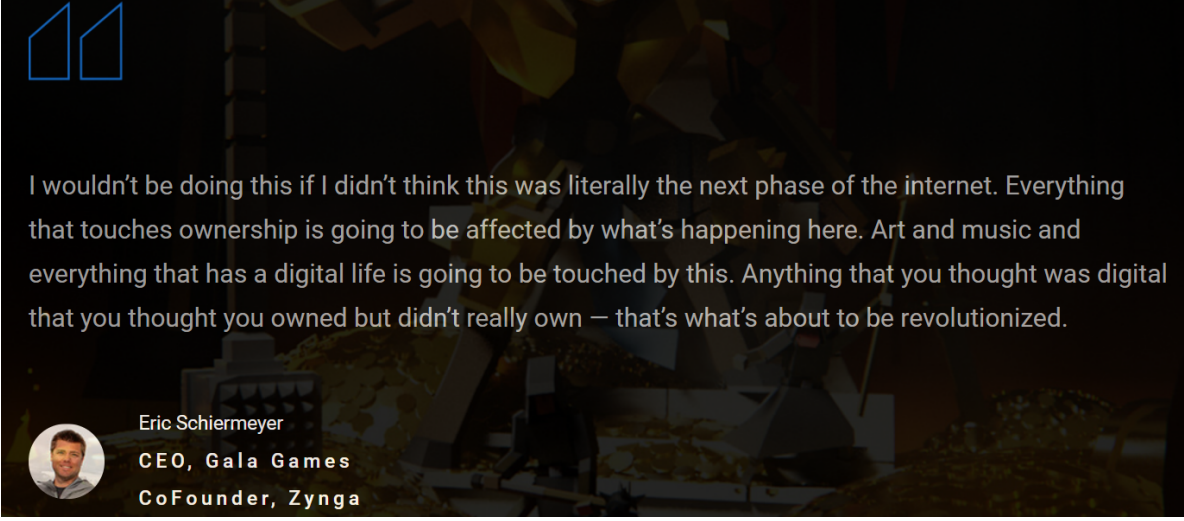 PRODUCTS
There are eight games listed on the Gala Games platform. They are: The Walking Dead, Mirandus, Legacy, Last Expedition, Echoes Of Empire, Spider Tanks, Town Star, Fortified. They are all free-to-play,
however, to have a full experience, it is necessary to have appropriate NFTs.
Town Star is available to play, while the others are in beta version or under development.
Town Star is a farm simulator, similar to Farmville, where the player manages a production line, from planting, caring for the animals to marketing their production.
In addition to the games, there is also a marketplace, where it is possible to sell the game assets that make up the Gala Games ecosystem.
In 2021 Gala Games and C2 Ventures, the company of former Huobi Global blockchain investment chief Ciara Sun, launched a $100 million fund to accelerate blockchain game development.
TOKENOMICS
The $GALA token serves as a utility token, which is used to purchase in-game items and also for governance. The maximum supply of $GALA tokens will be 50 billion and the total supply
The current figure is 36,475,138.187, and there are currently around 7 billion $GALA outstanding, or approximately 20%.
Similar to Bitcoin and many other cryptocurrencies, the $GALA token has an emission reduction cycle, which takes place every year, every July 21st. The next reduction is scheduled for July 21, 2022, when the issuance rate will be cut in half.
PRICES
Current quotation: US$ 0.31
Historic high: $0.82
Market cap: $2.4 billion.
Current supply: 7,542,496,572 billion units
Total supply: 36,475,138,187 billion.
Maximum supply: 50 billion.
The $GALA token began trading in September 2020. In September 2021 it rose driven by the rise of other tokens linked to blockchain and metaverse games. In November, it gained more than 800%, hitting a historic high of $0.82.
The $GALA token runs on the Ethereum network, on Binance Smart Chain (BSC) and also on Polygon.
91.25% of $GALA tokens are held by the top 100 addresses.
The total token holders is 82,939k.
Today there are approximately 78 thousand active addresses.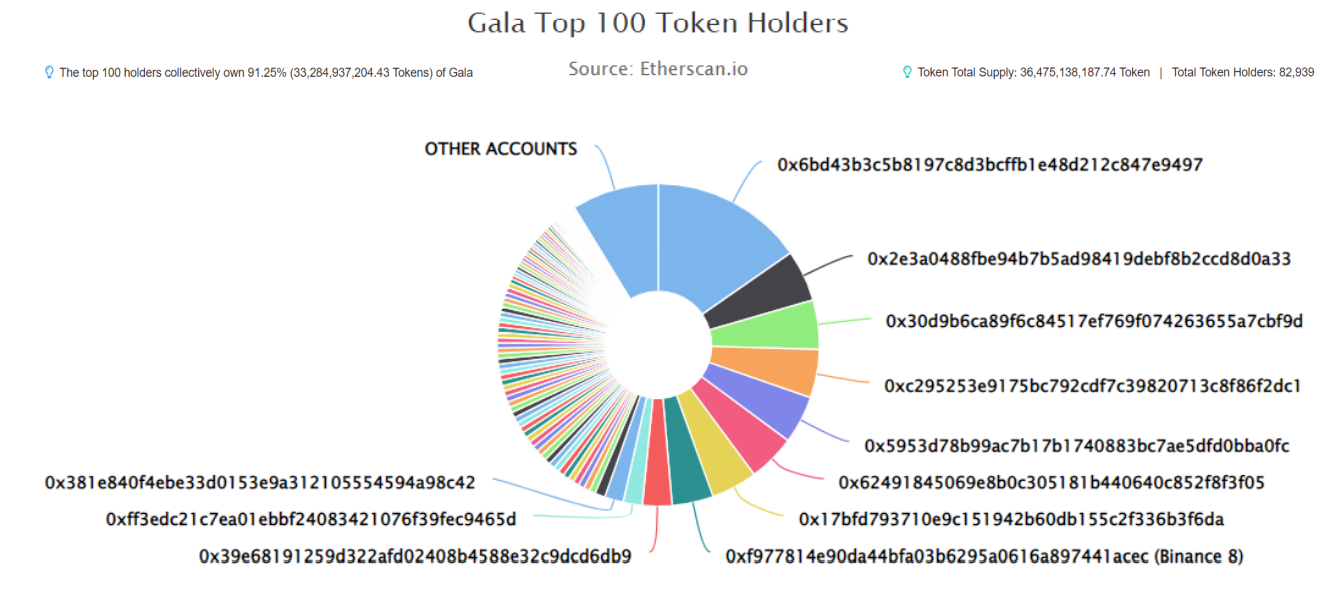 Currently, the project has more than 90 team members. The number of monthly users is 1.3 million. The total number of NFTs sold is 26 million and the most expensive one sold to date cost $3 million.
Gala Games has an interesting game ecosystem, a different proposal from other projects related to blockchain games and a very experienced team. This makes this project a unique idea less fragile, as it does not depend on the success of a single game.
They seem to work for the expansion of blockchain game applications, because they understand the potential impact they can have not only on the game industry, but on several other sectors of the economy.
The gaming market is a huge market.
Alone, it is bigger than the music and movie industries combined. So it has a tendency to continue expanding in the coming years.
Posted Using LeoFinance Beta
---
---