Useful Mobile Apps; iTranslate📱- Kullanışlı Mobile Uygulamalar; iTRanslate📱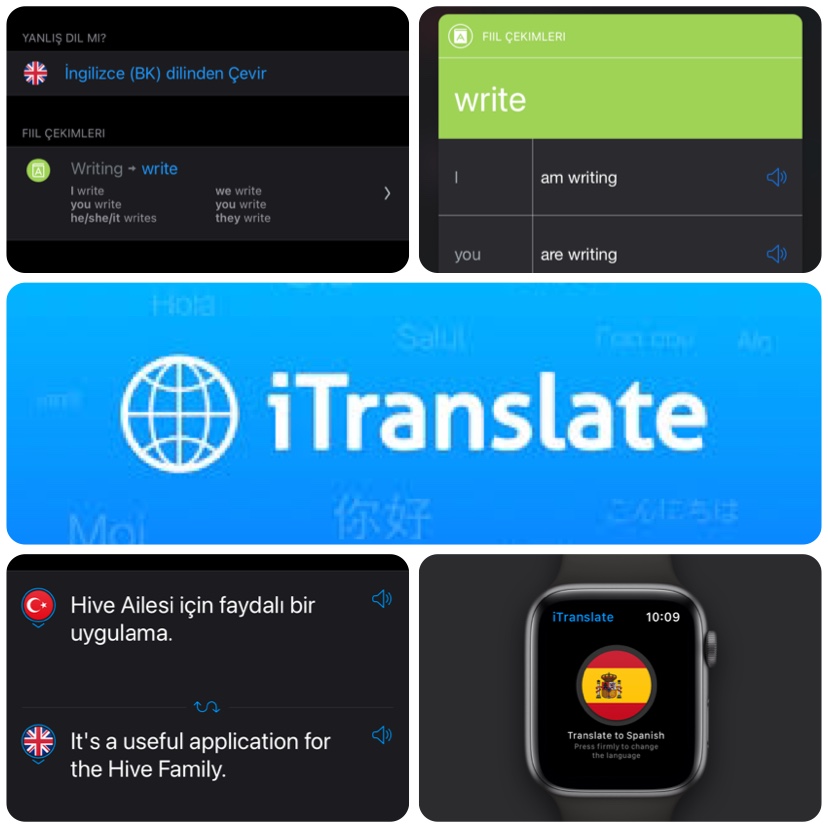 (EN) Good morning Hive Family. Today I want to share a very nice application for you. Our app is called iTranslate. I also use this application on my phone and recommend it to everyone. The purpose of the application is to translate from many languages to other languages. The application is very simple to use. So how is it used?
(TR) Günaydın Hive Ailem. Bugün sizler için çok güzel bir uygulama paylaşmak istiyorum. Uygulamamızın adı iTranslate. Bende telefonumda bu uygulamayı kullanıyorum ve herkese tavsiye ediyorum. Uygulamanın amacı birçok dilden başka dillere çeviri yapmak. Uygulamanın kullanımı çok basit. Peki nasıl kullanılıyor?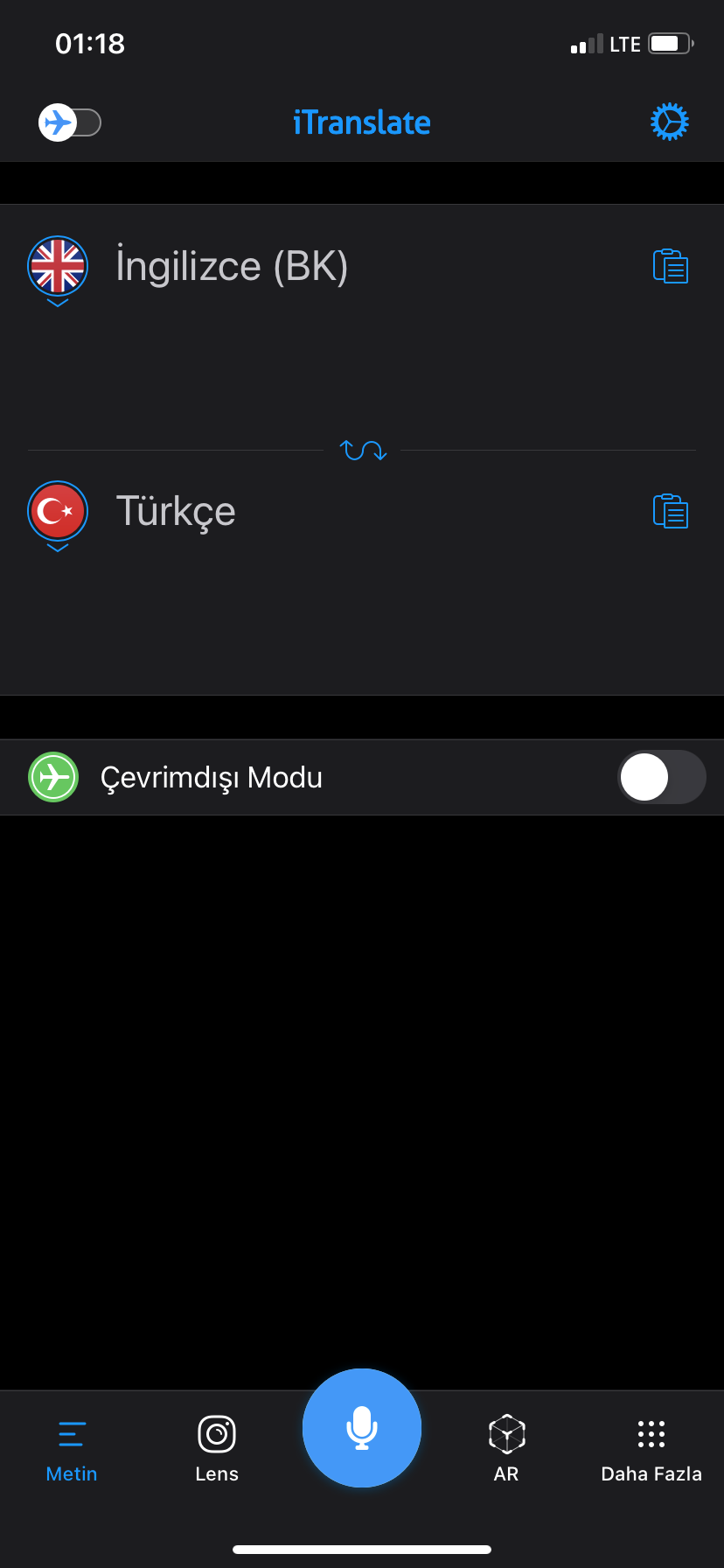 (EN) After downloading the application, we open it. When the application is opened, a screen like the picture welcomes you. You can translate by choosing the language you want. My favorite feature of the application; Two people can talk to each other thanks to the application. For example; I am Turkish and a British citizen came. I speak Turkish. The application translates what I speak into English. When spoken in English, it translates Turkish for me out loud. It is really a very useful application. I guess there is no need to learn languages anymore. 😂
(TR) Uygulamayı indirdikten sonra açıyoruz. Uygulama açıldığında sizi resimdeki gibi bir ekran karşılıyor. İstediğiniz dili seçerek çeviri yapabilirsiniz. Uygulamanın en sevdiğim özelliği; iki kişi karşılıklı olarak uygulama sayesinde konuşabiliyor. Örnek olarak; ben Türküm ve İngiliz bir vatandaş geldi. Ben Türkçe konuşuyorum. Uygulama benim konuştuğumu sesli bir şekilde ingilizce çeviriyor. İngilizce konuşulduğunda sesli olarak bana Türkçe çeviriyor. Gerçekten çok kullanışlı bir uygulama. Sanırım artık dil öğrenmeye gerek kalmadı. 😂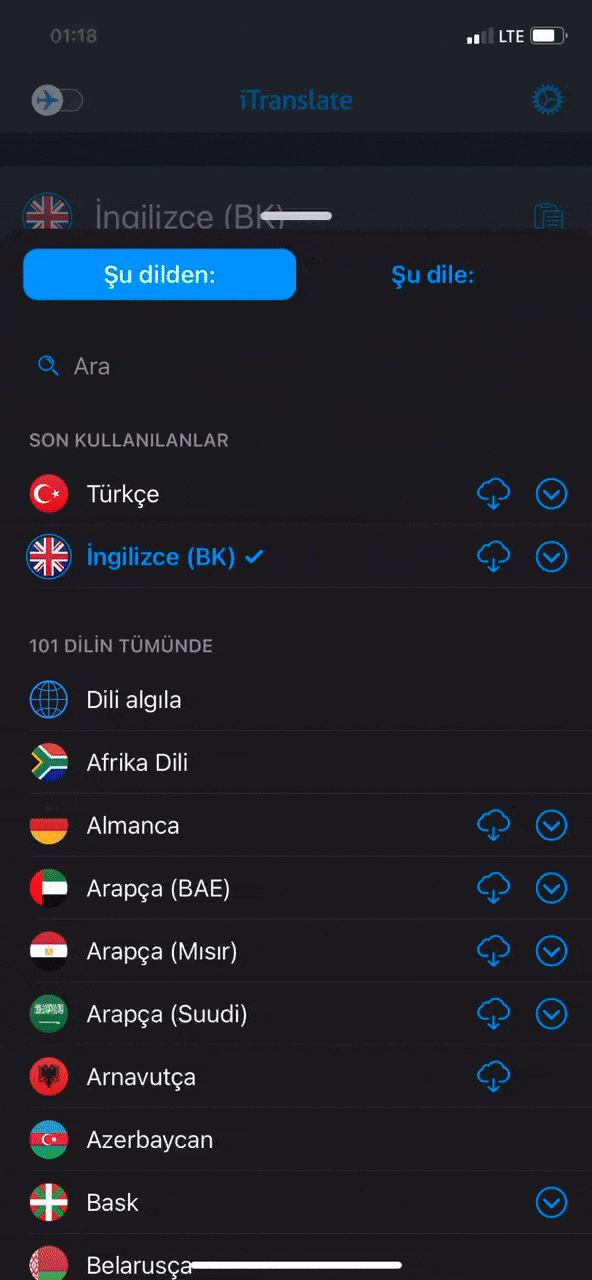 (EN) As you can see in Gift, there are many languages in the application. All languages in the application can be translated among themselves.
(TR) Giftte gördüğünüz gibi, uygulama içerisinde bir çok dil var. Uygulamadaki bütün diller, kendi aralarında çevirilene biliyor.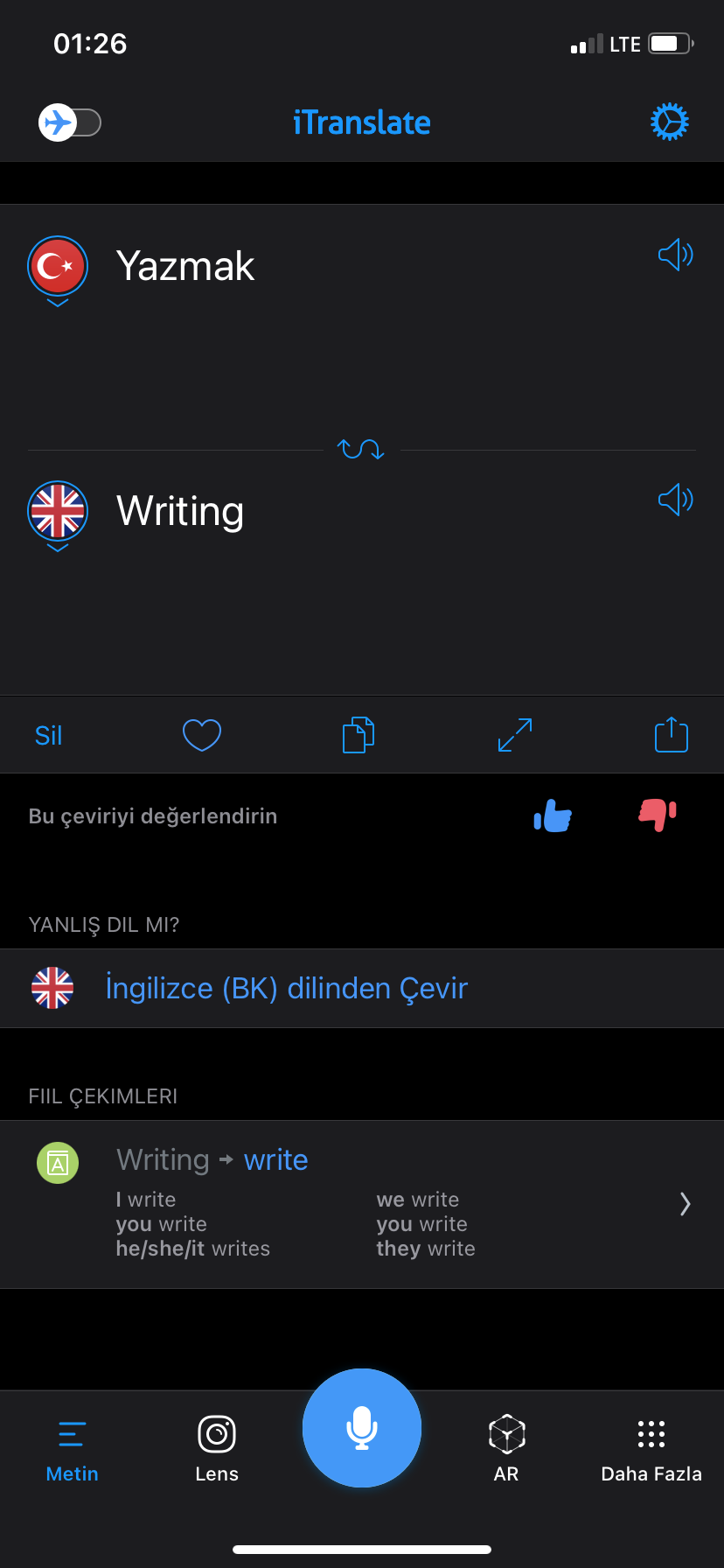 (EN) Another feature of the application that I like very much; lens feature. With this feature, you can translate texts in a different language with your phone's camera. Technology has advanced a lot now. I wonder what other technologies will come out. 😂
(TR) Uygulamanın bir başka çok hoşuma giden özelliği; lens özelliği. Bu özellik ile farklı bir dil yazan yazıları, telefonunuzun kamerasi ile çevirebiliyor. Teknoloji artık çok gelişti. Acaba daha ne teknolojiler çıkacak. 😂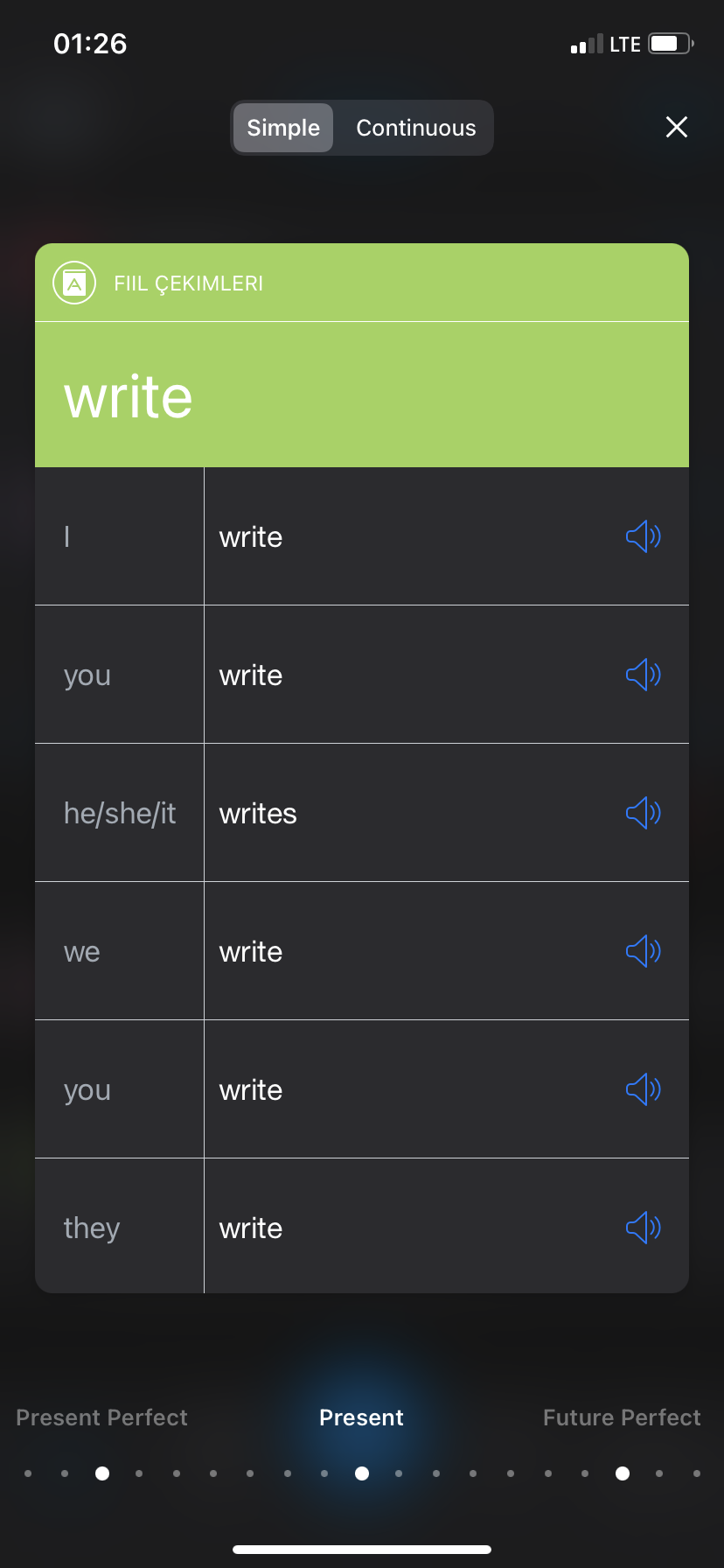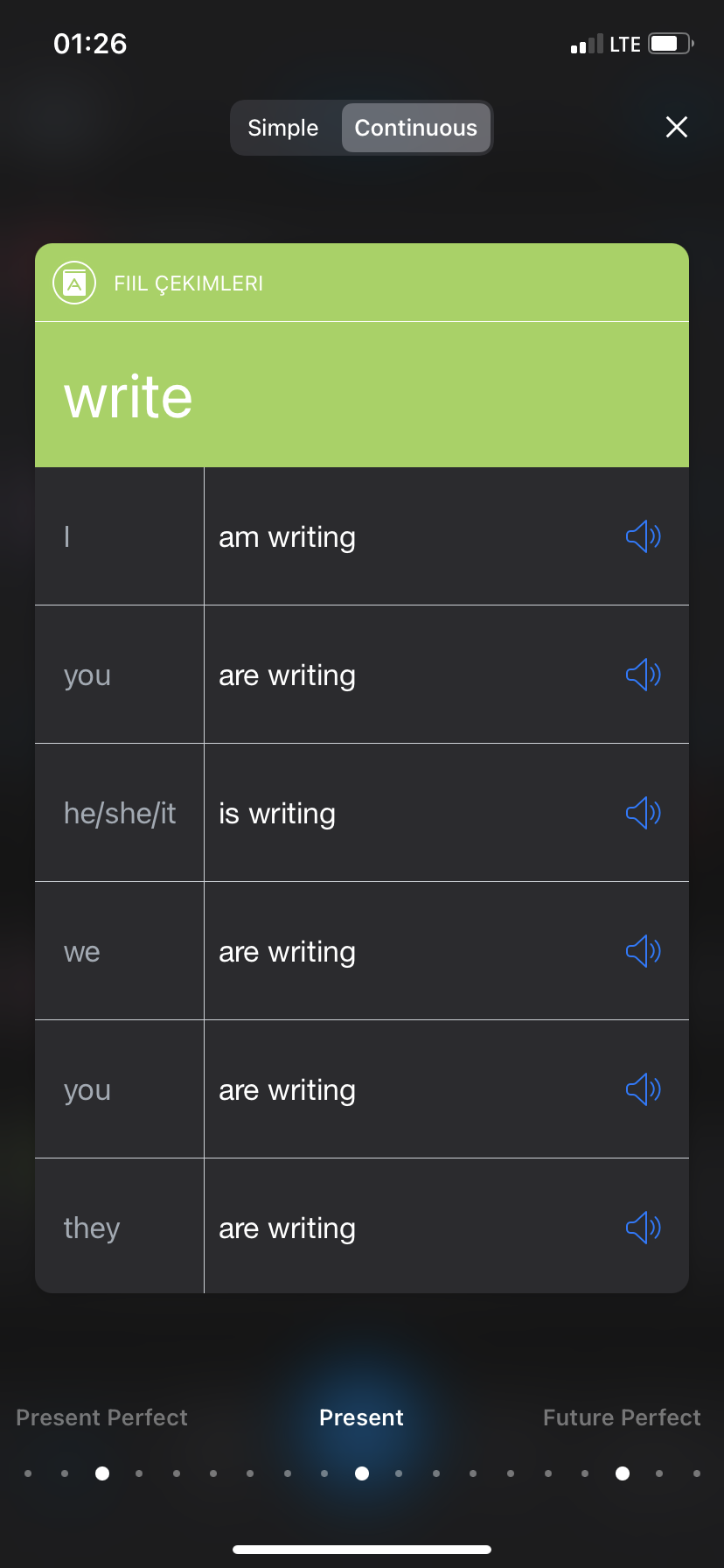 (EN) When you translate a word in the application, it shows the present, past and future tense of that word. It's a very nice feature.
(TR) Uygulama içerisinde kelime çevirdiğiniz zaman, o kelimenin şimdiki, geçmiş ve gelecek zaman halini gösteriyor. Çok güzel bir özellik.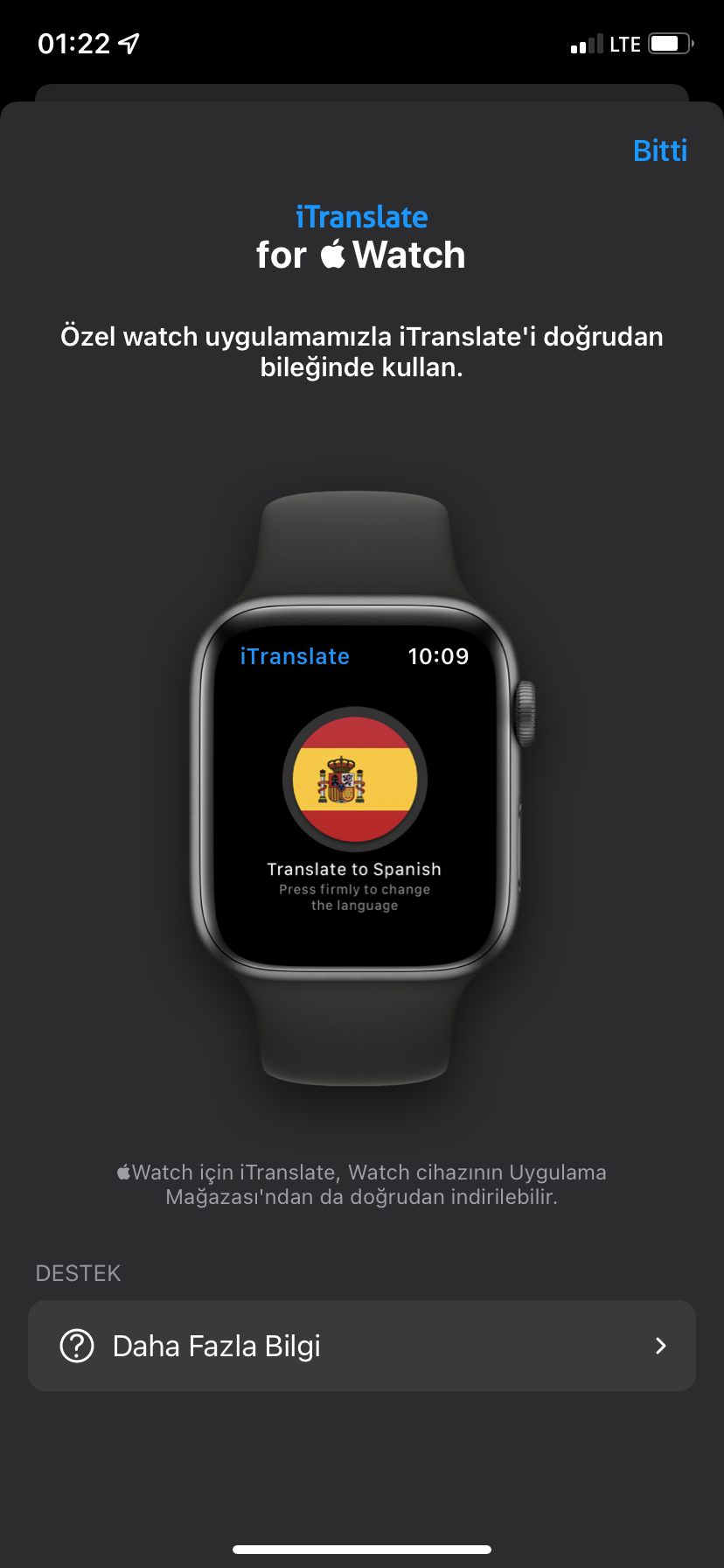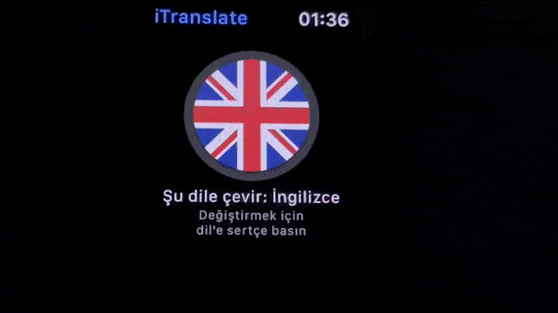 (EN) Finally, there is my favorite feature of the app. Sorry, but this feature is only for those with Apple watch. You install the iTranslate application on the watch. You can translate without the need for a phone. 😊
(TR) Son olarak, uygulamanın en sevdiğim özelliği var. Üzgüm, ancak bu özellik yalnızca Apple watch'a sahip olanlar için. iTranslate uygulamasını saate kuruyorsunuz. Telefona ihtiyaç duymadan çeviri yapabiliyorsunuz. 😊
Source;
İOS; https://apps.apple.com/tr/app/itranslate-%C3%A7eviri-ve-s%C3%B6zl%C3%BCk/id288113403?l=tr
Android; https://play.google.com/store/apps/dev?id=9134966397852256976&hl=tr&gl=US



---
---