Initiative #15: Princess Jazmin Makeup - Aladdin Movie👸💙✨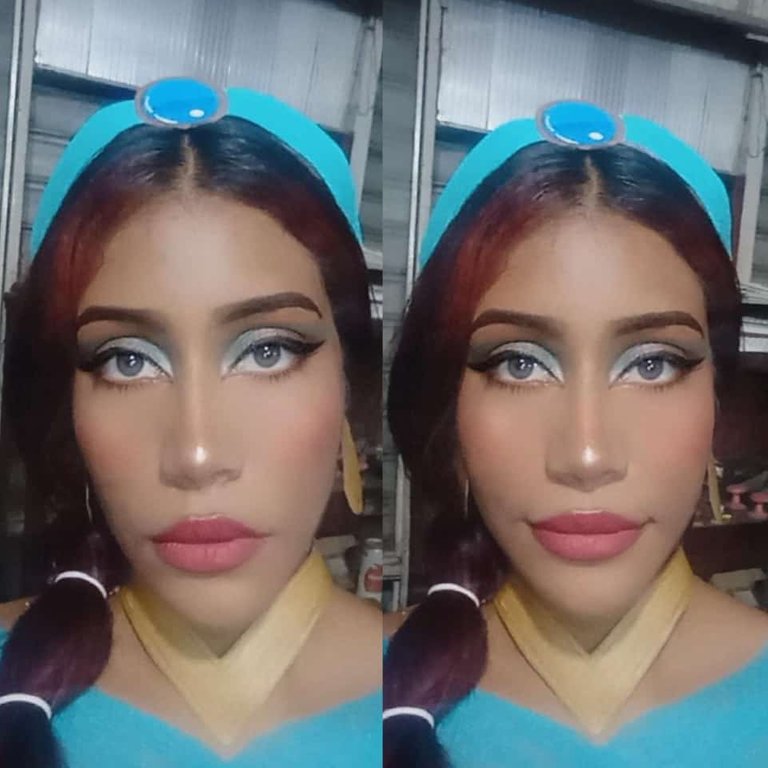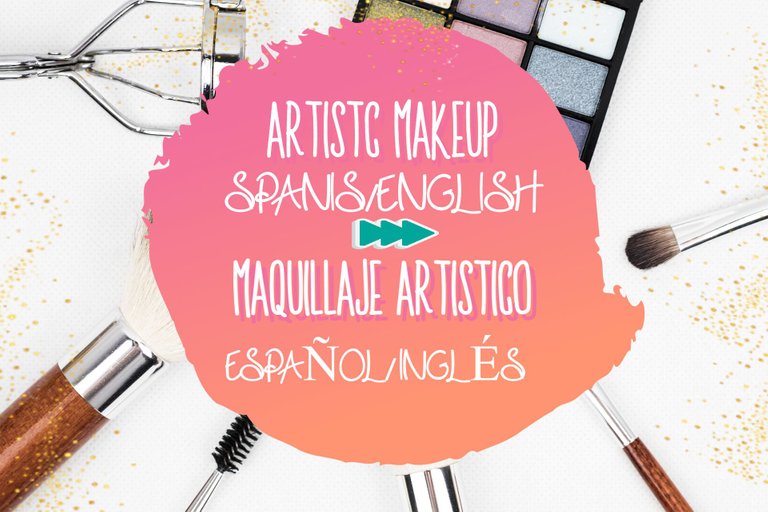 (SPANISH/ESPAÑOL) ¡Hola a todos! un placer escribir y compartir mi trabajo con ustedes, les saluda una hija de la luna deseándoles las más hermosas, buenas energías con vibras super positivas que nos el universo.☄✨💕
Hoy lucecitas quiero compartir con ustedes un maquillaje inspirado en la princesa Jazmín de la película Aladdin, este personaje desde muy pequeña me ha encantado de niña miraba sus películas en el canal de Disney Channel o mi madre me las regalaba para mirarla los fines de semana es un gusto para mi representarla en este maquillaje quise recrearla lo mas parecida, con su bella e elegancia.
(ENGLISH/INGLÉS) ¡Hello to all! a pleasure to write and share my work with you, greets you a daughter of the moon wishing you the most beautiful, good energies with super positive vibes that us the universe.☄✨💕
Today I want to share with you a makeup inspired by Princess Jasmine from the movie Aladdin, This character from a very young age I have loved as a child I watched her films on the Disney Channel channel or my mother gave them to me to watch her on weekends is a pleasure for me to represent her in this makeup I wanted to recreate her the most similar, with her beauty and elegance.

🖤Base de maquillaje, corrector de ojeras y polvo compacto / Makeup base, dark circles concealer and compact powder.
🖤Pomada de cejas, pincel angular / Eyebrow ointment, angular brush.
🖤Sombras en tonos: Azul turquesa, azul turquesa metalizado, café oscuro, dorado metalizado / Shades in shades: Turquoise blue, metallic turquoise blue, dark brown, metallic gold.
🖤Rubor en tono coral / Coral blush.
🖤Delineador negro / Black eyeliner.
🖤Labial rojo / Red lipstick.

(SPANISH/ESPAÑOL) Comenzaremos por maquillar primero las cejas con pomada y el pincel esto haciéndolo al estilo de cejas degradadas o difuminadas en al principio.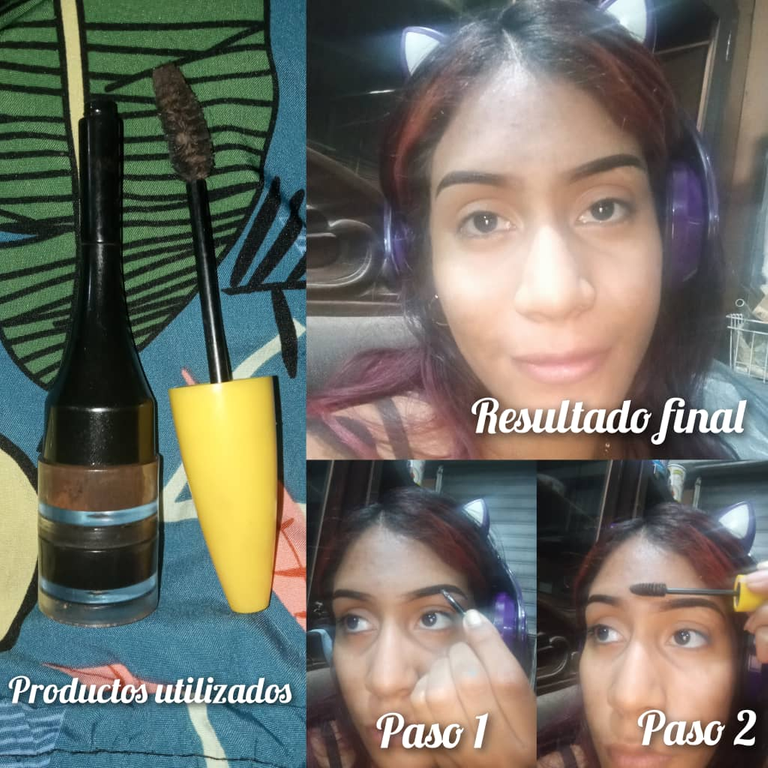 (ENGLISH/ INGLÉS) We will start by first make up eyebrows with ointment and brush this doing in the style of degraded or faded eyebrows at first.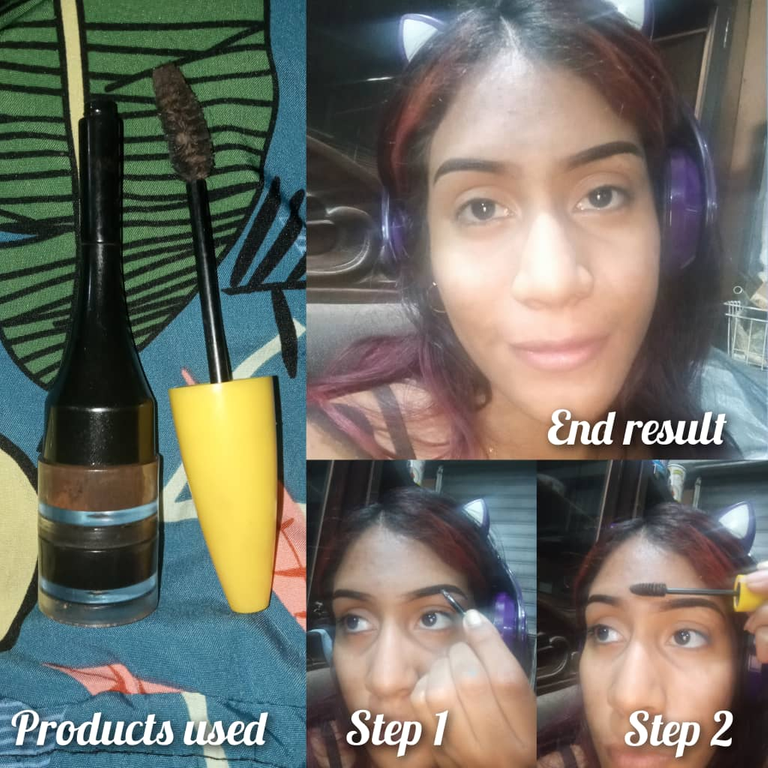 (SPANISH/ESPAÑOL) En este paso agregaremos al rostro la base y el corrector para corregir imperfecciones, ayudando de una beuty blender o la de su preferencia.
Siento que mi base de maquillaje no haya salido tan bien.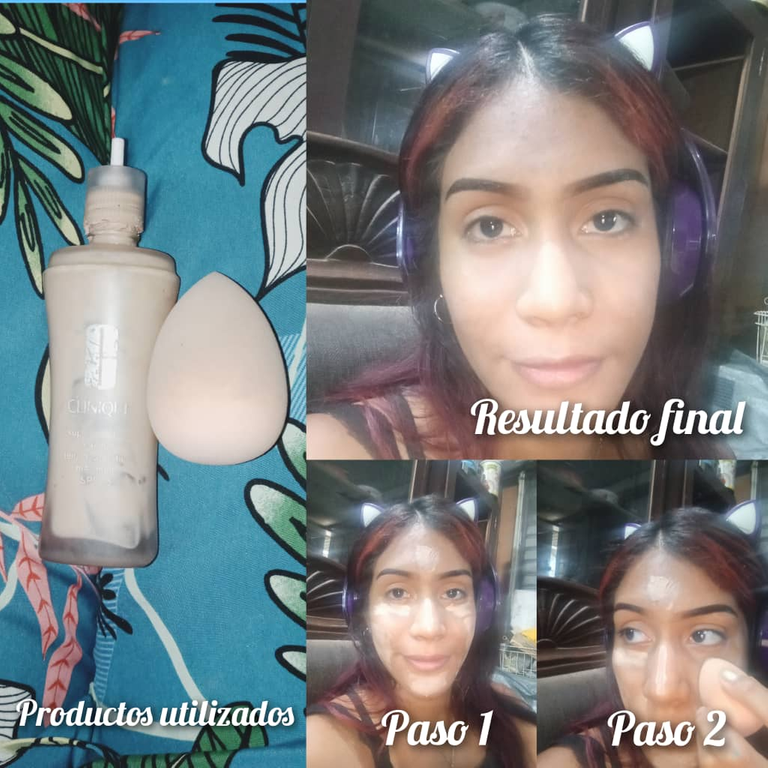 (ENGLISH/ INGLÉS) In this step we will add to the face the base and the corrector to correct imperfections, helping a beuty blender or your preference.
I'm sorry my makeup base didn't turn out so good.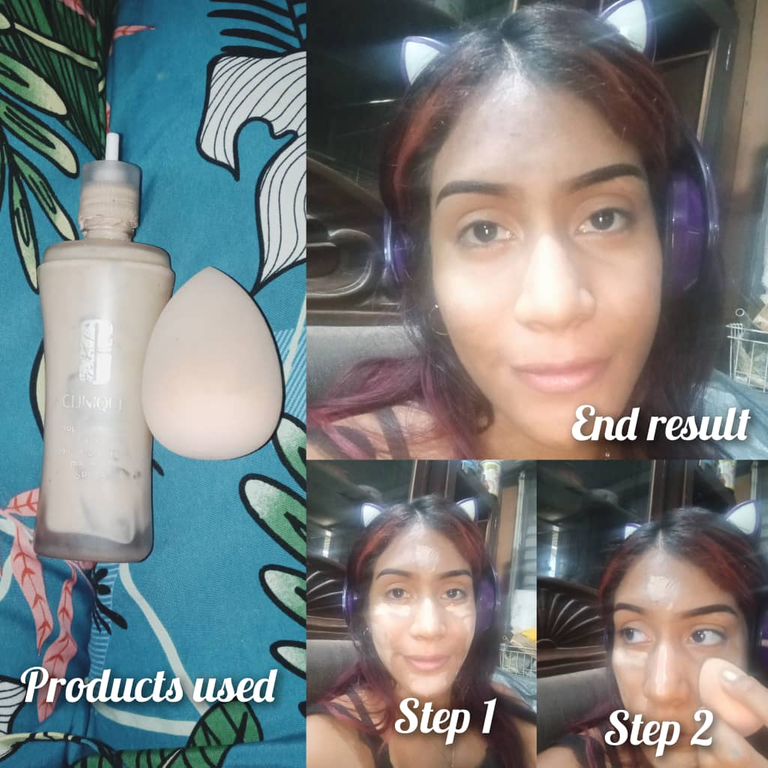 (SPANISH/ESPAÑOL) En este paso iremos con el polvo compacto y el rubor, solo un poco. Recuerden siempre el rubor por la parte inferior de los pómulos.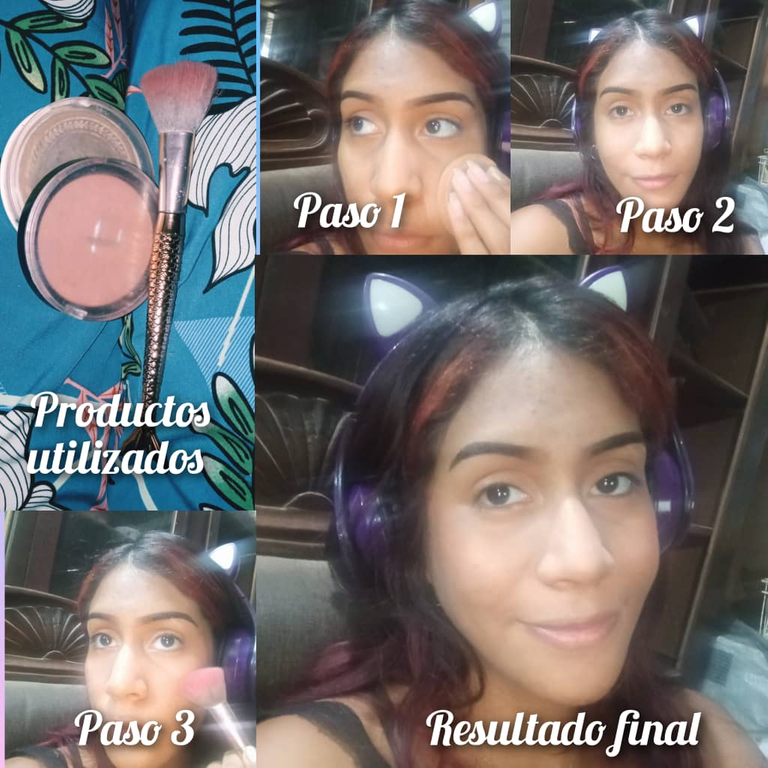 (ENGLISH/ INGLÉS) In this step we will go with compact dust and blush, only a little. Always remember blush on the bottom of cheekbones.
![image.png](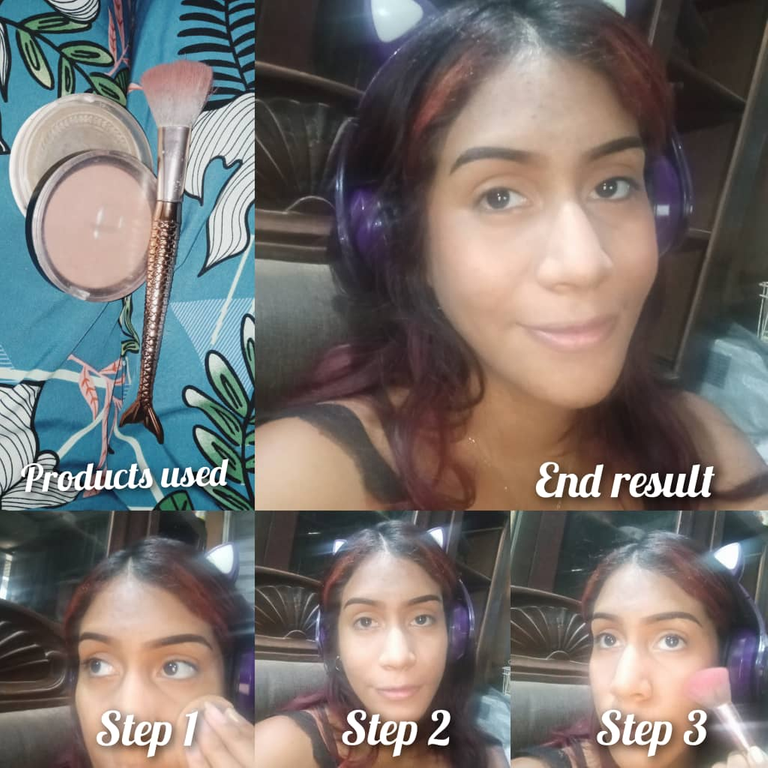 )
(SPANISH/ESPAÑOL) En este paso agregaremos la sombra en tono azul turquesa, en la línea media entre el parpado fijo y la cuenca. (El color utilizado se distingue por una estrella en la imagen).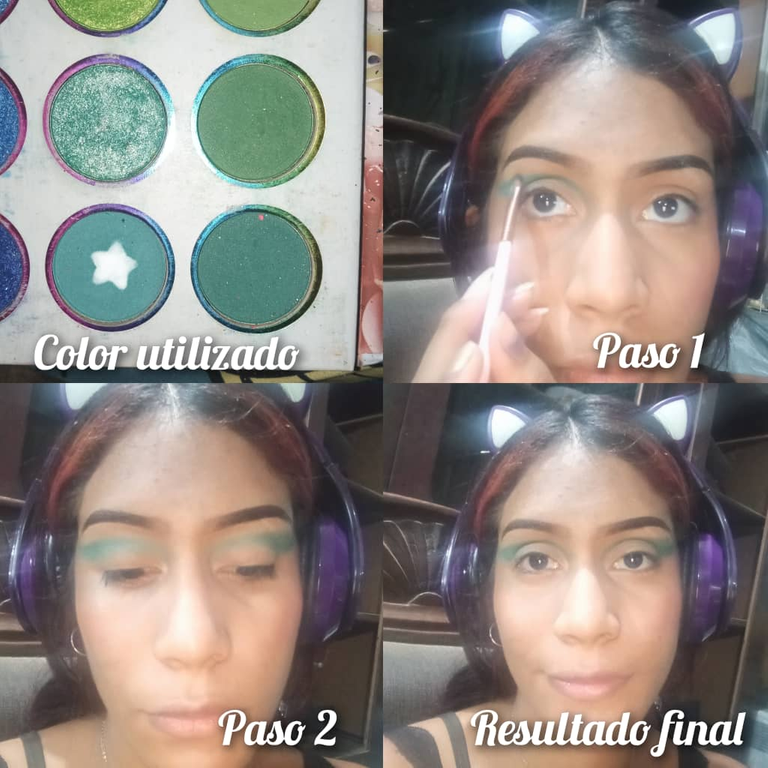 (ENGLISH/ INGLÉS) In this step we will add the shade in turquoise blue, in the midline between the fixed eyelid and the basin. (The color used is distinguished by a star in the image).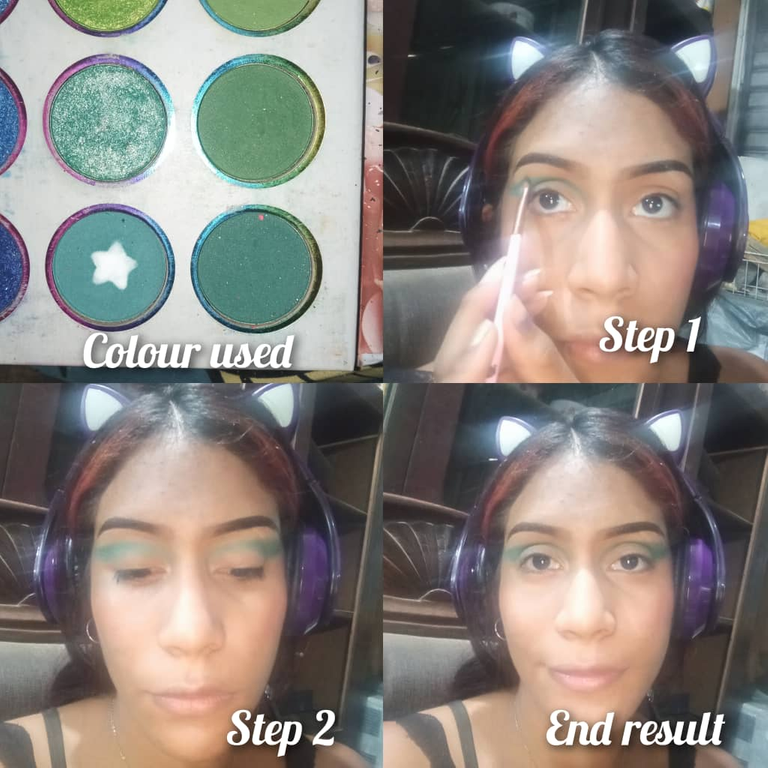 (SPANISH/ESPAÑOL) Agregamos en el parpado movil una sombra en tono azul turquesa metalizado.
![image.png](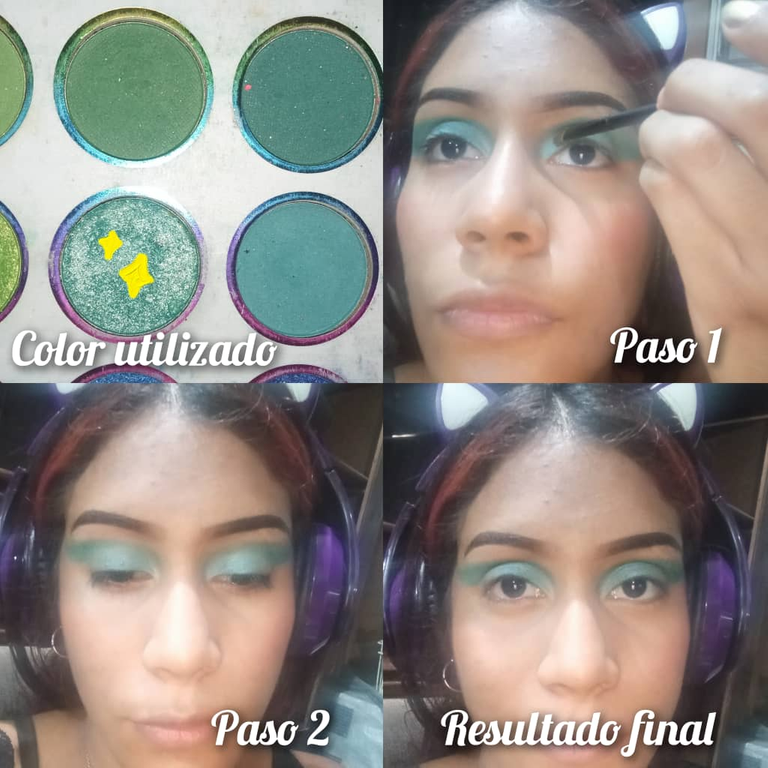 )
(ENGLISH/INGLES) Add a metallic turquoise blue shade to the eyelid.
![image.png](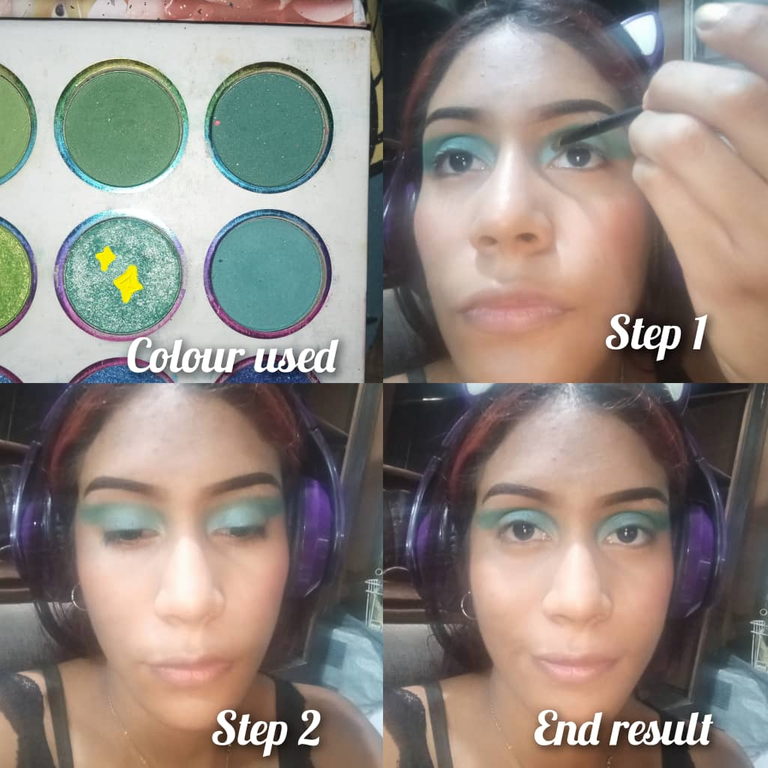 )
(SPANISH/ESPAÑOL) Agregamos una sombra en tono café oscuro en la parte v externa del ojo subiendo al parpado móvil.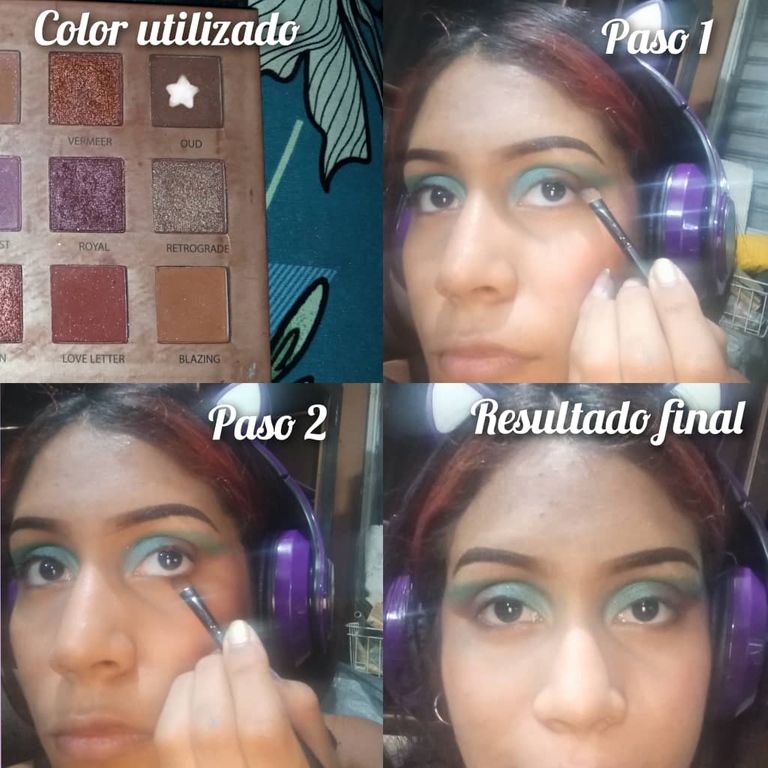 (ENGLISH/INGLÉS) Add a dark brown shade to the outer v of the eye by moving the eyelid upwards.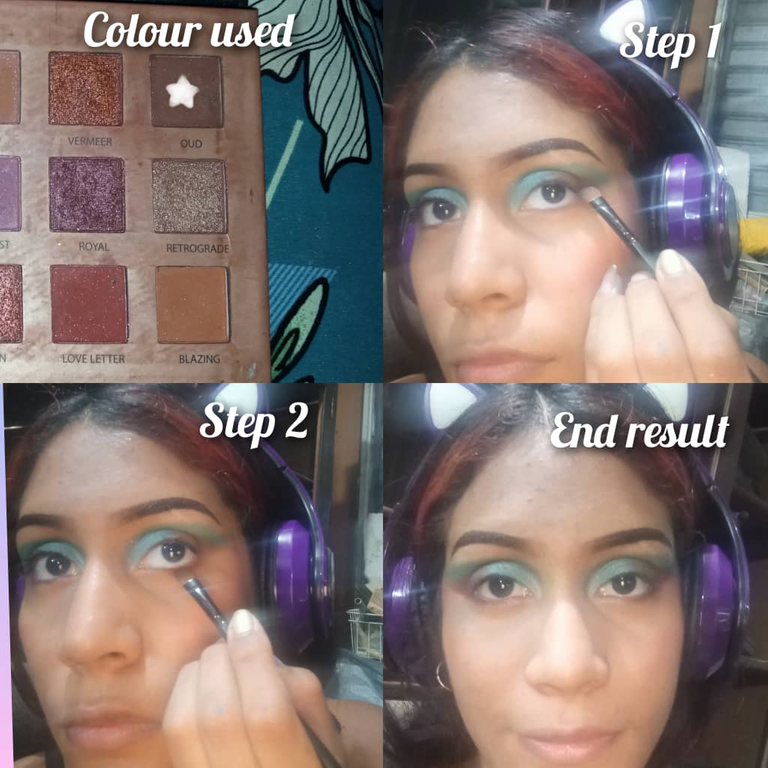 (SPANISH/ESPAÑOL) Es hora de agregar el tono dorado metalizado a la mitad del parpado móvil.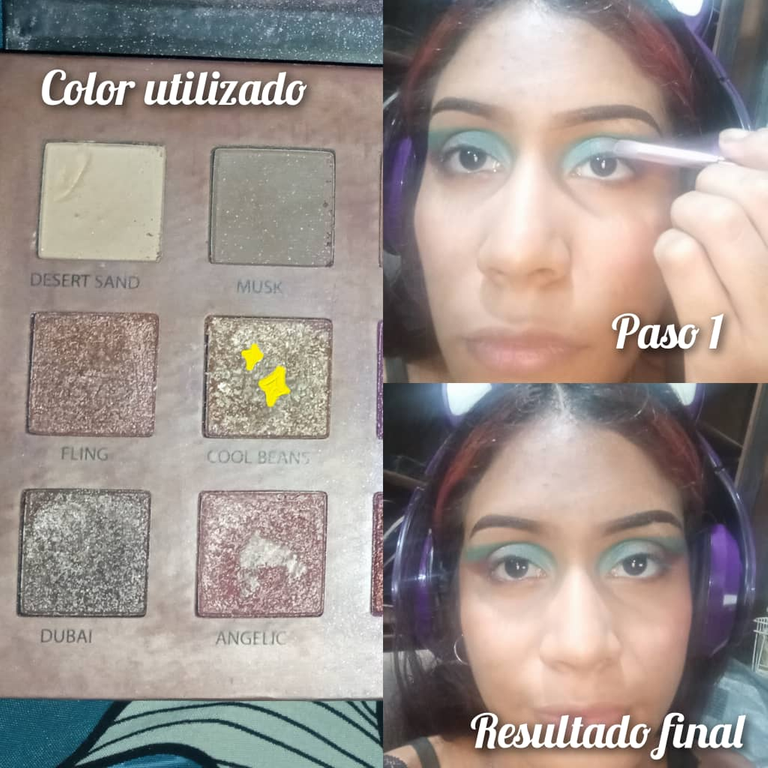 (ENGLISH/INGLÉS) It's time to add the metallic gold tone to the middle of the movable eyelid.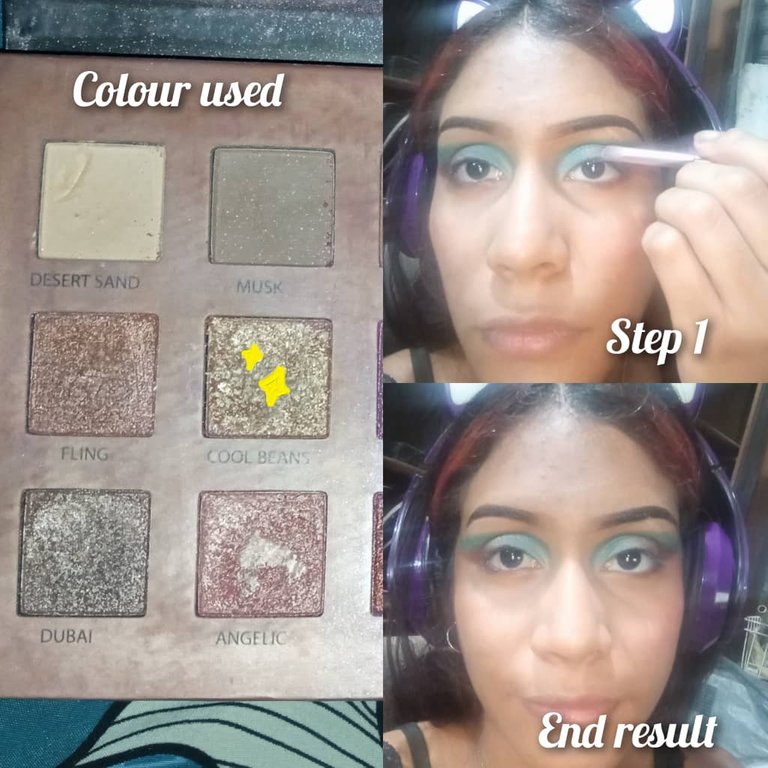 (SPANISH/ESPAÑOL) Es turno del delineado de los ojos, para esto utilice un delineador negro tipo marcador de punta fina.
(ENGLISH/INGLÉS) It is the turn of the eyeliner, for this use a black eyeliner type fine-tipped marker.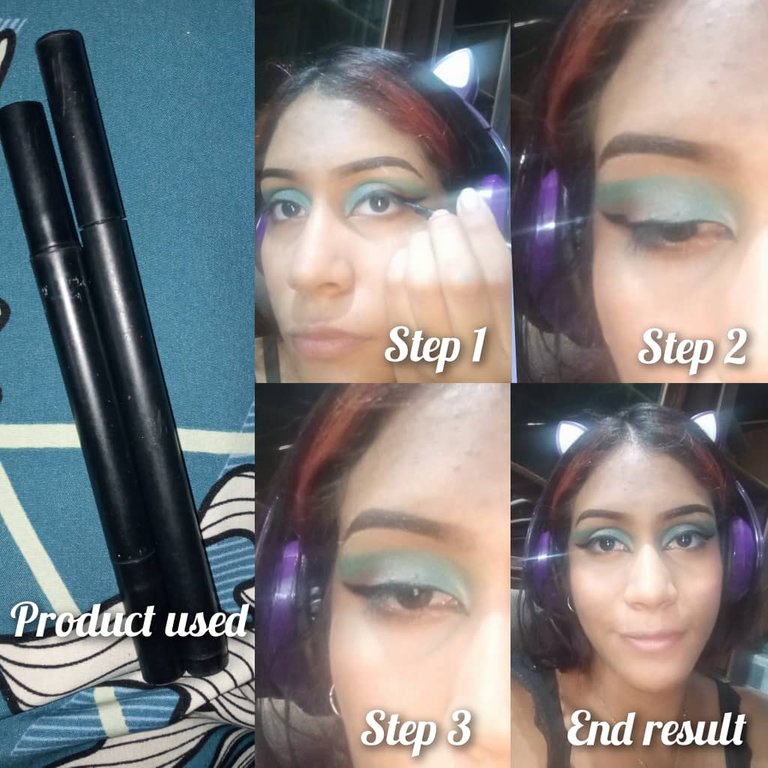 (SPANISH/ESPAÑOL) En este paso agregaremos iluminar a los puntos luz del rostro como lo son: el arco de cupido, la punta de la nariz, el hueso de la mejillas.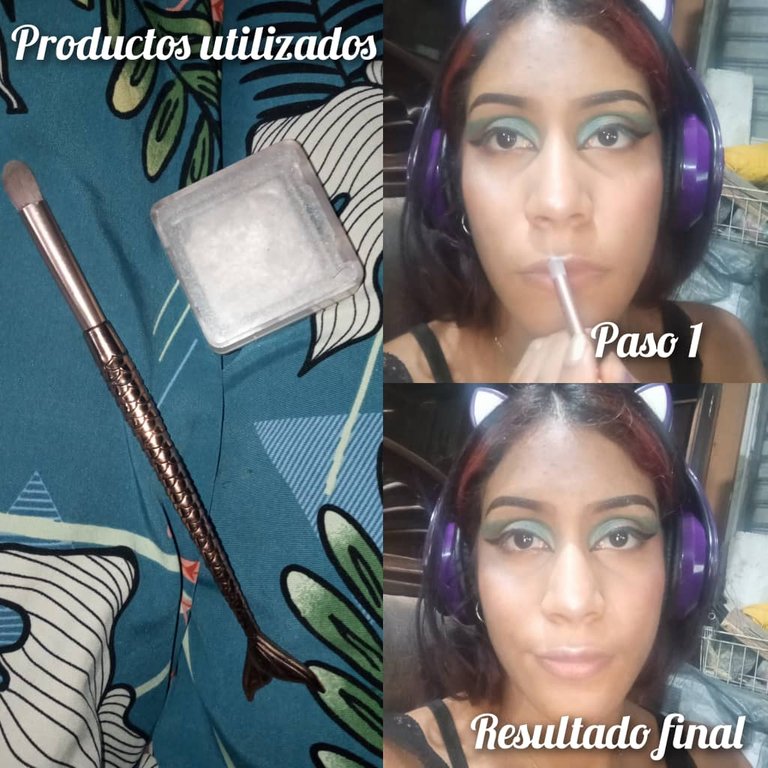 (ENGLISH/INGLÉS) In this step we will add to illuminate the light points of the face as they are: the cupid bow, the tip of the nose, the cheekbone.
(SPANISH/ESPAÑOL) Para finalizar pintaremos los labios en tono rojo apasionado.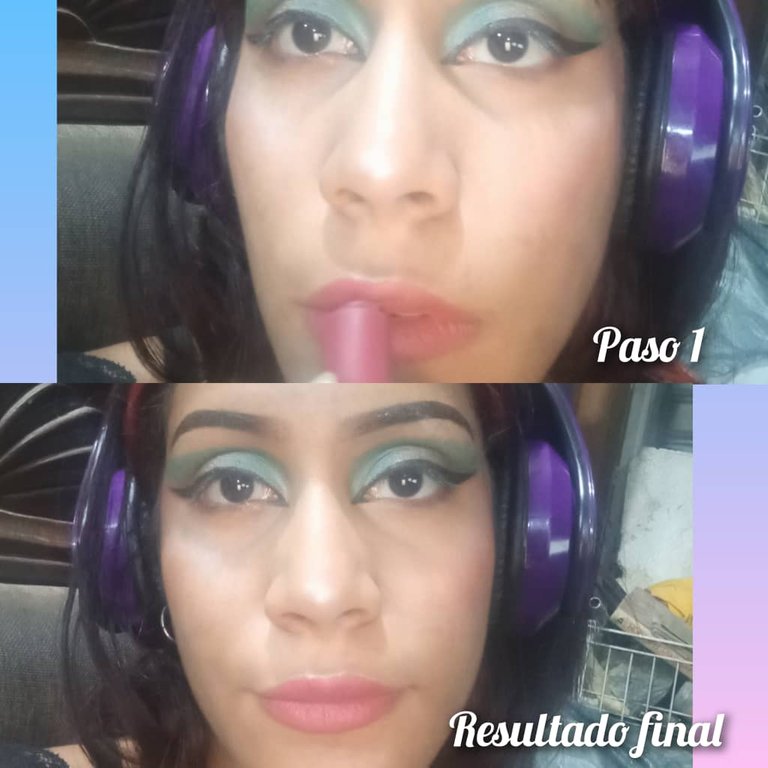 (ENGLISH/INGLÉS) To finish we will paint the lips in passionate red tone.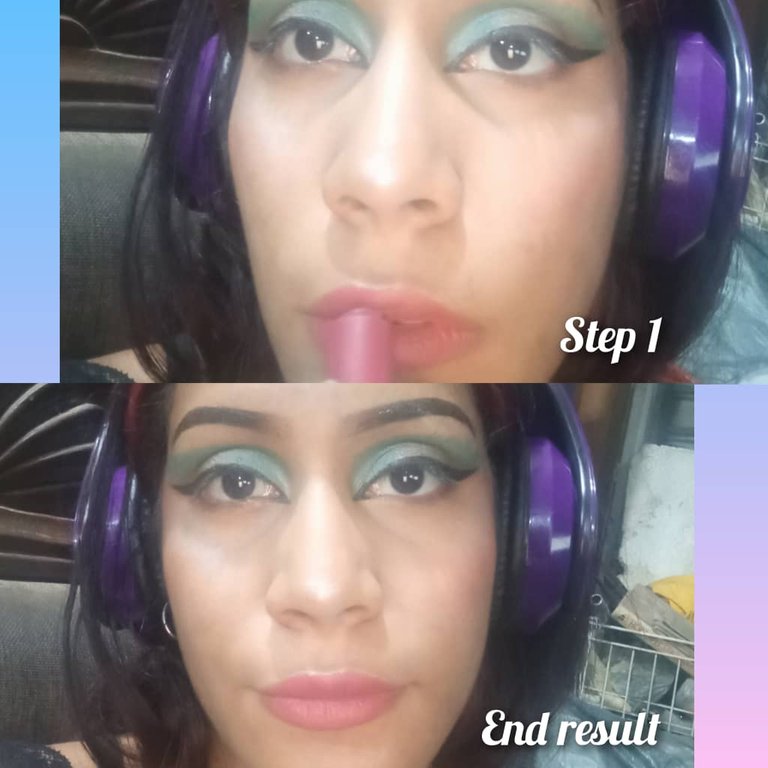 (SPANISH/ESPAÑOL) Este es el paso a paso de como realice los accesorios.
(ENGLISH/INGLÉS) This is the step by step how you make the accessories.
(SPANISH/ ESPAÑOL) NOTA IMPORTANTE: Para el vestido azul utilice pintura de color azul turquesa, pues no contaba con un camisa o tela de ese color exacto, así que hice bady paint.
(ENGLISH/ INGLÉS) IMPORTANT NOTE: For the blue dress use turquoise blue paint, as I did not have a shirt or fabric of that exact color, so I did bady paint.
(SPA) He aquí el resultado de el cosplay y maquillaje inspirado en la bella princesa jazmín, la cual hace su aparición en la famosa película llamada Aladino.
(ENG) Here is the result of the cosplay and makeup inspired by the beautiful jasmine princess, which makes its appearance in the famous film called Aladdin.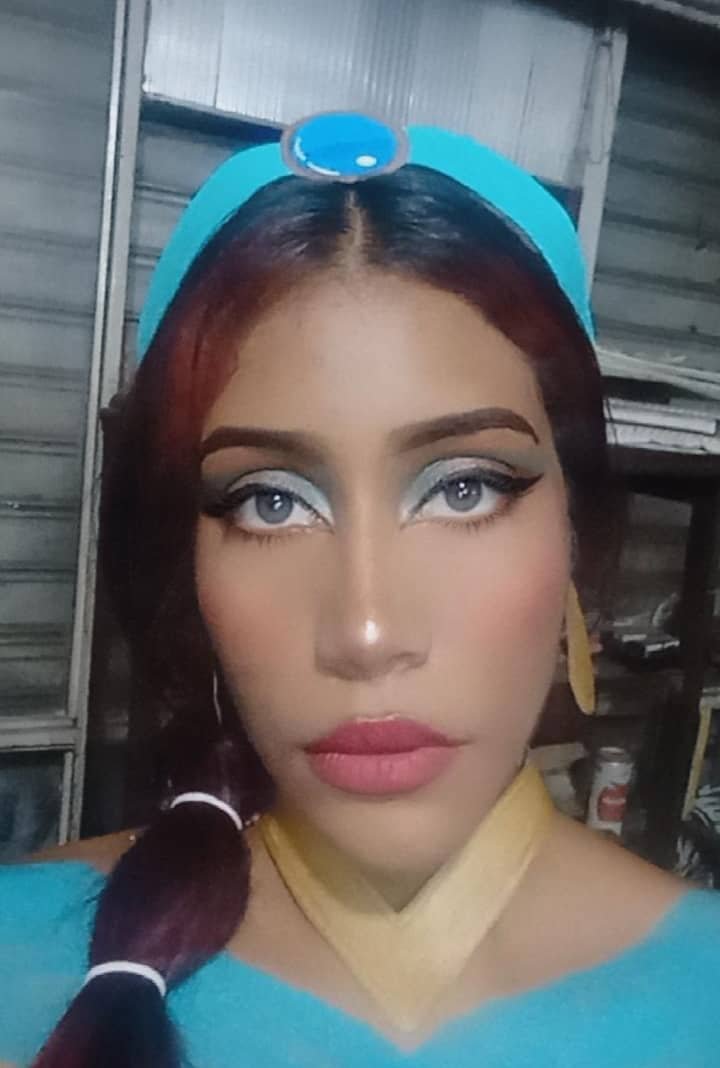 (SPA) Espero sea de su agrado hasta una próxima oportunidad como siempre un placer escribir, mis mejores deseos para cada uno de ustedes.
(ENG) I hope you will be pleased until a next opportunity as always a pleasure to write, my best wishes to each of you.


Se despide una hija de luna, mirándolos a todos ustedes estrellas relucientes de luz.


A daughter of the moon says goodbye, looking at all of you shining stars of light.


Cris☾✦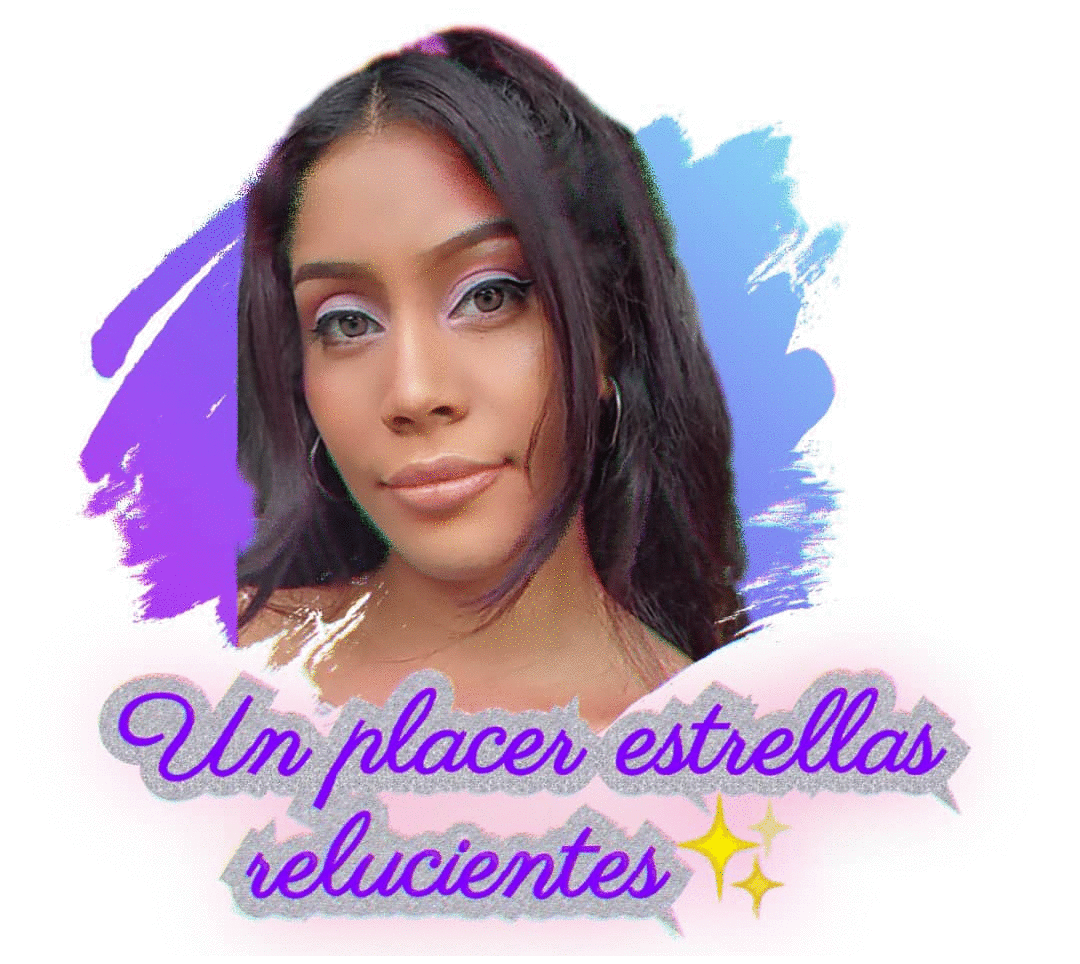 ---
---