My experience with French press | Mi experiencia con la prensa francesa ☕🇨🇵🗼 ENG | ESP

Hello coffee lovers some time ago I bought this french press @arrozymangophoto and I were curious to try how the flavors and aromas of coffee felt in a french press this is the first one we have had for a long time we were curious and being in one of my favorite homeware stores Minuetto for its quality and prices we took it because it was on sale so we did not hesitate and bought it.
In this experience I was accompanied by my beloved son @zamir-naja because two palates and noses always know what one... jiji.... It's always good to have a double opinion.
So I will share my very personal experience and appreciation on the preparation of French press coffee.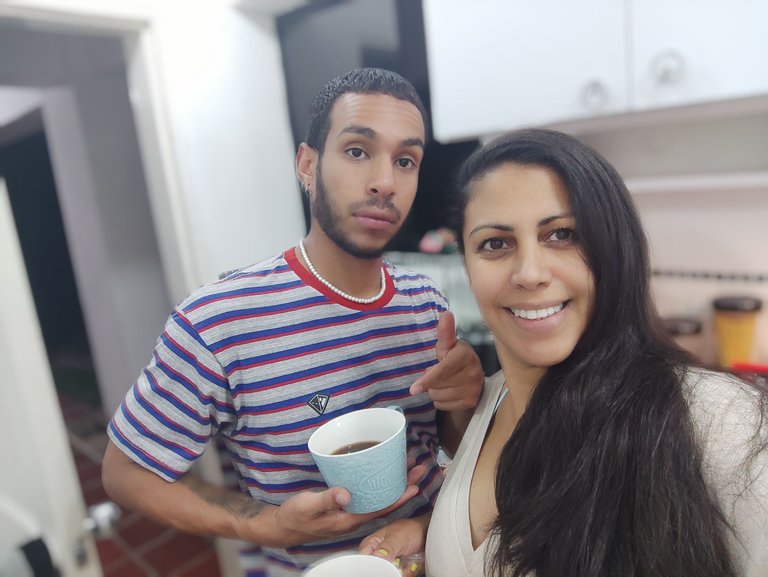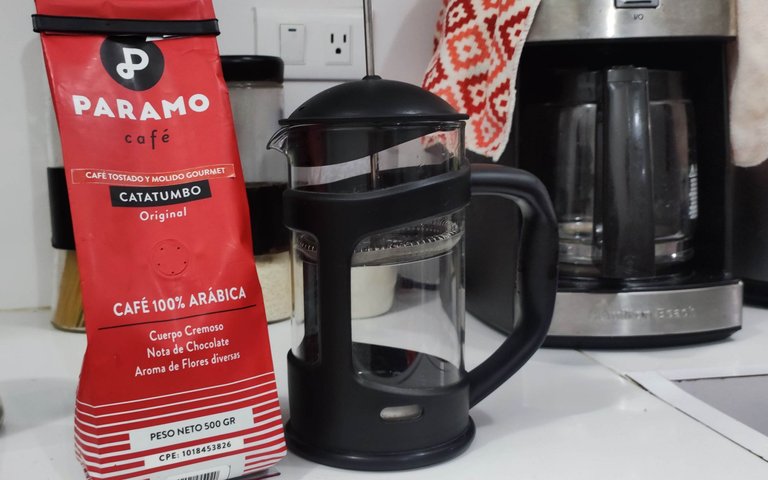 The French press that we have is a simple press, really it is the first that we have but we had seen others of metal and ceramic this one is of glass and plastic I believe that type beginners but the function is the same I suppose that the only difference would be that the other materials retain more the heat of coffee.
Coffee is certainly an art, where rituals are important and I believe that the French press is ideal for those who like me love to make coffee as an essential part of the enjoyment of coffee.
In Venezuela there are different ways of preparing coffee but there are two very popular, one is to place the coffee in the water until it boils and then it is strained, the other is to place the coffee in the strainer made of cloth and in the pass the boiling water, the second is the most used. Both have a strong aroma and flavor.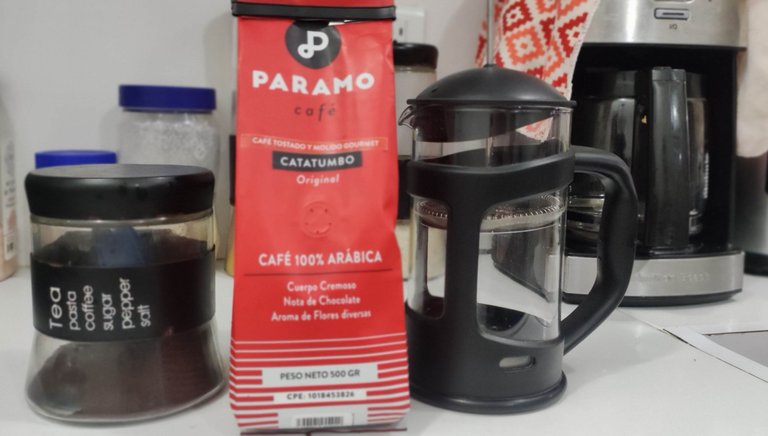 To test the French press I did it with the coffee that we often use at home Páramo Café Catatumbo, this is a coffee with a strong flavor and aroma of flowers, fruits of great body, aroma and flavor.
I started by placing the same amount of coffee that we use every morning in the coffee pot at the bottom of the press, and then put the boiling water in it.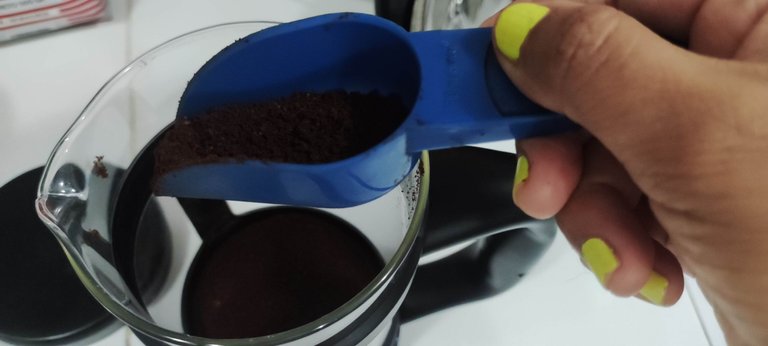 Let stand a few seconds and place the lid of the press to move it in 3 stages of few seconds of difference each one in this process you can see the coffee bubbling in the boiling water, this part I loved, when arriving at the bottom the coffee is ready in the French press to drink it.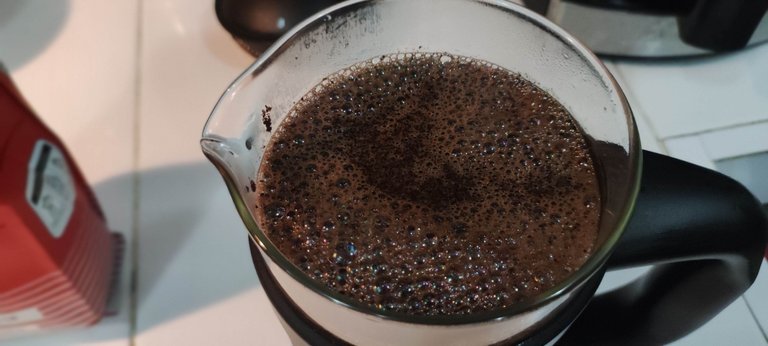 The first thing I must say is that in terms of aroma there is not so much with the press that when brewed in the coffee maker or brewed in the brewer.
This seems important to me to say it since the aroma is always important to activate the senses, normally the aroma of this same coffee impregnates the whole house when preparing it in the coffee shop with the press.
The flavor is not bad but I do feel that it is more concentrated in the coffee maker, strangely, although in the French press it is next to the water, I think that the fast process does not allow to get the maximum out of the coffee.
Another negative thing is that if you are like me who drinks coffee in a cup (large cup), you repeat when you want to make it and the coffee from the press will be a little cold, but not everyone likes it.
In summary I like the French press, but I do not see it to lend to daily coffee I'll stay with the Venezuelan cloth filter or the Electric Coffee that does the same process of the cloth filter.
@zamir-naja did not feel a big difference in taste but in aroma.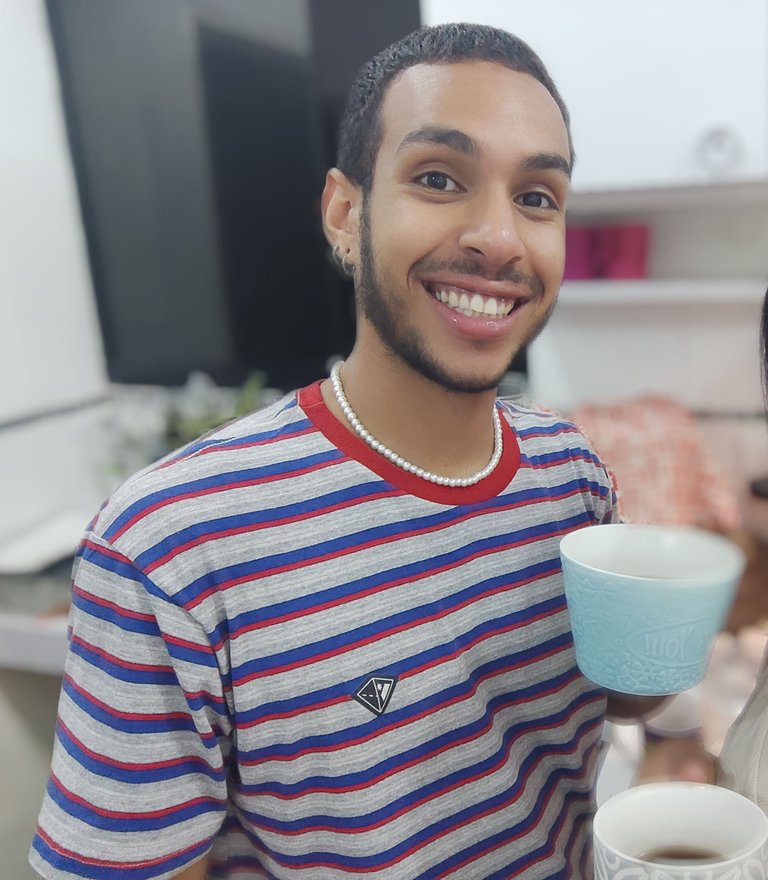 I hope you enjoyed knowing my first experience with the French press maybe there are tricks that I don't know if you have any Tips share it in your comments I will be grateful for it.
I hope you are also enjoying a good coffee.
---
Mi experiencia con la prensa francesa ☕🇨🇵🗼 ESP
Hola amantes del café hace ya algún tiempo compré está prensa francesa @arrozymangophoto y yo teníamos curiosidad de probar qué tal se sentían los sabores y a aromas del café en una presa francesa está es la primera qué tenemos desde hace mucho teníamos la curiosidad y al estar en una de mis tiendas favoritas del artículos del hogar Minuetto por su calidad y precios la llévanos por qué estaba en oferta así que no lo didamos y la compramos.
En esta experiencia me acompaño mi amado hijo @zamir-naja pues dos paladares y narices siempre saben las qué una... jiji... Siempre es bueno tener doble opinión.
Así que compartire mi experiencia y apreciación muy personales sobre la preparación del Café en prensa francésa.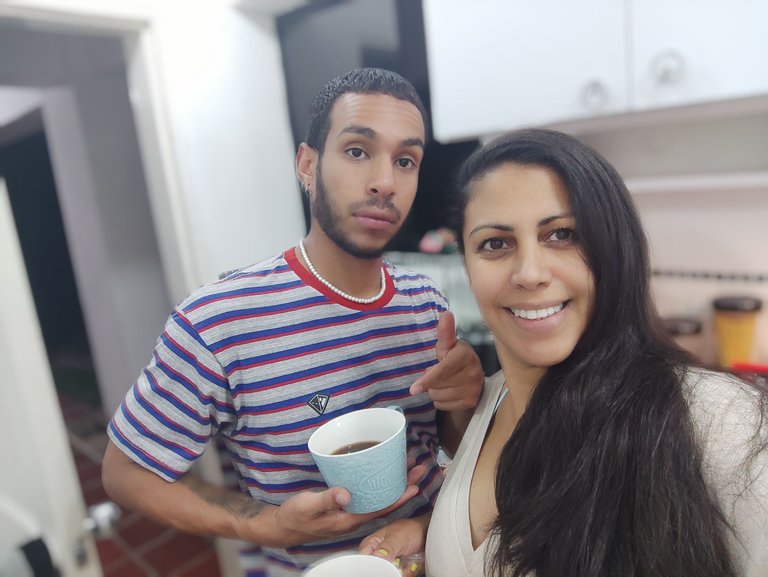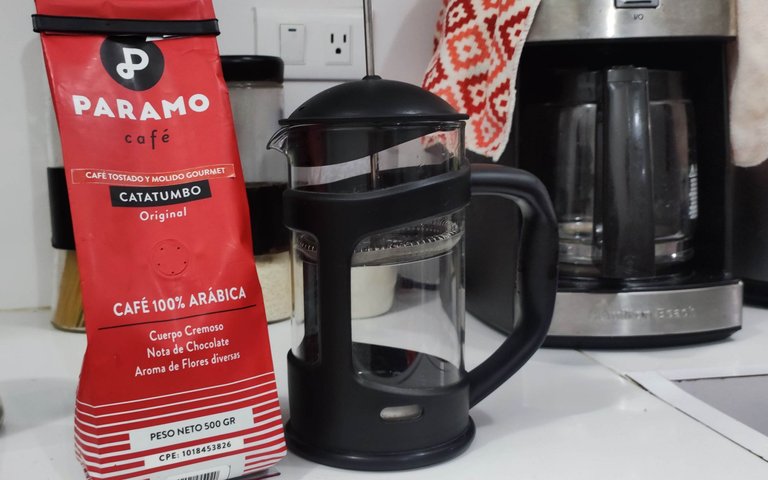 La prensa francesa que tenemos es una prensa sencilla, realmente es la primera que tenemos pero habíamos visto otras de metal y ceramica está es de vidrio y plástico creo que tipo principiantes mas la función es la misma supongo que la unica diferencia seria que los otros materiales retienen mas el calor de café.
El café ciertamente es un arte, dónde los rituales son importantes y creo que la prensa francesa es ideal para los que como yo amamos hacer el café cómo parte esencial del disfrute del cafe.
En Venezuela hay diferentes formas de preparar café pero hay dos muy populares, una es colocando el café en el agua hasta hervir y luego se cuela, la otra es colocar el café en el colador hechos de tela y en el pasar el agua hirviendo la segunda es la más usada . En ambas se siente un fuerte aroma y sabor .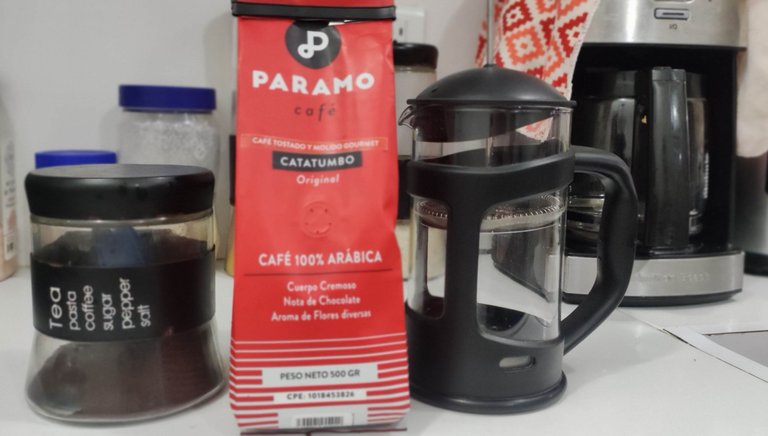 Para probarla prensa francesa lo hice con el café que usamos seguido en casa Páramo Café Catatumbo, este es una café de un fuerte sabor y aroma a flores, frutas de gran cuerpo aroma y sabor.
Inicie colocando la misma cantidad de café qué usamos cada mañana en la cafetera en el fondo de la prensa, para luego colocar en ella el agua hirviendo.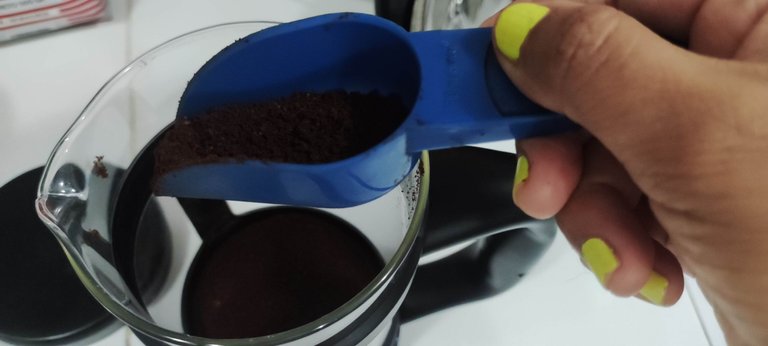 Deje reposar unos segundos y coloque la tapa de la prensa para ir desplazándola en 3 etapas de pocos segundos de diferencia cada una en este proceso puedes ver el café burbujeando en el agua hirviendo está parte me encantó.Al llegar al fondo ya está listo el café en la prensa francesa tomarlo.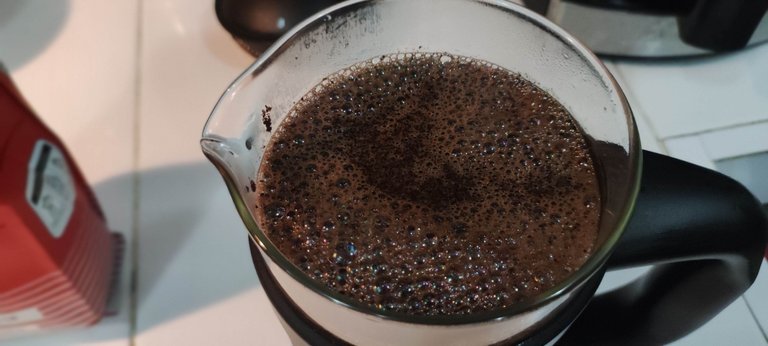 Lo primero que debo decir es qué en cuanto a aroma no hay tanto con la prensa que al prepara en la cafetera o lo cuelas.
Esto me parece importante decirlo ya que el aroma siempre es importante para activar los sentidos, la normalmente el aroma de este mismo café impregna toda la casa al prepararlo en la cafetería con la prensa no .
El sabor no está mal más si siento qué esa más concentrado en la cafetera extrañamente aunque en la prensa francesa está junto al agua creo que el proceso rápido no permiten sacar el máximo del café.
Otra cosa negativa es que si eres como yo que toma café en pocillo (tasa grande) llamado repites al quererlo hacer ya el café de la prensa estará algo frío yo lo toma así pero no a todos les gusta.
En resumen la prensa francesa me gusto, más no la veo para prestar a diarios el café me quedo con los el filtro de tela Venezolano o la Cafetería Eléctrica que hace lo mismo proceso del filtró de tela.
@zamir-naja no sintió gran diferencia en cuanto a sabor más si en aroma .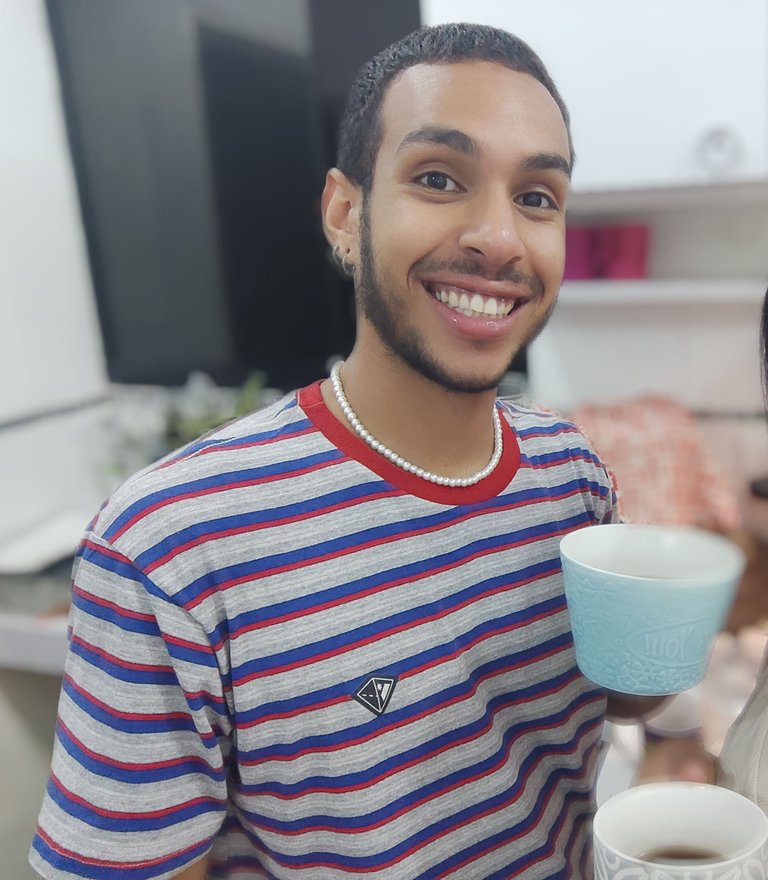 Espero qué disfrutaran conocer mi primera experiencia con la prensa francesa quizás hay trucos que desconozco si tienes algún Tips compártelo en tus comentarios estaré agradecida por ello.
Espero qué tu también estes disfrutando de un buen café.☕
---
Carmen Victoria Turmero
| I am a passionate, audiovisual producer and nature lover, creator of the Ecovillage and Community Vida Verde , passionate about travel and architecture. | |
| --- | --- |
See you next time for coffee ☕ Hasta el próximo tiempo de café
---
---