Vela Infinita con Aroma a Rosas 🕯️🌹[ESP/ENG]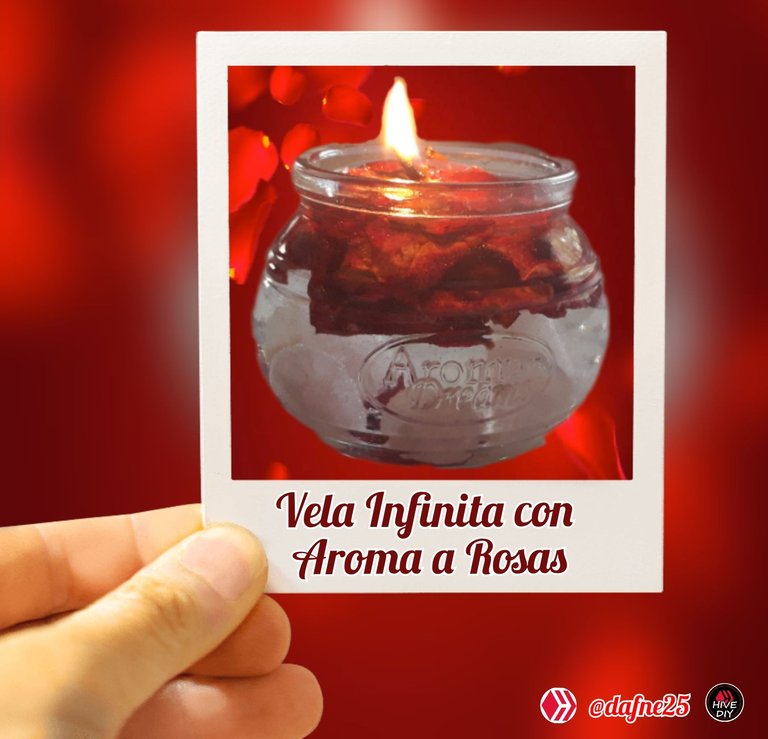 Buenas noches queridos amigos de Hive y Hive Diy, cómo están?, espero que se encuentren bien y que hayan teniendo un excelente día. En esta oportunidad les quiero compartir una vela infinita aromática perfecta para perfumar los espacios en nuestras casas, oficinas y otros espacios, además son muy hermosas porque puedes hacer la decoración que quieras con ellas y solo usando materiales que tengas en casa. La ventaja de esta vela es que se termina solamente cuando el aceite de la parte superior de la vela se termina, lo cual no se hace muy rápido y resulta una excelente opción cuando se va la luz. Es muy económico hacer esta vela y muy sencillo de hacer, además se puede hacer de varios aromas, esta vez la hice de un aroma que siempre me ha gustado mucho, el aroma a Rosas, pero si encuentran cualquier otra esencia se puede hacer con otros aromas como limón (para espantar las plagas), pino, jazmín, etc. Espero les guste.
Los Materiales que vamos a necesitar son: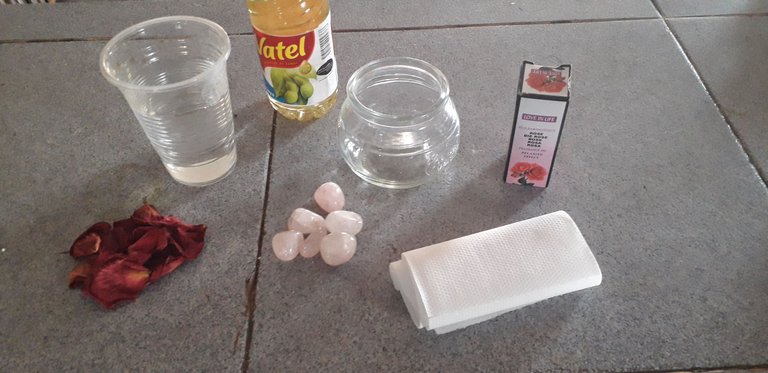 6 Cristales rosados
Pétalos de una rosa roja
Agua
Frasco de vidrio pequeño
Esencia de rosas
Aceite
1 vaso plástico pequeño
1 hoja de papel higiénico
Tijera
Procedimiento
🌹 Paso 1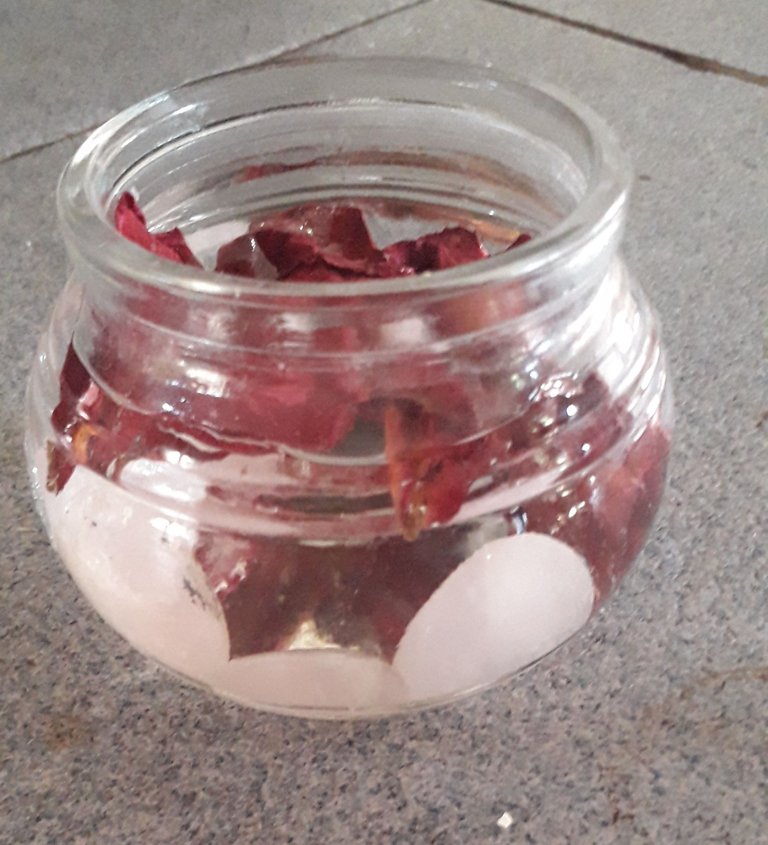 Para empezar vamos a hacer la decoración del frasco de vidrio, yo inicié colocando unos pocos pétalos de rosa, agregué encima de estos los cristales rosados y terminé colocando más pétalos de rosas. Luego agregamos agua hasta llenar ¾ del frasco de vidrio.
🌹 Paso 2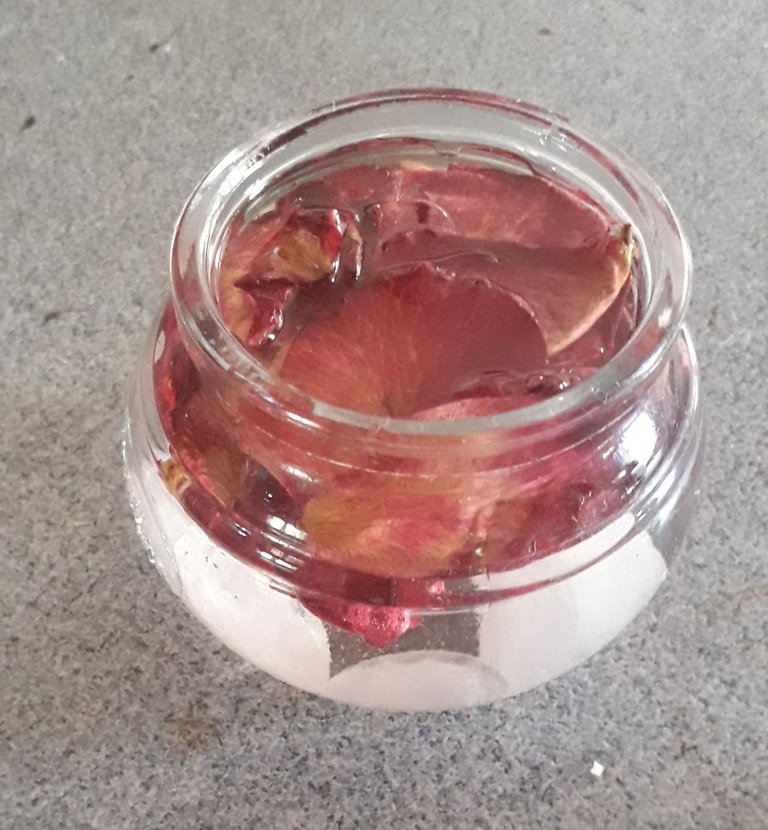 Agregamos el aceite sobre el agua (esto es lo que encenderá la mecha de la vela) hasta 1cm antes de llenar el frasco.
🌹 Paso 3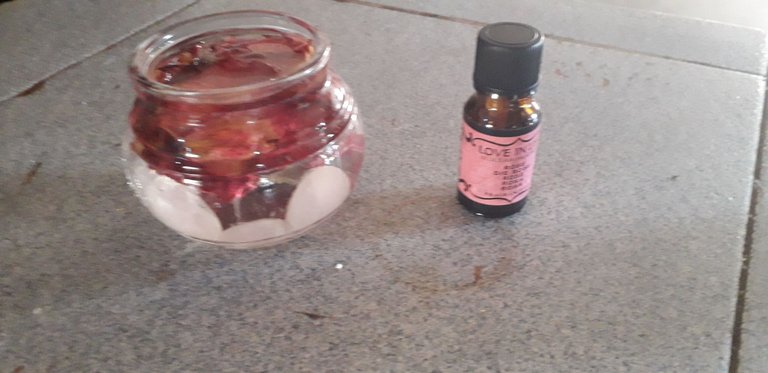 Ahora vamos a agregar la esencia de rosas al aceite ya que cuando esté se queme también esparcirá el aroma por el espacio en donde la coloquemos.
🌹 Paso 4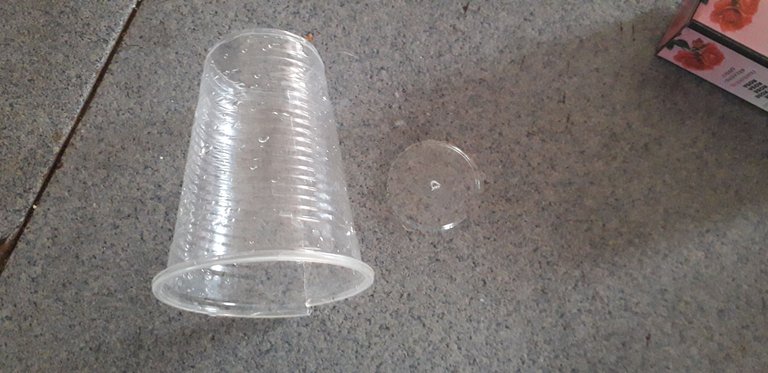 Ahora vamos a tomar el vaso de plástico y vamos a cortar el círculo de la parte de abajo. En él vamos a hacer un orificio un poco ancho donde insertaremos la mecha, para esto nos podemos ayudar de un cuchillo o la tijera con un yesquero ya que el calentar el cuchillo o la tijera facilita bastante el hacer este orificio.
🌹Paso 5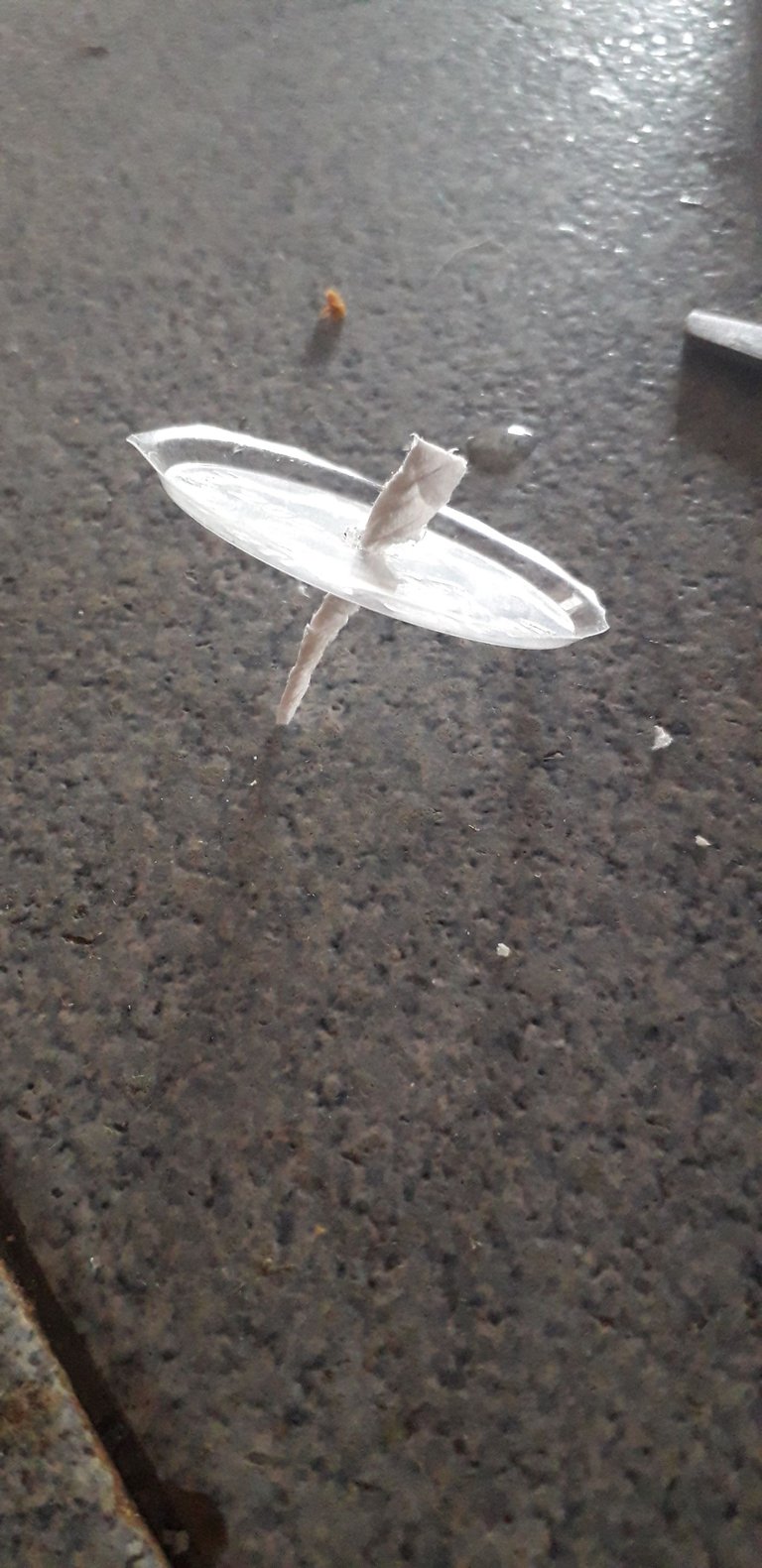 La mecha la vamos a hacer con ½ hoja de papel higiénico, también se puede hacer con servilleta o pabilo. Vamos a enrollar la ½ hoja hasta que quede lo más fina posible. La insertamos en el orificio del plástico y que quede 1cm en un lado y 2cm hacia el otro lado.
🌹 Paso 6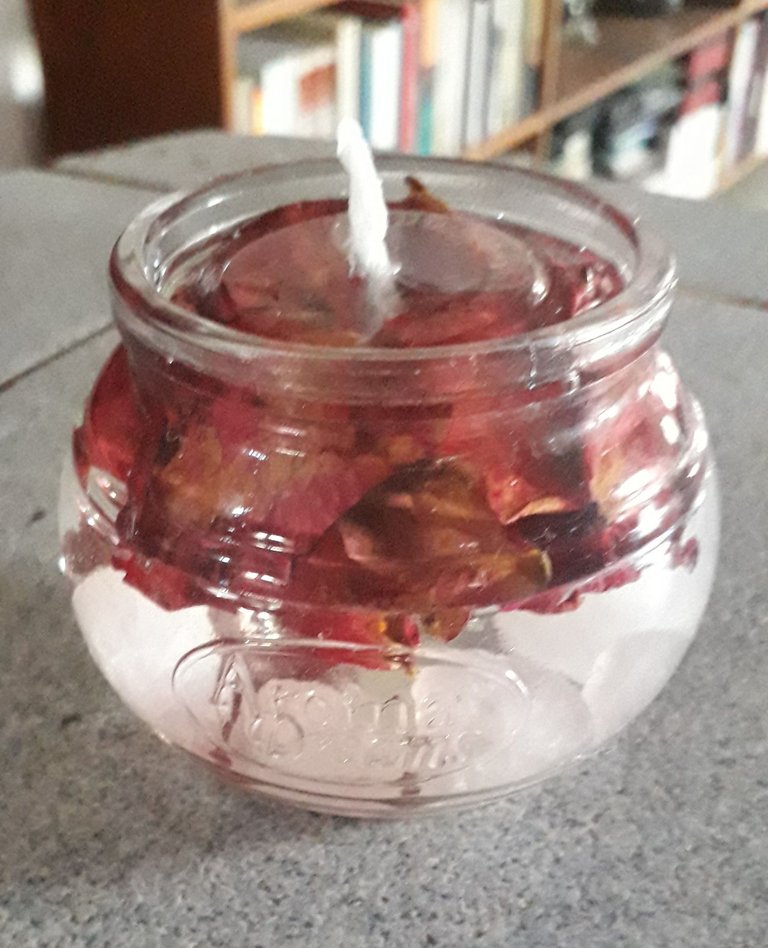 Mojamos un poco la parte de la mecha de 2cm y la otra parte la colocamos directamente sobre el aceite. Es importante que la parte que está en contacto con el aceite no llegue a tocar el agua ya que no servirá nuestra vela. Esperamos un rato y estará lista para encenderse.
Y listo, terminamos.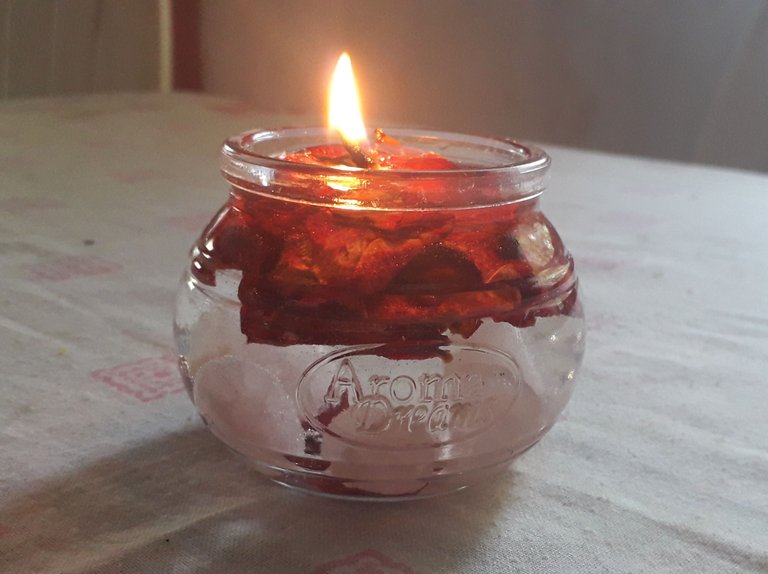 Espero que les guste
Hasta la próxima 👋
Créditos
Fotos de mi autoría, tomadas con un celular Samsung Galaxy A12
Traductor: App DeepL
Editores de fotos usados: editor de fotos Polish y editor de fotos Canva.

Good evening dear friends of Hive and Hive Diy, how are you, I hope you are well and that you are having a great day. In this opportunity I want to share with you an infinite aromatic candle perfect for perfuming the spaces in our homes, offices and other spaces, they are also very beautiful because you can make the decoration you want with them and only using materials you have at home. The advantage of this candle is that it is finished only when the oil on the top of the candle is finished, which is not very fast and is an excellent option when the light goes out. It is very economical to make this candle and very simple to make, you can also make it with several scents, this time I made it with a scent that I have always liked, the scent of Roses, but if you find any other scent you can make it with other scents like lemon (to scare away pests), pine, jasmine, etc. I hope you like it.
The materials we will need are: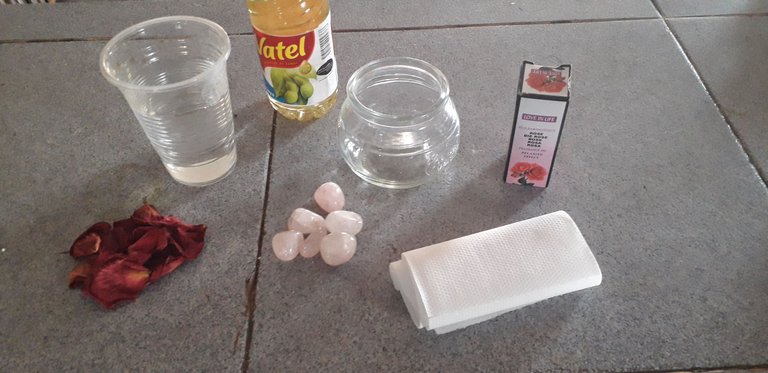 6 pink crystals
Petals of a red rose
Water
Small glass jar
Essence of roses
Oil
1 small plastic cup
1 sheet of toilet paper
Scissors
Procedure
🌹 Step 1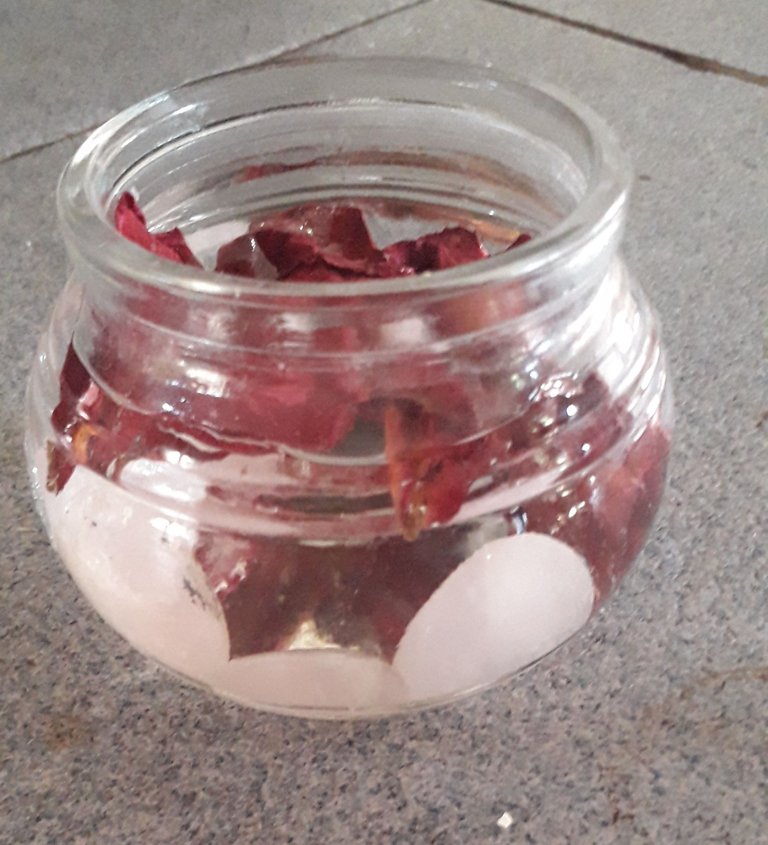 To start we are going to make the decoration of the glass jar, I started by placing a few rose petals, added on top of these the pink crystals and finished by placing more rose petals. Then add water until ¾ of the glass jar is filled.
🌹 Step 2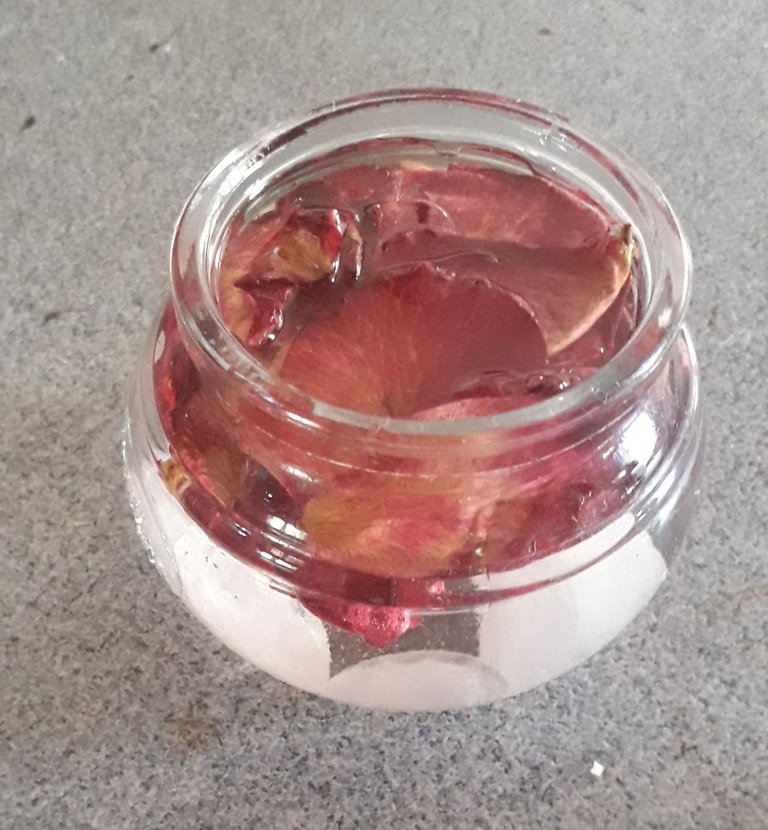 We add the oil over the water (this is what will light the candle wick) up to 1cm before filling the jar.
🌹 Step 3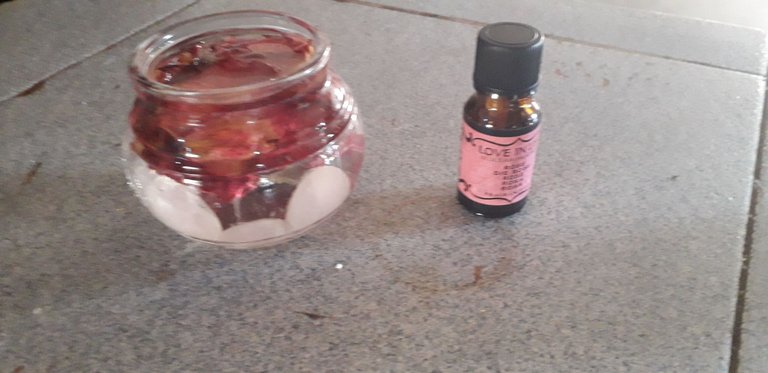 Now we are going to add the rose essence to the oil since when it is burning it will also spread the aroma around the space where we place it.
🌹 Step 4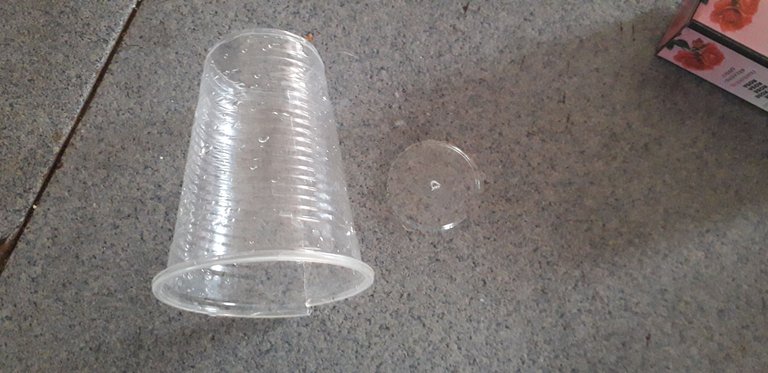 Now we are going to take the plastic cup and we are going to cut the circle at the bottom. In it we are going to make a hole a little wide where we will insert the wick, for this we can help us with a knife or the scissors with a tinder since heating the knife or the scissors makes it quite easy to make this hole.
🌹Step 5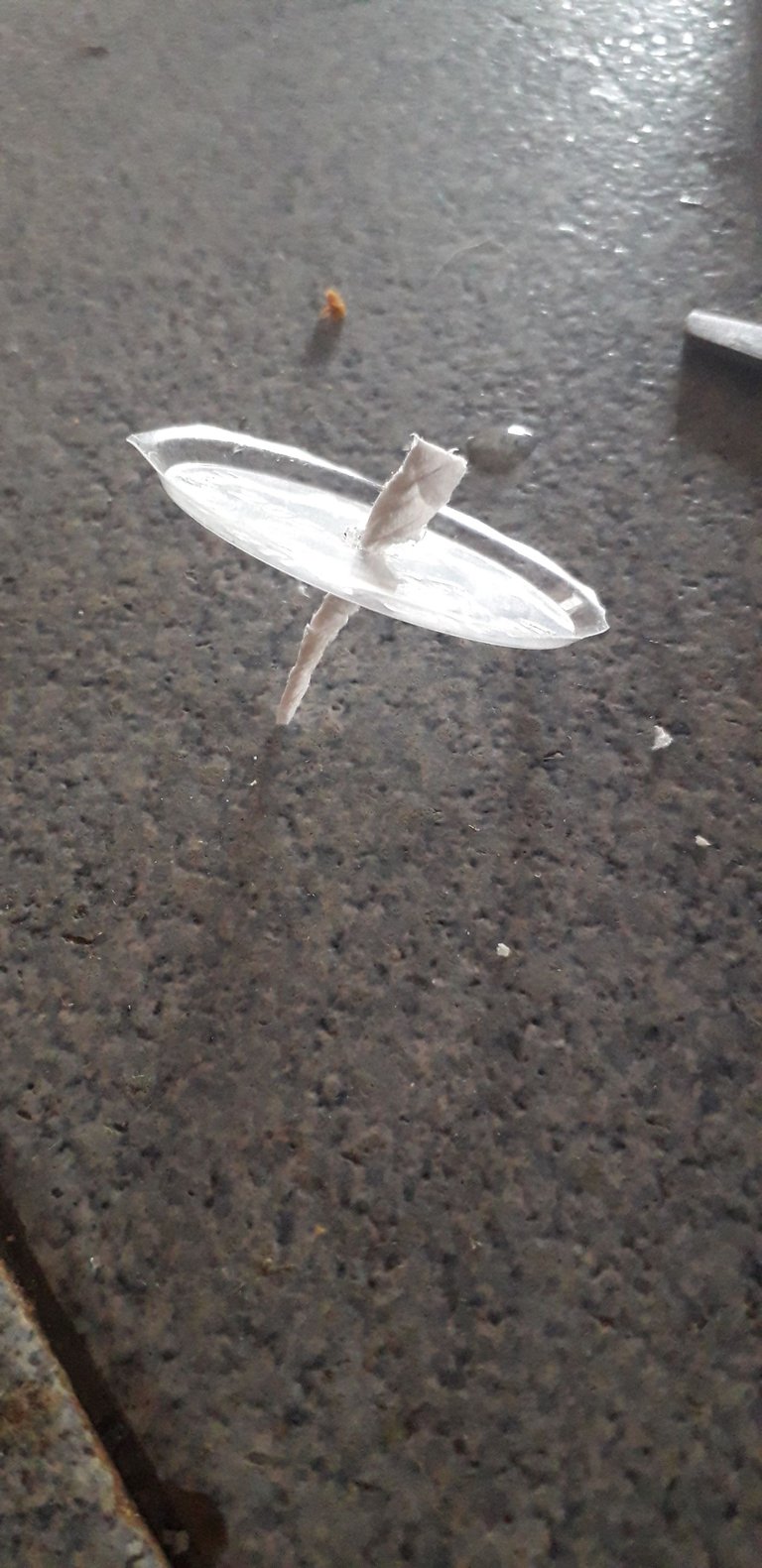 We are going to make the wick with ½ sheet of toilet paper, it can also be made with napkin or wick. We are going to roll the ½ sheet until it is as thin as possible. Insert it into the hole in the plastic and make sure it is 1cm on one side and 2cm on the other side.
🌹 Step 6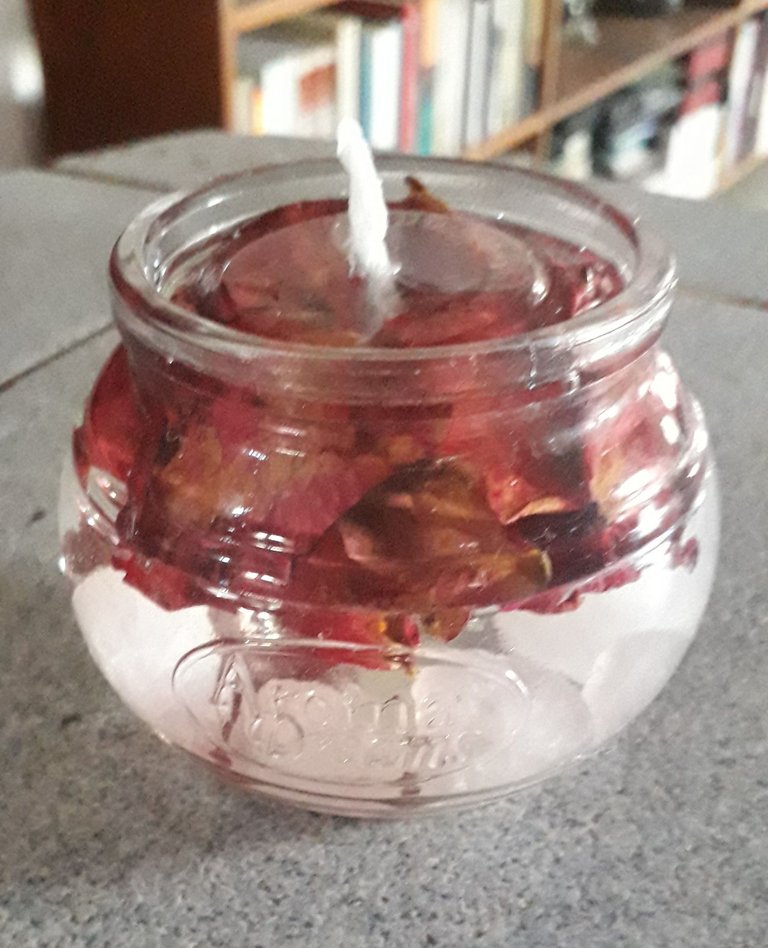 We wet a little bit the part of the 2cm wick and the other part we place it directly on the oil. It is important that the part that is in contact with the oil does not touch the water because it will not serve our candle. We wait a while and it will be ready to light.
And that's it, we are done.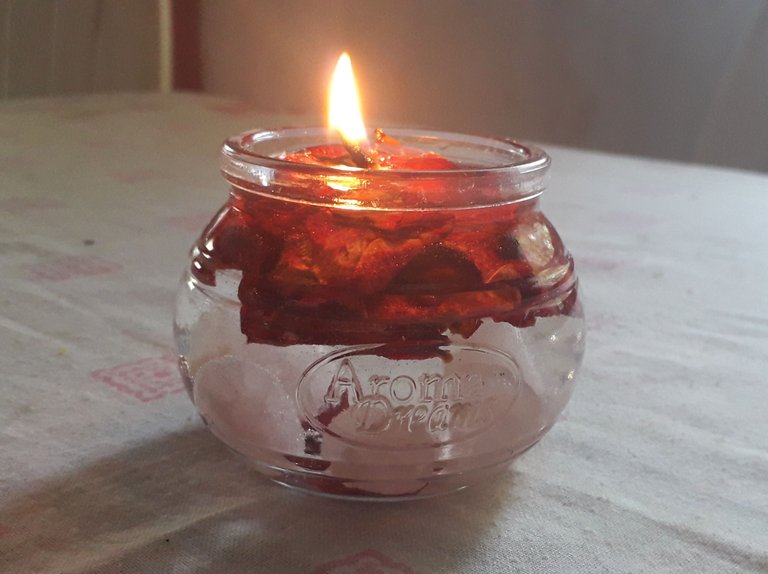 I hope you like it.
Until next time 👋
Credits
Photos of my authorship, taken with a Samsung Galaxy A12 cell phone.
Translator: App DeepL
Photo editors used: Polish photo editor and Canva photo editor
---
---