How much Splinterlands DEC per day can I earn?
(This guide is written as part of the Splinterlands DEC Guide)
Intro
Is it possible to play Splinterlands and earn enough money (DEC) to make it a full time job? Could a person earn a decent living playing a blockchain video game? Since the in-game currency (DEC) can be converted into fiat currency, the question that needs to be answered is simply:
How much DEC can I earn per day?
At present, there are a few ways Dark Energy Crystals (DEC) can be earned while playing Splinterlands. The amount earned will be up to each individual and how far they've progressed in the game. They are:
Loot Chests/Daily Quest & Season Rewards

Selling/Renting Cards

Winning battles/Tournaments
---
Loot Chests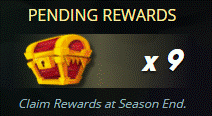 Upon finishing a daily quest or at the end of a season, players receive "loot chests" as a reward. Depending upon which "league" the player has competed in (Bronze, Silver, Gold, Diamond, or Champion) they will get a number of these chests corresponding to where they finished the season. The higher the player ranks, the more chests they receive. Each chest will contain a potion (Legendary or Alchemy), cards, or DEC. The DEC amounts will range from just a few crystals all the way up to 2000, with the majority of the "drops" coming in from 5-300.
Season Rewards
The top players also earn a sizable DEC reward for finishing the season on top of the rankings. The Bronze League has a top prize of 30,000 DEC while the Champions League pays out 200,000 DEC to the winner.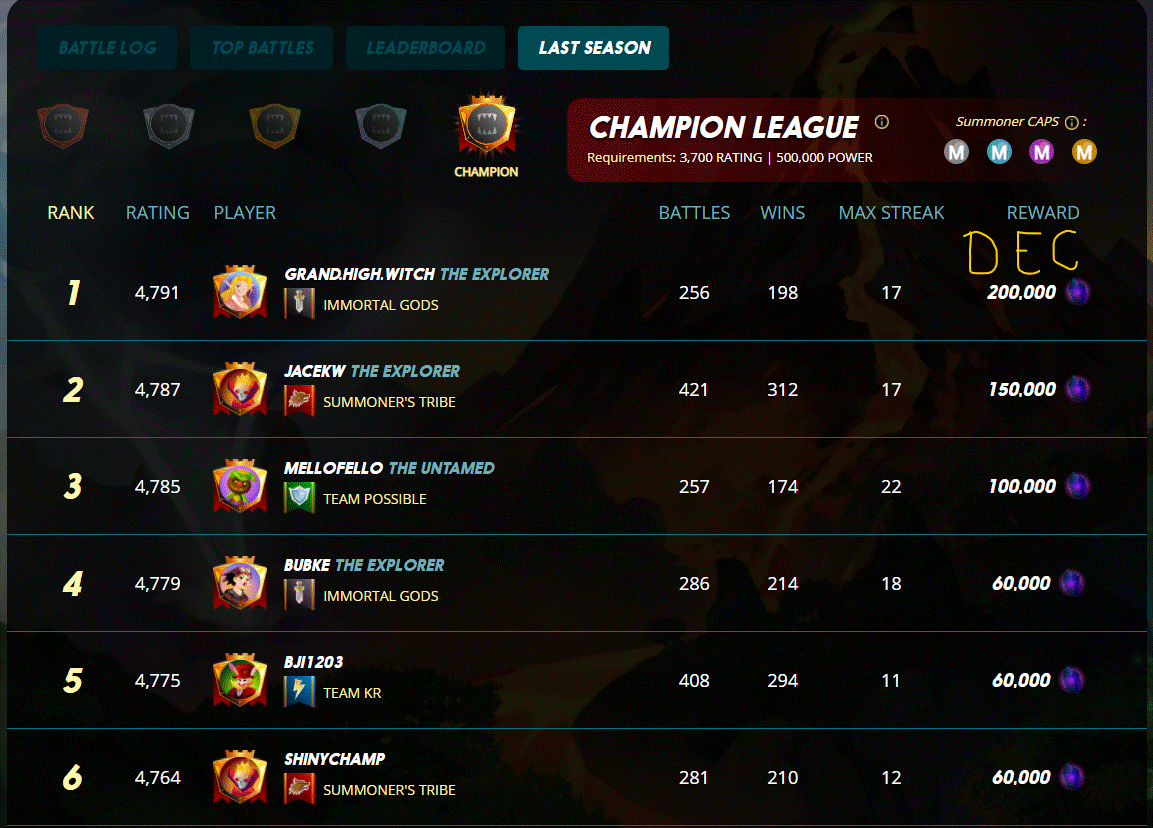 Selling Cards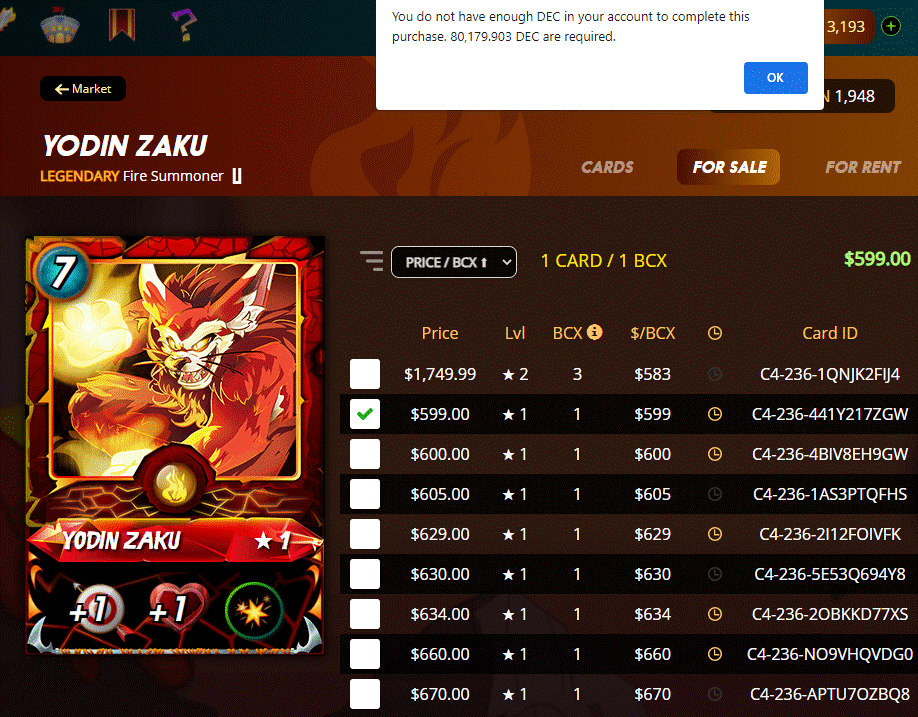 Again, upon receiving rewards chests, a player will often receive cards from opening the chests. These cards can be sold on the market for DEC. The amount of DEC they can be sold for will obviously depend upon how powerful and/or how rare the cards are in the game. Some of the Legendary cards can be listed for literally hundreds of thousands of DEC, while the cheapest cards will usually fetch around 40-50 at current prices, give or take. Most cards will be somewhere in between with the Rare, Epic, and Legendary cards obviously being worth more than the Common.
Again, the number of cards a player receives in these chests is random, usually 1-2 per 5 chests, although depending upon where Splinterlands is in it's cycle of selling packs and dice, there may be more or less. Either way, luck of the draw is foremost in determining how much a player can earn by selling cards, but most cards are in the hundreds of DEC to purchase so there is definitely money to be made here.
Renting Cards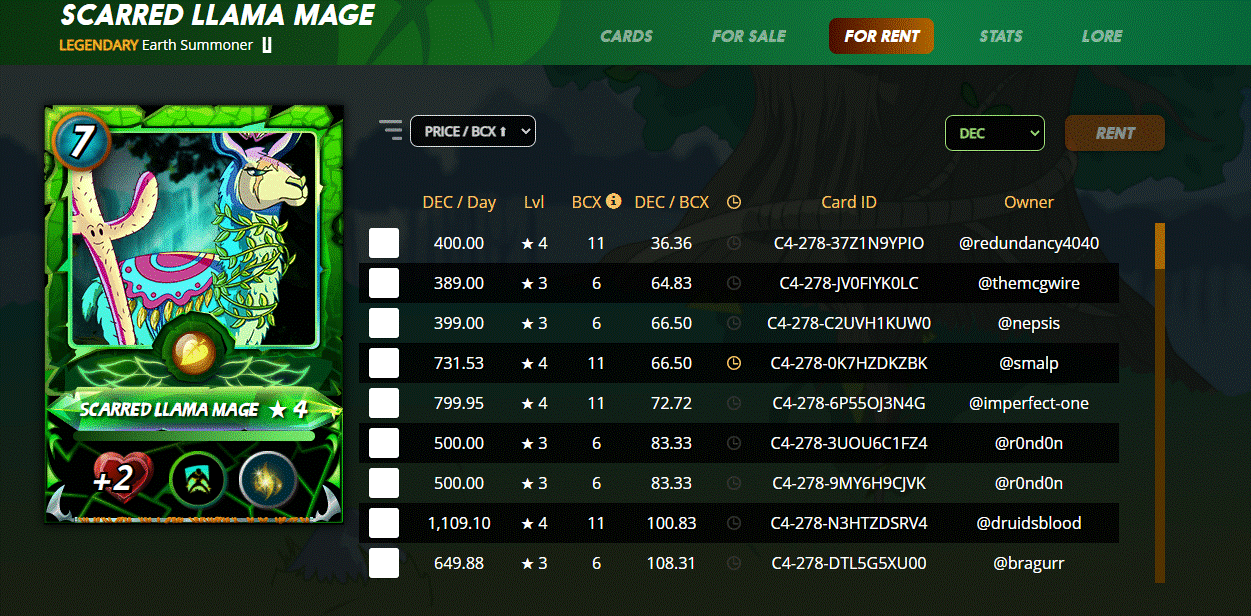 A player may also choose to hold onto their cards and rent them out instead. Again, depending upon power, level, and rarity, a player may earn anywhere from a fraction of a DEC to upwards of a few hundred per day. If the player is not using cards, it can be a decent passive income to put the cards on the market to rent. Obviously, the more cards a player rents out, the more DEC they can earn.
Winning Battles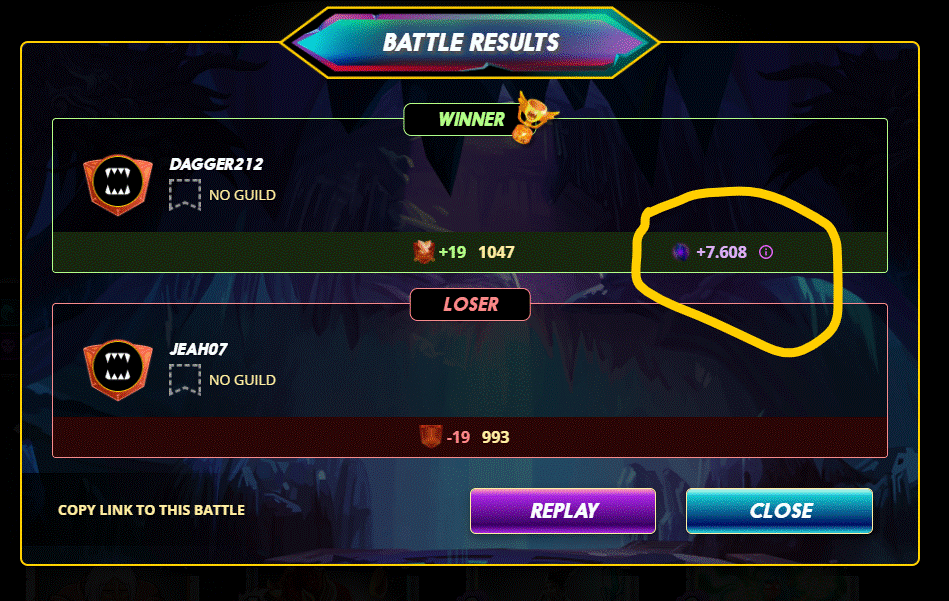 The final way a player can earn DEC every day is by winning ranked battles. Each time the player wins a battle, he/she is rewarded with ranking points and DEC. Once again, the amount varies depending upon how far the player has advanced in the game. The higher their ranking, the more DEC they receive for winning. They will also receive bonuses to the amounts received if they are on "winning streaks". If the player wins consecutive battles, they will get a percentage bonus on their DEC winnings with the bonus increasing as their winning streak lengthens.
Bronze level battles usually pay out fractions of a single DEC at the lowest levels, although once a player advances to Bronze II or Bronze I, the amounts can climb up into the low to mid double-digits, with even higher numbers possible with lengthy winning streaks. Legendary battle wins can pay in the low to mid hundreds of DEC per win.
That said, there is what is known as the "capture rate" within the game. The capture rate is a mechanic placed in the game so "bots" can't play the game 24 hours a day and milk the rewards. Each time a player battles, the capture rate goes down a tiny percentage. As it goes down, the player only receives that percentage of the rewards won for winning a ranked battle. For example, if a player won a battle and would be receiving 20 DEC as a reward, but their capture rate is at 90%, they will only receive 18 DEC. Obviously, if the rate gets down below 50%, that could be a big chunk of earnings, especially if the player is in the higher leagues where each battle could pay 200-300 or more DEC to the winner. The capture rate DOES recharge however. It will recover 20% per day so players are best served only taking it down to around 80% on a daily basis unless they know they'll be skipping a day or two for some reason. They can also open a second account and play that one while their capture rate is recharging, potentially doubling their daily income.
Tournaments
Splinterlands also has an active tournament schedule with daily contests being run for prizes. Again, these prizes will be based on the league level the player is playing and, obviously, how high they finish in these tournaments. While this really isn't what a person would call passive income, it IS a way to earn more DEC on a daily basis, thus it is being mentioned here. Tournaments can be found under the "Events" tab in the game.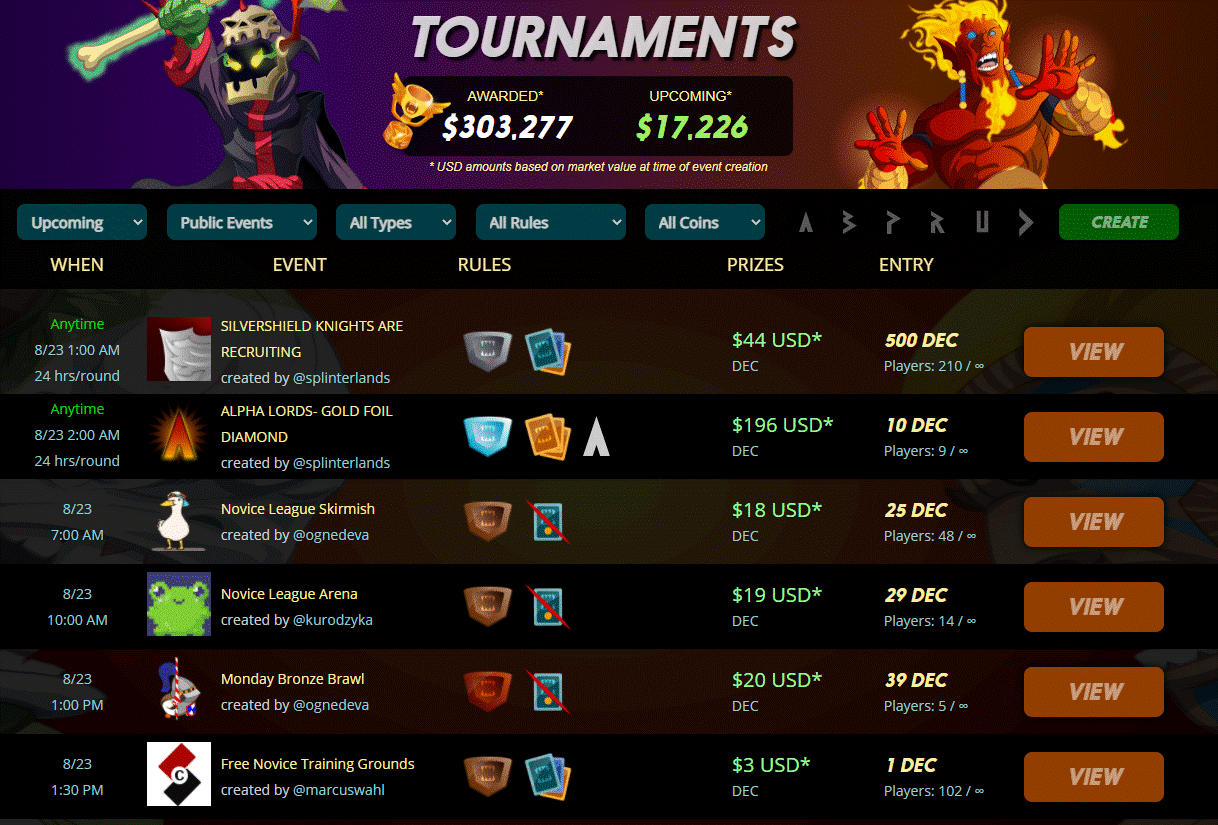 Conclusion
Overall, a player basically gets out of Splinterlands what he/she puts in. If they advance into the higher league levels, they can earn a few hundred up to thousands of DEC per day battling. The rewards chests are only awarded once a day so the amount of DEC earned there will usually not be more than 100-300, although, as stated, there are the occasional 2000 DEC rewards. Renting and/or selling cards can also pay DEC on a daily basis provided the player receives cards in the loot chests. Again, the amount will be strictly based on how rare and/or powerful the cards they receive happen to be, but some cards can be rented out for hundreds of DEC per day and some cards can be sold for many thousands.
Doing some quick math, if a player earns 10,000 DEC ($70USD) per day battling, builds his/her deck up to a point where they are renting out cards for another 1000 DEC ($7.00USD) per day, selling extra cards once a week for another 5000 DEC ($35USD), and then adding a second account that does half of that, they could conceivably make $125 USD fairly comfortably every day. Multiply by 7 days a week and 52 weeks a year and it adds up to around $45k. Throw in the occasional legendary card that currently can be sold for hundreds of dollars and seeing that number climb over $60k a year is not a stretch.
In conclusion, if a player wants to spend the time and energy learning the game, building their card decks, and advancing in levels, they could certainly reach a point where they are earning a few thousand DEC every day. In fact, at the Champions level, a player could earn upwards of 10,000 DEC per day just battling. With potential tournament winnings, the sale/rental of awarded cards, and season end rewards for finishing near the top of the rankings, it is quite possible a person could earn a nice living playing Splinterlands, a blockchain video game.
Posted Using LeoFinance Beta
---
---