Splinterlands & CUB: A Pretty Good Pair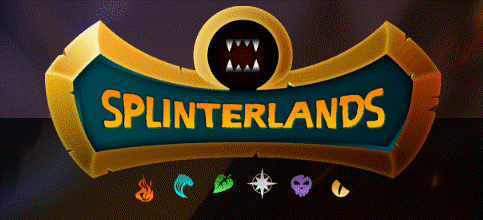 Unless you've been hiding under a rock the last few weeks you've obviously heard about what's been going on with Splinterlands. Prices have been skyrocketing on pretty much anything to do with the game. Land, cards, dice, packs, DEC, SPT, SPS....all of them have gone up multiple x's over the last month.
I was fortunate enough to see it coming to a certain extent and I bought a nice chunk of both DEC and SPT on the open market before it started taking off. Little did I know the airdrop was going to be this successful as well. While I can't imagine the price can climb too high with 1M new tokens being dropped every day, I can see the value in holding them long term.
Splinterlands is just getting started. The fact that it's starting to break into the mainstream is, as I said, only the beginning. There is a lot more development coming to the game and regular gamers are just starting to pick up on the fact that they can actually make money, real money, just playing a game. This thing could seriously 100x from here. Whether that translates into 100x on prices remains to be seen but, either way, it's definitely headed in the right direction.
The exciting thing, in my mind at least, is what it could (and probably will) do for the rest of the HIVE ecosystem. With all the new users being onboarded, eyes are going to make their way to other areas of Hive as well. Plus, and maybe more importantly, game devs are certainly going to want to figure out the secret to Splinterlands success so they can duplicate it and, guess what? The Hive blockchain is behind it all. Lots of reasons for optimism here on so many different levels. Things could get crazy.
In the meantime, I discovered a nice way to play this that seems like a complete no-brainer. I took my DEC and staked it in the DEC/BUSD LP on Cubdefi.com. Why is that a no-brainer? Well, for three very good reasons.
Adding DEC to the qualified LPs doubles the points you get for the airdrop. I'm loving my little chunk of SPS every day. Pretty sure I'm going to love getting double even more.

Pairing DEC with BUSD while DEC is high seems like a pretty good hedge. If DEC drops back to more normal levels, the LP will sell some of the paired BUSD and buy more DEC to rebalance. So, I get more DEC and thus more airdropped SPS which will more than make up for any loss in value from the drop in price. If DEC somehow keeps climbing, well, I'm still getting twice the airdrop points which will make up for any DEC I lose, plus I'll be gaining value on the non-fixed asset in the pool. I win either way. And, oh yeah.....
I just happen to be getting a 25% return paid to me in CUB at 60 cents. Seriously, Win, Win, WIN!!!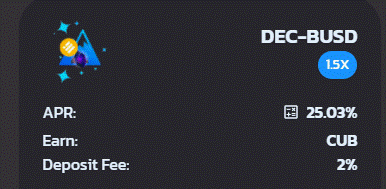 I'm not telling anyone what they should do with their money but this certainly seems like a pretty sweet little opportunity to me. I've put my money where my mouth is. Up to you whether you want to come along for the ride.
Now all I have to do is figure out how to play the stupid game.....
Posted Using LeoFinance Beta
---
---