DE PASEO POR EL ACUEDUCTO DE SEGOVIA/A STROLL THROUGH THE AQUEDUCT OF SEGOVIA
Hola amigos de hive, en esta oportunidad les vengo a enseñar unas fotos de uno de mis viajes a España, más específicamente a Segovia y a relatarles parte de la historia de uno de los monumentos más emblemáticos de la ciudad el acueducto, este monumento segoviano que fue declarado Patrimonio de la Humanidad por la UNESCO en 1985. Ese viaje lo hice junto a mi mamá y a mi hija, visitamos algunos sitios preciosos, pero este fue impresionante; al fondo en la foto se observa la estructura de los arcos de piedra que conforman el acueducto.
Hello friends of hive, this time I come to show you some pictures of one of my trips to Spain, more specifically to Segovia and to tell you part of the history of one of the most emblematic monuments of the city, the aqueduct, this Segovian monument was declared a World Heritage Site by UNESCO in 1985. I made that trip with my mom and my daughter, we visited some beautiful places, but this one was impressive; in the background in the photo you can see the structure of the stone arches that make up the aqueduct.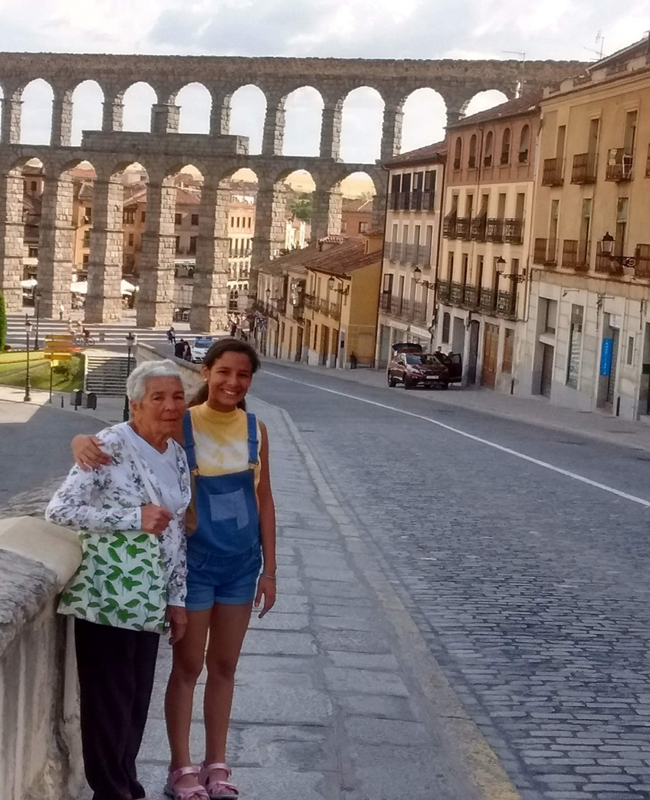 [MI MADRE Y MI HIJA CON EL ACUEDUCTO DE SEGOVIA AL FONDO]
[MY MOTHER AND DAUGHTER WITH THE AQUEDUCT OF SEGOVIA IN THE BACKGROUND]
Les cuento, que a su paso por la Península Ibérica en el siglo I los romanos dejaron huellas de su cultura y el acueducto de Segovia forma parte de esos monumentos, y es uno de los más espectaculares.
I tell you that in their passage through the Iberian Peninsula in the first century the Romans left traces of their culture and the aqueduct of Segovia is part of those monuments, and is one of the most spectacular.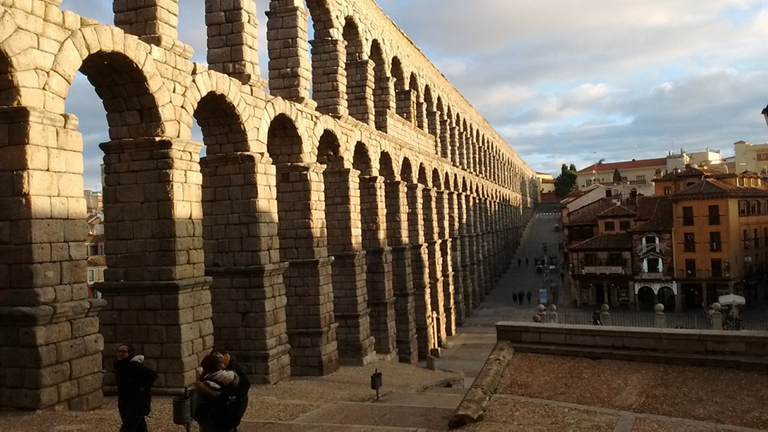 [**VISTA DEL ACUEDUCTO DESDE LA PLAZA AZOGUEJO ]


[VIEW OF THE AQUEDUCT FROM AZOGUEJO SQUARE **]

Esta obra hidráulica monumental de la ingeniería del imperio romano se encuentra en el centro de la ciudad, tiene 167 arcos y posee casi 30 metros de altura, fue una herramienta indispensable para trasladar el agua desde la Sierra de Guadarrama a lo largo de 16.222 metros aprovechando los desniveles del terreno y proveer al pueblo de Segovia.

This monumental hydraulic work of engineering of the Roman Empire is located in the center of the city, has 167 arches and is almost 30 meters high, it was an indispensable tool to transfer water from the Sierra de Guadarrama along 16,222 meters taking advantage of the uneven terrain and provide the people of Segovia.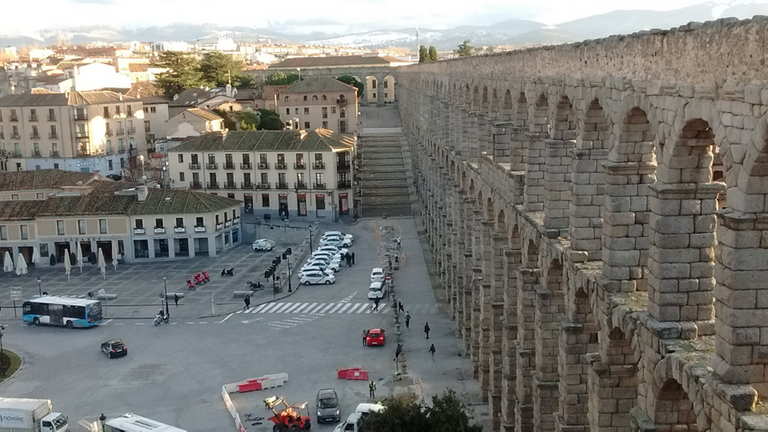 [**VISTA DEL ACUEDUCTO DESDE LA PLAZA DE LA ARTILLERIA ]


[VIEW OF THE AQUEDUCT FROM THE PLAZA DE LA ARTILLERIA **]

Tiene a la Plaza del Azoguejo a la izquierda y a la derecha la Plaza de la Artillería, el Acueducto parece que divide la ciudad en dos. Esta la gigantesca obra convive en armonía con los demás símbolos arquitectónicos de la ciudad, donde se encuentran la Catedral de Segovia, las murallas y el castillo Alcázar.

With the Plaza del Azoguejo on the left and the Plaza de la Artillería on the right, the Aqueduct seems to divide the city in two. This gigantic work coexists in harmony with the other architectural symbols of the city, where we find the Cathedral of Segovia, the walls and the castle Alcazar.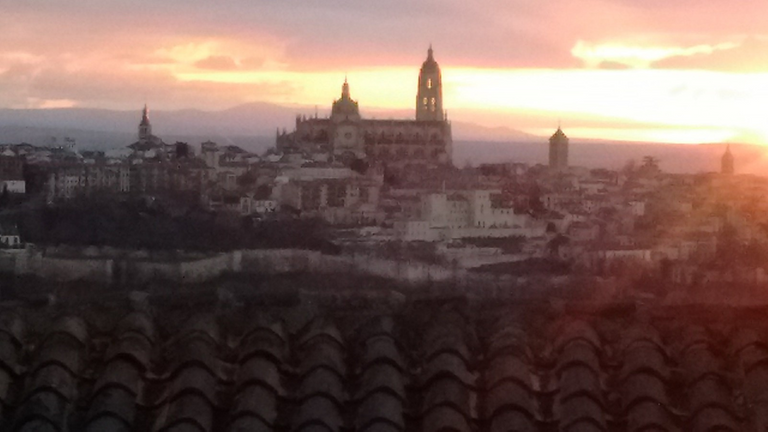 [VISTA DE SEGOVIA AL ATARDECER]
[View of Segovia at sunset]
Hay una leyenda que habla de una joven segoviana que era una aguadora, y que agobiada de tanto trabajar hizo un pacto con el Diablo: que, si éste hacía conseguir que el agua llegara hasta la ciudad antes del amanecer, el Diablo se apropiaría de su alma. El maligno trabajó duro y rápido, pero una tempestad espantosa fustigó a la localidad esa noche y en el momento que el gallo cantó, faltaba colocar una piedra solamente. la muchacha salvó su alma y los segovianos ganaron el acueducto. Según se dice que se pueden ver los orificios donde las pezuñas del diablo se hendieron en las piezas de piedra... o tal vez las grietas donde caían los andamios.
There is a legend that tells of a young Segovian girl who was a water carrier, and who, exhausted from so much work, made a pact with the Devil: that if he made the water reach the city before dawn, the Devil would take her soul. The evil one worked hard and fast, but a terrible storm hit the town that night and by the time the rooster crowed, only one stone had to be placed. The girl saved her soul and the Segovians won the aqueduct. It is said that you can see the holes where the devil's hooves were cloven into the stone pieces... or perhaps the cracks where the scaffolding fell.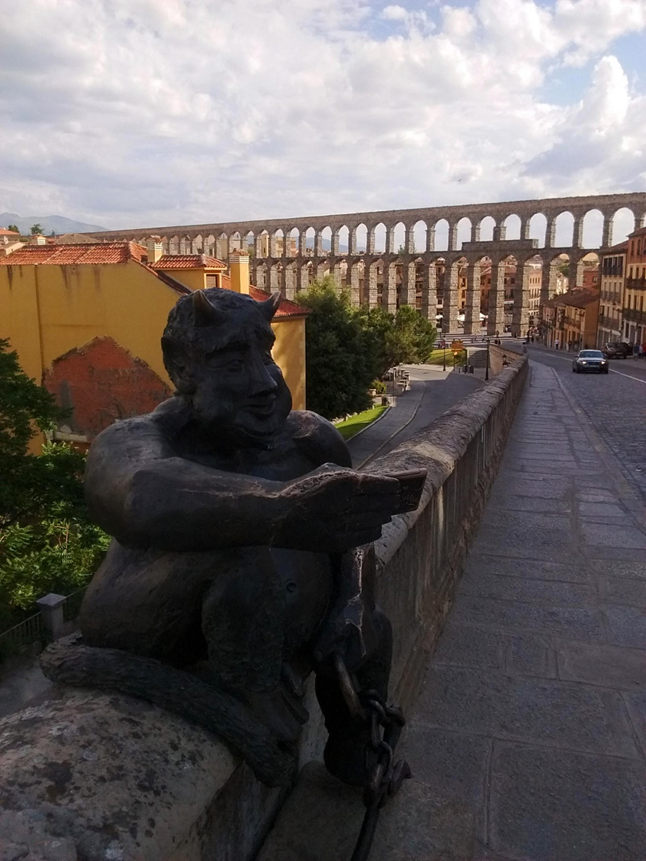 [ESCULTURA DEL DIABLILLO, OBRA DEL ESCULTOR JOSÉ ANTONIO ABELLA]
[ESCULTURA DEL DIABLILLO, OBRA DEL ESCULTOR JOSÉ ANTONIO ABELLA]
La estatua del "diablillo del selfie" simboliza la parte de la leyenda en la que la muchacha logra burlar al diablo, quien se queda cargando la última piedra, sin conseguir colocarla en el monumento antes de que cante el gallo.
The statue of the "little devil of the selfie" symbolizes the part of the legend in which the girl manages to outwit the devil, who is left carrying the last stone, without managing to place it in the monument before the rooster crows.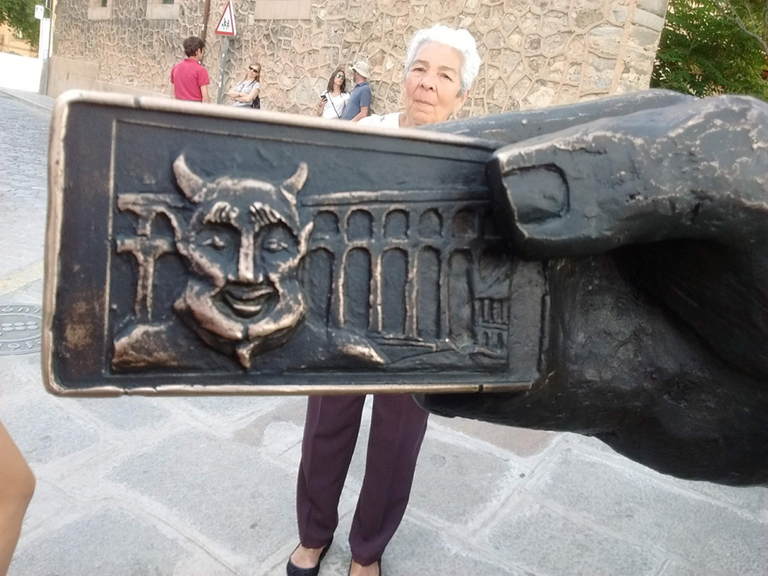 [**IMAGEN DEL SELFIE DEL DIABLILLO ]


[DIABLE SELFIE IMAGE **]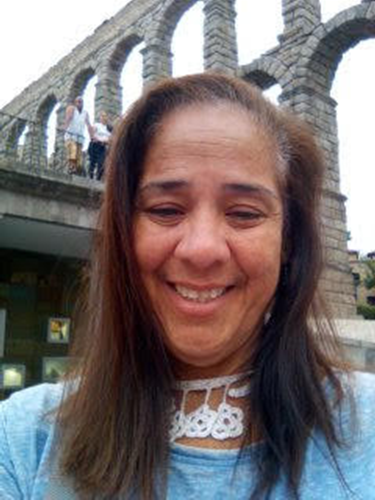 [**YO, Y A MI ESPALDA EL ACUEDUCTO SEGOVIANO ]


[ME, AND AT MY BACK THE SEGOVIAN AQUEDUCT **]

Espero que hayan disfrutado de las fotos y de la lectura…

I hope you enjoyed the photos and reading....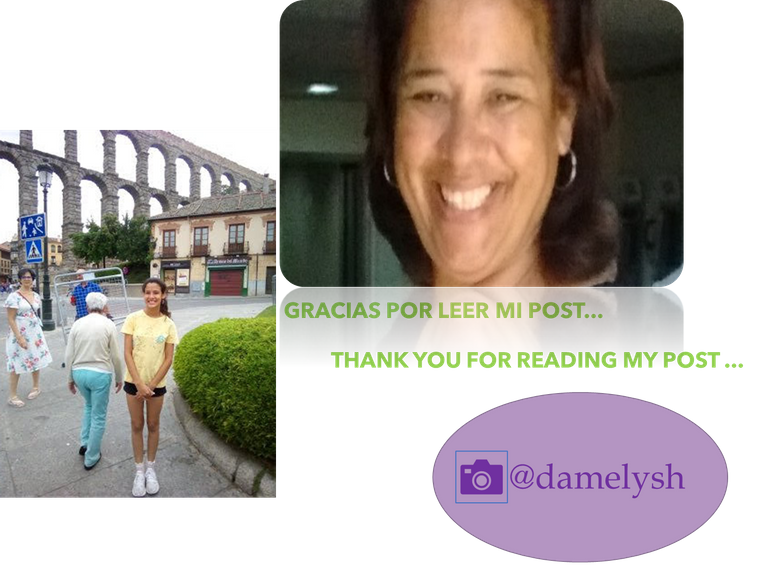 fotos tomadas por teléfono cubot j5/photos taken by cubot j5 phone
---
---