Document Your Journey On Steemitworldmap

I'm not on the @steemitworldmap payroll nor am I a member of their team. I'm just a fan of their efforts and what they do for the community by encouraging each of us to document our travel adventures and think you should consider utilizing their platform next time you're out doing something worth documenting. Regardless if you're traveliving abroad or just enjoying the day in your back yard, you can document your adventure on their map, which is then saved on the blockchain and fellow adventure seekers know exactly where to find it.
I've seen many of you share your kayak adventures, road trips, your fly south for the winter rendezvous, overnight weekend excursions, the list is infinite—it's all worthy of the map. If this is your first time hearing about them, you're just in time for the release of their HaveYouBeenThere app available in the Google Play Store. If you're unfamiliar with the workings of their platform, how to locate and record your coordinates to then paste onto your article for a chance to be mentioned in their daily curation, you're in the right place, I'll show you how to do that.
Firstly, a team introduction headed by @martibis, assisted by @oroger, and curated by a fine group of ladies—I found that out the hard way recently by referring to one of their curators as "he," won't do that again!
Team:
Martibis. He's the tech savvy one from Ghent who's responsible for the creation of the map.
Oroger. A talented back-end developer from Belgium with more than 10 years experience under his belt.
Liz. A world traveler and one of four curators responsible for keeping an eye out for each of our travel articles.
Donica. Another curator keeping track of us who's lived on five continents and traveled more than 60 countries.
LivingUKTaiwan. Currently in Taiwan having spent a considerable amount of time working in U.K., she curates for both @steemitworldmap and @ocd.
Choogirl. She's an expat originally from Australia, currently in Panama who curates for both @steemitworldmap and @curie.
Blocktrades. Everyone knows who blocktrades.us is. They're supporting the Traveldigest daily travel blog by awarding featured authors with an upvote—I'll address that at the end of this article.
How:
Once you've documented your article, attached your pictures, and you're ready to post, you need to do two things. First—tag #traveldigest, you don't want to forget that part, it's how their curators find your content. Second—copy your coordinates and paste them to your article, it's easy. Go to https://steemitworldmap.com and you'll arrive at this page:
From here, scroll around the map to your location and zoom in on it. If you're in Daytona Beach, Florida, for example, scroll over to the United States and zoom in on Daytona Beach.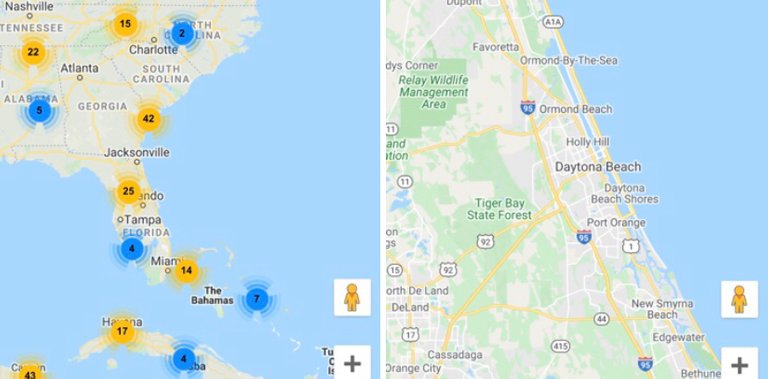 If you can't find it, you can type the city in the search bar at the top, I'll circle it for you in the following image. Once you've located Daytona Beach, click the "code" toggle located at the bottom of your screen and it will switch to "explore."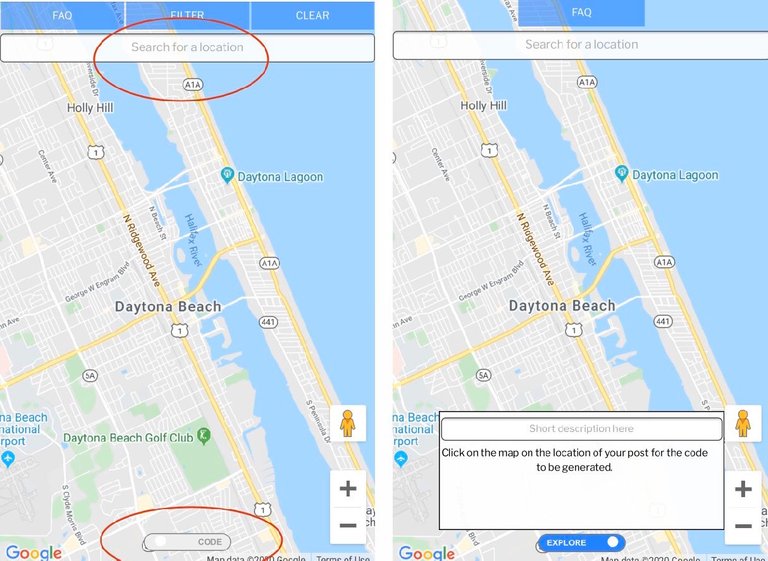 Now there's a blank bar above explore that says "short description here." By touching/clicking Daytona Beach on the map, your coordinates will appear in that box, they'll be hi-lighted in blue, along with a drop-pin on Daytona Beach.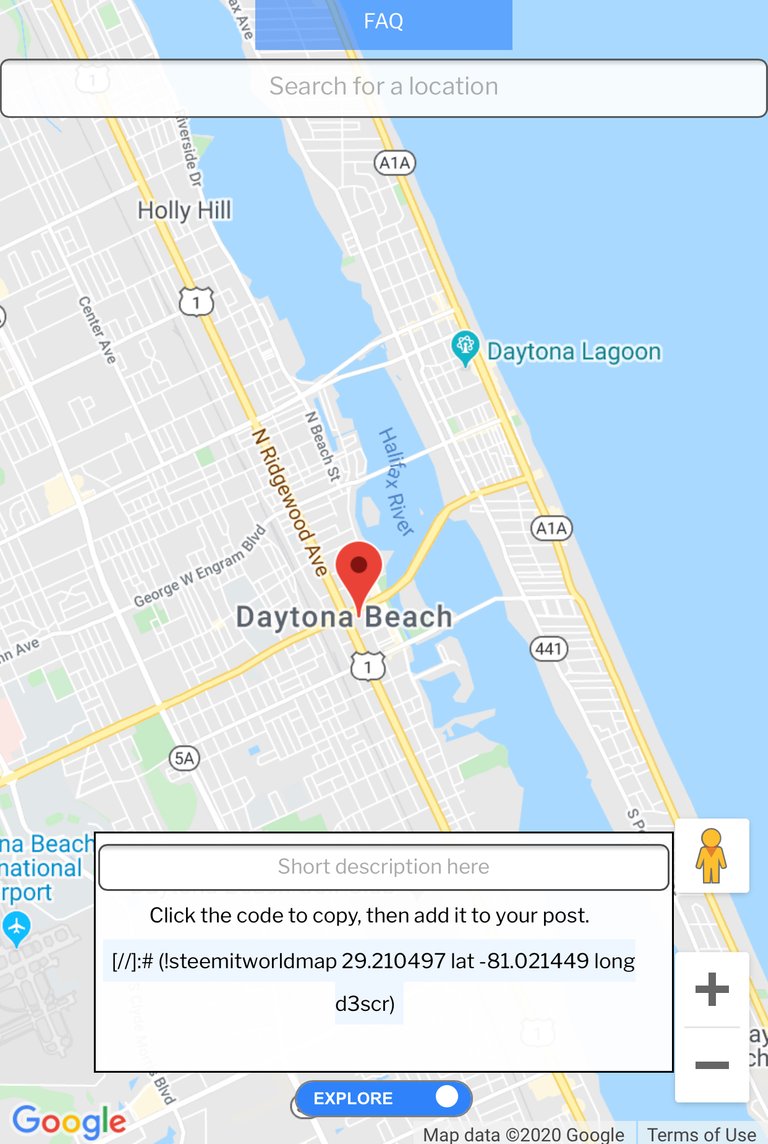 Now all you do is touch/click those coordinates and they'll be copied to your device, hi-lighted in yellow and it will say "copied successfully."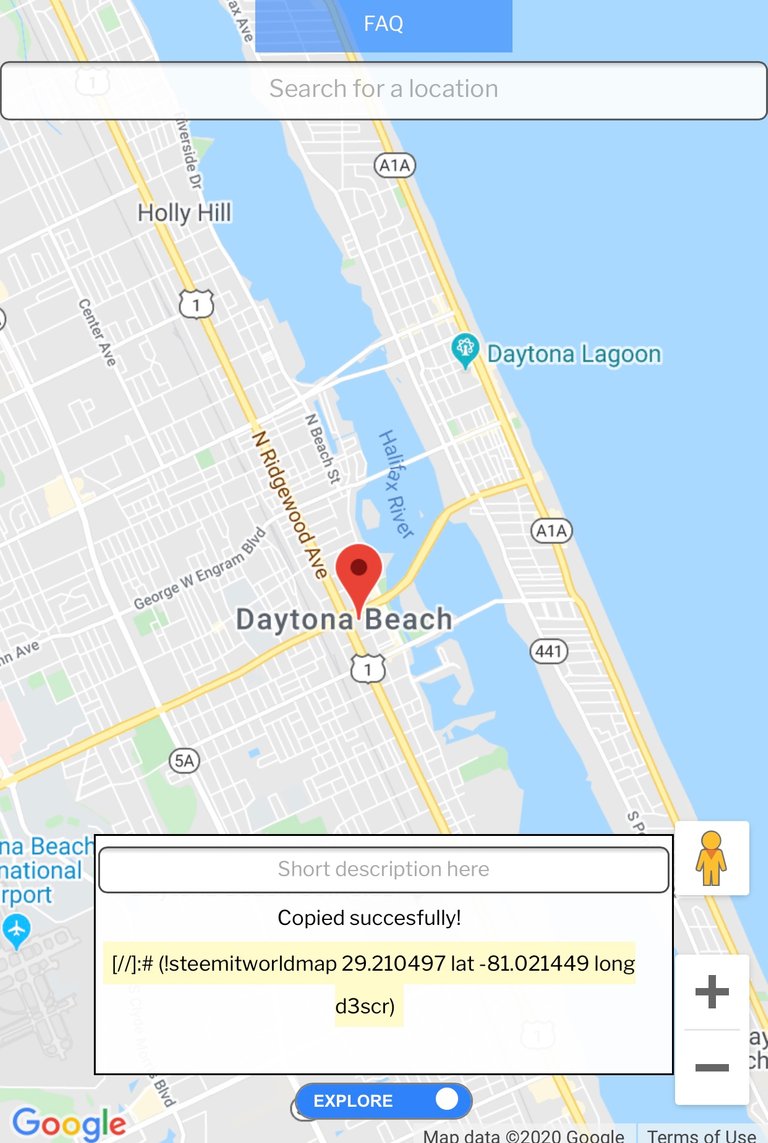 That's it, you're done! Now just paste those coordinates at the bottom of your article and, although you'll see the coordinates on your rough draft, they won't be visible on your live article nor in the preview section—they chose not to clutter up your article with coordinates. Once you post the travel article, your adventure is saved on steemitworldmap and you'll receive a confirmation response from the team. I'll attach those Daytona Beach coordinates to this article to give you an example of the confirmation you'll receive—it'll be in the comment section below.
Rewards:
If your article is featured in the daily #traveldigest curation, you'll receive an upvote from @steemitworldmap along with their associated trail. Also, depending where your article ranks, you'll receive an upvote from @blocktrades. They're currently voting at 25% strength to the top three and 5% to each of the honorable mentions—motivation. If you're still confused, let me know, we'll get you squared away. If I messed something up, I'm sure they'll let me know in the comment section and I'll be clicking the edit button. All that's left now is show us what you're up to—I'll see you then!


---
---