The Italian Way - Authenticity From A Private Kitchen in Italy #fff #80

I haven't competed in this weekly throw-down known around the #blockchain as @foodfightfriday for 10 weeks. In the words of Eminem (I'm linking one of his new tracks at the end of this article—hence the plug), "it feels so good to be baaaaaaaacccck!" Thanks for saving my seat ya buncha wanna-be's, the gloves are officially o.f.yeah!
During our recent 30 day stay in Italy, one of the things I was forced to do Pura and I thoroughly enjoyed doing together was taking a five hour cooking course. In all seriousness, though, as much as I wanted to explore the city by myself that day while she took the course without me, I'm glad she signed us up. It was taught by a professional chef who's born and raised in Italy—she shared her generationally passed down recipe with us from the privacy of her own home (my autocorrect had 'heroin' just now instead of 'her own' and, in all fairness, I guess authentic Italian cuisine and heroin share a characteristic—addicting). There was only five of us in attendance, too, which made it that much more informative and enjoyable.
We made fettuccini, raviolis, which we then stuffed with a dressed-up spinach and ricotta, and a delicious tomato sauce—all from scratch. The worst part, not that there was one but, you see, I practice a pescatarian eating habit which means I don't eat meat, other than fish, nor do I consume eggs or dairy. Trying to explain that to an Italian, of all people, why you don't eat cheese is like trying to explain to anyone what salt tastes like. After a brief explanation, which I'd rather avoid because it makes for an awkward situation, I ended up saying "I'm just here for the experience." The kicker—when served dinner and they poured me a glass of wine (Italy—cheese and wine), I had to divulge I don't drink either, danget! Anyhow, this is how we were taught to prepare an authentic Italian meal.
Pasta: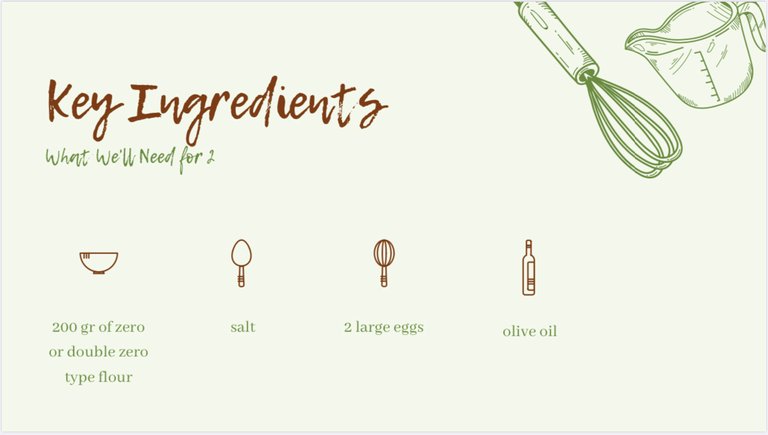 On a cutting board or some sort of cooking platform your ingredients won't stick to, turn your pile of flour into a bowl. Inside the flour bowl—crack your eggs, add your oil, a pinch of salt, and whisk while steadily adding your bowl of flour to the mixture until a nice, moist (not too dry or you'll have to lightly brush water during the kneading process like I did) pie crust is formed. Knead it thoroughly as you shape it into a ball. Cover in plastic wrap ensuring there's no air inside and let it set for 30 minutes.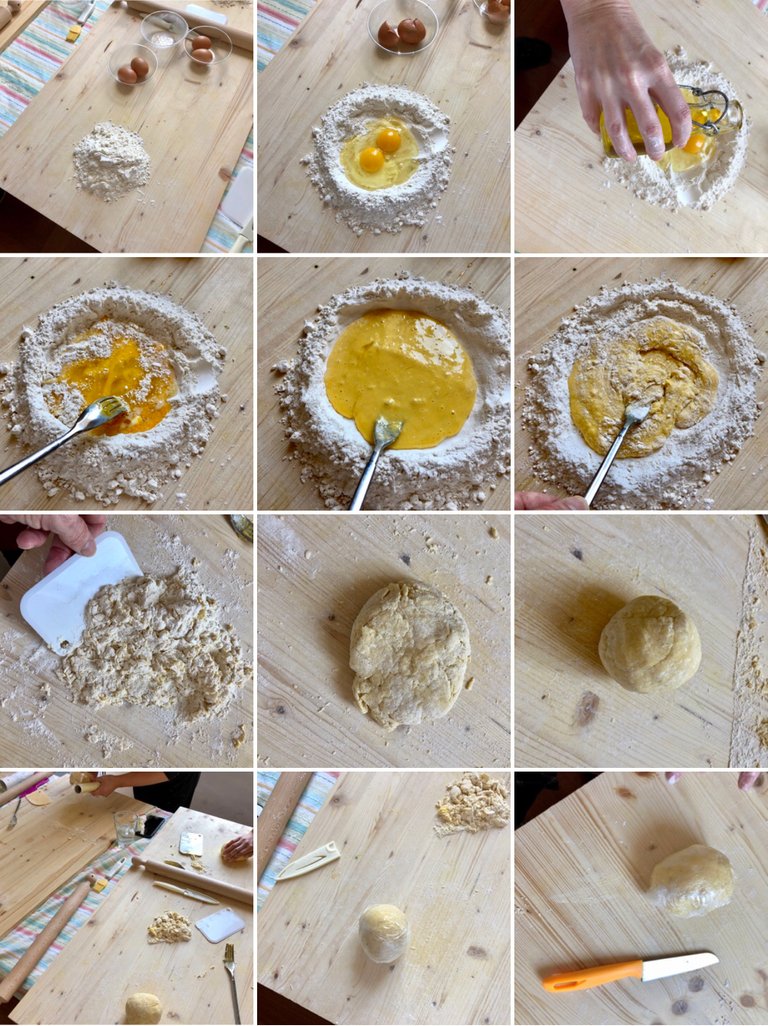 Ravioli Stuffing: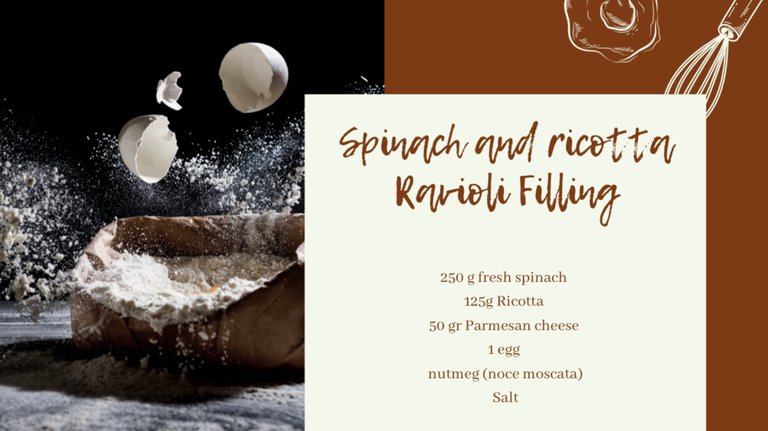 Together in a mixing bowl, including fresh ground nutmeg, mix your ingredients thoroughly while conducting taste tests periodically to ensure your mixture meets your standard. Continue mixing until your filling is a nice, smooth, easy to spread and ready to stuff finished product.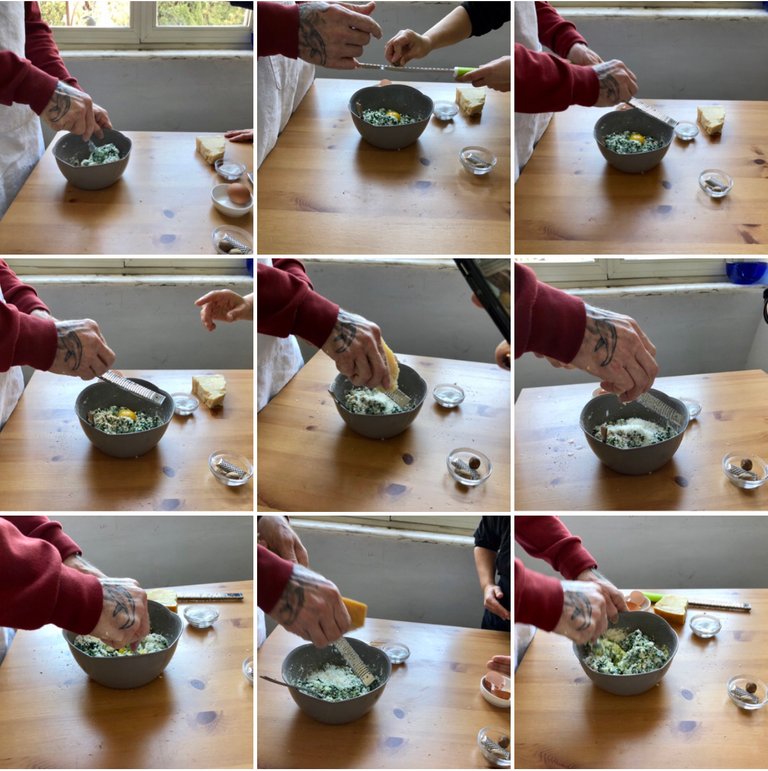 Tomato Sauce:
In a sauce pan over medium heat, bring your olive oil up near boiling while adding your chopped onion, chopped garlic and red pepper—mix together until onion is clear. Sift your canned tomatoes until you have a smooth, near water-like consistency sauce before adding it to the boiling olive oil—evenly spread basil leaves across the top and allow it to simmer for 30-40 minutes.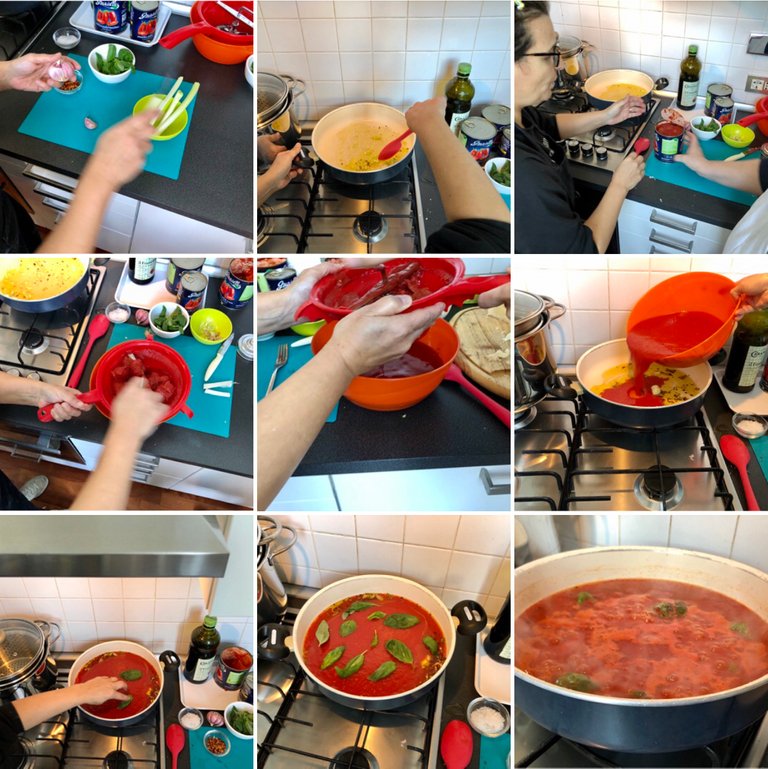 Fettuccini:
It's been about 30 minutes since we wrapped the pasta dough. While the sauce is simmering, remove the plastic from your future pasta, cut it in half (fettuccini, ravioli) and flatten it out evenly with a floured rolling pin, rotating it during the process for thickness consistency.
Overlap future pasta over itself in even proportions to avoid having to cut long strips. Beginning at one end, slice the dough evenly with roughly 1/2 inch spacing between each cut and your raw fettuccini will be ready to boil.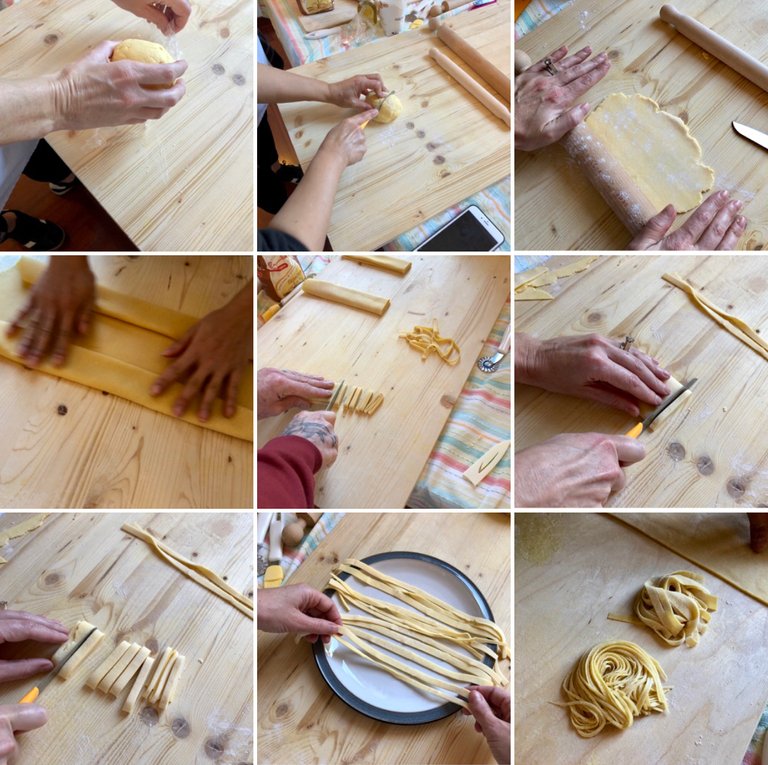 Ravioli:
Cut the remaining dough into six inch wide strips and continue flattening (we used a fancy pressing tool flattener thing). Cut evenly into 6x6 inch squares and put two tablespoons of spinach stuffing, one on each side, and fold the dough over, creating two raviolis, 3x3 inches each to cut and shape. Pinch the edges with a fork to seal the spinach/cheese inside. They can be made in all sorts of shapes: squares, circles, half-moons, etc.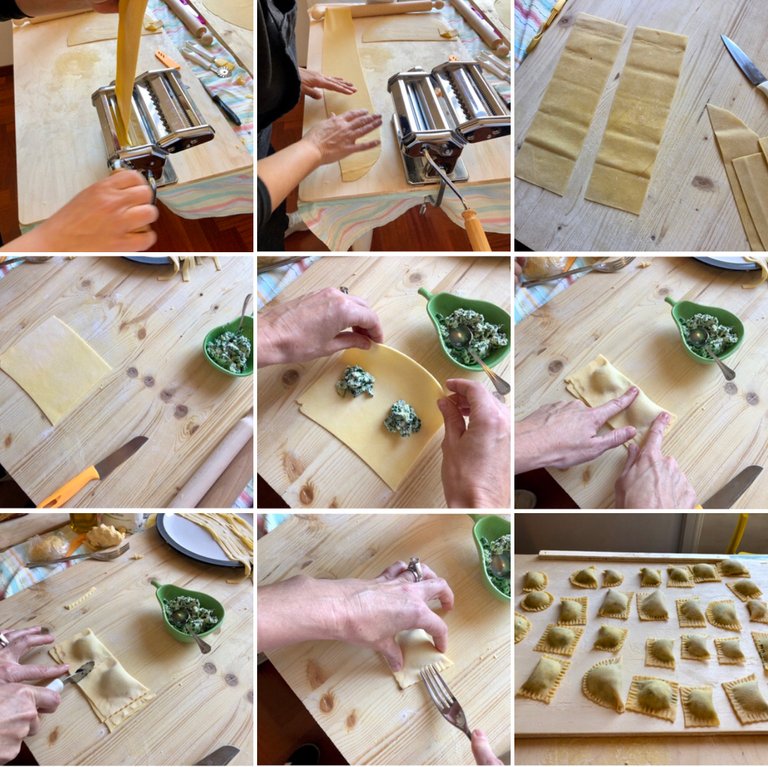 Tada!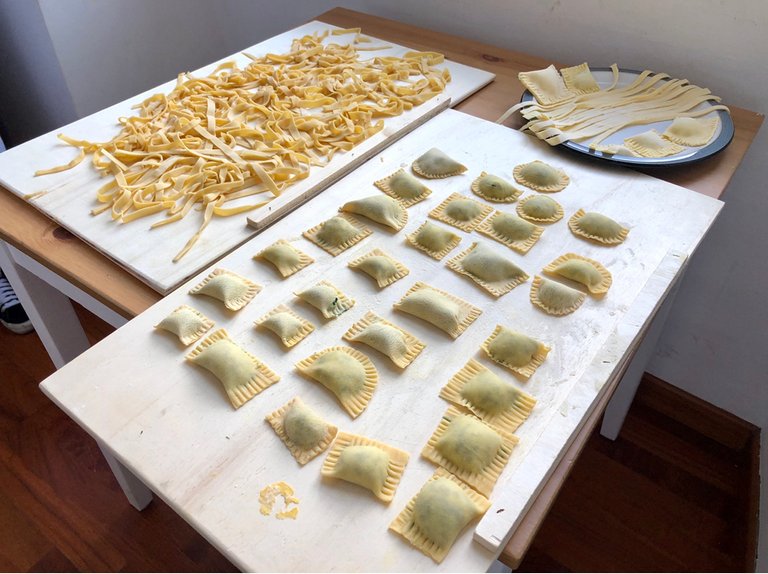 Cook your fettuccini and raviolis together in boiling water for about 10 minutes or until al dente. Let them cool off for a few minutes, add your tomato sauce that's been simmering, add some fresh basil on top and "bon appétite!"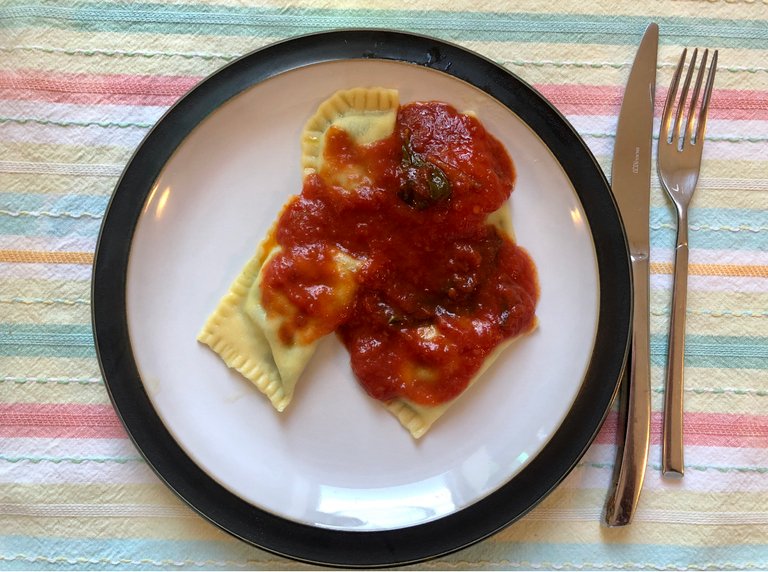 If you have the opportunity to visit Italy and should find yourself in Rome, look up Lucilla's Cooking Class. She doesn't advertise online, it's a hands on course with five students max and you need to schedule ahead of time, her contact information is under the next paragraph—you won't regret it! Speaking of No Regrets.
Remember way back in the beginning of this contender when I said I'm going to link an Eminem track? It's under Lucilla's contact information—a track from his #new album called No Regrets (don't just thumb/finger through it either, listen to it—really!). He just released this album last week and, if you haven't heard it yet, you're missing out—he smashed a home run with that one.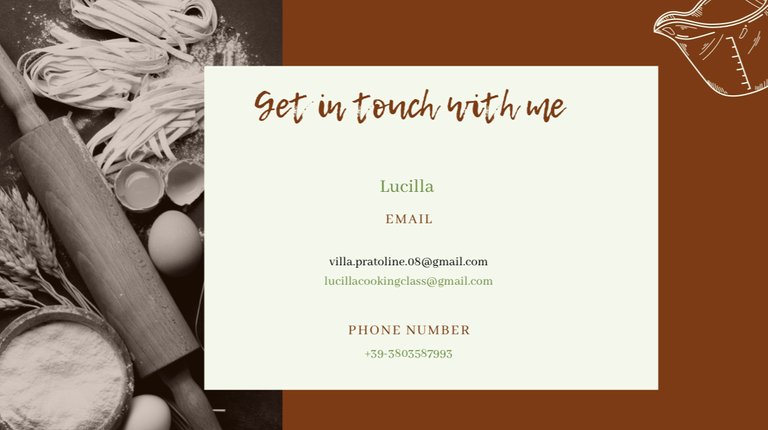 ---
---