(ENG ESP) Beautiful Decorated Mug for Mom's Day Gift!💖🤱🥰 Bonita Taza Decorada Para Regalar a Mamá en Su Día! By Danhyelita24

💖🥰✨❣️😘🤱🤰💖🥰✨❣️😘🤱🤰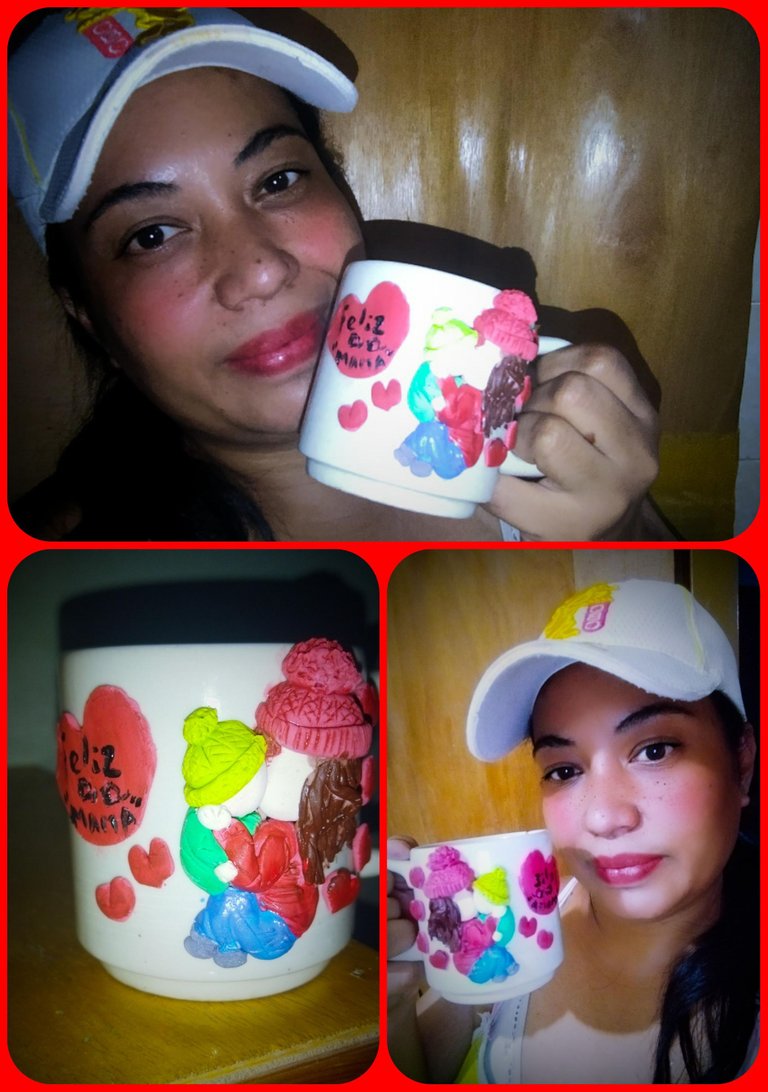 💖🥰✨❣️😘🤱🤰💖🥰✨❣️😘🤱🤰
Mother wonderful being!!! a blessing without a doubt from our creator, our favorite person from the moment we were conceived, that first irreplaceable love since we see the light of life. To celebrate these wonderful people in my country Venezuela was set as a date of celebration the second Sunday of the month of May, although every day is a good occasion to celebrate it.
Madre maravilloso ser!! una bendición sin duda alguna de nuestro creador, nuestra persona favorita desde el momento que fuimos concebidos, ese primer amor insustituible desde que vemos la luz de la vida. Para celebrar a estas maravillosas personas en mi país Venezuela se fijó como fecha de celebración el segundo domingo del mes de mayo, aunque todos los días es una buena ocasión para celebrarlo.
💖🥰✨❣️😘🤱🤰💖🥰✨❣️😘🤱🤰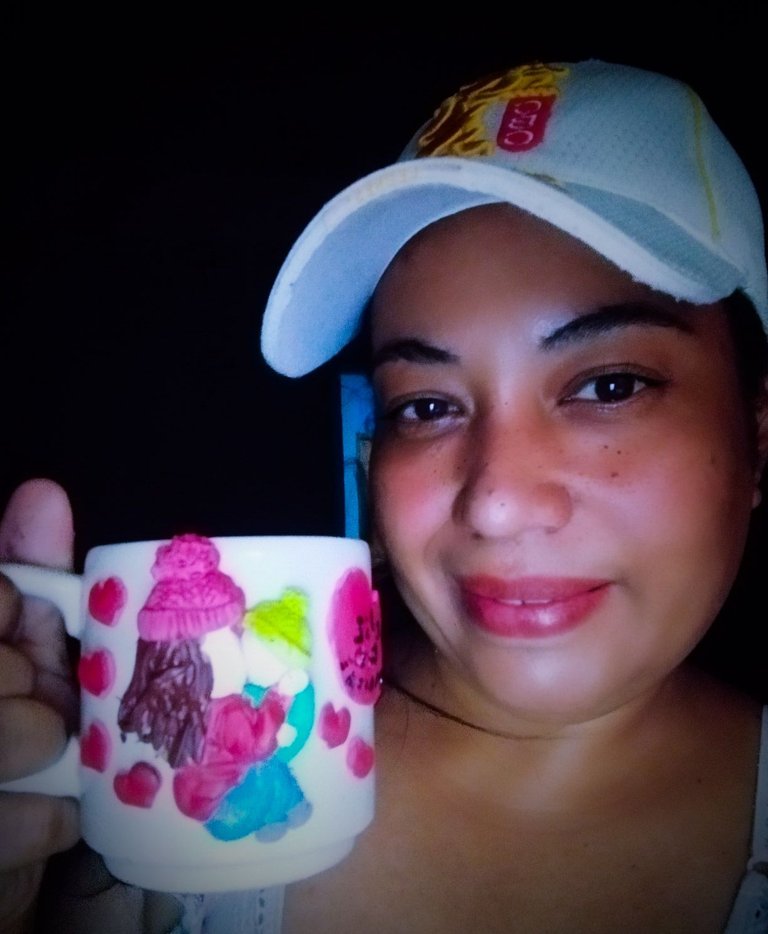 💖🥰✨❣️😘🤱🤰💖🥰✨❣️😘🤱🤰
It is for this reason that I join this celebration by making a mug decorated with this theme in flexible dough, a gift that is undoubtedly very timely and practical because they can show off drinking their coffee remembering all the love and affection reflected in this gift.
Es por esta razón que me sumo a esta celebración realizando una taza decorada con esta temática en masa flexible, un regalo que sin dudas es muy oportuno y práctico ya que podrán lucirse tomando su café recordando todo el cariño y amor reflejado en este obsequio.
💖🥰✨❣️😘🤱🤰💖🥰✨❣️😘🤱🤰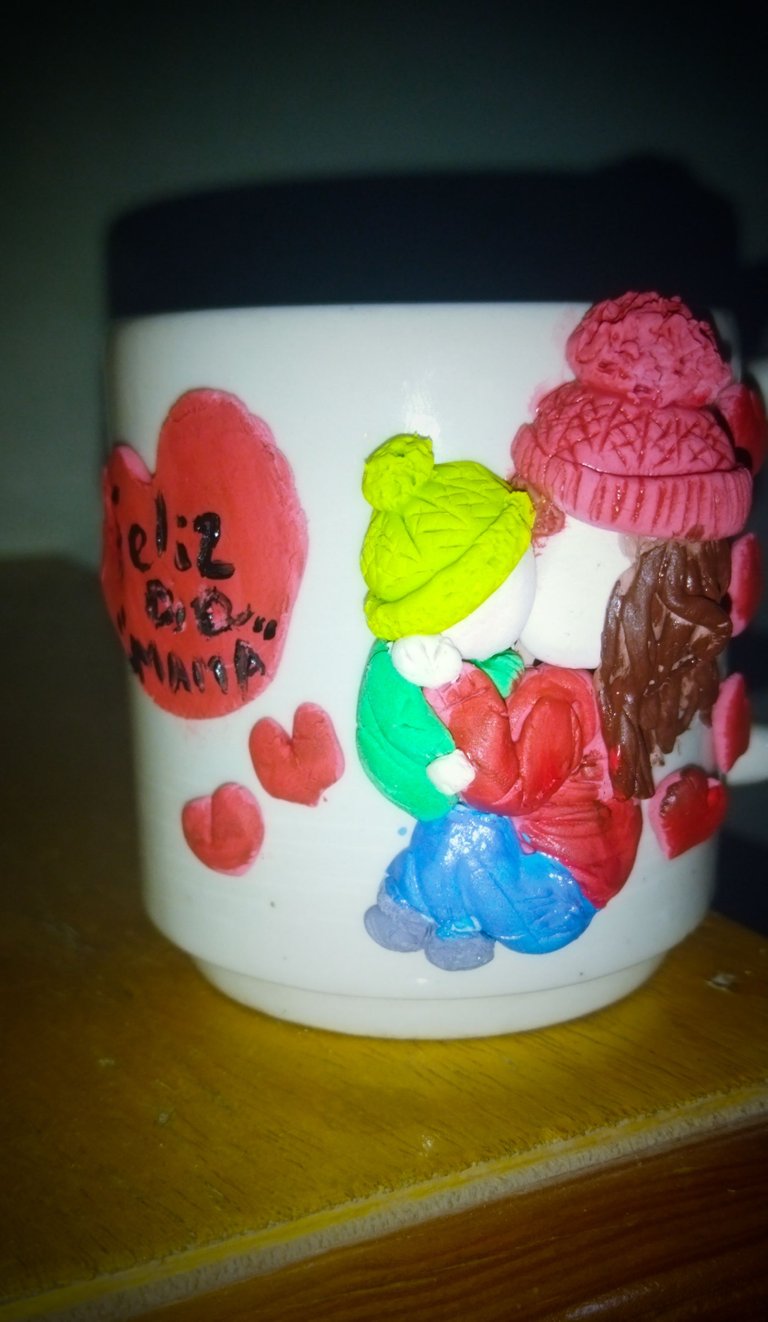 💖🥰✨❣️😘🤱🤰💖🥰✨❣️😘🤱🤰
MATERIALS USED
The materials used were homemade flexible dough, porcelain cup, color pigments, white glue, brushes and stakes.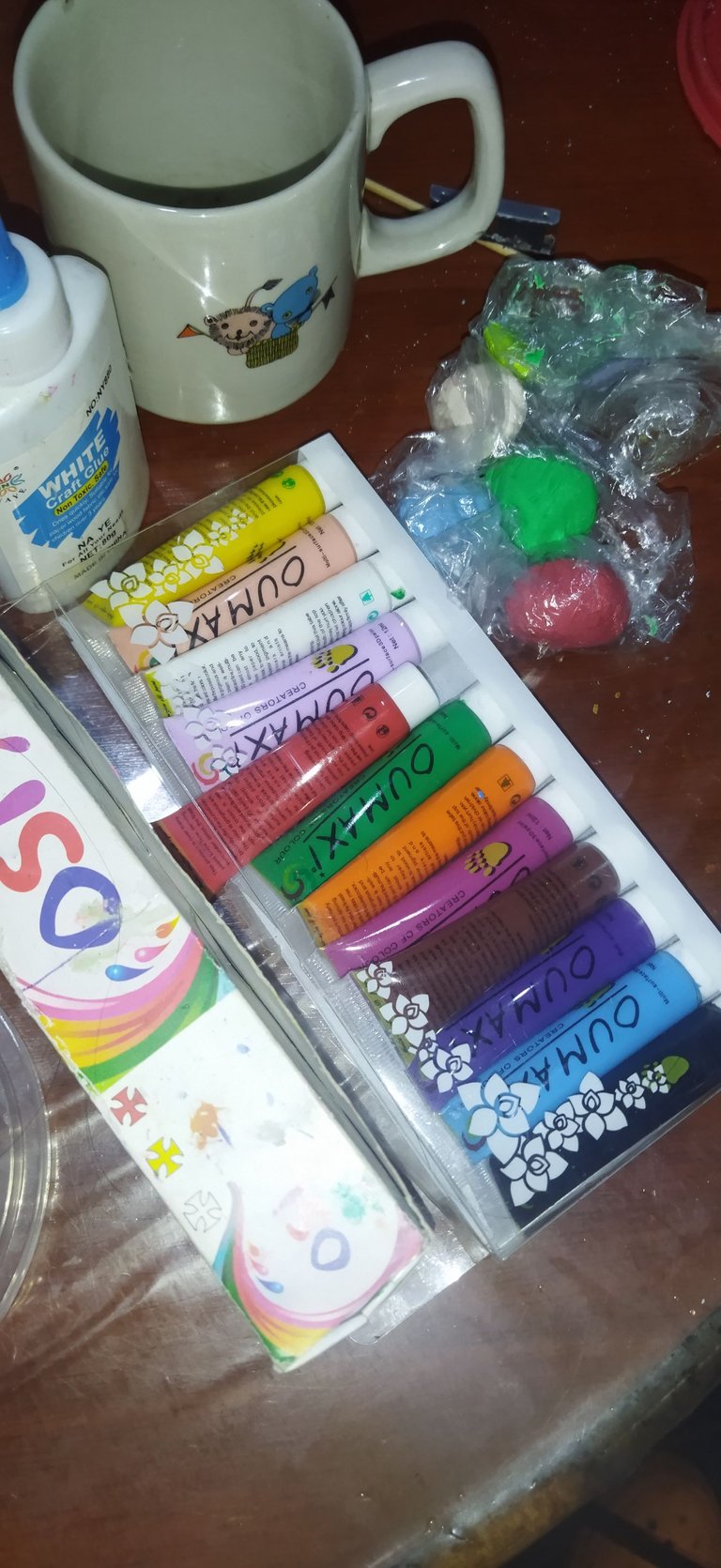 💖🥰✨❣️😘🤱🤰💖🥰✨❣️😘🤱🤰
MATERIALES UTILIZADOS
Los materiales utilizados fueron masa flexible casera, taza de porcelana, pigmentos de colores, pega blanca pinceles y estacas.
STEPS FOR ITS ELABORATION
💖🥰✨❣️😘🤱🤰💖🥰✨❣️😘🤱🤰
PASOS PARA SU ELABORACIÓN
1. First of all we clean the cup by scraping a little with a soft sandpaper the external surface. Apply some white glue, and place a small ball of flexible dough in skin tone to create the face of the mother. In this case, as the mug had a sublimated drawing, I tried to place it in such a way that the design would be covered.
1. En primer lugar limpiamos bien la taza raspando un poco con una lija suave la superficie externa. Aplicamos un poco de pega blanca, y colocamos una bolita de masa flexible en tono piel para ir creando la cara de la mamá. En este caso como la taza tenía un dibujo sublimado traté de colocarlo de manera que con el diseño fuese cubierto.
💖🥰✨❣️😘🤱🤰💖🥰✨❣️😘🤱🤰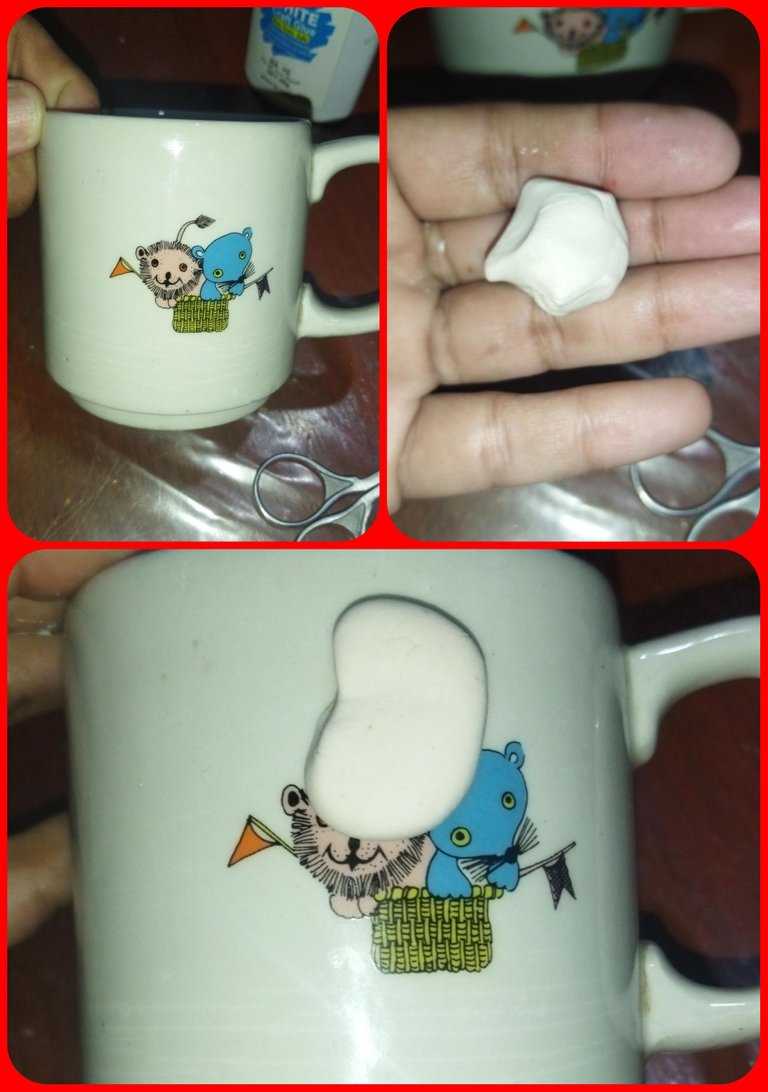 💖🥰✨❣️😘🤱🤰💖🥰✨❣️😘🤱🤰
2. In red tone flexible dough we form the sweater, defining the shape of the arm, marking lines to simulate the folds. With blue tone we form the pants and in gray tone the shoes.
2. En masa flexible tono rojo vamos formando el sweter, definiendo la forma del brazo, marcando líneas para simular los pliegues. Con tono azul formamos el pantalón y en tono gris los zapatos.
💖🥰✨❣️😘🤱🤰💖🥰✨❣️😘🤱🤰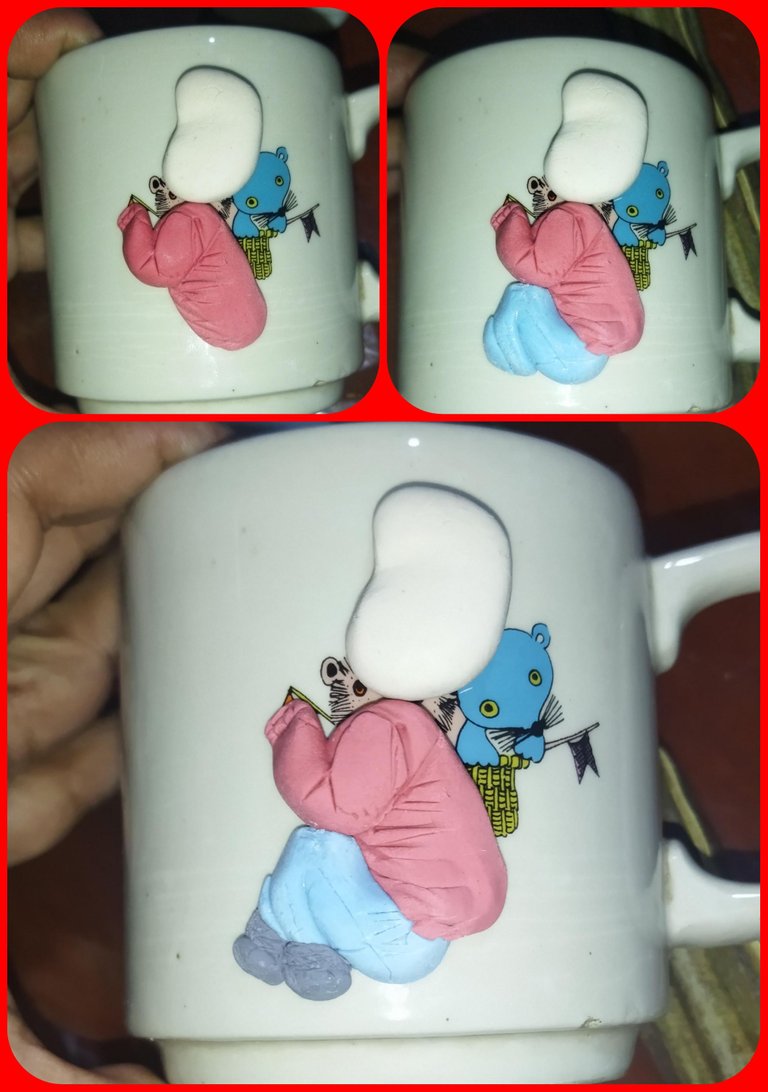 💖🥰✨❣️😘🤱🤰💖🥰✨❣️😘🤱🤰
3. With flexible brown dough we form the thick hair, making curls, and marking lines all over the hair. On top we form a nice winter hat in red tone to which with the help of a thick bristle brush we are going to give the effect of plush in the pon pon, and the edge. We start to make the baby by making his little head in flexible skin tone dough so that they are together as if the mother was giving him a kiss.
3. Con masa flexible tono marrón vamos formando la frondosa cabellera, haciendo rizos, y marcando líneas en todo el cabello. Encima formamos un lindo gorro de invierno en tono rojo al que con la ayuda de un cepillo de cerdas gruesas le vamos a dar el efecto de peluche en el pon pon, y el borde. Comenzamos a elaborar al bebé haciendo su pequeña cabecita en masa flexible tono piel de manera que queden juntas como si la mamá le estuviese dando un beso.
💖🥰✨❣️😘🤱🤰💖🥰✨❣️😘🤱🤰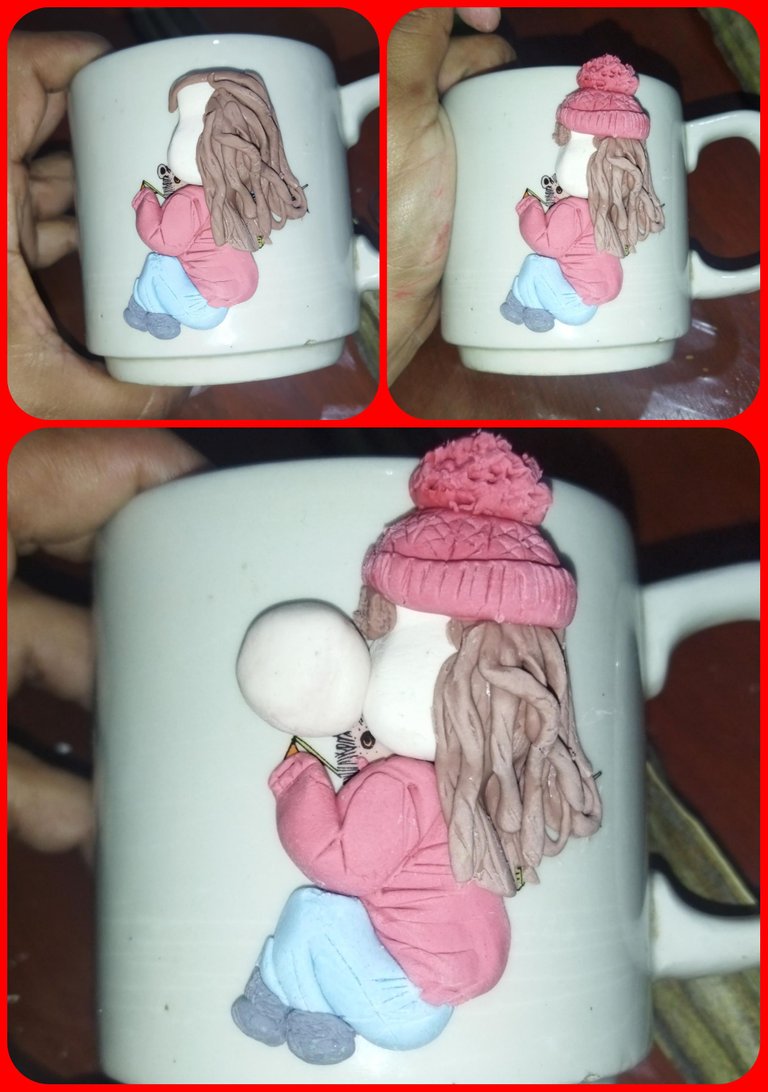 💖🥰✨❣️😘🤱🤰💖🥰✨❣️😘🤱🤰
4. We are going to make the baby's clothes, such as an apple green romper suit and a mint green hat, where with the help of an exacto we are going to mark a zigzag pattern to give it a better weaving effect. We are going to leave the face without defining the features to leave it to the imagination.
4. Vamos a elaborar la ropa del bebé, como un mameluco en tono verde manzana y su gorrito en verde menta, en dónde con la ayuda de un exacto vamos a marcar un patrón en zigzag para darle mayor efecto de tejido. Los rostro los vamos a dejar sin definir los razgos para dejarlo a la imaginación.
💖🥰✨❣️😘🤱🤰💖🥰✨❣️😘🤱🤰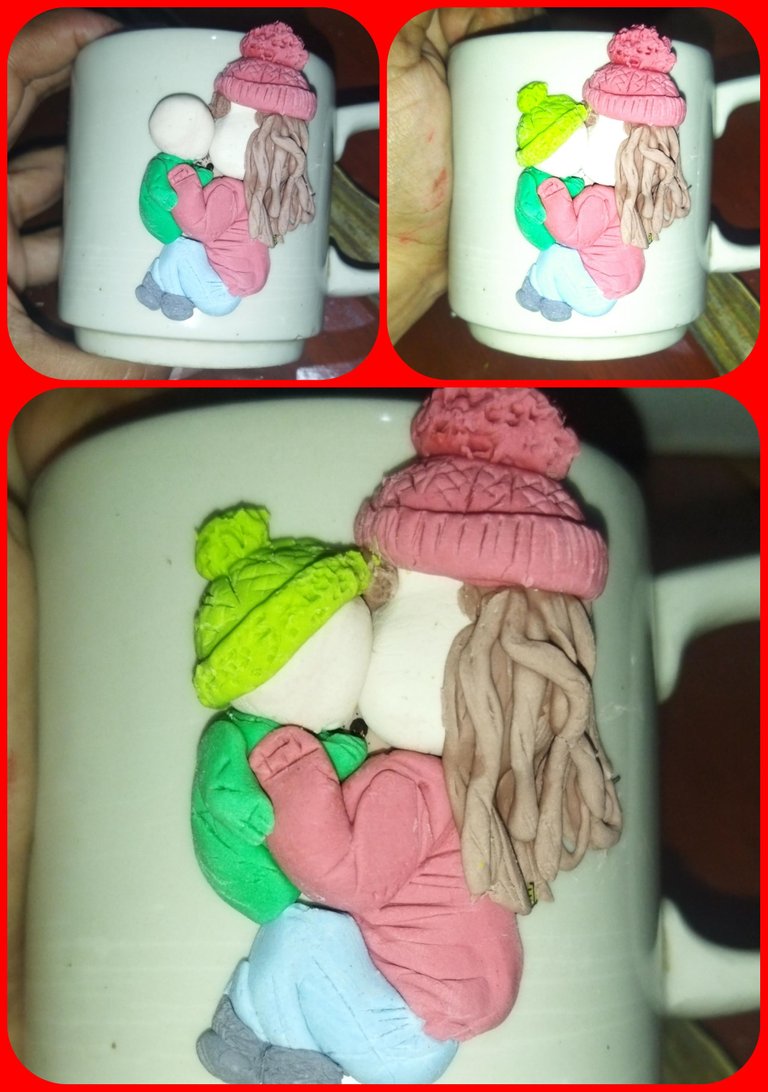 💖🥰✨❣️😘🤱🤰💖🥰✨❣️😘🤱🤰
5. In red flexible dough we make a big heart where we are going to put in black paint the message: "Happy Mother's Day", and around it small hearts showing the purest love of a mother to her little son.
5. En masa flexible tono rojo hacemos un corazón grande donde vamos a colocarle en pintura negra en mensaje : "Feliz día Mamá",y por los alrededores pequeños corazones mostrando el amor más puro de una madre a su pequeño hijo.
💖🥰✨❣️😘🤱🤰💖🥰✨❣️😘🤱🤰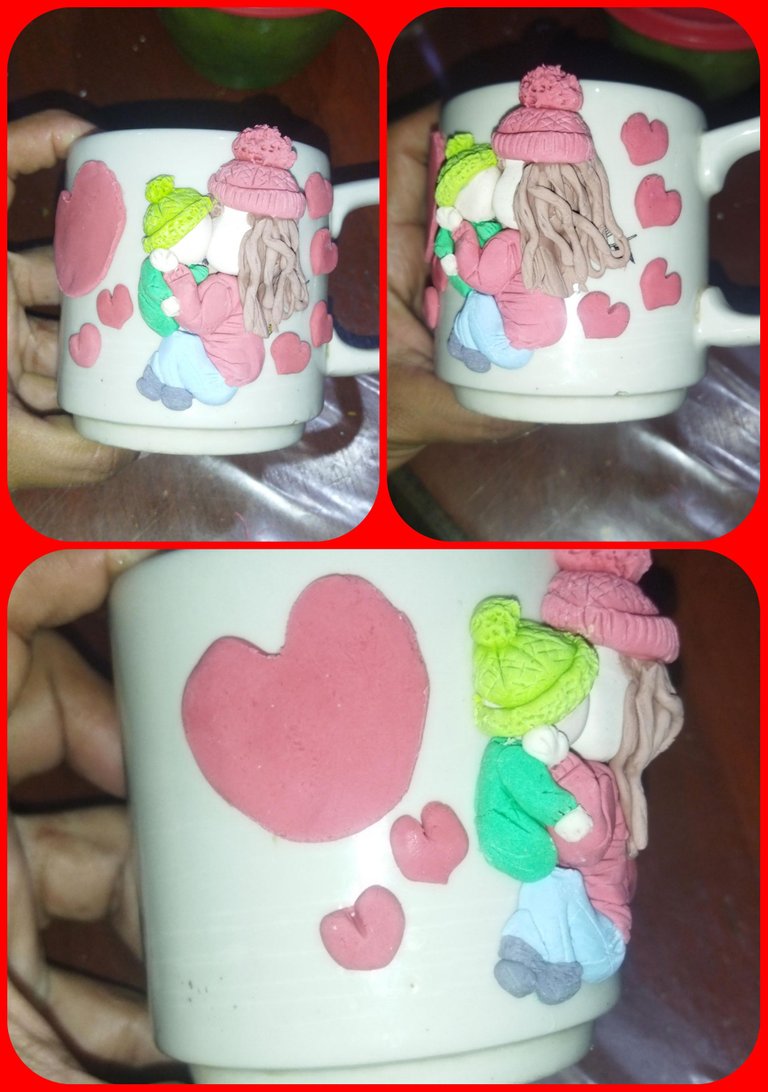 💖🥰✨❣️😘🤱🤰💖🥰✨❣️😘🤱🤰
6. To give it more emphasis we are going to paint with more intense cold pigments, such as brown for the hair, red for the sweater and mom's hat and the hearts and blue for the pants.
6. Para darle mayor realce vamos a pintar con pigmentos al frío más intensos, como marrón para el cabello, rojo para el sweter y gorro de mamá y los corazones y azul el pantalón.
💖🥰✨❣️😘🤱🤰💖🥰✨❣️😘🤱🤰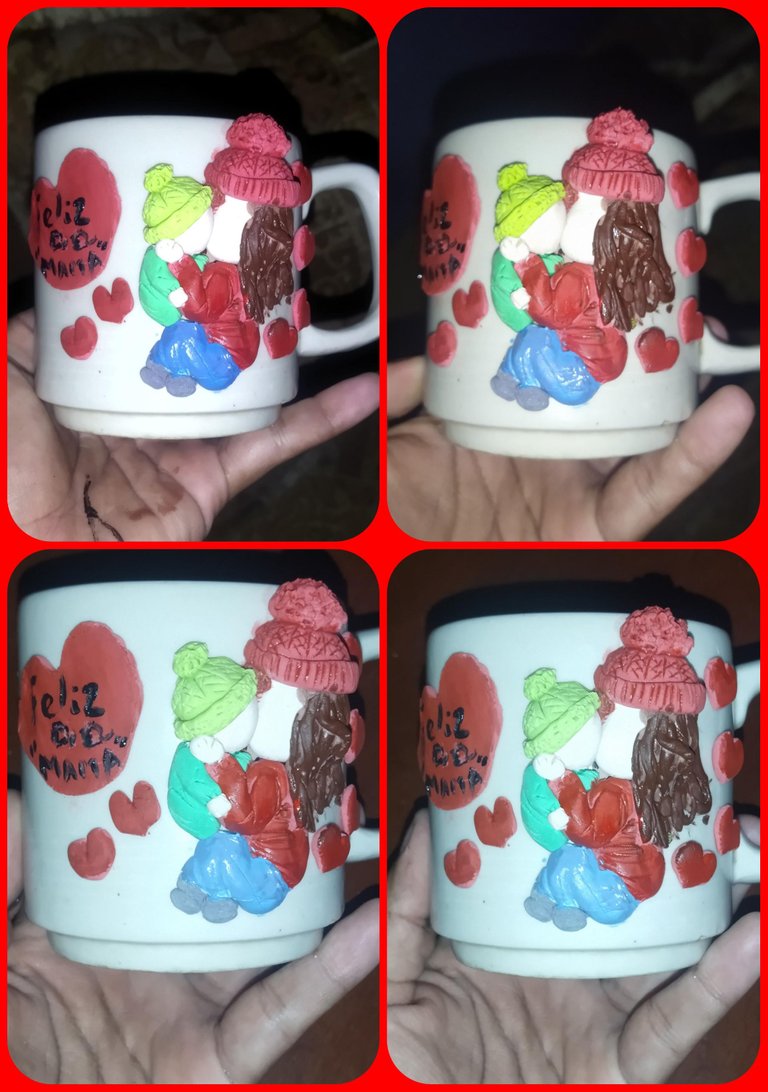 💖🥰✨❣️😘🤱🤰💖🥰✨❣️😘🤱🤰
Let dry well and apply a cold enamel to give it more shine and greater resistance, this was the result of this beautiful craft, hoping that it has been to your liking.
Dejamos secar bien y aplicamos un esmalte al frío para darle mayor brillo y mayor resistencia, esto fue el resultado de esta bonita manualidad, esperando que haya sido de todo su agrado.
💖🥰✨❣️😘🤱🤰💖🥰✨❣️😘🤱🤰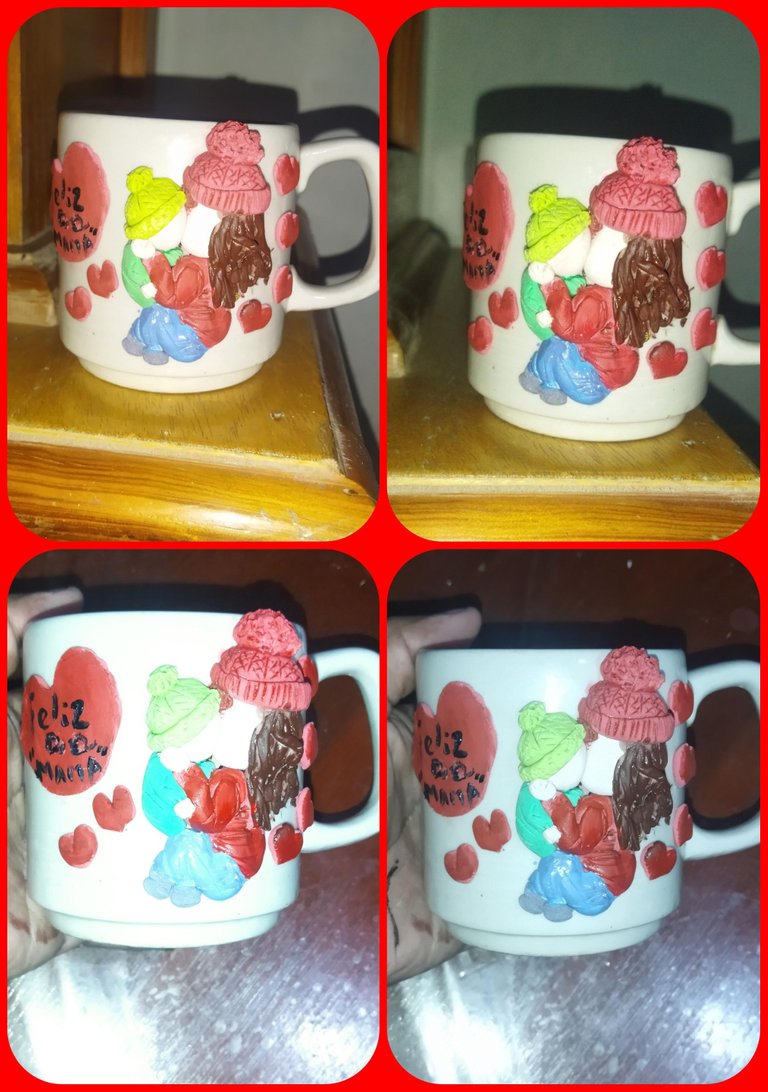 💖🥰✨❣️😘🤱🤰💖🥰✨❣️😘🤱🤰
Greetings and soon we will meet again greetings!
Saluditos y prontamente volveremos a coincidir saludos!!
💖🥰✨❣️😘🤱🤰💖🥰✨❣️😘🤱🤰
All images are my property taken with Redmi 9t and edited with Photoshop Express for Android and translated with Deepl application in its free version.
💖🥰✨❣️😘🤱🤰💖🥰✨❣️😘🤱🤰
Todas las imágenes son de mi propiedad tomadas con Redmi 9t y editadas con Photoshop Express para Android y traducido con la aplicación Deepl en su versión libre.
💖🥰✨❣️😘🤱🤰💖🥰✨❣️😘🤱🤰
---
---