ENG ESP: Mini Peppa Pig, a nice gift for Lupita! 🐷💚🎏 Mini Peppa la cerdita, un bonito regalo para Lupita!! 🌺🐷💚 By Danhyelita24

💞🌿🌺🐷💚🎏🍃💮🌺🐷💚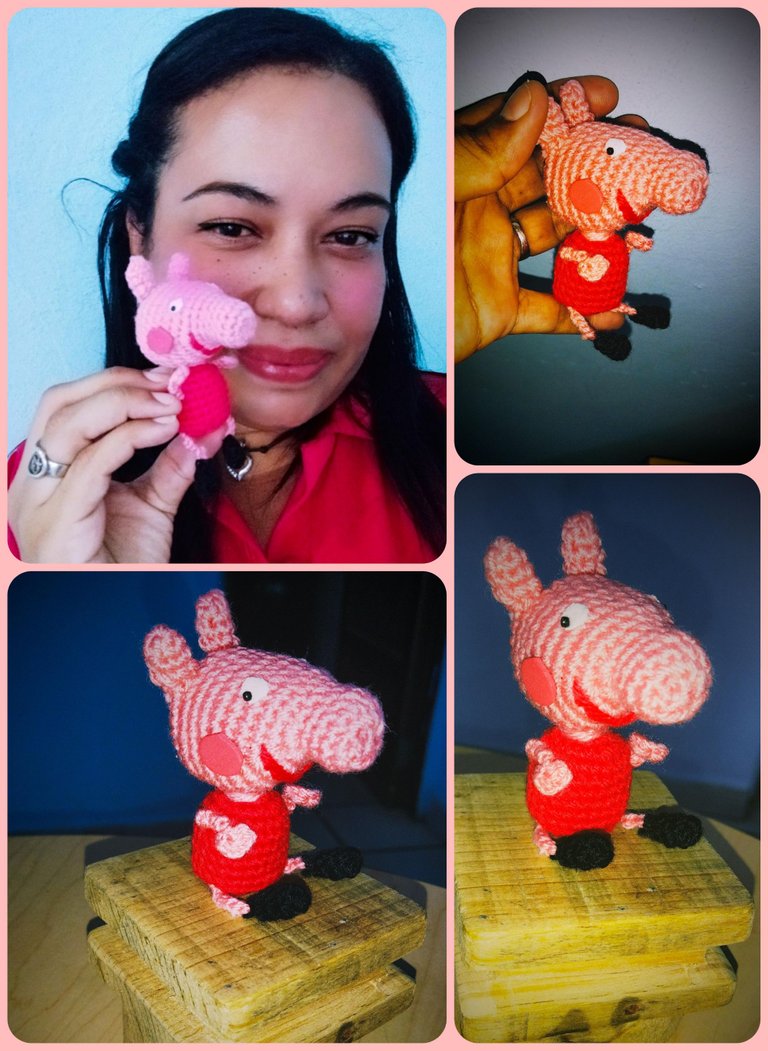 💞🌿🌺🐷💚🎏🍃💮🌺🐷💚
Hola mis queridas y apreciadas abejitas! Espero les guste esta manualidad que les comparto! listo para tejer a "Mini Peppa Pig" en amigurumi? Hoy voy a compartir un patrón muy lindo, No hace falta decir que es muy fácil de hacer, está elaborado mediante técnicas de crochet muy sencillas, convirtiéndose así en una buena opción para principiantes. Peppa pig es una cerdita muy linda que junto a su maravillosa familia de cerditos y amigos animalitos,cuentan con el amor y admiración de los niños.
Hello my dearest and dearest bees! I hope you like this craft I'm sharing with you! Ready to knit "Mini Peppa Pig" in amigurumi? Today I am going to share a very cute pattern, needless to say it is very easy to make, it is made using very simple crochet techniques, making it a good option for beginners. Peppa pig is a very cute little pig who, along with her wonderful family of pigs and animal friends, has the love and admiration of children.
💞🌿🌺🐷💚🎏🍃💮🌺🐷💚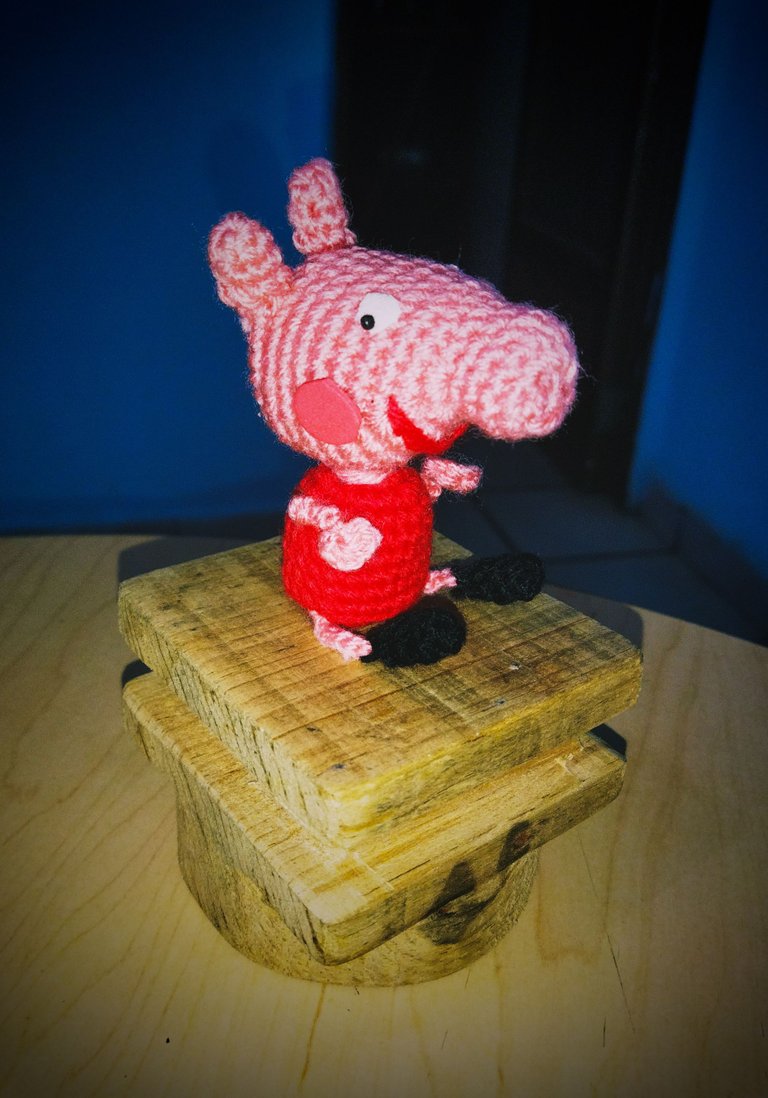 💞🌿🌺🐷💚🎏🍃💮🌺🐷💚
Today I have made her in this little "Mini Peppa Pig" version so that my dear little cousin Lupita, her friend and number 1 fan, can take her to school attached to her purse. It's made of yarn, and it's a sweetheart. Very quick to make and the pattern is very easy, I hope, as always, that you like it.
Hoy la he hecho en esta pequeña versión "Mini Peppa Pig" para que mi querida primita Lupita, su amiga y fan numero 1, la pueda llevar a la escuela enganchada en su bolso. Está hecha de hilo, y es un amor. Muy rápida de hacer y el patrón es muy fácil,espero, como siempre que sea de su agrado.
💞🌿🌺🐷💚🎏🍃💮🌺🐷💚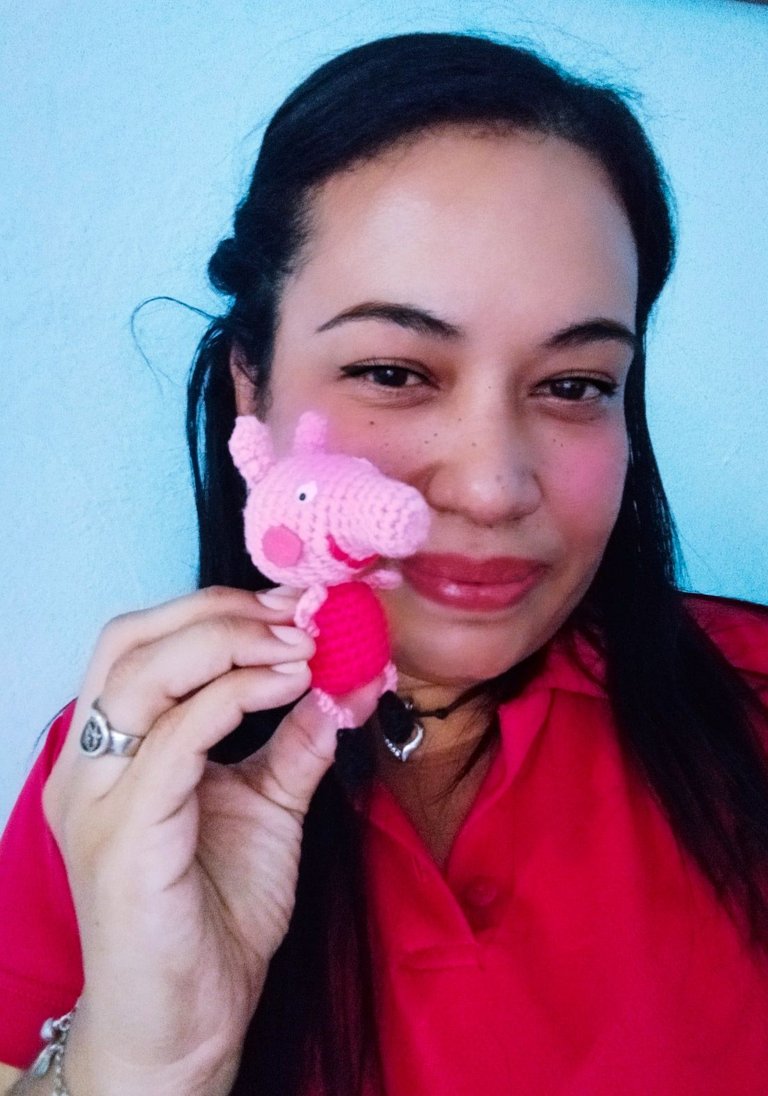 💞🌿🌺🐷💚🎏🍃💮🌺🐷💚
Materiales: Crochet de 6mm, lana en colore rosado, rojo y negro. relleno hipoalergénico, aguja lanera, tijera, foami rosa y blanco y dos cuencas negras para los ojos.
Materials:
6mm crochet, wool in pink, red and black.
Hypoallergenic stuffing, wool needle, scissors, pink and white foami and two black eye sockets.
ABREVIATURAS:

Punto bajo- pb

Cadeneta- Cad

Anillo mágico- AM

Punto enano- Pe

Aumento - A

Disminución - D

Aumento triple - AT ( tres pb en un mismo punto)
Cabeza:( head )

1. AM 6 pb.

2. 6 A pb. ( 12 pb ).

3-6. 1 pb.... ( 12 pb ).

7. 3 AT , 9 pb ( 18 pb )

8. 2 pb, 1 AT, 2 pb, 1 AT, 2 pb, 1 AT, 9 pb. ( 24 pb ).

9. 4 pb, 1 AT, 4 pb, 1 AT, 4 pb, 1 AT, 9 pb. ( 30 pb ).

10- 16. 1 pb... ( 30 pb ).

17. 3 pb, 1 D... ( 24 pb ).

18. 2 pb, 1 D... ( 18 pb ).( fill)

19. 1 pb, 1 D... (12 pb ).

20. 6 D. >

Ir rellenando en las últimas vueltas.
💞🌿🌺🐷💚🎏🍃💮🌺🐷💚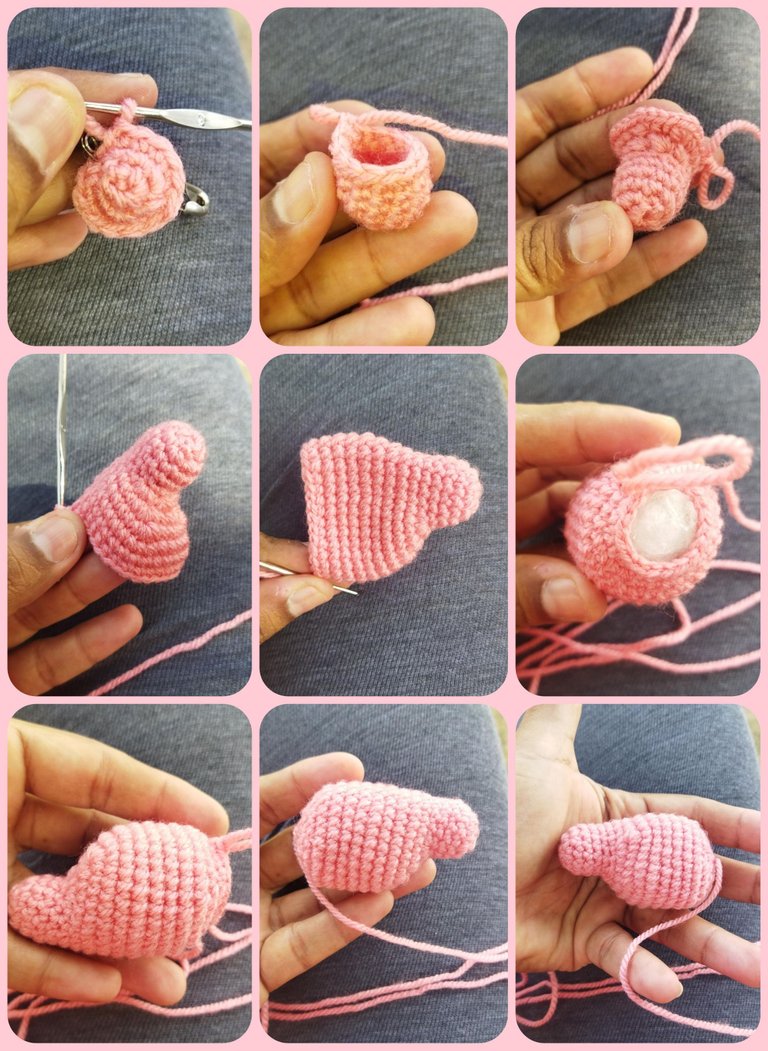 💞🌿🌺🐷💚🎏🍃💮🌺🐷💚
Cuerpo:( body )
Hilo rojo.( red thread )

1. AM 8 pb.

2. 8 A. ( 16 pb ).

3. 1 pb, 1 A...( 24 pb ).

4-9. 1 pb... ( 24 pb ).

10. 1 pb en la parte de atrás de la cadeneta. ( 24 pb ).

11. 1 pb 1 D... ( 16 pb ).

12. 8 D.

Coser al cuerpo.( sewing the body )
💞🌿🌺🐷💚🎏🍃💮🌺🐷💚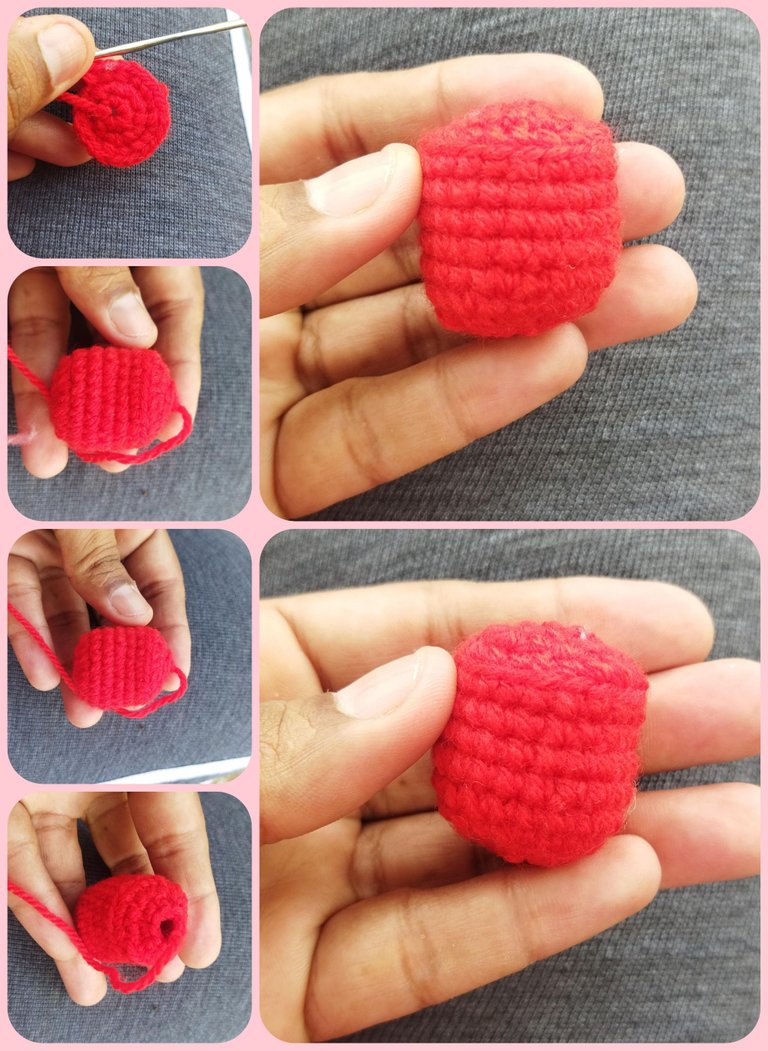 💞🌿🌺🐷💚🎏🍃💮🌺🐷💚
Orejas ( 2 ):( ears )

Hilo rosa claro.( pink thread )

1. AM 6 pb.

2-4. 6 pb. (6 pb ).
💞🌿🌺🐷💚🎏🍃💮🌺🐷💚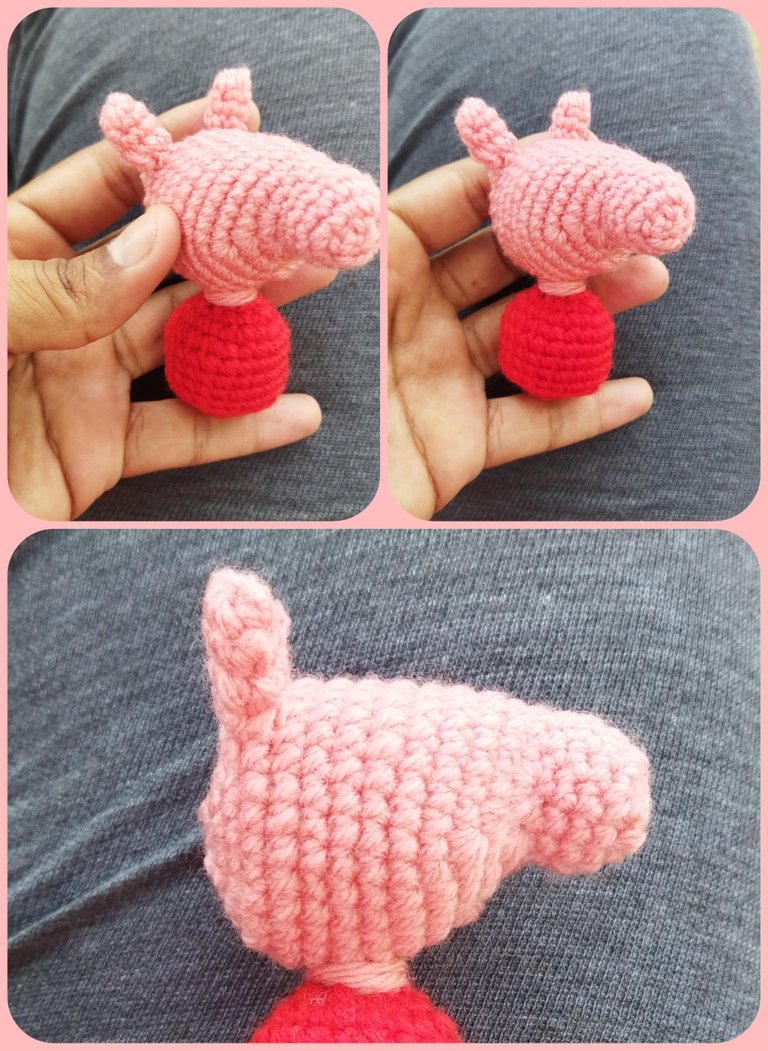 💞🌿🌺🐷💚🎏🍃💮🌺🐷💚
Brazos:( arms )
Double pink strand hook in the body, make 5 ch, and return with 4 sts. For the fingers with 1 strand hook in the last chain of the arm (you will only work on this chain, it will be the base), make 2 ch, 1 st in the 1st ch, st in the base, 2 ch, 1 st in the 1st chain, 1 st in the base, 2 ch, 1 st in the 1st ch, 1 st in the 1st ch, 1 st in the base. This forms the three fingers of Peppa pig.
Hebra doble rosa enganchar en el cuerpo, hacer 5 cad, y volver con 4 pe. Para los dedos con 1 hebra enganchar en la última cadeneta del brazo ( solo se trabajará en esta cadeneta, será la base), hacer 2 cad, 1 pe en la 1ª cad, pe en la base, 2 cad, 1pe en la 1ªcad, 1 pe en la base, 2 cad, 1 pe en la 1ª cad, 1 pe en la base. Asi se forman los tres dedos de Peppa pig.
💞🌿🌺🐷💚🎏🍃💮🌺🐷💚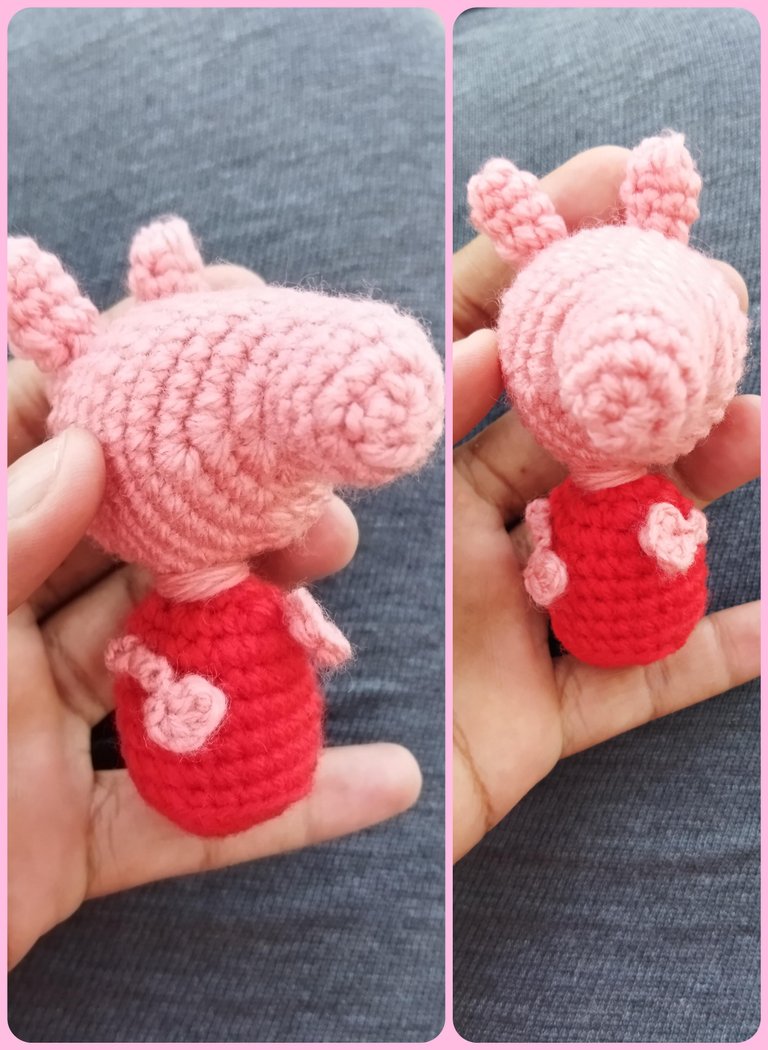 💞🌿🌺🐷💚🎏🍃💮🌺🐷💚
Cola:( tail) Rosa claro.
4 ch, lose the yarn through these chains to give it a spiral shape. Sew behind the body.
4 cad, perder el hilo a través de éstas cadenetas para darle la forma de espiral. Coser detrás del cuerpo.
💞🌿🌺🐷💚🎏🍃💮🌺🐷💚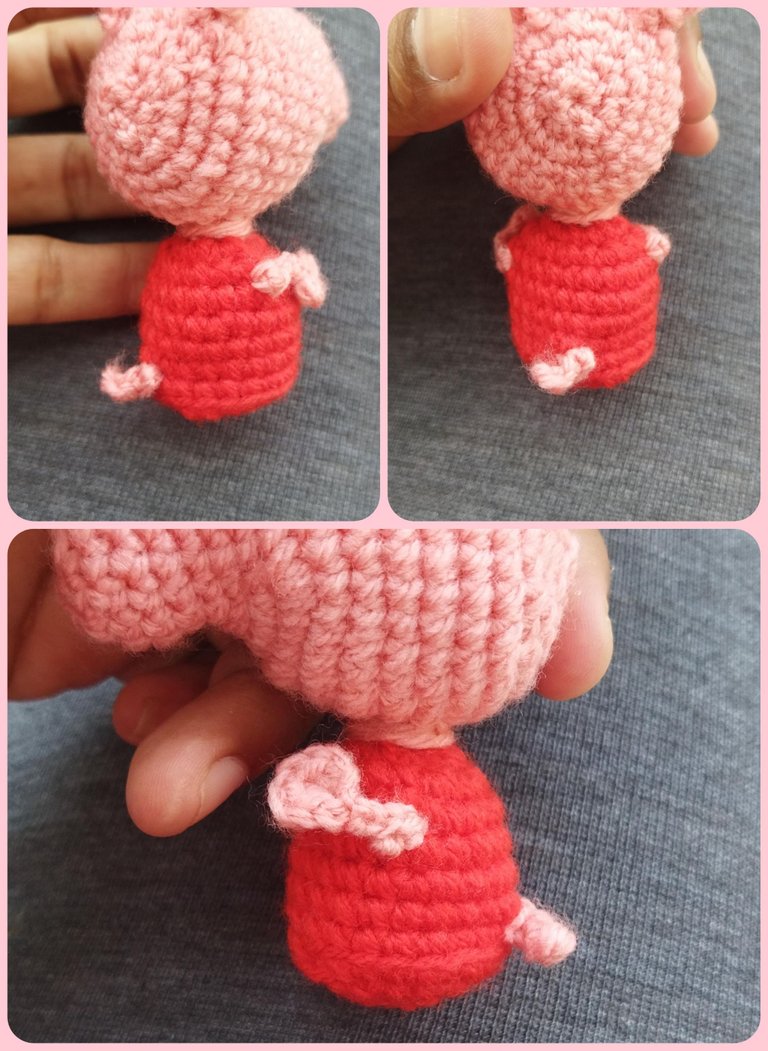 💞🌿🌺🐷💚🎏🍃💮🌺🐷💚
Zapatos ( 2 ):( shoes ) Hilo negro.( black thread )

1. AM 6 pb.

2-3. 6 pb. ( 6 pb ).

4. 3 D.
(With pink thread , hook the thread bellow the body to make the foots. Make 5 cad and hook to the shoes with a pe).
Con hilo rosa claro, doble hebra, enganchar al cuerpo por debajo, para las piernas. Hacer 5 cad y enganchar a los zapatos con un pe, asegurar con un nudo.
💞🌿🌺🐷💚🎏🍃💮🌺🐷💚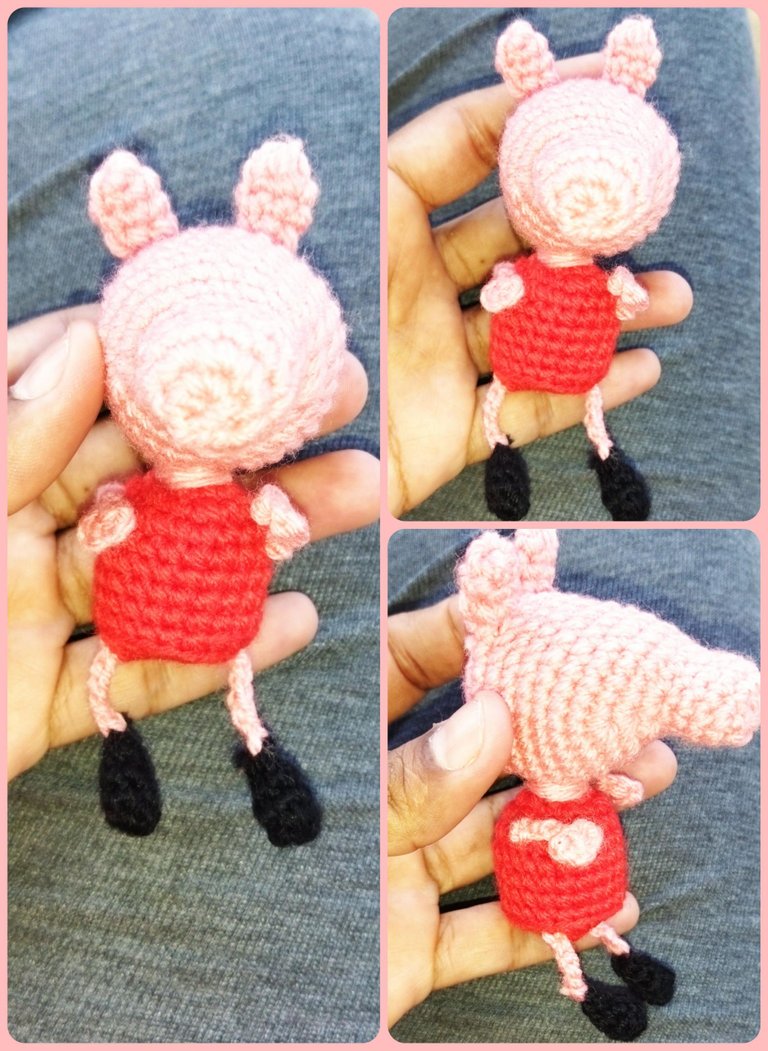 💞🌿🌺🐷💚🎏🍃💮🌺🐷💚
Sew the mouth with red thread, make small circles with the pink foami and glue two white circles at both ends for the eyes and place the black sockets on top.
Coser la boca con hilo rojo , hacemos pequeños círculos con el foami en rosa y pegamos en ambos extremos dos círculos en blanco para los ojos y colocamos las cuencas negras encimas.
💞🌿🌺🐷💚🎏🍃💮🌺🐷💚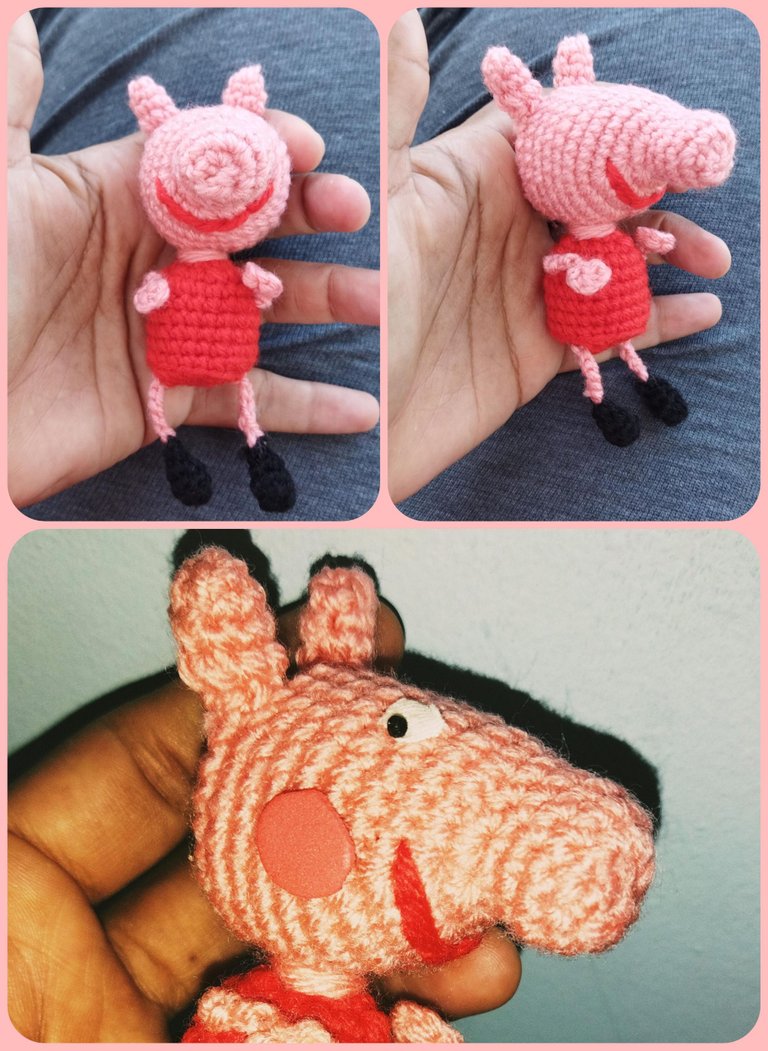 💞🌿🌺🐷💚🎏🍃💮🌺🐷💚
And thus we have culminated this nice mini Peppa Pig, which we can give many decorative uses, as a doll, keychain, a simply a nice gift to give to a special person.
Y de esta manera tenemos culminada a esta bonita mini Peppa Pig, a la cual le podemos dar muchos usos decorativos, como muñeca, llavero, un simplemente un bonito detalle para regalar a un ser especial.
💞🌿🌺🐷💚🎏🍃💮🌺🐷💚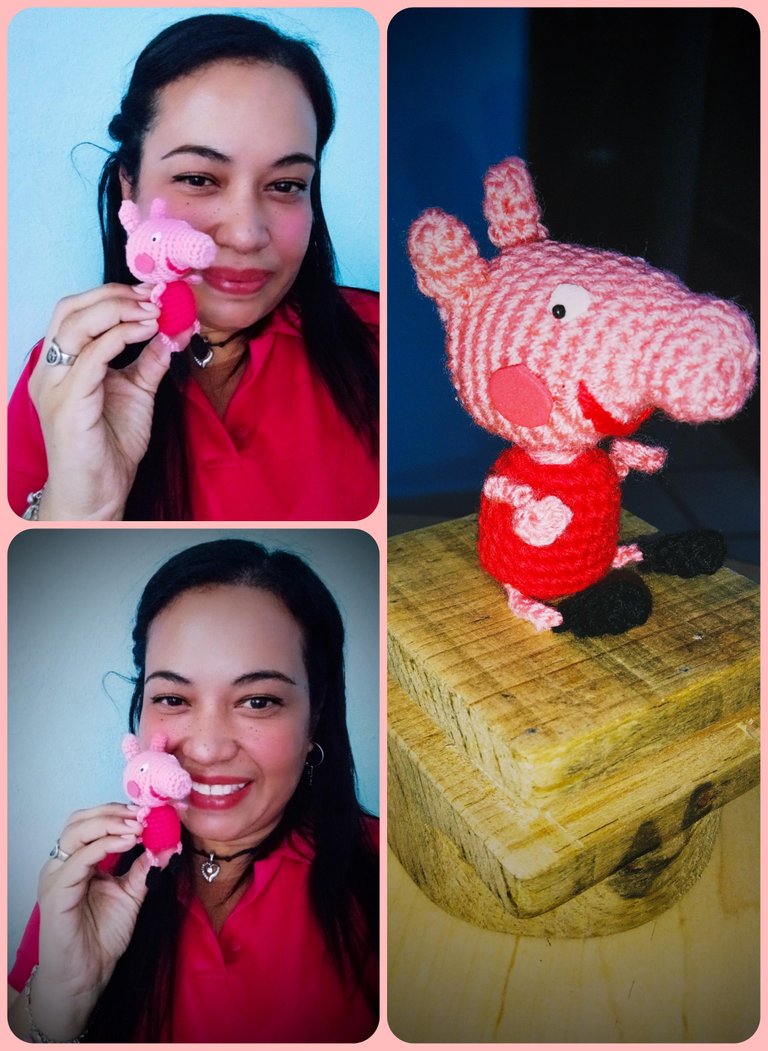 💞🌿🌺🐷💚🎏🍃💮🌺🐷💚
I will say goodbye until a new opportunity and thank you for your attention, see you soon!
Me despido hasta una nueva oportunidad agradeciendo su atención, hasta pronto!!
💞🌿🌺🐷💚🎏🍃💮🌺🐷💚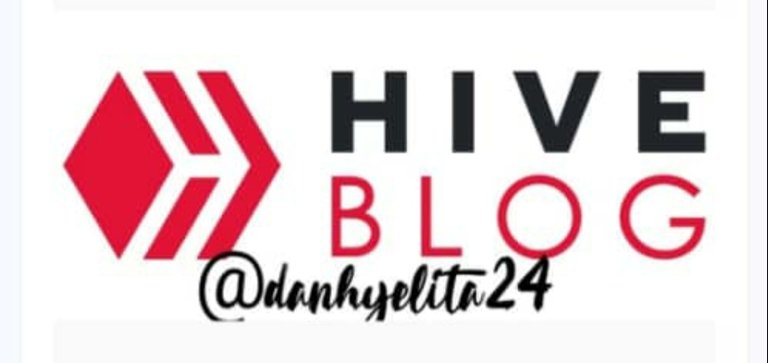 💞🌿🌺🐷💚🎏🍃💮🌺🐷💚
---
---