ENG/ESP: Como Elaborar Un Gorro De Totoro A Crochet, Tutorial..🌺💞✨How To Crochet A Totoro Hat, Tutorial...🌺💞✨By Danhyelita24

🌺💞✨✂️❤️🌿🌺💞✨✂️❤️🌿🌺💞✨✂️❤️🌿🌺💞✨✂️❤️🌿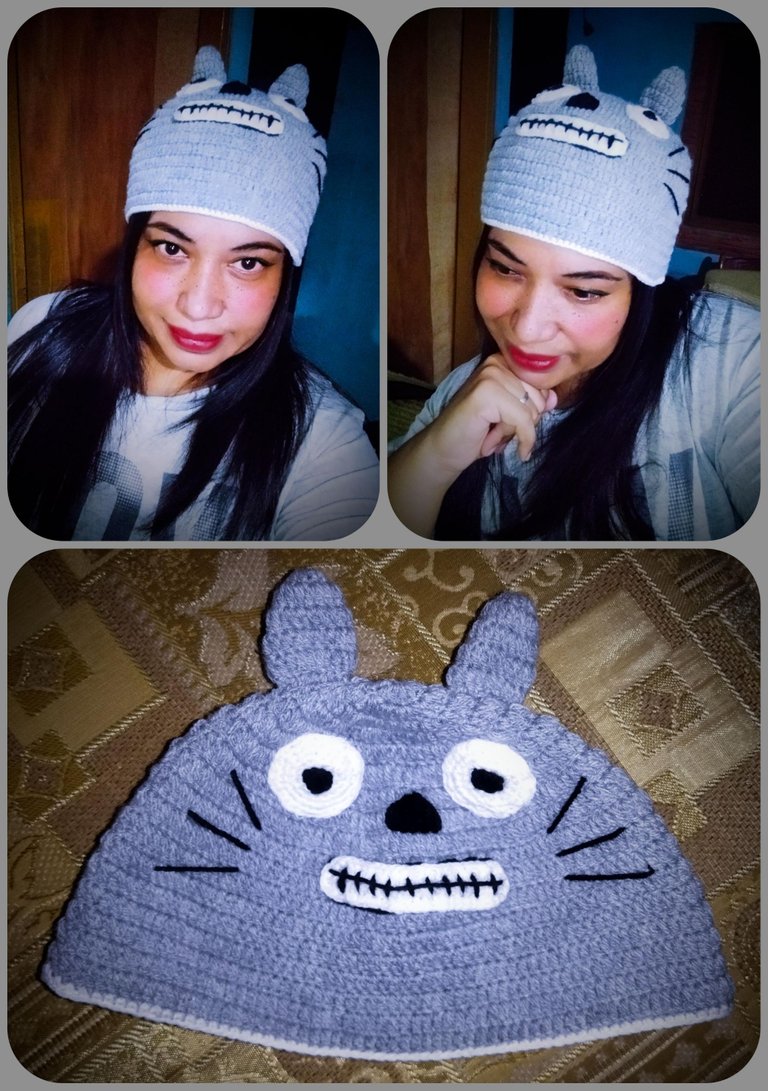 🌺💞✨✂️❤️🌿🌺💞✨✂️❤️🌿🌺💞✨✂️❤️🌿🌺💞✨✂️❤️🌿
Hola que tal queridas abejitas!!! Hoy los invito a tejer un simpático gorro a crochet con un motivo súper especial como lo es Totoro un personaje de anime muy lindo que ha cautivado a grandes y a chicos, aquí les mostrare paso a paso con indicaciones para todos los talles. En esta ocasión quise traerles otra opción básica, sólo que ahora tejeremos en puntos altos. El resultado final será un gorro con una trama más cerrada y más rígida, lo que hará que al momento de usarla tenga un calce mas ajustado.
Pueden tejer este gorro sin importar cuál sea su nivel, ya que en el tutorial les muestro cuánto debe medir cada parte y cómo adaptarla a la talla que ustedes quieran tejer. Además también les dejo en este post las tablas de medidas para que puedan guiarse sin problemas.
Hello dear little bees!!! Today I invite you to knit a nice crochet hat with a super special motif as is Totoro a very cute anime character that has captivated young and old, here I will show you step by step with instructions for all sizes. This time I wanted to bring you another basic option, only this time we will knit in double crochet. The final result will be a hat with a tighter and stiffer weave, which will make it fit tighter when you wear it,
You can knit this hat no matter what your level is, because in the tutorial I show you how much each part should measure and how to adapt it to the size you want to knit. In addition I also leave you in this post the measurement charts so you can be guided without problems.
🌺💞✨✂️❤️🌿🌺💞✨✂️❤️🌿🌺💞✨✂️❤️🌿🌺💞✨✂️❤️🌿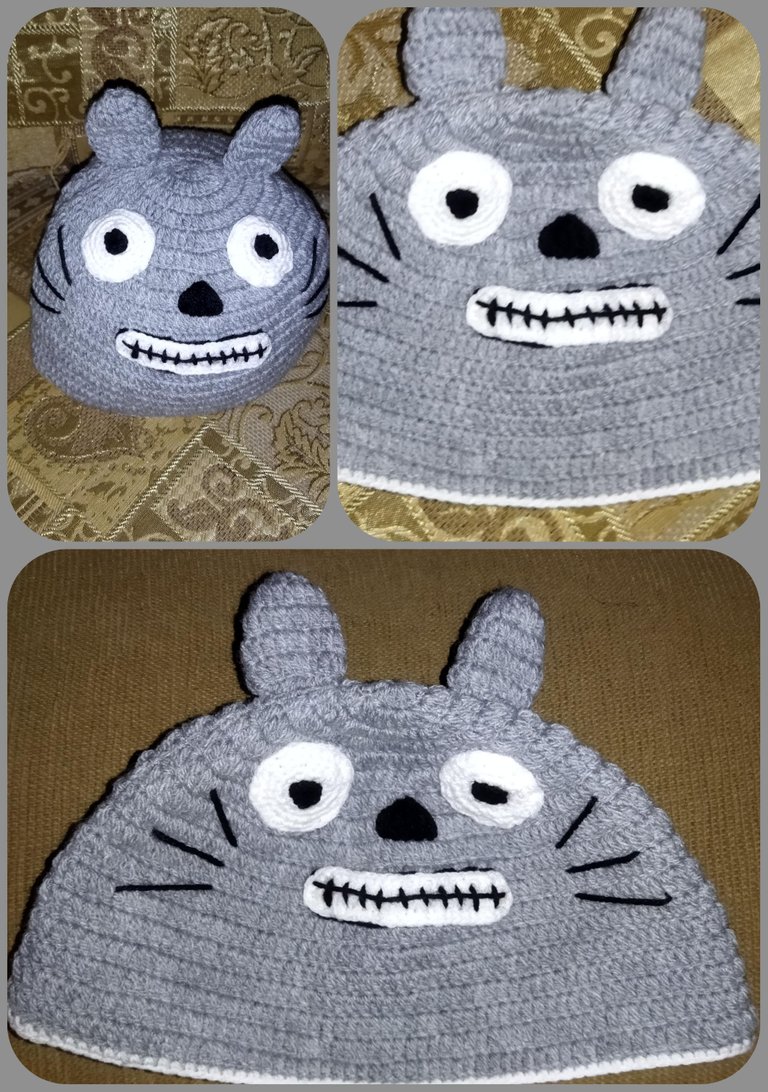 🌺💞✨✂️❤️🌿🌺💞✨✂️❤️🌿🌺💞✨✂️❤️🌿🌺💞✨✂️❤️🌿
MATERIALES:
80 grs. de lana (hebra de 2 mm. de grosor). en tonos gris, blanco y negro.
aguja de crochet n° 6 mm.tijera.aguja lanera.cinta métrica.
🌺💞✨✂️❤️🌿🌺💞✨✂️❤️🌿🌺💞✨✂️❤️🌿🌺💞✨✂️❤️🌿
MATERIALS

80 grs. of wool (strand of 2 mm. thick). in shades of gray, white and black.




crochet needle n° 6 mm.




scissors.




wool needle.




measuring tape.

🌺💞✨✂️❤️🌿🌺💞✨✂️❤️🌿🌺💞✨✂️❤️🌿🌺💞✨✂️❤️🌿




🌺💞✨✂️❤️🌿🌺💞✨✂️❤️🌿🌺💞✨✂️❤️🌿🌺💞✨✂️❤️🌿
DIAGRAMA:
Es un tejido muy simple, el principal detalle es lograr que cada sección tenga la medida que necesitamos para que el calce del gorro sea perfecto.
Recuerden que la cantidad de vueltas con aumentos, rectas y disminuciones dependerá de varios factores: el hilado, la aguja, la tensión con la que tejan y el talle que estén tejiendo.
🌺💞✨✂️❤️🌿🌺💞✨✂️❤️🌿🌺💞✨✂️❤️🌿🌺💞✨✂️❤️🌿
DIAGRAM:
It is a very simple knitting, the main detail is to achieve that each section has the measure we need so that the fit of the beret is perfect.
Remember that the number of rows with increases, straight and decreases will depend on several factors: the yarn, the needle, the tension with which you are knitting and the size you are knitting.
Este gorro se comienza a tejer con hilo color gris desde el centro , comenzando con un anillo mágico de seis puntos, para la segunda vuelta realizamos un aumentos en cada punto y a partir de la tercera vuelta vamos a realizar la secuencia de un punto y un aumento, la próxima dos puntos un aumento, la siguiente tres puntos un aumento y así hasta lograr el ancho deseado dependiendo del talle, se teje íntegramente en puntos altos. en este diseño realicé hasta la secuencia siete puntos y un aumento, para un total de 30 cm. A partir de allí vamos a realizar solo puntos altos uno en cada punto hasta lograr el largo, este lo podemos verificar usando una cinta métrica y marcando desde el borde de la circunferencia hasta el borde de la ceja.
🌺💞✨✂️❤️🌿🌺💞✨✂️❤️🌿🌺💞✨✂️❤️🌿🌺💞✨✂️❤️🌿
🌺💞✨✂️❤️🌿🌺💞✨✂️❤️🌿🌺💞✨✂️❤️🌿🌺💞✨✂️❤️🌿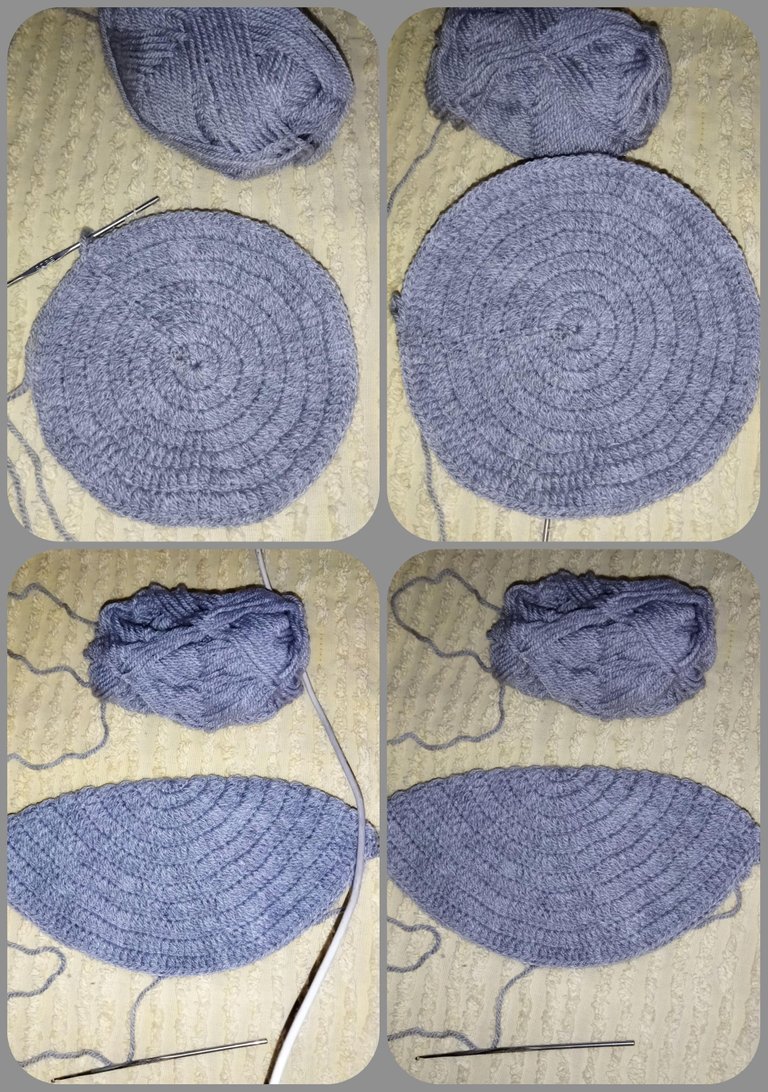 🌺💞✨✂️❤️🌿🌺💞✨✂️❤️🌿🌺💞✨✂️❤️🌿🌺💞✨✂️❤️🌿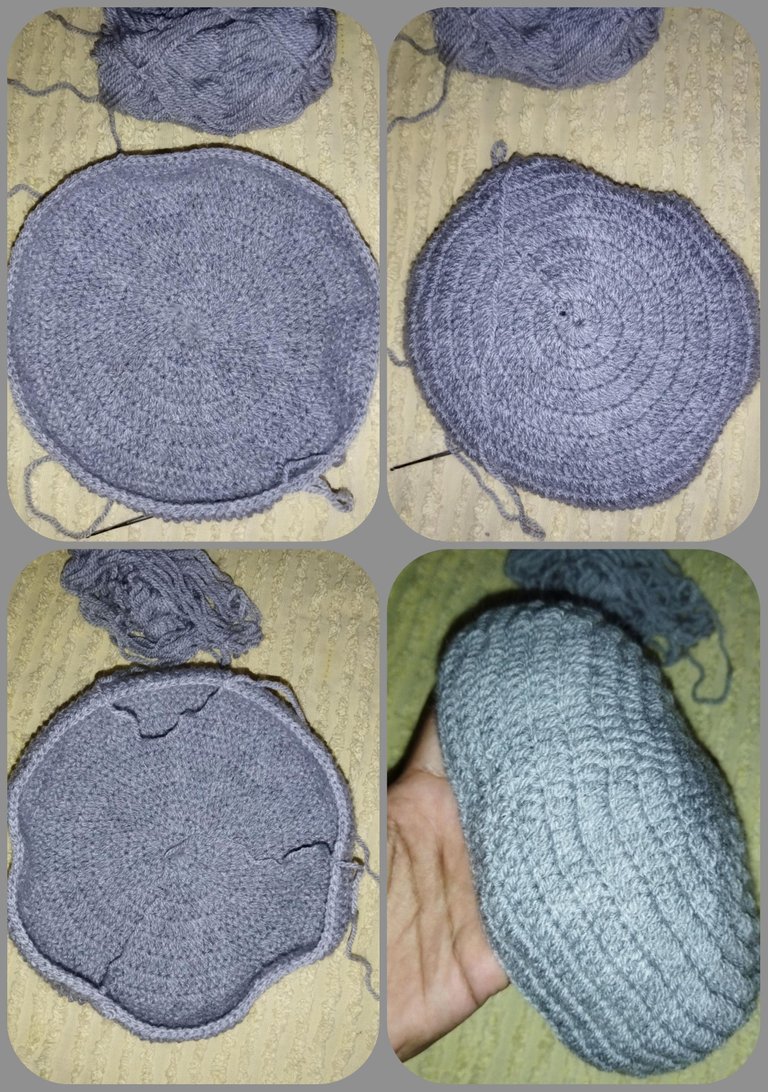 🌺💞✨✂️❤️🌿🌺💞✨✂️❤️🌿🌺💞✨✂️❤️🌿🌺💞✨✂️❤️🌿
This hat starts knitting with gray yarn from the center, starting with a magic ring of six stitches, for the second round we make an increase in each stitch and from the third round we will perform the sequence of one stitch and one increase, the next two stitches one increase, the next three stitches one increase and so on until the desired width depending on the size, it is knit entirely in high stitches. In this design I made up to the sequence seven stitches and one increase, for a total of 30 cm. From there we are only going to knit one high stitch in each stitch until we reach the length, we can verify this by using a tape measure and marking from the edge of the circumference to the edge of the eyebrow.
Una vez que tengamos nuestro gorro terminado cerraremos el tejido y ocultaremos las hebras. vamos a utilizar el hilo blanco para hacer medios puntos por todo el borde.
🌺💞✨✂️❤️🌿🌺💞✨✂️❤️🌿🌺💞✨✂️❤️🌿🌺💞✨✂️❤️🌿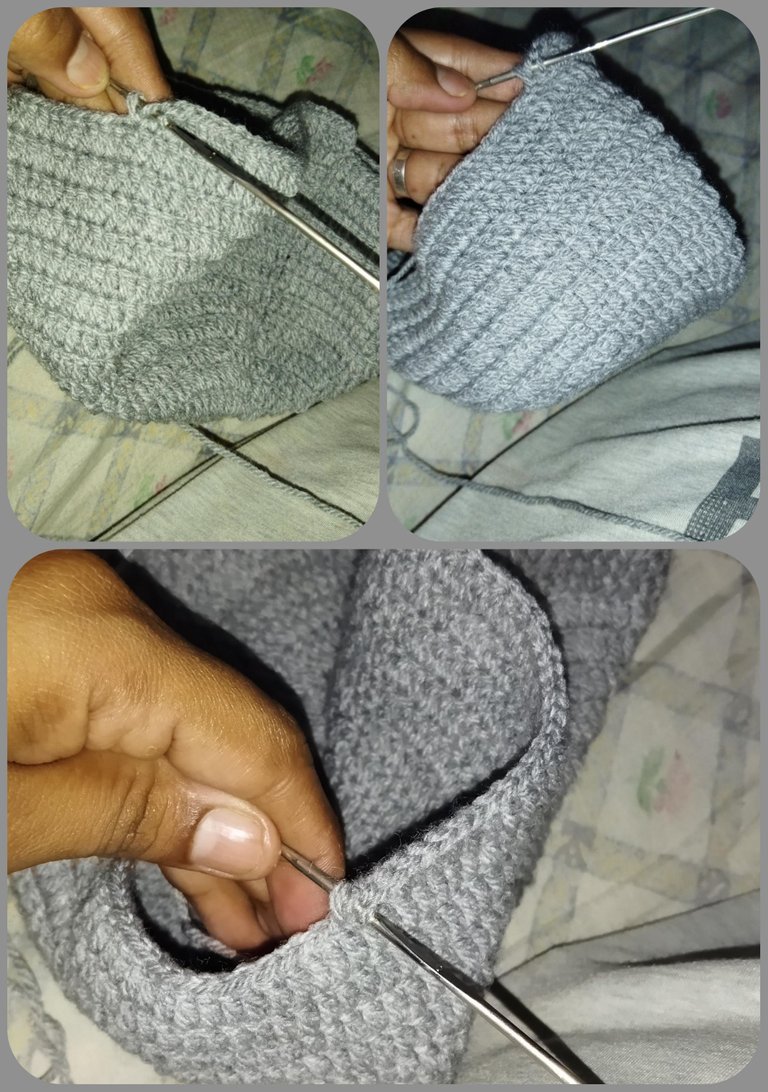 🌺💞✨✂️❤️🌿🌺💞✨✂️❤️🌿🌺💞✨✂️❤️🌿🌺💞✨✂️❤️🌿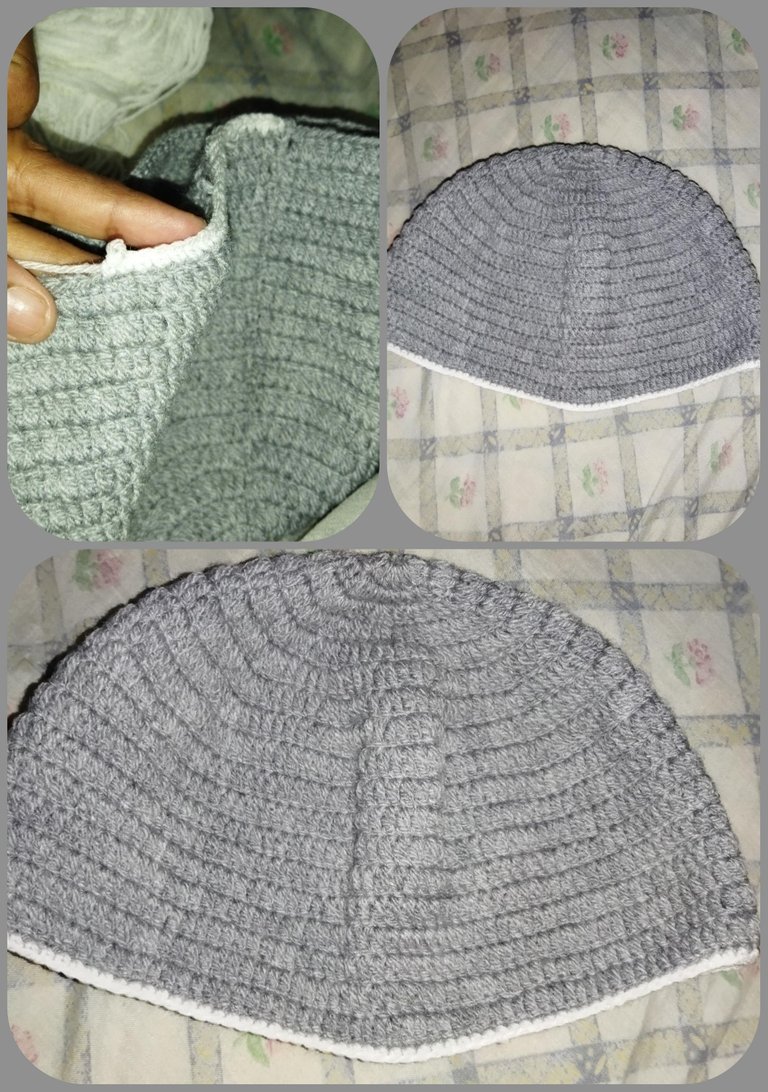 🌺💞✨✂️❤️🌿🌺💞✨✂️❤️🌿🌺💞✨✂️❤️🌿🌺💞✨✂️❤️🌿
Once we have our hat finished we will close the knitting and hide the strands. We are going to use the white yarn to make half stitches all around the edge.
Vamos a realizar las orejas en gris con una cadena de siete puntos y en el primer punto vamos a hacer cuatro puntos y cerramos, en la siguiente vuelta hacemos un punto y un aumento y dos vueltas restantes en un punto en cada punto, realizamos dos piezas iguales.
🌺💞✨✂️❤️🌿🌺💞✨✂️❤️🌿🌺💞✨✂️❤️🌿🌺💞✨✂️❤️🌿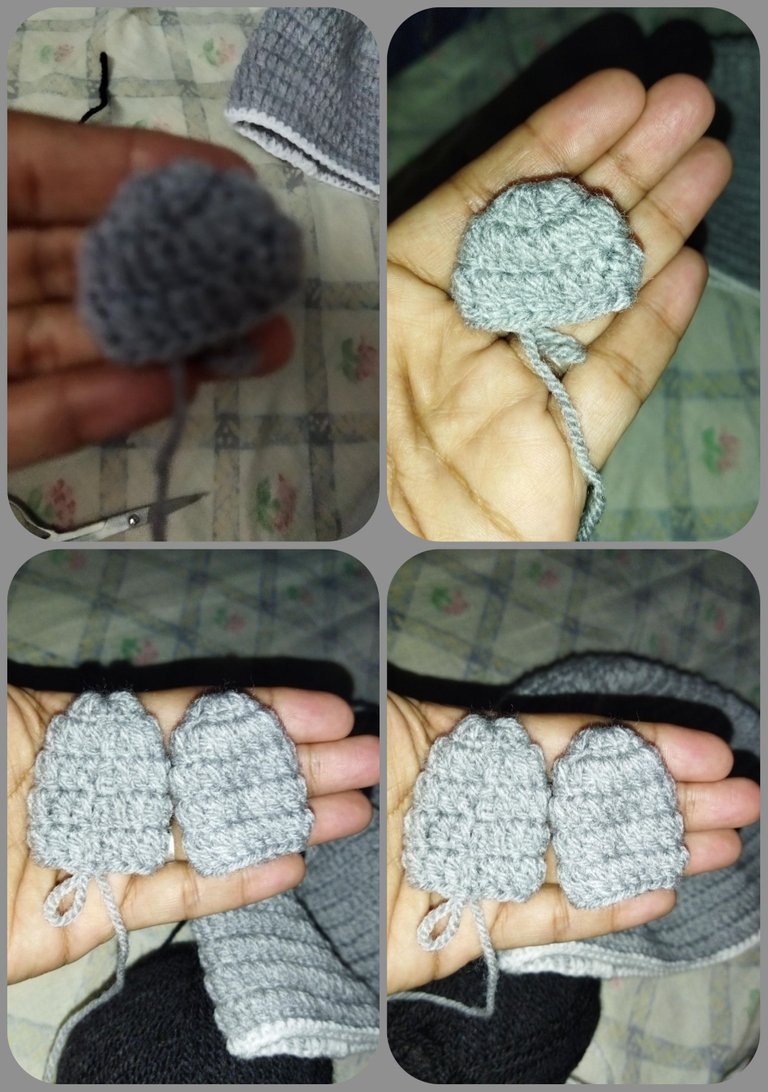 🌺💞✨✂️❤️🌿🌺💞✨✂️❤️🌿🌺💞✨✂️❤️🌿🌺💞✨✂️❤️🌿
We are going to make the ears in gray with a chain of seven stitches and in the first stitch we are going to make four stitches and close, in the next round we will make one stitch and one increase and two remaining rounds in one stitch in each stitch, we will make two equal pieces.
En hilo negro hacemos una cadena de 4 puntos y en el primer punto hacemos cuatro puntos altos y cerramos para hacer el fondo del ojo, y para la boca hacemos una cadena de 23 puntos, contamos 3 puntos y realizamos 6 puntos altos en el mismo punto y un punto lato en cada punto y en el ultimo hacemos 4 puntos altos y un punto alto en cada punto, un punto deslizado y cerramos dejando suficiente hilo para coser.
🌺💞✨✂️❤️🌿🌺💞✨✂️❤️🌿🌺💞✨✂️❤️🌿🌺💞✨✂️❤️🌿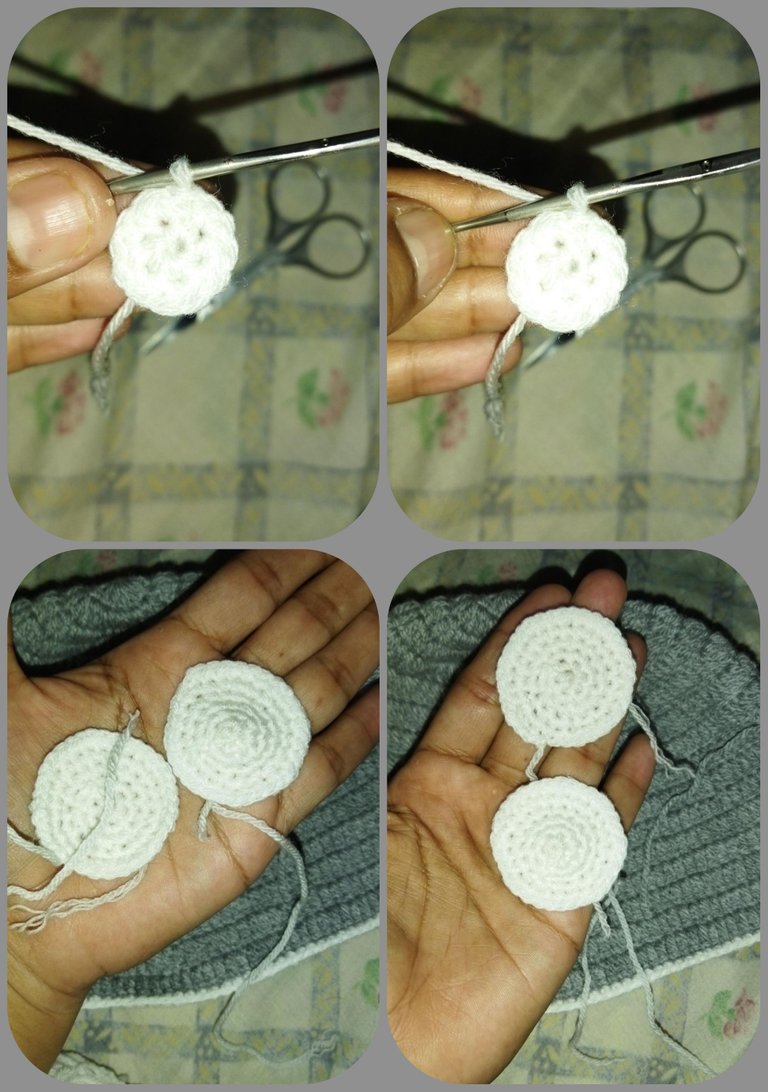 🌺💞✨✂️❤️🌿🌺💞✨✂️❤️🌿🌺💞✨✂️❤️🌿🌺💞✨✂️❤️🌿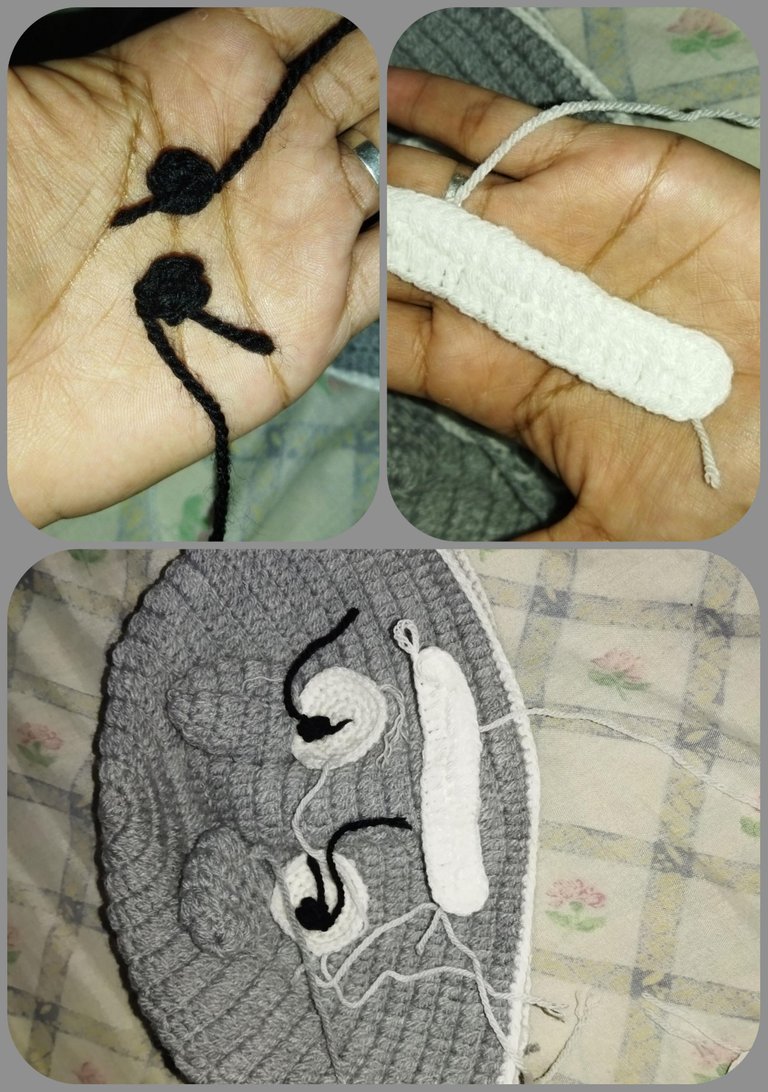 🌺💞✨✂️❤️🌿🌺💞✨✂️❤️🌿🌺💞✨✂️❤️🌿🌺💞✨✂️❤️🌿
In black yarn we make a chain of 4 stitches and in the first stitch we make four high stitches and close to make the bottom of the eye, and for the mouth we make a chain of 23 stitches, count 3 stitches and make 6 high stitches in the same stitch and a single crochet in each stitch and in the last one we make 4 high stitches and a high stitch in each stitch, a slip stitch and close leaving enough yarn to sew.
Una vez que tenemos culminado todas las partes procedemos a colocarlas al gorro base, y en la boca con hilo negro vamos a hacer la forma de los dientes, la nariz y los bigotes en los extremos y Así tenemos culminado este bello y simpático gorro de totoro.
🌺💞✨✂️❤️🌿🌺💞✨✂️❤️🌿🌺💞✨✂️❤️🌿🌺💞✨✂️❤️🌿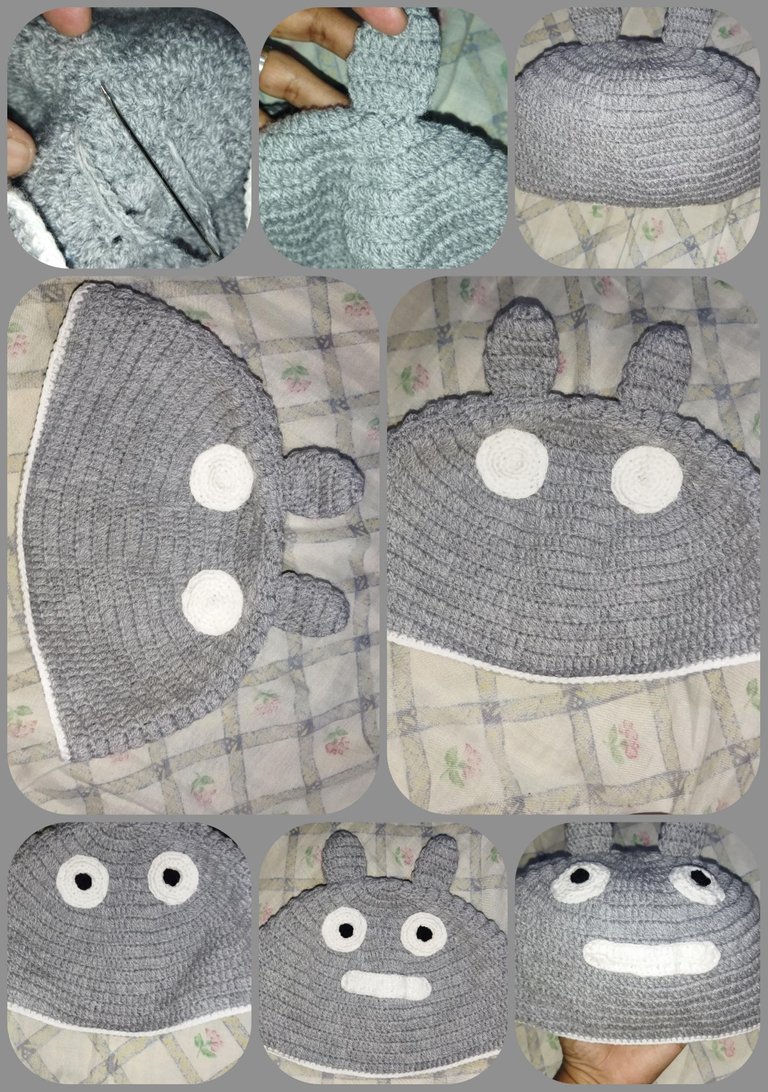 🌺💞✨✂️❤️🌿🌺💞✨✂️❤️🌿🌺💞✨✂️❤️🌿🌺💞✨✂️❤️🌿
Once we have completed all the parts we proceed to place them to the base cap, and in the mouth with black thread we will make the shape of the teeth, nose and whiskers at the ends and so we have completed this beautiful and cute totoro cap.
El calce me encantó. Al ser un tejido más rígido nos permite acomodarlo y darle forma para que se vea así de bonito.
🌺💞✨✂️❤️🌿🌺💞✨✂️❤️🌿🌺💞✨✂️❤️🌿🌺💞✨✂️❤️🌿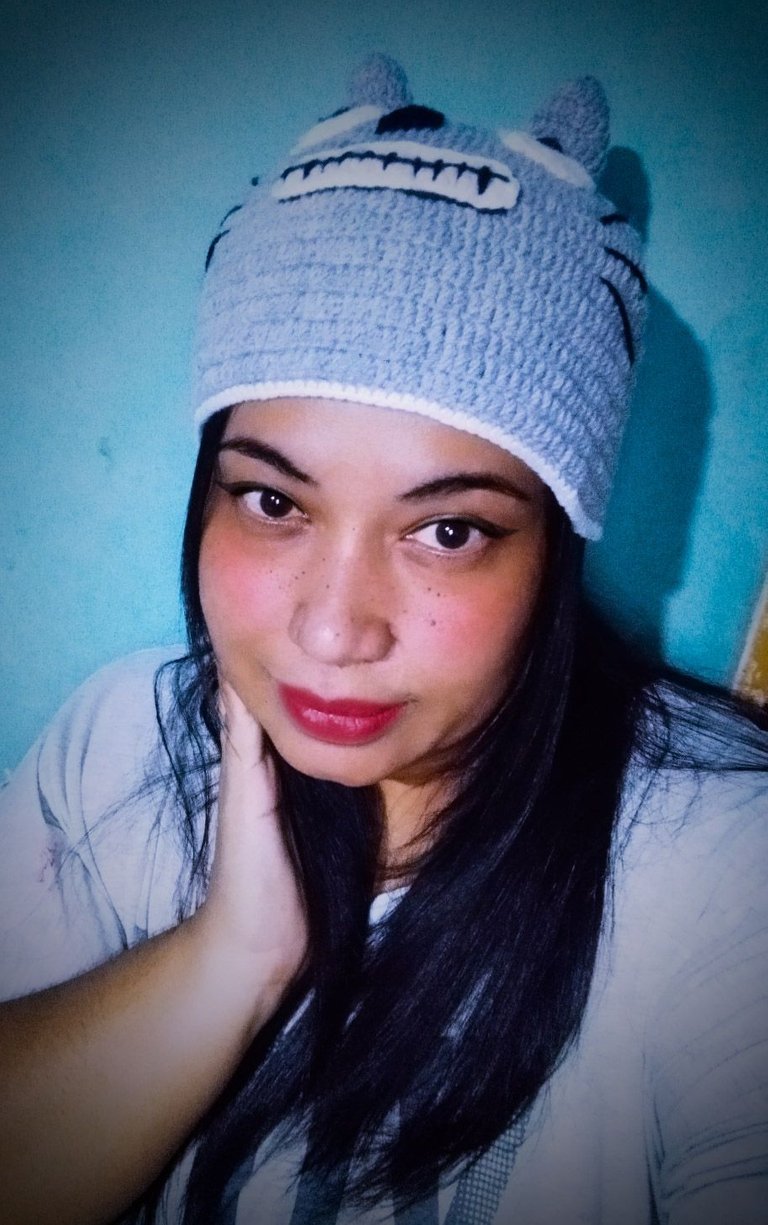 🌺💞✨✂️❤️🌿🌺💞✨✂️❤️🌿🌺💞✨✂️❤️🌿🌺💞✨✂️❤️🌿
I loved the fit. Being a stiffer fabric allows us to accommodate it and shape it to look this cute.
Cómo personalizar tu trabajo:
Hay muchas formas de hacer único su gorro. Les dejo algunas ideas:Pueden tejerlo con otro hilo más grueso o más fino. También pueden optar por hilos matizados para que tenga un efecto de cambio de color.Pueden tejerle otro borde o elástico. El punto cangrejo queda muy bonito en bordes, siempre teniendo la precaución de tejerlo bien flojo para que luego no les resulte muy difícil ponerse el gorro. Por último, pueden jugar con los puntos, ya sea tejiéndolos en la hebra de adelante o de atrás o intercalando medio puntos con otros puntos en relieve.
How to customize your work:
There are many ways to make your hat unique. Here are a few ideas:
You can knit it with another thicker or thinner yarn. You can also opt for shaded yarns to give it a color changing effect.
You can knit another border or elastic. The crab stitch looks very nice in borders, always taking care to knit it very loosely so that it is not too difficult to put on the hat.
🌺💞✨✂️❤️🌿🌺💞✨✂️❤️🌿🌺💞✨✂️❤️🌿🌺💞✨✂️❤️🌿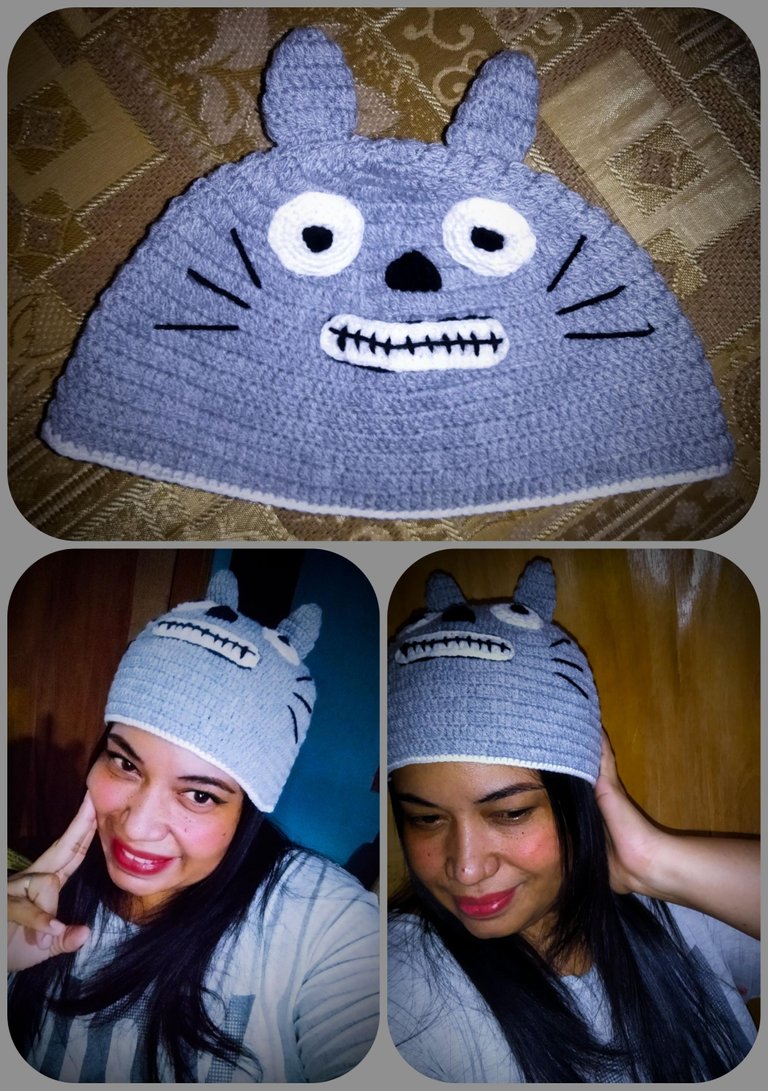 🌺💞✨✂️❤️🌿🌺💞✨✂️❤️🌿🌺💞✨✂️❤️🌿🌺💞✨✂️❤️🌿
Como siempre les digo, el límite está en su imaginación.
As I always say, the limit is in your imagination.
Espero que les haya gustado esta propuesta tan linda y simpática. En mi blog hay otras propuestas para gorros. Cualquier duda pueden dejar un comentario.
I hope you liked this cute and nice proposal. In my blog there are other proposals for hats. If you have any questions you can leave a comment
Por mi parte me despido hasta una nueva oportunidad deseándoles muchas bendiciones y éxitos. saludos.
for my part I say goodbye until a new opportunity wishing you many blessings and success. greetings.
Todas las imágenes son de mi propiedad tomadas con Redmi 9T y editadas con la aplicación Photosop Express, y traducidas con la aplicacion Deepl para Android en su version libre
all images are my property taken with Redmi 9T and edited with Photosop Express application.
Translated with www.DeepL.com/Translator (free version)
🌺💞✨✂️❤️🌿🌺💞✨✂️❤️🌿🌺💞✨✂️❤️🌿🌺💞✨✂️❤️🌿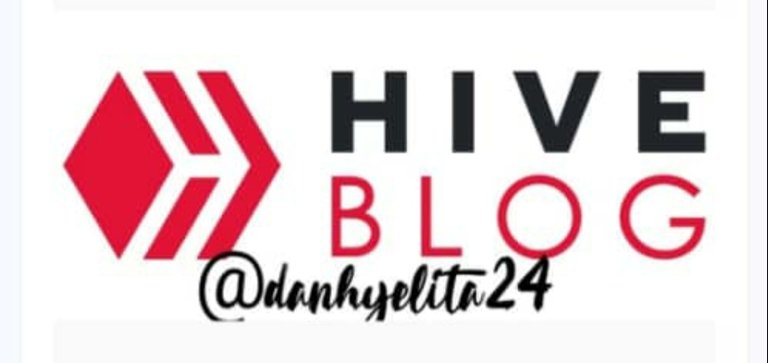 🌺💞✨✂️❤️🌿🌺💞✨✂️❤️🌿🌺💞✨✂️❤️🌿🌺💞✨✂️❤️🌿
---
---