Making Beautiful Handmade Pendant with Flexible Dough and a Natural Leaf! 🐞🌷🍃 Elaborando Bonito Dije Artesanal Con Masa Flexible y Una Hoja Natural!! 🌸🍃🐞 By Danhyelita24
🌸🌷🐞🍃🌸🌷🐞🍃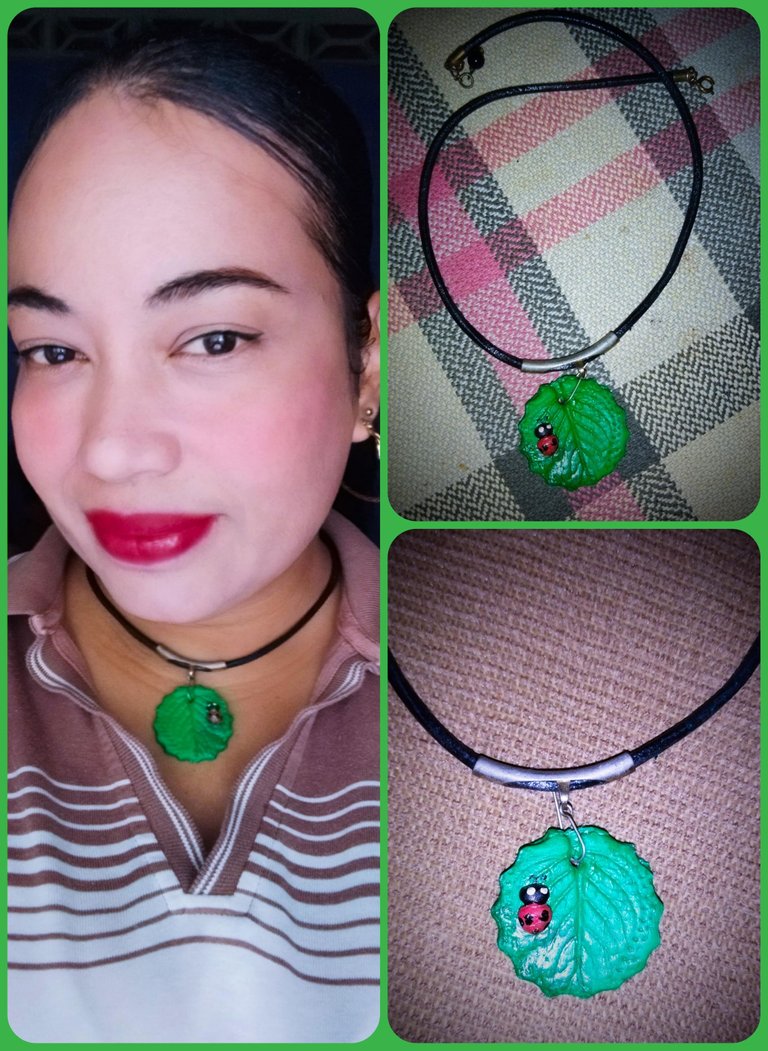 🌸🌷🐞🍃🌸🌷🐞🍃

Greetings dear and appreciated users and all those friends who make life in this wonderful community, once again I share with you a very creative and original post that we can make at home in a handmade way, it is a pendant made of flexible dough with a natural leaf and a pretty ladybug.
Saludos queridos y apreciados usuarios y todos aquellos amigos que hacen vida en esta maravillosa comunidad, una vez más les comparto un bonito post muy creativo y original que podemos realizar en casa de manera artesanal, se trata de un dije elaborado en masa flexible con una hojita natural y una bonita mariquita.
🌸🌷🐞🍃🌸🌷🐞🍃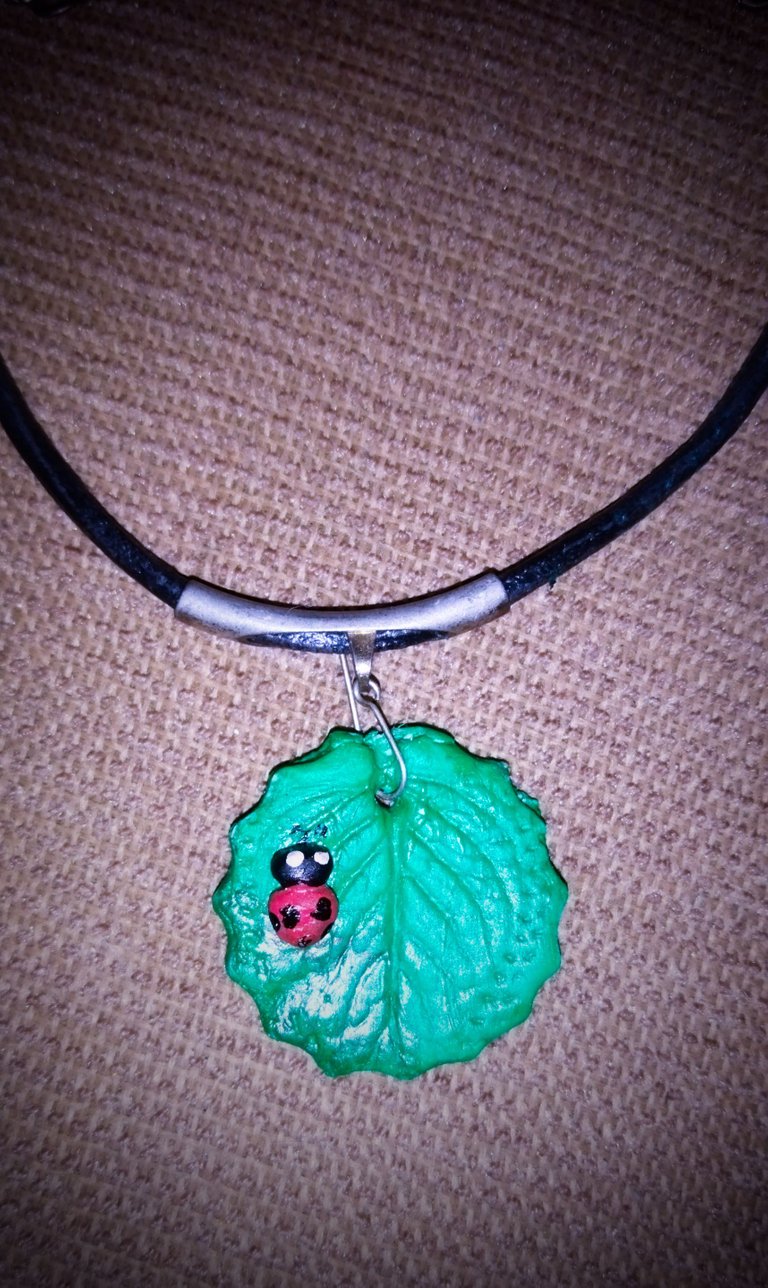 🌸🌷🐞🍃🌸🌷🐞🍃

The truth is that working with flexible dough is one of my favorite crafts, because with it we can make countless accessories for our personal use and decoration.
I was always curious to see if a natural leaf could be shaped in this flexible dough and I decided to materialize the idea in a useful way, so I made a small charm to test it.
La verdad es que trabajar con masa flexible, es una de mis manualidades favoritas, ya que con ella podemos realizar innumerables accesorios para nuestro uso personal y de decoración. Siempre tuve la curiosidad de constatar si con una hoja natural se podría plasmar en esta masa flexible y me decidí a materializar la idea de manera útil por lo que elaboré un pequeño dije para comprobarlo.
🌸🌷🐞🍃🌸🌷🐞🍃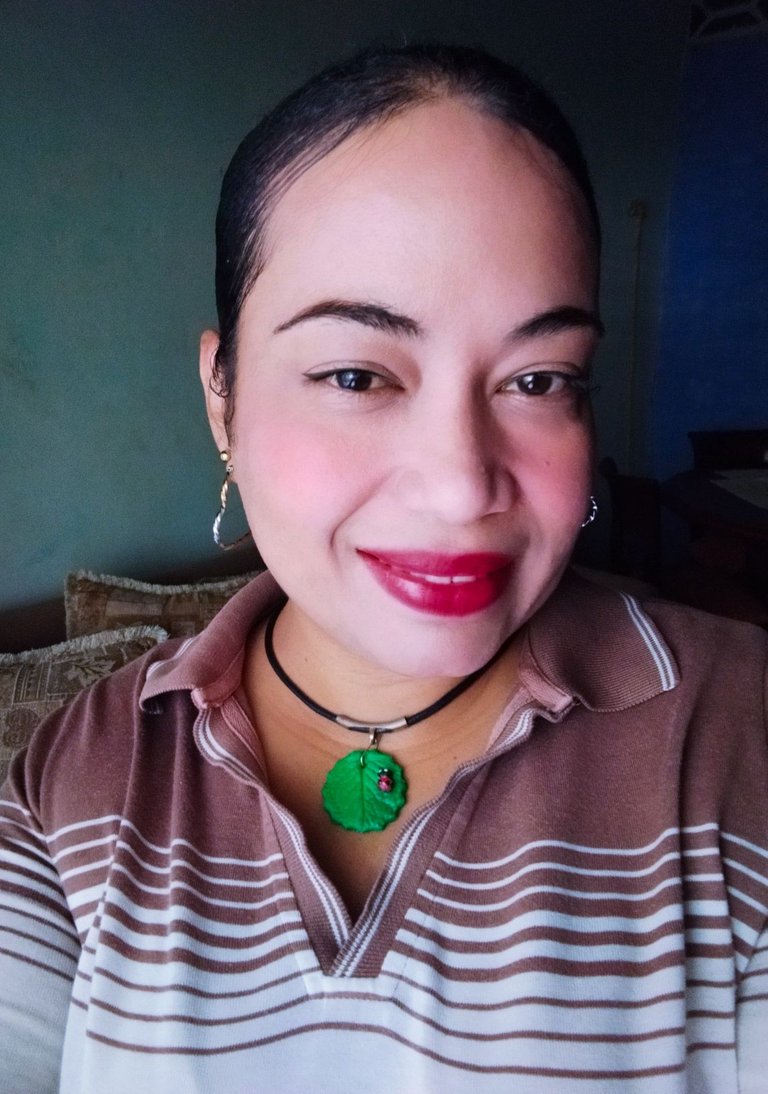 🌸🌷🐞🍃🌸🌷🐞🍃

For this I used materials such as flexible dough in white or natural colors, cold paints in green, black and red tones, a pendant ring and a string as a chain and of course a natural leaf.
Para ello utilicé materiales como masa flexible en tono blanca o natural, pinturas al frío en tonos verde, negro y rojo, un arito de colgante y un cuerito como cadena y por supuesto una hoja natural.
Its realization was quite simple and fast, I simply took a small ball of flexible dough and extended it with the help of a rolling pin, on top of it I placed the leaf and again with the rolling pin I gave it a few touches in a soft but firm way, so that it was shaped in the dough.
Su realización fue bastante sencilla y rápida, simplemente tomé una bolita de masa flexible y la extendí con la ayuda de un rodillo, encima de ella coloqué la hoja Y nuevamente con el rodillo le dí unos toques de manera suave pero con firmeza, de manera tal que quedara plasmada en la masa.
🌸🌷🐞🍃🌸🌷🐞🍃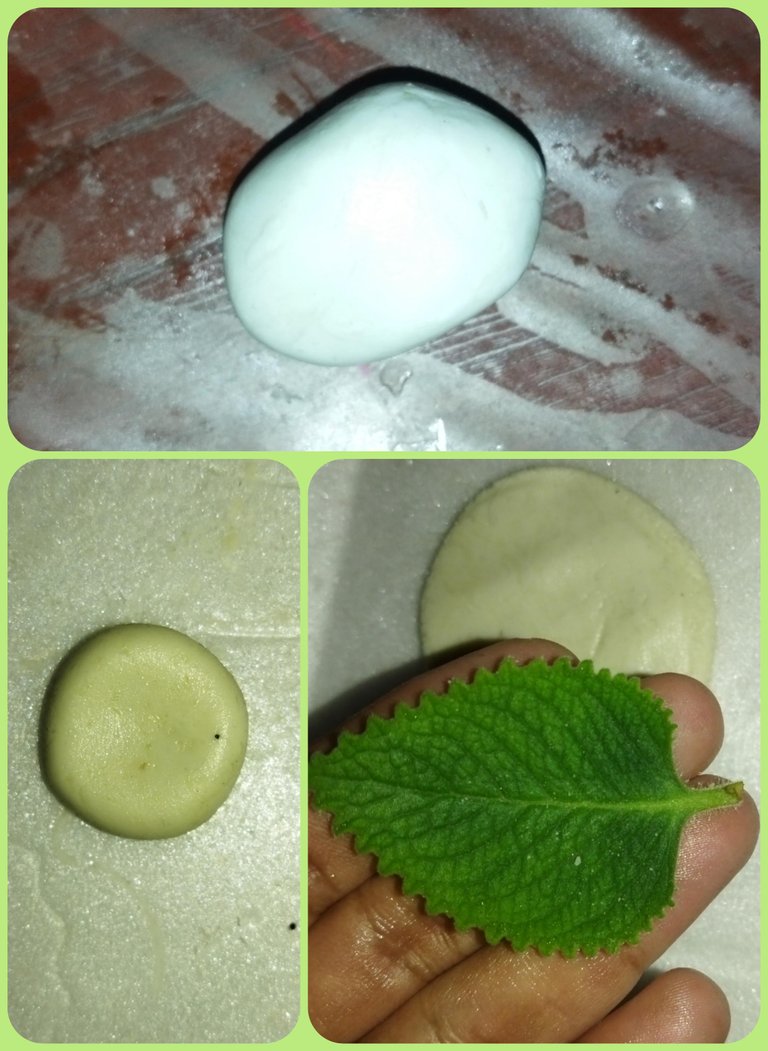 🌸🌷🐞🍃🌸🌷🐞🍃

Then with the help of an exacto I trimmed all the edges and with the back of the brush I made a small hole in the upper part, which later would be used to hang the earring, and as a decorative element I made two small balls that will serve as a base for the elaboration of a pretty ladybug. I let it dry for about a whole day.
luego con la ayuda de un exacto fui recortando todos los bordes y con la parte trasera del pincel le hice un agujerito en la parte superior, que más adelante me iba a servir para colgar el arito, y como elemento decorativo realicé dos pequeñas bolitas que me van a servir como base para la elaboración de una bonita mariquita. Dejé secar por aproximadamente un día entero.
🌸🌷🐞🍃🌸🌷🐞🍃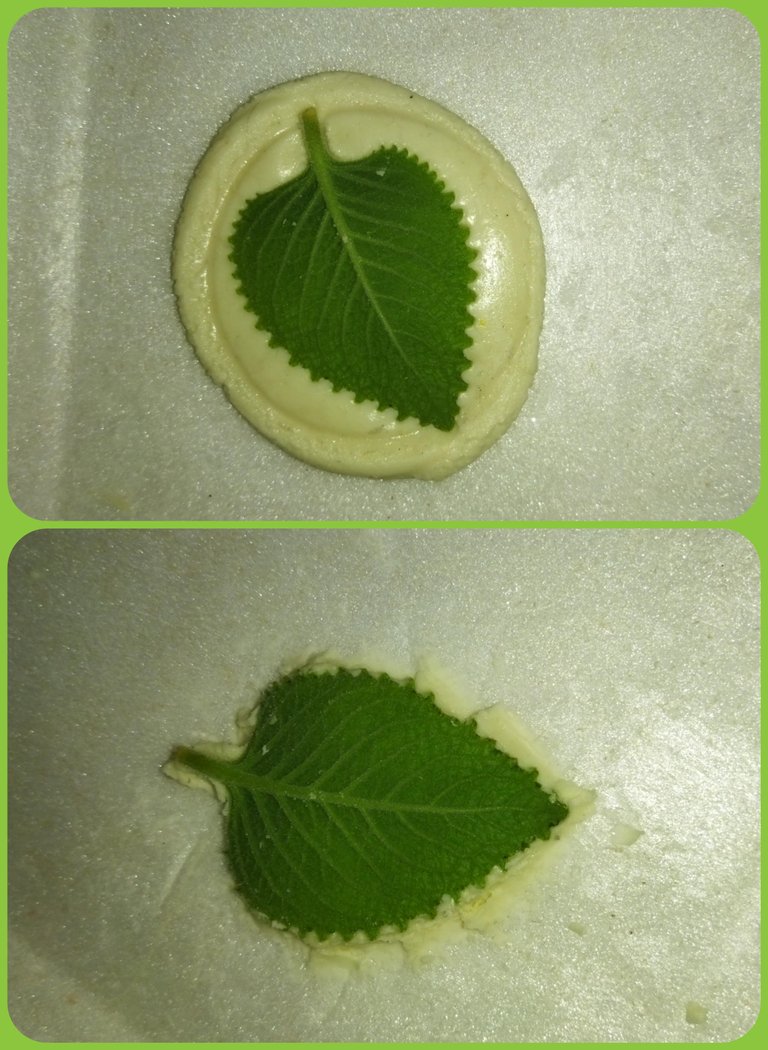 🌸🌷🐞🍃🌸🌷🐞🍃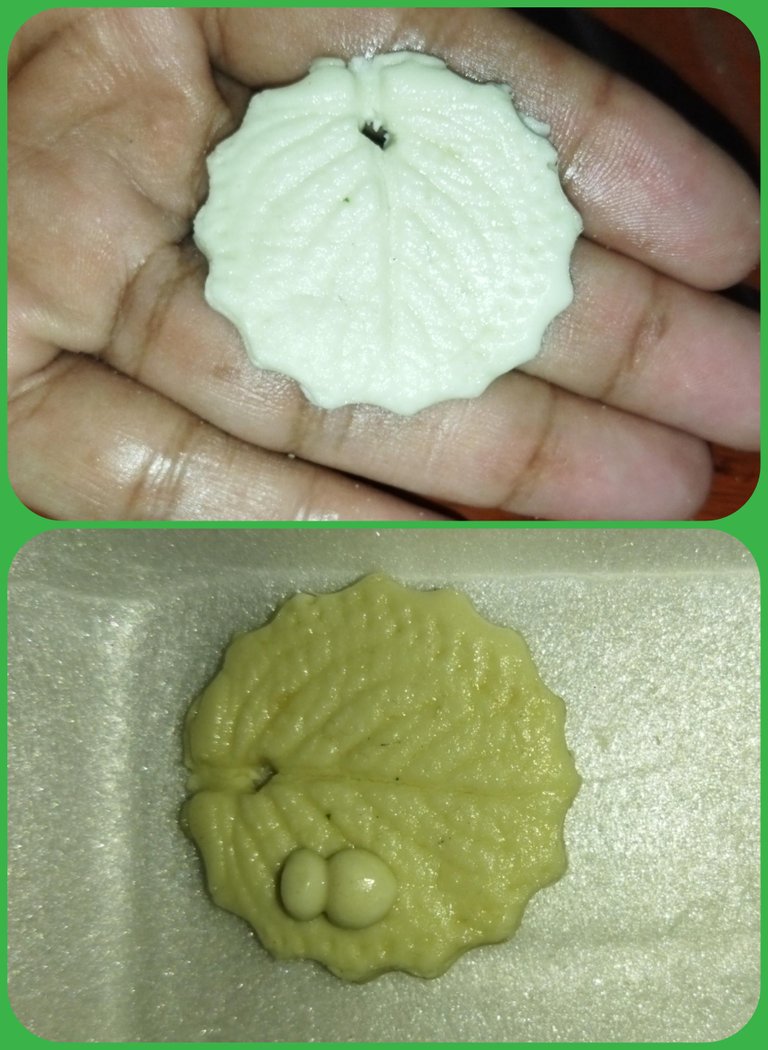 🌸🌷🐞🍃🌸🌷🐞🍃

Once the piece was dry, I proceeded to apply a very intense leaf green paint, giving it several layers to accentuate its tone and for the ladybug I applied red and black paint, giving it those characteristic touches of this little animal.
Una vez seca la pieza, procedí a colocarle una pintura color verde hoja muy intenso, dándole varias capas para acentuar su tonalidad y para la mariquita le coloqué pintura rojo y negro dándole esos toques característicos de este animalito.
🌸🌷🐞🍃🌸🌷🐞🍃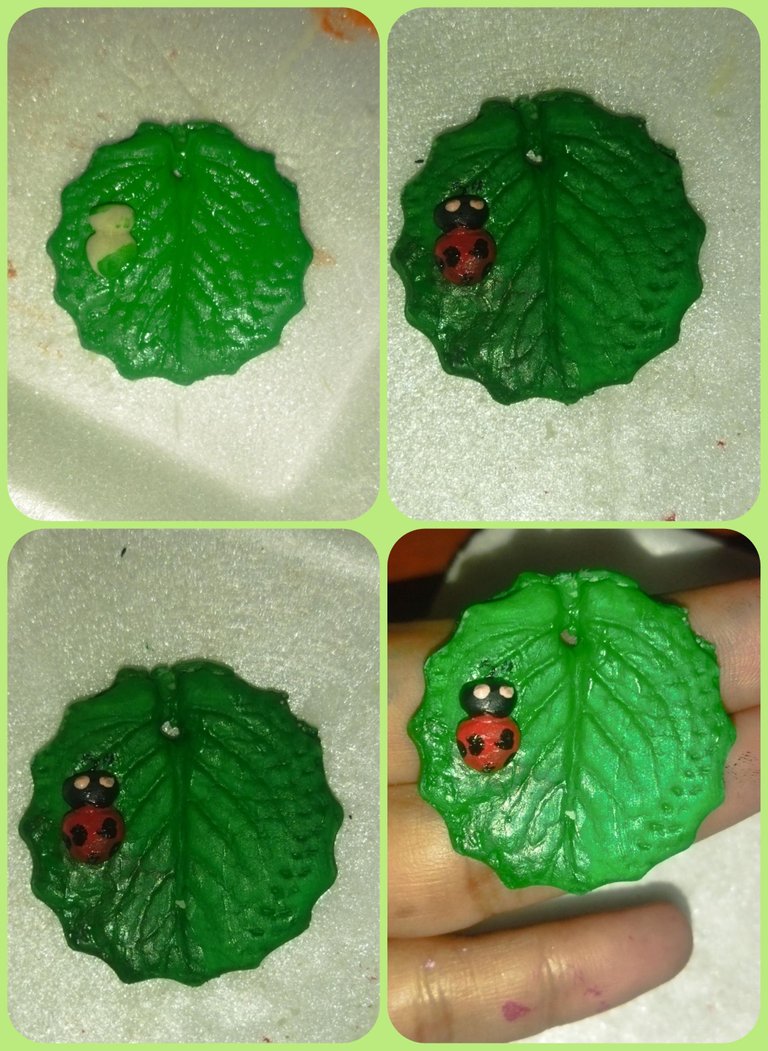 🌸🌷🐞🍃🌸🌷🐞🍃

Once the paint was dry I proceeded to put a nail polish to give more shine and durability to the piece, now I only had to put the earring and place it on the pendant.
Una vez seca la pintura procedí a colocarle un esmalte de uña para darle mayor brillo y durabilidad a la pieza, Ya solo me quedaría colocarle el arito y colocarlo en el colgante.
🌸🌷🐞🍃🌸🌷🐞🍃
🌸🌷🐞🍃🌸🌷🐞🍃

And in this way I had completed this beautiful and original design of a pendant made with a natural leaf with a cute ladybug.
Y de esta manera tuve culminado este bonito y original diseño de un dije elaborado con una hoja natural con una linda mariquita.
🌸🌷🐞🍃🌸🌷🐞🍃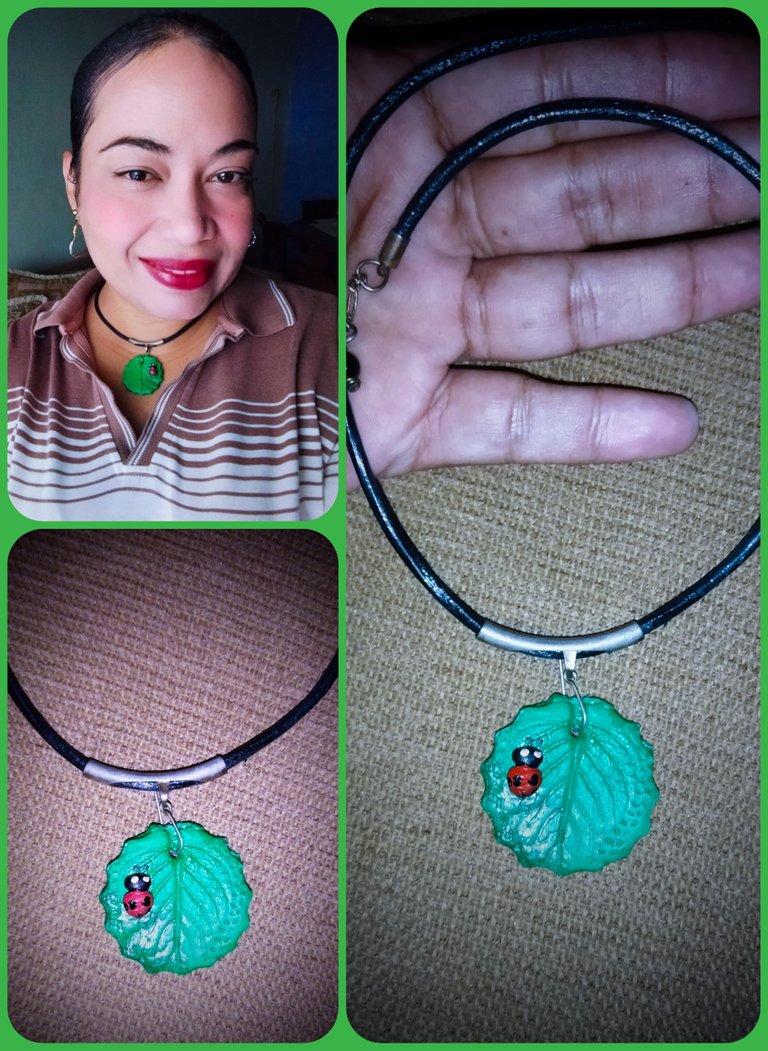 🌸🌷🐞🍃🌸🌷🐞🍃

I really liked the result and I hope it was to your liking, for my part I say goodbye until a new opportunity wishing you many blessings and success until the next one.
El resultado me gustó muchísimo y de igual manera espero que haya sido de todo su agrado, por mi parte me despido hasta una nueva oportunidad deseándoles muchísimas bendiciones y éxito hasta la próxima.
🌸🌷🐞🍃🌸🌷🐞🍃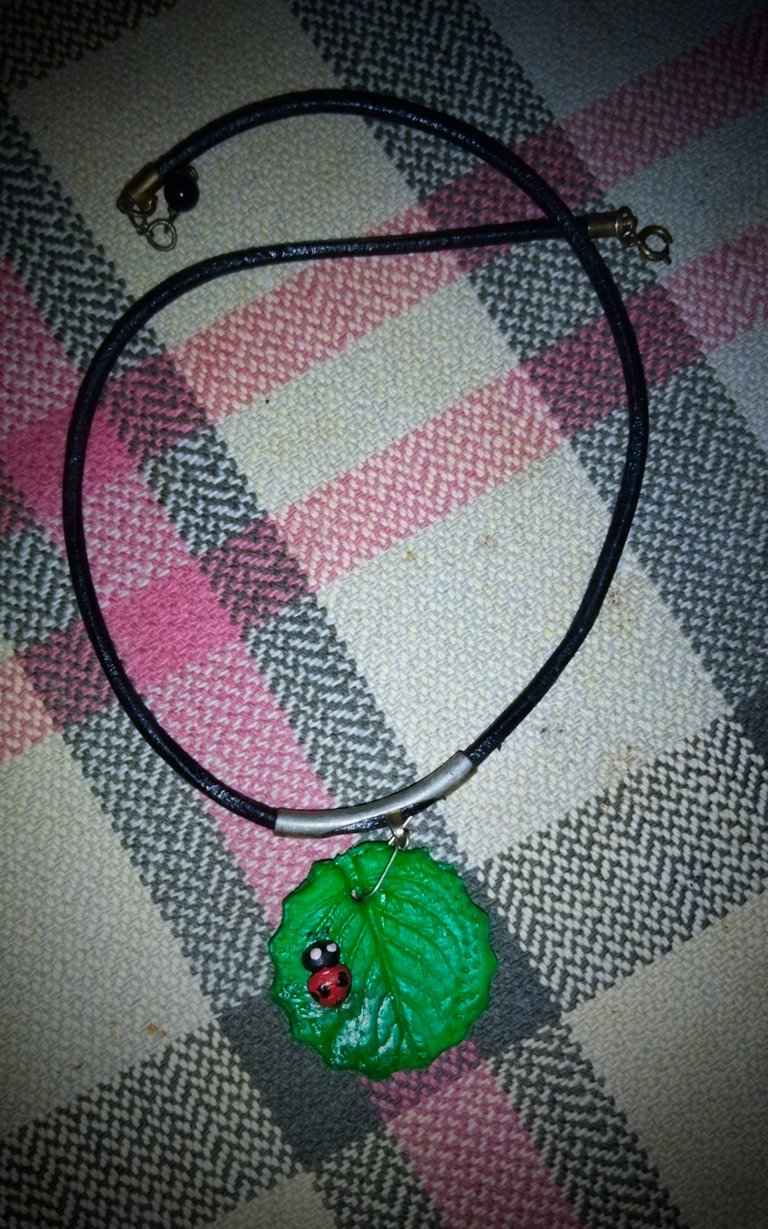 🌸🌷🐞🍃🌸🌷🐞🍃

All images are my own taken with redmi 9t and edited with Photoshop Express for Android.
Todas las imágenes son de mi propiedad tomadas con redmi 9t y editadas con la aplicación Photoshop Express para Android.
🌸🌷🐞🍃🌸🌷🐞🍃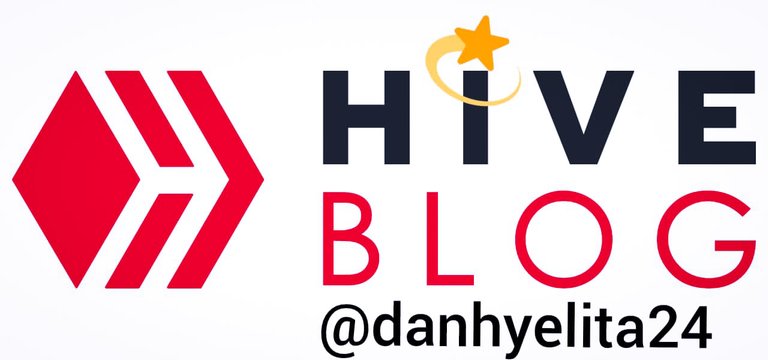 🌸🌷🐞🍃🌸🌷🐞🍃
---
---