Battle Mage Secrets: Reverse Speed [EN - ESP]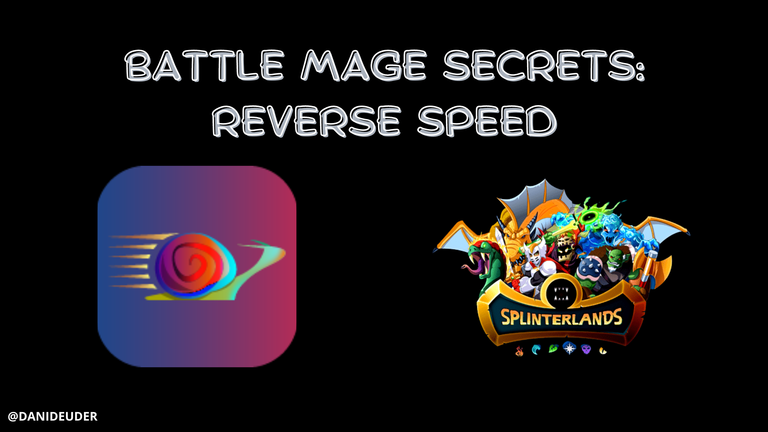 Another week has come for us to analyse a battle condition in the
@splinterlands
universe. We have already analysed a few of them in detail, and today we have one that gives a complete twist to one of the basic abilities of our cards.
This week we take a look at Reverse Speed and how it turns snails into leopards and vice versa
Join me for another look at a battle condition that benefits the slowest players in the deck. Let's get started.
Una semana más llega la cita con el análisis de una condición de batalla en el universo

@splinterlands

. Llevamos ya unas cuantas analizadas al detalle y hoy llega una que da un giro completo a una de las habilidades básicas de nuestras cartas.

Esta semana analizamos Reverse Speed y como convierte caracoles en leopardos y viceversa.

Acompáñame en este nuevo análisis de una condición de batalla que beneficia a los más lentos de la baraja. Comenzamos.



This week's condition, like last week's, also presents little difficulty in understanding its function. It is a different matter to know how to take advantage of its presence in the conditions of a particular battle. Its playability is to change the attack order of cards by prioritising those with lower speed, meaning that the first cards to attack will be those with speed 1, and summoners that provide speed like my beloved Kelya Frendul in the water deck become almost useless under this battle condition.
La condición analizada esta semana, como la de la semana anterior, tampoco presenta mucha dificultad el aspecto de entender su función. Otra cosa diferente es saber aprovecharla y sacar ventaja de su presencia entre las condiciones de una batalla en concreto. Su jugabilidad es la de cambiar el orden de ataque de las cartas priorizando las de menor velocidad. Es decir, las primeras cartas en atacar serán las de velocidad 1 e invocadores que aportan velocidad como mi querida Kelya Frendul en el mazo de agua pasan a ser casi inútiles bajo esta condición de batalla.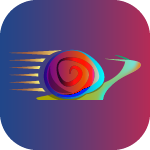 This battle will feature my best summoner: Kelya Frendul. I want to boost my water deck and, although the condition is Reverse Speed and Kelya brings an extra point of speed, the line-up will be improved with the shield that Kelya brings and it will give me an extra defence that will be decisive.
En esta batalla va a ser protagonista mi mejor invocador: Kelya Frendul. Quiero potenciar mi mazo de agua y, aunque la condición es Reverse Speed y Kelya aporta un punto de velocidad extra, la alineación va a ser mejorada con el escudo que aporta Kelya y me va a a proporcionar un extra de defensa que va a ser determinante.

The tank will be Cruel Sethropod. Low summoning cost and a lot of defensive power that will buy precious time for my second line.
El tanque va a ser Cruel Sethropod. Bajo coste de invocación y muchísimo poder defensivo que va a otorgar un tiempo precioso a mi segunda línea.

Behind the tank comes Hardy Stonefish. A weak card that doesn't take more than a mana point and will hold at least two attacks for Musa Saline to do his work behind.
Por detrás del tanque viene Hardy Stonefish. Una carta débil que no me quita más que un punto de maná y que aguantará, al menos, dos ataques para que Musa Saline haga su trabajo por detrás.

The star of the line-up and of my strategy is Musa Saline. I want to take advantage of her magic attack to dodge my opponents' shields and deal a good amount of damage each turn.
La estrella de la alineación y de mi estrategia es Musa Saline. Quiero aprovechar su ataque mágico para esquivar el escudo de mis rivales y poder causar una buena cantidad de daño cada turno.

Behind Musa Saline I place Ice Pixie who, in exchange for two mana points, brings magic attack and complements Musa Saline perfectly in the offensive aspect of my strategy.
Por detrás de Musa Saline ubico a Ice Pixie que, a cambio de dos puntos de maná, aporta ataque mágico y se complementa a la perfección con Musa Saline en el aspecto ofensivo de mi estrategia.

Last position for Chaos Agent who occupies this position to spend the last summon mana point and be the target if the opponent places a card that attacks my rear guard to protect Ice Pixie first.
Última posición para Chaos Agent que ocupa esta posición para gastar el último punto de maná de invocación y ser el objetivo si el rival coloca alguna carta que ataque a mi retaguardia protegiendo así a Ice Pixie en primer lugar.

Not used this time.
Posición sin utilizar esta semana.


My opponent's strategy is also with the water deck and with kelya Frendul summoning so the extra point it gives me is not going to affect the development as my opponent also adds an extra point of speed. If I have a variety of cards my opponent focuses on two cards as his main strategy. The always dangerous Spineback Turtle and Deeplurker in second position to attack my second line. Let's see how the game plays out with both of their strategies in play.
La estrategia de mi rival también es con el mazo de agua y con kelya Frendul invocando por lo que el punto extra que me aporta no va a afectar al desarrollo pues mi rival también suma un punto extra de velocidad. Si yo tengo variedad de cartas mi rival se centra en dos cartas como estrategia principal. El siempre peligroso Spineback Turtle y Deeplurker en segunda posición para atacar a mi segunda línea. Vamos a ver cómo se desarrolla la partida con las estrategias de ambos en juego.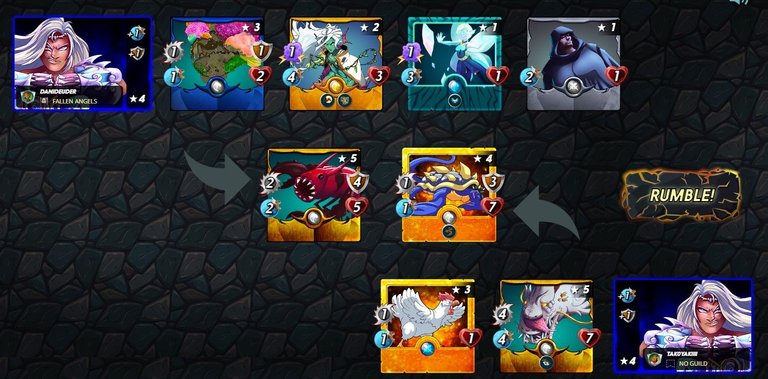 Nuevamente y como la semana pasada tenemos una condición de batalla simple y fácil de entender. La velocidad cambia de orden y los más lentos pasan a ser los primeros en atacar. Eso será lo único que tenemos que valorar a la hora de establecer nuestra estrategia, evitar cartas con velocidad alta y, por tanto, aquellas con velocidad 4 o superior, incluso aquellas con 3 puntos, debemos valorar muy bien si nos compensa utilizarlas bajo esta condición de batalla analizada esta semana.
Esta semana condición simple y sencilla con Odd Ones Out. Solo se pueden utilizar cartas impares en estas batallas. Ni limitaciones complejas, ni ausencias notables ni logaritmos complicados, condición de batalla simple y que, realmente, no afecta al desarrollo del combate como si hacía, por ejemplo, la condición de la semana pasada.
How do you try to take advantage of the presence of this week's skill as a battle condition in your day-to-day life in Splinterlands? Do you have a pre-determined strategy? Did you like my approach to the battle and its explanation? I'll read you in the comments section, and in a week's time, be sure to check back for a new challenge - see you on the battlefield!
Y tú, ¿cómo intentas aprovechar la presencia la habilidad de esta semana como condición de batalla en tú día a día en Splinterlands? ¿tienes alguna estrategía predeteminada? ¿te ha gustado mi manera de enfocar la batalla y su explicación? Te leo en la sección de comentarios y, dentro de una semana, no dejes de leerme en un nuevo reto. ¡Nos vemos en el campo de batalla!

¿Quieres unirte al Clan Fallen Angels? Clica aquí

All the images in this article are credited to splinterlands.com. Cover image made in canva.com
Divider credited to @kyo-gaming. You can find more dividers from kyo here.
Don't have an account in the game. Join us and conquer splinterlands with my referral link.
---
---