Battle Mage Secrets: Rise of the Commons [EN - ESP]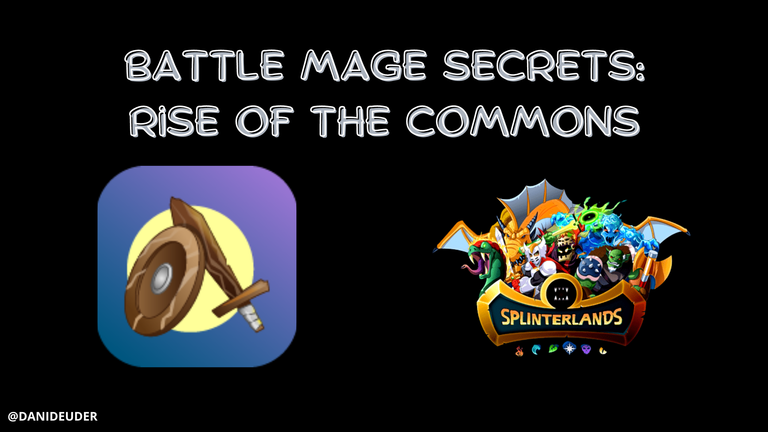 Here we are again. If yesterday I shared a new analysis of a card for the Social Media Challenge, today it's time to analyse the Rise of the Commons battle condition in a new edition of Battle Mage Secrets. You already know the structure, explanation of the condition, analysis of the alignment, link to the battle and conclusions. So let's go for a new analysis. Let's get started.
Ya estamos de nuevo aquí. Si ayer compartía un nuevo análisis de una carta con motivo del Social Media Challenge, hoy toca analizar la condición de batalla Rise of the Commons en una nueva edición del Battle Mage Secrets. Ya sabes la estructura, explicación de la condición, análisis de la alineación, enlace a la batalla y conclusiones. Así que vamos a por un nuevo análisis. Comenzamos.



This week we have a battle condition whose main objective is to remove cards from the choice options. With Rise of the Commons, we will only be able to use cards of common and rare rarity, meaning epic and legendary cards are not an option. This condition forces us to carefully select the line-up and to look for a balanced line-up with a special focus on a certain card. We must choose a balanced line-up but with abilities that do not divert their attacks to various targets. Several cards with sneak or opportunity or a line-up focused on magic attack can be good strategies to use under this battle condition.
Esta semana tenemos una condición de batalla cuyo objetivo principal es eliminar cartas de las opciones de elección. Con Rise of the Commons solo podremos utilizar cartas de rareza común y rara. Es decir, las cartas épicas y legendarias no son una opción. Esta condición nos obliga a seleccionar con cuidado la alineación debiendo buscar una alineación equilibrada y que se focalice, especialmente, sobre una determinada carta. Debemos elegir una alineación balanceada pero con habilidades que no desvien sus ataques hacia varios objetivos. Varias cartas con sneak u opportunity o una alineación centrada en ataque mágico pueden ser buenas estrategias a utilizar bajo esta condición de batalla.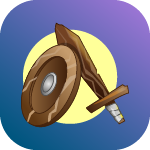 I decide for a strategy with a lot of magic attack. Ideal for this is, as you know, Obsidian in the summoner's position with a bonus to this type of attack.
Me decido para una estrategia con mucho ataque mágico. Ideal para ello es, como bien sabes, Obsidian en el puesto de invocadora aportando un bonus a este tipo de ataque.

In the key position of the line-up I'm going to put Mycelic Slipspawn upgraded to level 3. He has a good defensive level and an interesting attack boosted by Obsidian.
En la posición clave de la alineación voy a colocar a Mycelic Slipspawn mejora a nivel 3. Tiene buen nivel defensivo y un interesante ataque potenciado por Obsidian.

Behind Mycelic comes Centauri Mage also evolved to level 3. I remember that Obsidian, as of today, I have him at level 6 which allows me a lot of options with upgraded cards. The case of Centauri is one of them.
Detrás de Mycelic aparece Centauri Mage también evolucionada a nivel 3. Recuerdo que Obsidian, a día de hoy, lo tengo a nivel 6 lo que me permite muchas opciones con cartas mejoradas. El caso de Centauri es uno de ellos.

In the middle of the line-up comes one of my best cards in the green deck: Regal Peryton gold edition and at level 4. Lots of attack power and flying ability to get the chance to dodge opposing attacks.
En el centro de la alineación viene una de mis mejores cartas en el mazo verde: Regal Peryton edición dorada y a nivel 4. Mucho poder de ataque y capacidad voladora para obtener la posibilidad de esquivar ataques rivales.

It's the turn of the healers, and this time I'm going to use two of them. The first one is Goblin Psychic. And one of the advantages that two of the healers in the green deck have is that they also have magic attack.
Llega el turno de los sanadores que, en esta ocasión, voy a utilizar dos de ellos. El primero es Goblin Psychic. Y es que una de las ventajas que tienen dos de los sanadores del mazo verde es que cuentan, además, con ataque mágico.

The second healer will be Wood Nymph with the same mission as Goblin: heal and damage at the same time with his magic attack.
El segundo sanador será Wood Nymph con la misma misión que Goblin: sanar y dañar al mismo tiempo con su ataque mágico.

Complete the line-up with a rare card like Suidae Shaman. Strange in that it has an ability that takes three rounds to attack, but when it does, it does so with three times its base attack points.
Completa la alineación una carta extraña como Suidae Shaman. Extraña por que tiene una habilidad que tarda tres rondas en atacar aunque, eso si, cuando lo hace lo hace con el triple de puntos que marca su ataque base.


My opponent,
@nightingale912
, is going with an earth deck but with Immortalis at level 1 in the summoner slot. That's going to penalise him as he won't be able to use evolved cards unlike my own line-up. We are also repeating in four of the six cards used in our respective lineups.
Mi rival,

@nightingale912

, va a formar con un mazo de tierra aunque con Immortalis a nivel 1 en el puesto de invocador. Ese hecho le va a penalizar pues no va a poder utilizar cartas evolucionadas a diferencia de mi propia alineación. Repetimos, además, en cuatro de las seis cartas utilizadas en nuestras respectivas alineaciones.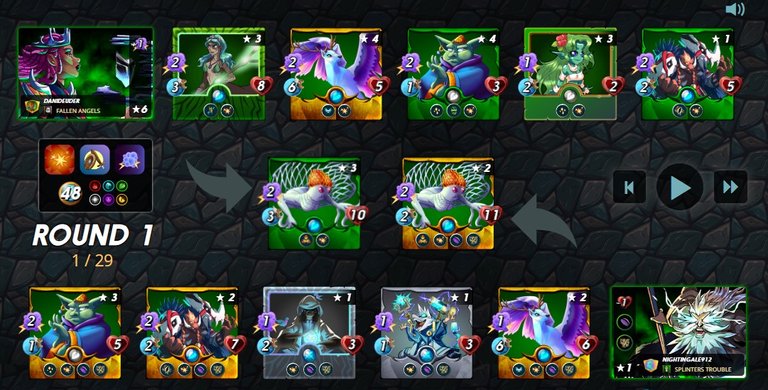 Another week in which the battle condition is not too complex to explain. We can't use epic and legendary cards so having evolved rare and common cards in our rosters can't give us a significant advantage On paper it's an ability that could even the playing field with novice players, however the fact that we can use evolved cards eliminates that possibility of leveling up veteran and novice players. Interesting battle condition that, because of my deck structure, when it appears it gives me a good advantage over my opponents.
Otra semana en la que la condición de batalla no tiene demasiada complejidad en cuanto a su explicación. No podemos utilizar cartas épicas y legendarias por lo que contar en nuestros rosters con cartas raras y comunes evolucionadas no puede dar una importante ventaja. Sobre el papel es una habilidad que podría igualar fuerzas con jugadores novatos, sin embargo el hecho de poder utilizar cartas evolucionadas elimina esa posibilidad de igualar niveles en jugadores veteranos y noveles. Interesante condición de batalla que, por la estructura de mis mazos, cuando aparece me proporciona una buena ventaja sobre mis rivales.
How do you try to take advantage of the presence of this week's skill as a battle condition in your day-to-day life in Splinterlands? Do you have a pre-determined strategy? Did you like my approach to the battle and its explanation? I'll read you in the comments section, and in a week's time, be sure to check back for a new challenge - see you on the battlefield!
Y tú, ¿cómo intentas aprovechar la presencia la habilidad de esta semana como condición de batalla en tú día a día en Splinterlands? ¿tienes alguna estrategía predeteminada? ¿te ha gustado mi manera de enfocar la batalla y su explicación? Te leo en la sección de comentarios y, dentro de una semana, no dejes de leerme en un nuevo reto. ¡Nos vemos en el campo de batalla!

¿Quieres unirte al Clan Fallen Angels? Clica aquí

All the images in this article are credited to splinterlands.com. Cover image made in canva.com
Divider credited to @kyo-gaming. You can find more dividers from kyo here.
Don't have an account in the game. Join us and conquer splinterlands with my referral link.
---
---