Discovering Abilities V: Heal [EN - ES]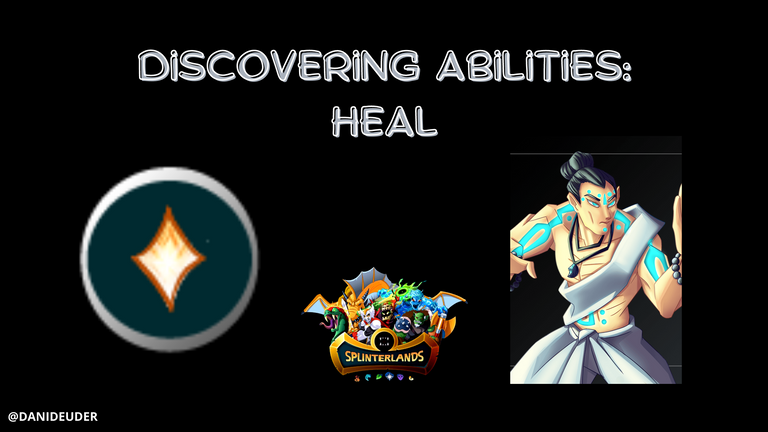 This week we continue to look at different abilities from the Splinterlands universe. In this fifth edition of the series we are going to talk about the Heal skill. A skill that must be differentiated from Tank Heal. Both are healing abilities with the difference being the target that receives the healing. We begin this week's analysis.
Esta semana seguimos analizando diferentes habilidades del universo Splinterlands. En esta quinta edición de la serie vamos hablar de la habilidad Heal. Una habilidad que hay que diferenciar de Tank Heal. Ambas son habilidades de curación con la diferencia del objetivo que recibe la sanación. Comenzamos el análisis de esta semana.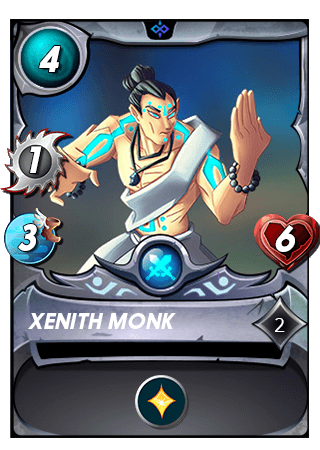 Xenith Monk is one of those cards that has the Heal ability. It's true that he gets it on his second level. This ability heals a portion of the life lost to the card that has this ability. It differs from Tank Heal in that it heals the card that is at the top of our lineup when its turn comes around. They are abilities with the same effect but with a small differential nuance on the card that receives the bonus of this ability.
Xenith Monk es una de esas cartas que cuenta con la habilidad Heal. Si bien es cierto que la obtiene en su segundo nivel. Esta habilidad cura una parte de la vida perdida a la carta que posee esta habilidad. Se diferencia de Tank Heal en que ésta da curación a la carta que se encuentra en la primera posición de nuestra alineación cuando llega su turno de actuación. Son habilidades con el mismo efecto pero con un pequeño matiz diferencial sobre la carta que recibe el bonus de esta habilidad.
This is a fairly common skill. At level 1, cards like Cerberus, Sea Monster, Water Elemental, Kron the Undying, Haunted Spirit, Sacred Unicorn, Hydra, and Cornealus have it. Also, within the Gladius edition, Quora Towershead, arguably the best Gladius card, also has this ability. At level 2 it is gained by Xenith Monk, who will be the protagonist chosen to analyse this ability in this week's article.
Es una habilidad bastante común. A nivel 1 la tienen cartas como Cerberus, Sea Monster, Water Elemental, Kron the Undying, Haunted Spirit, Sacred Unicorn, Hydra y Cornealus. Además, dentro de la edición Gladius, Quora Towershead, posiblemente la mejor carta Gladius, también cuenta con esta habilidad. A nivel 2 la gana Xenith Monk que será el protagonista elegido para analizar esta habilidad en el artículo de esta semana.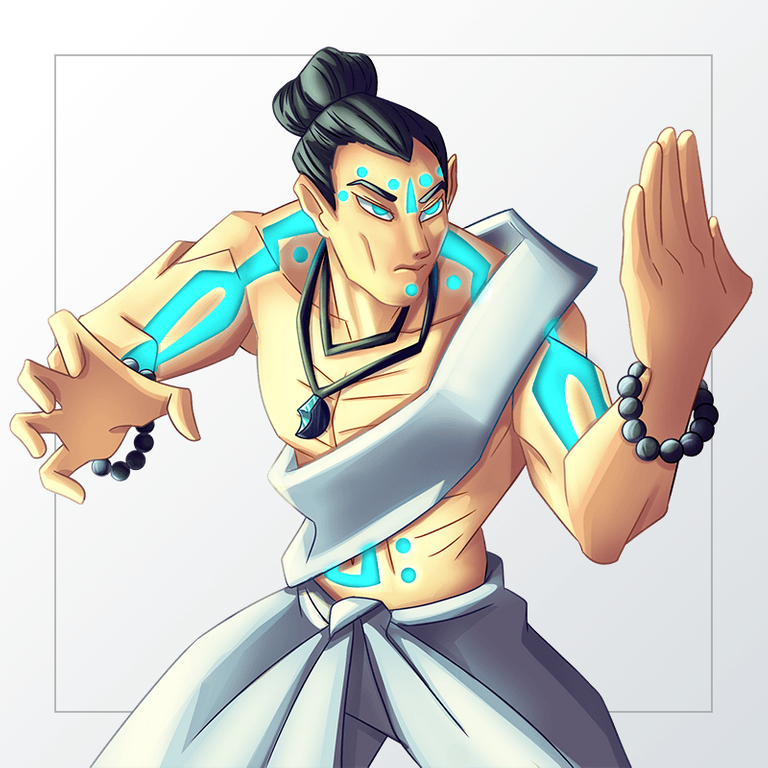 This is a very interesting skill, but it is necessary to select in which context and situation it can be useful. On cards with a high life level it is less complicated to select the battle in which to introduce this variable into our line-up. On the other hand, in cards with low health, such as Xenith Monk, we must carefully select the opponent where it can be useful. They should be battles with little mana and where the opponent doesn't have much attack power, or floods their line-up with cards that attack our second line. We want the Heal ability to activate, and to do that, the card with the Heal ability must not die at the drop of a hat.
Esta es una habilidad muy interesante pero que hay que seleccionar en qué contexto y situaciones nos puede servir de utilidad. En cartas con alto nivel de vida es menos complicado seleccionar la batalla en la que introducir esta variable en nuestra alineación. En cambio, en cartas con poca vida, como es el caso de Xenith Monk, debemos seleccionar cuidadosamente el rival dónde nos puede rendir en condiciones. Deben ser batallas con poco maná y donde el rival no tenga mucho poder de ataque, o bien, inunde su alineación con cartas que ataquen a nuestra segunda línea. Queremos que la habilidad Heal se active y, para ello, la carta que tenga esa habilidad no debe morir a las primeras de cambio.


In this example battle we find the second option where Xenith Monk can be useful. Looking at my opponent,
@firnfke
, I expect him to play his usual fire deck in 28 mana conditions.
I have to assess if he has the ability to destroy Xenith Monk in the first round.
He usually tanks Living Lava as a tank and Radiated Brute as a second. That's five points of damage. Xenith Monk's six health plus Kelya Frendul's shield should be enough for the ability to kick in and be useful. With four points of mana, I'm going to get a tank that's going to hold up and let my second line work calmly.
En esta batalla de ejemplo encontramos la segunda opción en la que Xenith Monk puede sernos de utilidad. Analizando a mi rival, @firnfke, espero que en unas condiciones de 28 puntos de maná me juegue su habitual mazo de fuego. Tengo que valorar si tiene capacidad para destruir a Xenith Monk en la primera ronda. Suele utilizar de tanque a Living Lava y de segundo a Radiated Brute. Eso suponen cinco puntos de daño. Los seis puntos de vida de Xenith Monk más el escudo que aporta Kelya Frendul deben ser suficientes para que la habilidad se active y sea de utilidad. Voy a conseguir con cuatro puntos de maná un tanque que va a resistir y va a dejar trabajar con tranquilidad a mi segunda línea.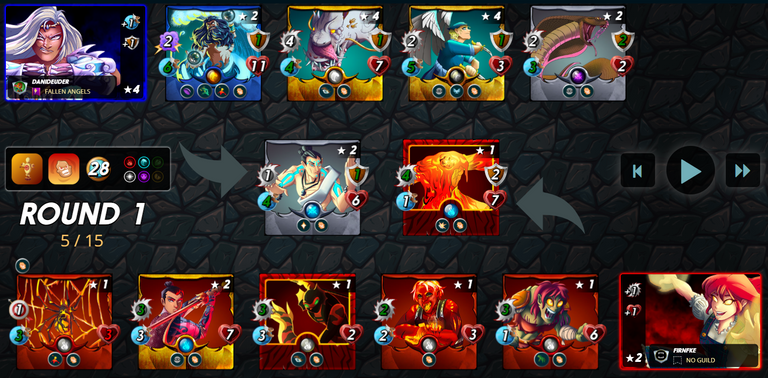 The shield and the speed provided by Kelya Frendul were decisive. Xenith Monk performed above expectations and was able to hold on until the fourth round. He activated his ability three times and the speed difference with Living Lava caused two misses on Living Lava's attacks. Four rounds were more than enough for Djinn Oshannus and Deeplurker to enjoy destroying the enemy with the protection of a Xenith Monk that healed and dodged the opponent's attacks.
El escudo y la velocidad que aporta Kelya Frendul fueron determinantes. Xenith Monk rindió por encima de lo esperado y pudo aguantar hasta la cuarta ronda. Activó su habilidad en tres ocasiones y la diferencia de velocidad con Living Lava provocó dos misses en los ataques de éste. Cuatro rondas que fueron más que suficientes para que Djinn Oshannus y Deeplurker disfrutaran destrozando al enemigo con la protección de un Xenith Monk que sanaba y esquivaba los ataques rivales.


Heal is one of those abilities that can give a superb result and make a seemingly ordinary card much more valuable. The difference in Xenith Monk from level 1 to level 2, where wins Heal, is magnificent. In the example battle, Xenith Monk would have held up in the first round thanks to the shield provided by Kelya but would have been eliminated in the first attack of the second round. With Heal he held on until round four and by the time he was eliminated, his work had already decided the battle in my favour. A single ability completely changed the performance of a rare and very cheap card and was decisive in the outcome of the battle. It's clear that Heal is a really useful ability.
Heal es una de esas habilidades que pueden dar un resultado magnífico y dar mucho más valor a una carta que, aparentemente, es del montón. La diferencia de Xenith Monk del nivel 1 al 2, donde gana Heal, es magnífica. En la batalla de ejemplo, Xenith Monk habría aguantado la primera ronda gracias al escudo aportado por Kelya pero habría sido eliminado en el primera ataque de la segunda ronda. Con Heal aguantó hasta la ronda cuatro y, cuando fue eliminado, su labor ya había decidido la batalla a mi favor. Una sola habilidad cambió por completo el rendimiento de una carta rara y muy barata y fue determinante en el desenlace de la batalla. Queda claro que Heal es una habilidad realmente útil.

If you want take a look at all my reviews here are the links:
I.- Cripple
II.- Trample
III.- Double Strike
IV.- Magic Reflect

All the images in this article are credited to splinterlands.com. Cover image made in canva.com and headers with cooltext.com
Divider credited to @kyo-gaming. You can find more dividers from kyo here.
Don't have an account in the game. Join us and conquer splinterlands with my referral link.
---
---