Discovering Abilities VI: Void Armor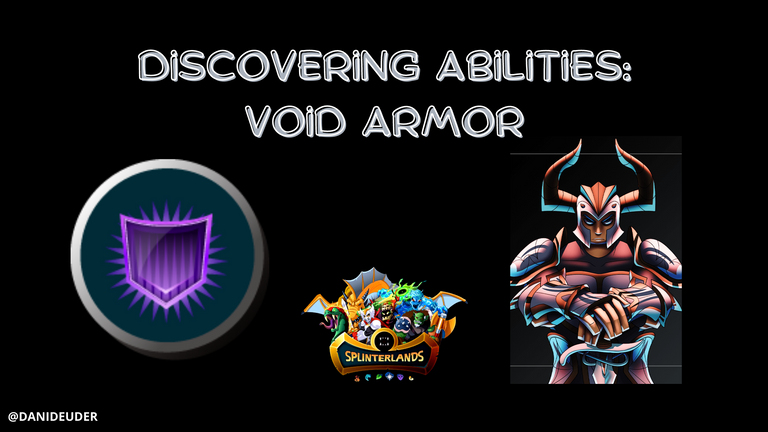 New edition of the "Discovering Abilities" series. This sixth issue looks at the Void Armor ability and, like last week, we do so with a card from the neutral splint. Last week we talked about the Heal ability with Xenith Monk, today we look at Void Armor with a legendary card like Legionnaire Alvar. This is the analysis for this week's Social Media Challenge.
Nueva edición de la serie "Discovering Abilities". Esta sexta entrega analiza la habilidad Void Armor y, como la semana pasada, lo hacemos con una carta del splint neutral. Si la semana pasada hablamos de la habilidad Heal con Xenith Monk hoy analizamos Void Armor con una carta legendaria como es Legionnaire Alvar. Este es el análisis para el Social Media Challenge de esta semana.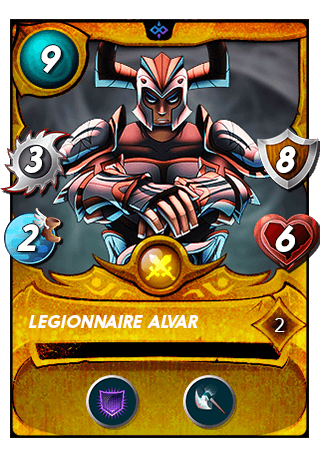 Only 11 cards in Splinterlands have the Void Armor ability. And six of them are legendary. This is an unusual ability. One of the legendary cards that has it at level 1 is Legionnaire Alvar. A neutral card that excels as a tank against Magic-heavy teams. For this analysis I will use the gold version at level 2, although it will be limited to its characteristics at level 1 by the level of the summoner I use in battle.
Apenas 11 cartas en Splinterlands cuentan con la habilidad Void Armor. Y seis de ellas son legendarias. Estamos ante una habilidad poco habitual. Una de las cartas legendarias que la tiene a nivel 1 es Legionnaire Alvar. Una carta neutral que destaca como tanque ante equipos con predominio del ataque mágico. Para este análisis usaré la versión dorada a nivel 2, aunque se verá limitada a sus características en su nivel 1 por el nivel del invocador que utilizo en batalla.
The feature of the Void Armor ability is that it causes magic attacks that target the card with this ability active to damage its armor first instead of ignoring it as they normally do. This is a very effective way to minimise the magic power of our opponents. Cards with this ability at level 1 include Venari Heatsmith, Frost Lion, Chain Spiner among the common cards and Oaken Behemoth Djinn Muirat among the legendary cards. In addition, the legendary summoner Grandmaster Rathe has been added in the last few days, bringing, among others, this ability to the entire line-up.
La característica de la habilidad Void Armor es que provoca que los ataques mágicos que se dirijan sobre la carta con esta habilidad activa dañen primero su armadura en vez de ignorarla como hacen habitualmente. Es una forma muy efectiva de minimizar el poder mágico de nuestros rivales. Entre las cartas que poseen esta habilidad en su nivel 1 encontramos a Venari Heatsmith, Frost Lion, Chain Spiner dentro de las cartas comunes y a Oaken Behemoth Djinn Muirat entre las legendarias. Además, en los últimos días se ha añadido el invocador legendario Grandmaster Rathe que aporta, entre otras, esta habilidad a toda la alineación.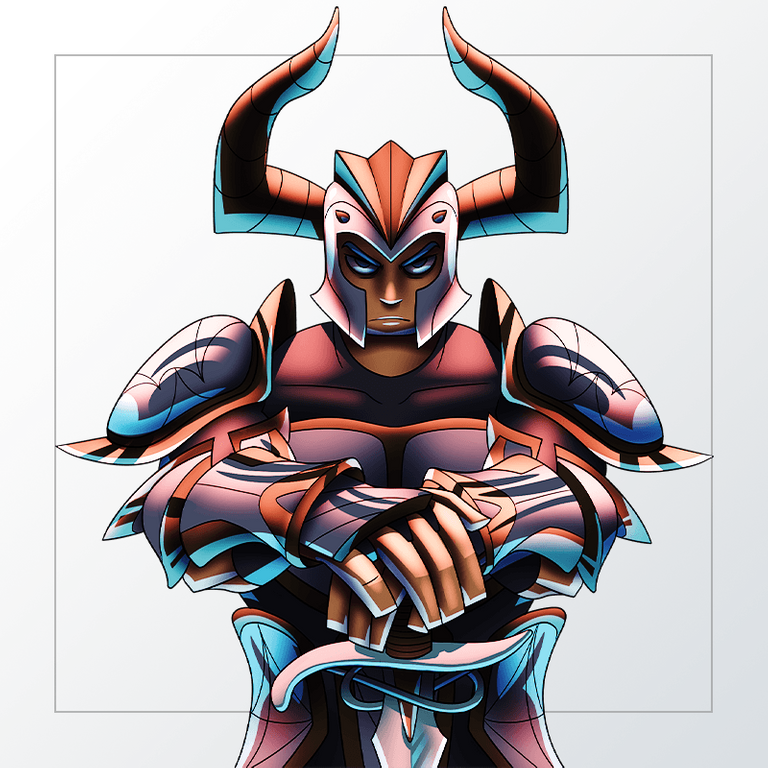 As I said, the essential function of Void Armor is to minimise, or rather delay, the magic damage that can be dealt by opposing cards. So it's really effective against lineups with Obsidian or Alric as summoners. With the example of Legionnaire Alvar, having this ability means that it takes 14 damage to remove him, not counting any healing or armour restoration he may receive. And 14 points of damage is not an insignificant number.
Como ya he dicho, la función esencial de Void Armor es minimizar, o retrasar más bien, el daño mágico que nos puedan hacer las cartas rivales. Por lo que es realmente efectiva para hacer frente a alineaciones con Obsidian o Alric como invocadores. Con el ejemplo de Legionnaire Alvar tener esta habilidad provoca que sean necesarios 14 puntos de daño para eliminarlo, eso sin contar las posibles sanaciones o restauraciones de armadura que pueda recibir. Y 14 puntos de daño son una cifra nada despreciable.


The example battle against
@ganjr1988
is a special one. With a very low mana limit we both play our options on a single card. I with Legionnaire Alvar and he with Unicorn Mustang which has a similar ability, although
in his case it reduces magic damage
and doesn't divert it to the shield like Void Armor does. We both have Mylor Crowling as a summoner and, in these conditions, Legionnaire is going to be decisive.
La batalla de ejemplo contra @ganjr1988 es una especial. Con un límite de maná muy bajo nos jugamos ambos nuestras opciones a una sola carta. Yo con Legionnaire Alvar y el con Unicorn Mustang que cuenta con una habilidad similar aunque en su caso reduce el daño mágico no lo desvía al escudo como es el caso de Void Armor. Ambos contamos con Mylor Crowling como invocador y, en estas condiciones, Legionnaire va a ser determinante.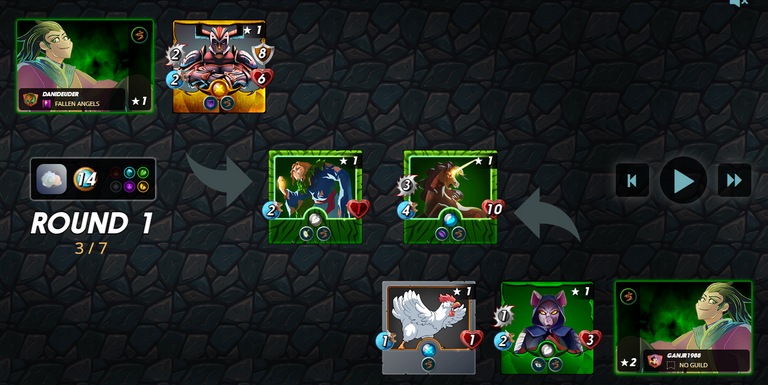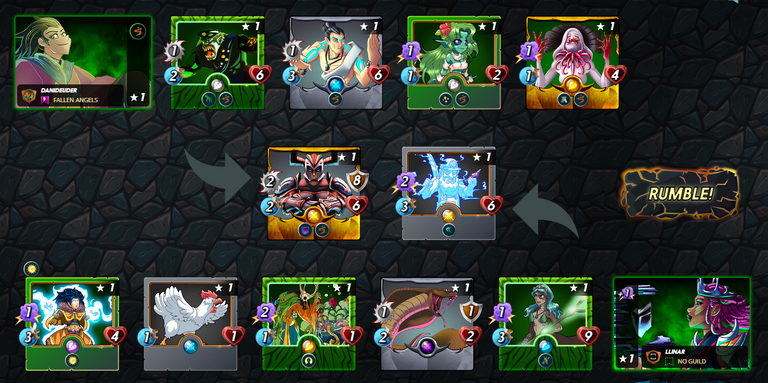 This time two example battles. The first shows Legionnaire Alvar's ability as a tank. However, as the opponent does not use magic attacks, the ability of the Void Armor skill is not visible. In the second one, the opponent abuses the magic attack and, although he ended up getting defeated, it is a good example of what the skill we are analysing this week is capable of. My line-up is not the right one to accompany Alvar in these conditions and, as a result, I end up being defeated.
Esta vez dos batallas de ejemplo. En la primera se aprecia la capacidad de Legionnaire Alvar como tanque. Aunque como el rival no utiliza ataque mágico no se ve la capacidad de la habilidad Void Armor. En la segunda el rival abusa del ataque mágico y, aunque termino cayendo derrotado, es un buen ejemplo de lo que es capaz la habilidad que analizamos esta semana. Mi alineación no es la adecuada para acompañar a Alvar en estas condiciones y, por ello, acabo siendo derrotado.


Void Armor is a rare and interesting ability. Its most effective use is against magic-dominant opponents. Battles where deflecting magic damage to the shield can buy us essential time for our second line to do enough damage to swing the battle in our favour. It is not a decisive skill on its own and must be accompanied by other factors such as Mylor's thorns or a good second line that does a lot of damage to take advantage of the time that the shield that receives the first magic attacks gives us.
Void Armor es una habilidad escasa e interesante. Su uso más efectivo es ante rivales con predominio del ataque mágico. Batallas en las que desviar el daño mágico al escudo puede darnos un tiempo esencial para que nuestra segunda línea haga el daño suficiente para decantar la batalla a nuestro favor. No es una habilidad determinante por si solo y hay que acompañarla de otros factores como las espinas de Mylor o una buena segunda línea que haga mucho daño para aprovechar el tiempo que nos regala el escudo que recibe los primeros ataques mágicos.

If you want take a look at all my reviews here are the links:
I.- Cripple
II.- Trample
III.- Double Strike
IV.- Magic Reflect
V.- Heal

All the images in this article are credited to splinterlands.com. Cover image made in canva.com and headers with cooltext.com
Divider credited to @kyo-gaming. You can find more dividers from kyo here.
Don't have an account in the game. Join us and conquer splinterlands with my referral link.
---
---