Discovering Abilities XXIII: Life Leech [EN - ESP]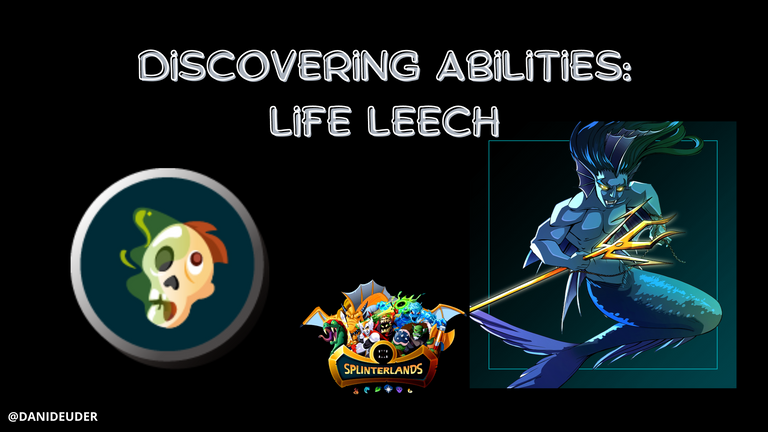 This week we continue to analyse skills using the water mallet to do so. Last week we took a closer look at Inspire with Demented Shark. This week it's Life Leech's turn and we'll be using Merdhampir, a low-cost summoning and ranged attack card that allows me to win multiple battles thanks to the ability we're looking at this week. Let's see how this card and ability plays and performs in a water deck. Let's get started.
Esta semana seguimos analizando habilidades utilizando el mazo de agua para ello. La semana pasada analizamos en detalle Inspire con Demented Shark. Esta semana el turno es para Life Leech y utilizaremos para ello a Merdhampir, una carta de bajo coste de invocación y ataque a distancia que me permite ganar múltiples batallas gracias a la habilidad que analizamos esta semana. Vamos a ver qué jugabilidad y rendimiento tienen esta carta y habilidad en un mazo de agua. Comenzamos.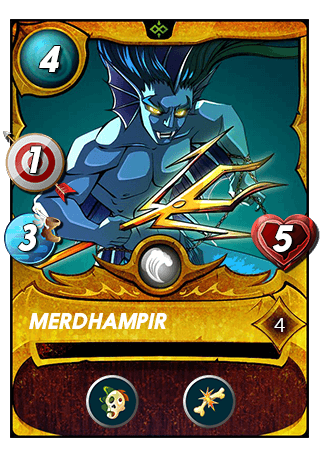 As every week, we start the analysis with the contribution of the analysed skill. In the case of Life Leech, its contribution is to increase the health of the card that has this ability every time it damages the health of an opponent in a proportional part to the damage done. An important detail is in the detail of "each time it damages an enemy's health". That is, if the attack only damages the shield it will not add health to the attacker, it has to damage the target's health to do so.
Como todas las semanas, comenzamos el análisis con el aporte que suma la habilidad analizada. En el caso de Life Leech su aporte es el de aumentar la salud de la carta que tiene esta habilidad cada que daña la salud de un rival en una parte proporcional al daño realizado. Un detalle importante está en el detalle de "cada vez que dañe la salud del enemigo". Es decir, si el ataque daña solo el escudo no sumará vida al atacante, para ello tiene que dañar la salud del objetivo.
Up to 12 cards have the Life Leech ability at some point in their evolution. Perhaps the most famous card with this ability is Bila the Radiant, a legendary card from the life deck I once owned and sold in the last deck reshuffle I did. In the water deck only Merdhampir at level 1 and the legendary Runomancer Kye, also at her starting level, have Life Leech. Obviously, the five-card death deck is the ultimate deck for Life Leech.
Hasta un total de 12 cartas cuentan con la habilidad Life Leech en algún momento de su evolución. Quizá la carta más famosa que cuenta con esta habilidad es Bila the Radiant. Una carta legendaria del mazo de vida que tuve en su momento y que vendí en la última reestructuración de mazos que hice. En el mazo de agua solo Merdhampir a nivel 1 y la legendaria Runomancer Kye, también en su nivel inicial, cuentan con Life Leech. Evidentemente, el mazo de muerte con cinco cartas es el mazo por excelencia para Life Leech.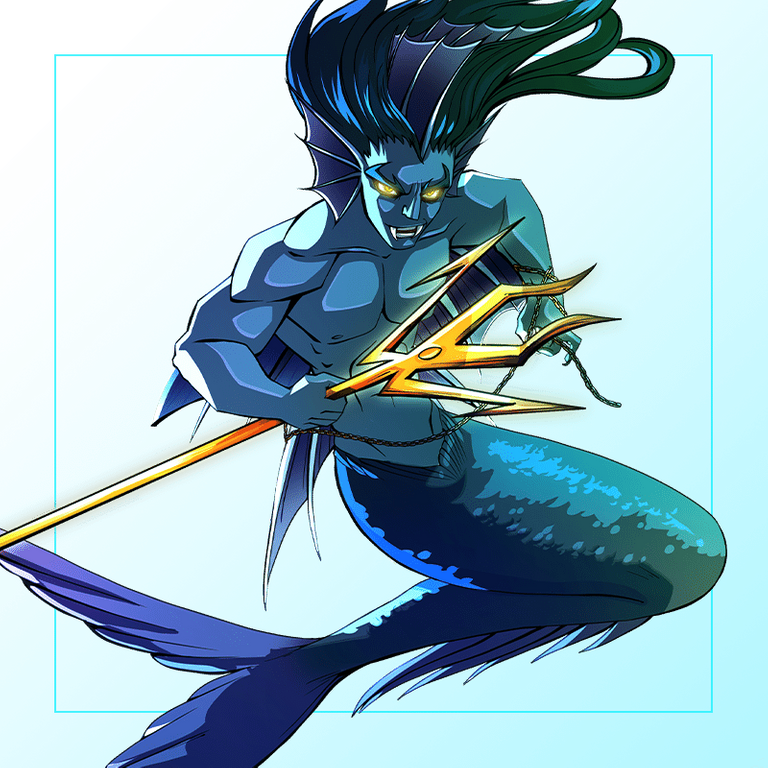 Merdhampir is a common card in the water deck with a ranged attack. Already at its first level it provides Life Leech. It's an ability that fits perfectly in a deck with very powerful defensive cards like Diemonshark. This deck allows, as you will see in the example battle, Merdhampir to deal damage for several turns, increasing his health each round and becoming an increasingly powerful card as the game progresses.
Merdhampir es una carta común del mazo de agua con ataque a distancia. Ya en su primer nivel aporta Life Leech. Es una habilidad que encaja a la perfección en un mazo con cartas muy poderosas en el aspecto defensivo como Diemonshark. Este mazo permite, como verás en la batalla de ejemplo, que Merdhampir pueda hacer daño durante varios turnos aumentando así su salud cada ronda y siendo, a medida que avanza la partida, una carta cada vez más poderosa.


The example battle is a water duel. I'm up against a player like
@dkfwu39214242
who will be playing a water deck quite different from mine. Frozen Soldire in the tank slot. Followed by Djin Oshannus, Deeplurker, Venari Wavesmith, Axemaster and Naga Windmaster in last position.
In my deck that last position is reserved for Merdhampir
so that the opponent's attacks don't reach him and he can increase his life with each round he hurts the opponent.
La batalla de ejemplo es un duelo acuático. Me mido a un jugador como @dkfwu39214242 que formará con un mazo de agua bastante diferente al mío. Frozen Soldire en el puesto de tanque. Seguido de Djin Oshannus, Deeplurker, Venari Wavesmith, Axemaster y Naga Windmaster en última posición. En mi mazo esa última posición queda reservada para Merdhampir buscando que los ataques rivales no lleguen hasta él y pueda ir aumentando su vida con cada ronda en la que haga daño al rival.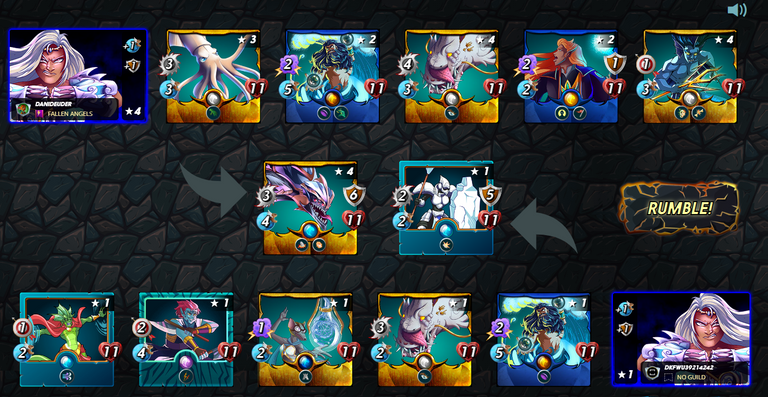 With 11 health points Merdhampir started the game due to the battle rule and with 16 health points he finished the game after damaging up to five times the health of an opponent and not having been attacked in any round of this battle that went in my favour. Ideal battle to appreciate the power of Merdhampir and Life Leech in a battle in which he was very protected with good cards ahead of him and no opponent who could attack and reduce his damage.
Con 11 puntos de vida comenzaba la partida Merdhampir debido a la regla de batalla y con 16 puntos de vida acabó después de dañar hasta en cinco ocasiones la salud de algún rival y no haber sido atacado en ninguna ronda de esta batalla que se decantó a mi favor. Batalla ideal para apreciar el poder de Merdhampir y de Life Leech en una batalla en la que estaba muy protegido con buenas cartas por delante de él y ningún rival que pudiera atacar y reducir su daño.


Life Leech is an ideal card for battles that are presumed to be of long duration. The longer a battle lasts, the more our Life Leech card's health will increase and bring us a little closer to the final victory. Its playability means that in low mana or fast-paced battles it doesn't shine as brightly, but it could still be used. It's a powerful ability that I give a score of 6.5/10 and, as I mentioned at the beginning of this review, I use it quite a lot in my water deck with Merdhampir.
Life Leech es una carta ideal para batallas que se presuma que puedan ser de larga duración. Cuanto más dura una batalla más crecerá la salud de nuestra carta con Life Leech y nos acercará un poco más a la victoria final. Su jugabilidad hace que en batallas de poco maná o rápidas no luzca tanto aunque, aún así, se podría llegar a utilizar. Habilidad poderosa a la que le doy una nota de 6,5/10 y que, como ya avanzaba al inicio de este análisis, yo uso bastante en el mazo de agua con Merdhampir.

If you want take a look at all my reviews here are the links:
I.- Cripple
II.- Trample
III.- Double Strike
IV.- Magic Reflect
V.- Heal
VI.- Void Armor
VII.- Bloodlust
VIII.- Resurrect
IX.- Reach
X.- Opportunity
XI.- Silence
XII.- Affliction
XIII.- Amplify
XIV: Blast
XV: Camouflage
XVI: Close Range
XVII: Demoralize
XVIII: Divine Shield
XIX: Dodge
XX: Halving
XXI: Headwinds
XXII: Inspire

All the images in this article are credited to splinterlands.com. Cover image made in canva.com and headers with cooltext.com
Divider credited to @kyo-gaming. You can find more dividers from kyo here.
Don't have an account in the game. Join us and conquer splinterlands with my referral link.
---
---