Discovering Abilities XXIV: Phase [EN - ESP]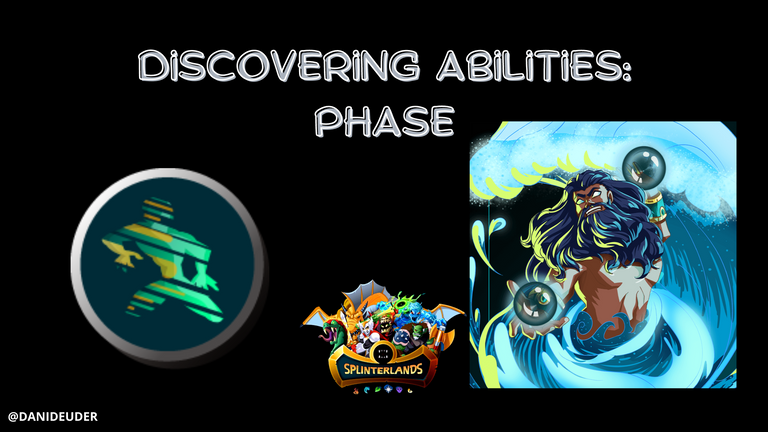 The Discovering Abilities series continues to progress. This week we reach our 24th instalment. For almost six months we have been looking at the different abilities in the Splinterlands universe. Today it's the turn of the Phase ability, and to do so, we're going to use one of the legendary cards with this ability to give us a significant advantage on the battlefield. As usual, we will analyse this ability with the water deck. Let's get started.
Sigue avanzando la serie Discovering Abilities. Esta semana llegamos a la entrega número 24. Casi seis meses llevamos analizando las diferentes habilidades del universo Splinterlands. Hoy llega el turno para la habilidad Phase. Y, para ello, vamos a utilizar a una de las cartas legendarias que cuentan con esta habilidad que nos dará una importante ventaja en el campo de batalla. Como viene siendo habitual, analizamos esta habilidad con el mazo de agua. Comenzamos.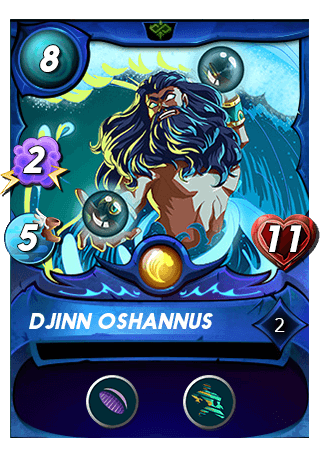 What does the Phase skill bring to us? The possibility that magic attacks can miss In other words, we all know that there is a certain probability, mainly depending on the speed of the cards, that melee attacks and ranged attacks miss their target and do no damage. Well, the Phase ability causes magic attacks to be affected in the same proportion as the other two types and can miss and do no damage. An important skill if we are facing teams with magic attack tactics against which the Phase skill and Djinn Oshannus' speed can cause a lot of misses.
¿Qué nos aporta la habilidad Phase? La posibilidad de que los ataques mágicos puedan fallar. Es decir, todos sabemos que hay una cierta probabilidad, en función principalmente de la velocidad de las cartas, de que los ataques cuerpo a cuerpo y los ataques a distancia fallen en su objetivo y no causen daño. Pues bien, la habilidad Phase provoca que los ataques mágicos se vean afectados en la misma proporción que los otros dos tipos y puedan fallar y no causar daño. Una habilidad importante si nos enfrentamos a equipos con táctica de ataque mágico ante los cuales la habilidad Phase y la velocidad de Djinn Oshannus pueden provocar muchos fallos.
Up to 10 cards, only one Gladius edition, have this ability at some point in their evolution. This time
the disadvantaged deck is the nature deck because, as of today, none of its cards have the Phase ability
To compensate for this absence we have the possibility of using one of the three neutral cards that do have it. Chaos Agent at level 6 and the legendary Almo Cambio and Coeurl Lurker, both at level 2. The latter is one of the two Riftwatchers edition cards that provide Phase, along with the epic of the dragon deck, Sthispa.
Translated with www.DeepL.com/Translator (free version)
Hasta 10 cartas, solo una edición Gladius, cuentan con esta habilidad en algún momento de su evolución. En esta ocasión el mazo perjudicado es el de naturaleza pues, a día de hoy, ninguna de sus cartas cuenta con la habilidad Phase. Para compensar esta ausencia tenemos la posibilidad de utilizar alguna de las tres cartas neutrales que si la tienen. Chaos Agent en su nivel 6 y las legendarias Almo Cambio y Coeurl Lurker ambas a nivel 2. Siendo esta última una de las dos cartas edición Riftwatchers que aportan Phase junto a la épica del mazo dragón, Sthispa.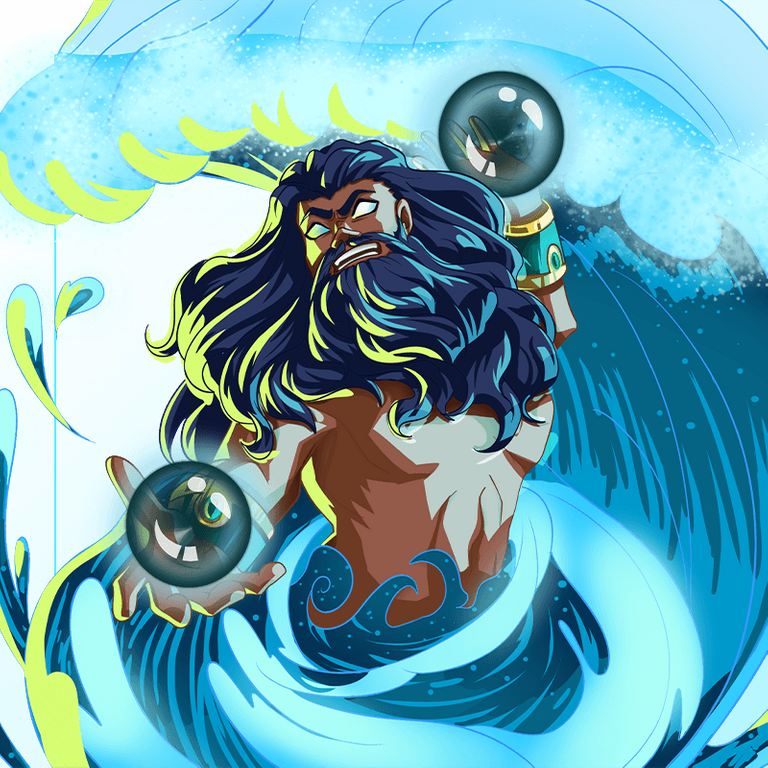 In the water deck only Djinn Oshannus, legendary Chaos Legion and Reward edition, has the Phase ability. He also adds it at level 2, so it won't be until the Silver League that we can take advantage of its playability. And this ability with the five points of speed of Djinn Oshannus plus the point that Kelya Frendul contributes can make our water legendary faster than Flash and dodge an infinite number of rival attacks. This is a decisive advantage in close matches.
En el mazo de agua solo Djinn Oshannus, legendaria edición Chaos Legion y Reward, cuenta con la habilidad Phase. Además la añade en su nivel 2 por lo que no será hasta la liga Plata en la que podamos aprovecharnos de su jugabilidad. Y es que esta habilidad con los cinco puntos de velocidad de Djinn Oshannus más el punto que aporta Kelya Frendul puede hacer que nuestra legendaria de agua sea más rápido que Flash y esquive infinidad de ataques rivales. Es una ventaja determinante en combates igualados.


I'm facing
@gaming-for-fun
, I love this name and philosophy of the game, and it's
an ideal match to test Djinn Oshannus' abilities and to test, in particular, the Phase ability.
My opponent is going to form a death deck with a lot of cards with the Fly ability to minimise the damage of the earthquake battle condition that we have in this match. It's a very risky strategy that, as we'll see, will have no chance against my best deck. Victory in the Silver II league.
Me enfrento a @gaming-for-fun, me encanta este nombre y filosofia de juego, y es un combate ideal para probar las habilidades de Djinn Oshannus y para probar, en concreto, la habilidad Phase. Mi rival va a formar con un mazo de muerte con infinidad de cartas con la habilidad Fly para minimizar el daño de la condición de batalla terremoto que tenemos en este combate. Sin duda, una estrategia muy arriesgada que, como veremos, no tendrá ninguna opción ante mi mejor mazo. Victoria en la liga Plata II.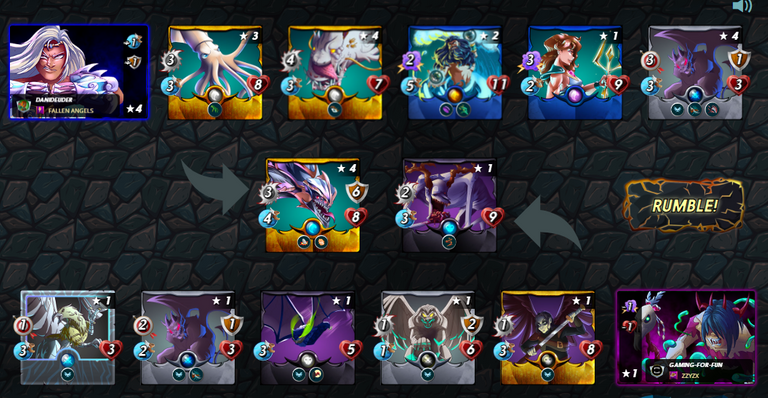 they didn't have enough power to hurt my tank or the cards in the second line
, so my attacks were eliminating opponents round by round without suffering too much from the earthquakes at the end of each round. A very easy victory against an opponent who got his strategy wrong.
Victoria sin mayores problemas. Mi rival apostó por una alineación plagada de cartas voladoras pero que no tenían el poder suficiente para hacer daño ni a mi tanque ni a las cartas de la segunda línea. Así las cosas, mis ataques iban eliminando rivales ronda a ronda sin sufrir demasiado por los terremotos de cada final de ronda. Victoria muy fácil ante un rival que equivocó su estrategia.


One of the strengths of my water deck is the presence of Djinn Oshannus and the symbiosis he makes with Kelya Frendul Water Djinn is a very fast card that also gains an extra point of speed with Kelya as a summoner. If it also has Phase, it means that all types of attacks the opponent can make can fail and not damage Djinn Oshannus. It's an explosive mix that has helped me win countless times. Outstanding ability and really useful against decks with a preference for magic attacks.
Uno de los puntos fuertes de mi mazo de agua es la presencia de Djinn Oshannus y la simbiosis que realiza con Kelya Frendul. El Djinn de agua es una carta rapidísima que, además, gana un punto más de velocidad con Kelya de invocador. Si, además, cuenta con Phase provoca que todos los tipos de ataque que pueda hacer el rival puedan sufrir fallos y no dañar a Djinn Oshannus. Es una mezcla explosiva que me ha facilitado infinidad de victorias. Habilidad sobresaliente y realmente útil ante mazos con preferencia de ataque mágico.

If you want take a look at all my reviews here are the links:
I.- Cripple
II.- Trample
III.- Double Strike
IV.- Magic Reflect
V.- Heal
VI.- Void Armor
VII.- Bloodlust
VIII.- Resurrect
IX.- Reach
X.- Opportunity
XI.- Silence
XII.- Affliction
XIII.- Amplify
XIV: Blast
XV: Camouflage
XVI: Close Range
XVII: Demoralize
XVIII: Divine Shield
XIX: Dodge
XX: Halving
XXI: Headwinds
XXII: Inspire
XXIII: Life Leech

All the images in this article are credited to splinterlands.com. Cover image made in canva.com and headers with cooltext.com
Divider credited to @kyo-gaming. You can find more dividers from kyo here.
Don't have an account in the game. Join us and conquer splinterlands with my referral link.
---
---