Share your battle: Molten Ash Golem edition [EN - ESP]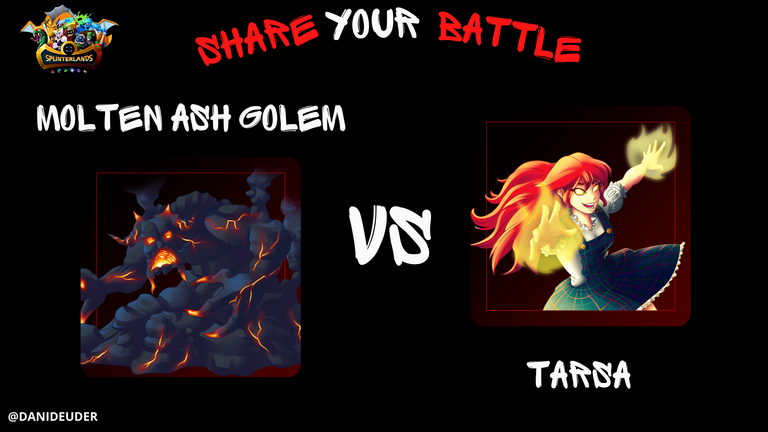 Tough, very tough is this week's battle challenge. The fire deck is by far the most neglected deck in the Splinterlands universe. Needless to say, doing a battle challenge with this deck on the first day of the new season has been hell. However, I've taken advantage of the Molten Ash Golem ability I want to showcase, so I've had no choice but to analyse a loss This week's Protagonist is a golem out of the smouldering ashes, so without further ado, let's get on to his analysis. This is Molten Ash Golem.
Duro, muy duro es el reto de batalla de esta semana. Y es que el mazo de fuego es, de largo, el que tengo más abandonado del universo Splinterlands. Ni que decir tiene que realizar un reto de batalla con este mazo y en el primer día de la nueva temporada ha sido un auténtico infierno. Sin embargo, aprovechando la habilidad que quiero mostrar de Molten Ash Golem, no he tenido más remedio que analizar una derrota. El protegonista de esta semana es un golem salido de las más ardientes cenizas así que, sin entretenerme más, vamos con su análisis. Este es Molten Ash Golem.

MOLTEN ASH GOLEM
THE CARD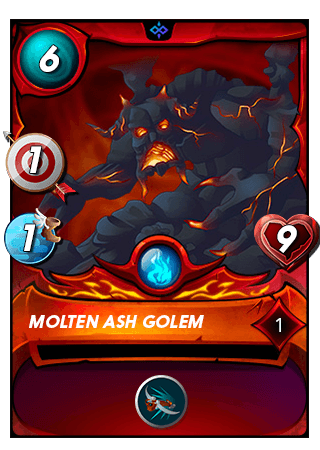 This week we look at a rare card from the fire deck. It has one point of magic attack, one point of speed, and an interesting nine points of life all in exchange for six points of summoning mana. It does not have a shield and is from the Chaos Legion edition.
Esta semana analizamos una carta rara perteneciente al mazo de fuego. Cuenta con un punto de ataque mágico, un punto de velocidad y una interesante vida de nueve puntos. Todo ello a cambio de seis puntos de maná de invocación. No cuenta con escudo y pertenece a la edición Chaos Legion.
In terms of special abilities Molten Ash Golem will bring a total of three abilities. At its starting level it already has Close Range, a very interesting ability for ranged cards, as it allows them to attack from the first position. At level 5 he gains Weaken which reduces the health of all enemies and at max level he adds Demoralise which reduces the melee attack of all enemies.
En cuanto a sus habilidades especiales Molten Ash Golem aportará un total de tres habilidades. En su nivel inicial ya tiene Close Range. Una habilidad muy interesante para las cartas con ataque a distancia pues hace que puedan atacar desde la primera posición. A nivel 5 gana Weaken que reduce la salud de todos los enemigos y en su máximo nivel suma Demoraliza que reduce el ataque cuerpo a cuerpo de todos los enemigos.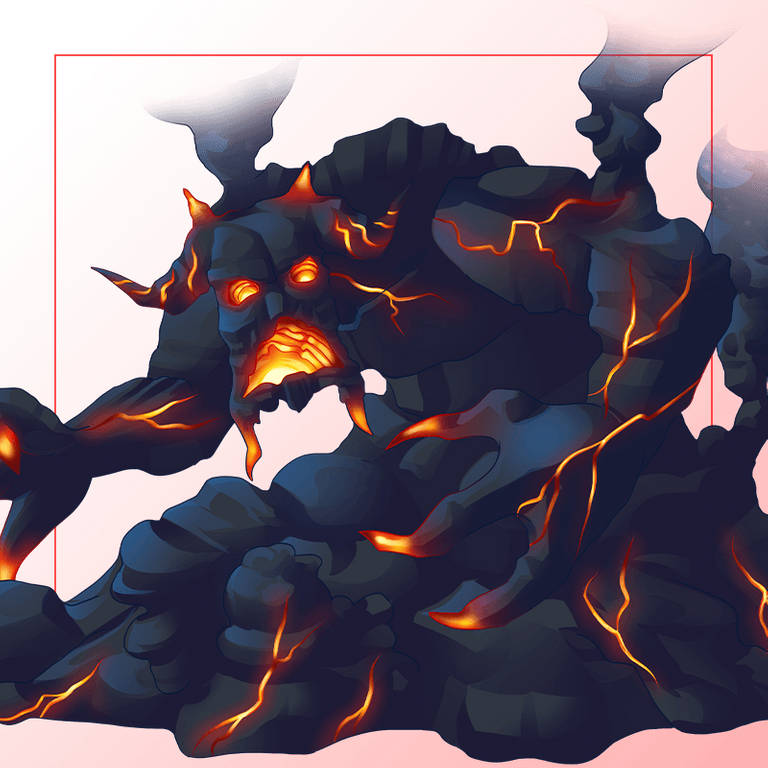 MOLTEN ASH GOLEM'S STATS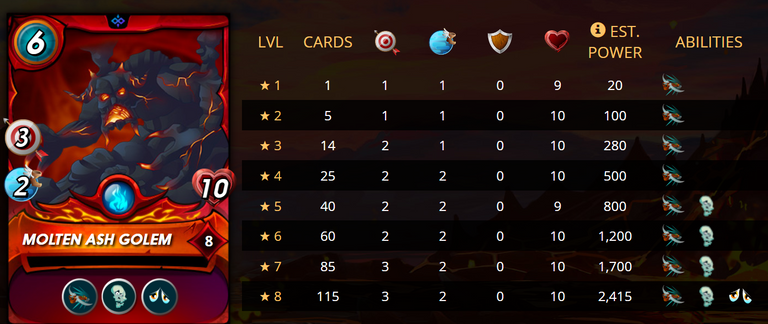 The evolution of Molten Ash Golem is peculiar. It's ranged attack goes from one point to three. Considering its Close Range ability, it's a pretty substantial improvement that makes the playability of this card slightly better. His speed barely improves from one point to two. It is a card that for the cost and abilities it has is too slow and will always attack in last position. The health also doesn't improve as it barely goes from nine to ten points. It has no shield at any time. The overall improvements of Molten Ash Golem are almost negligible and makes it a card with very little playability and determined to the battle condition of Reverse Speed.
La evolución de Molten Ash Golem es peculiar. En cuanto al ataque a distancia pasa de un punto a tres. Teniendo en cuenta su habilidad de Close Range es un mejora bastante sustancial y que hace que la jugabilidad de esta carta mejore ligeramente. Su velocidad apenas mejora pasando de un punto a dos. Es una carta que para el coste y habilidades que tiene es demasiado lenta y atacará siempre en última posición. La salud tampoco mejora pues apenas pasa de nueve a diez puntos. No tiene escudo en ningún momento. Las mejoras globales de Molten Ash Golem son casi inapreciables y hace que sea una carta con una jugabilidad muy escasa y determinada a la condición de batalla de Reverse Speed.
We currently have more than 92,000 Molten Ash Golem units in circulation. The price is low. It costs just $0.06 at level one and as for the rental price, it will cost us just $0.10 dec per day. This is the lowest rental market in the Splinterlands.
Ahora mismo tenemos en circulación más de 92.000 unidades de Molten Ash Golem. Su precio es bajo. Apenas cuesta 0,06 dólares a nivel uno y, en cuanto al precio del alquiler, apenas nos costará 0,10 dec por día. El mínimo del mercado de alquiler en Splinterlands.
| Name | Molten Ash Golem |
| --- | --- |
| Rarity | Raree |
| Splint | Fire |
| Mana Cost | 6 points |
| Abilities | Close Range at level 1, Weaken at level 5 and Demoralize at final level 8. |
| Market Price | 0.067 dollars and 0.10 dec/day for rent at level 1. |

THE BATTLE
As you know, the first game day of the new season is a savage war. In the example battle, I'm up against
@kryzler
who puts a fire deck on the battlefield led by Tarsa as a level 4 summoner.
In addition, he has two legendary cards and an epic card in his line-up.
As for me, in one of the decks I haven't developed, I have four rare cards and one common card in my line-up, which obviously can't cope with the power that my opponent puts on the battlefield. Unmitigated victory for my opponent.
Como bien sabes, el primer día de juego de la nueva temporada es una auténtica guerra salvaje. En la batalla de ejemplo me mido a

@kryzler

que pone en el campo de batalla un mazo de fuego liderado por Tarsa como invocadora a nivel 4.

Además, en su alineación presenta dos cartas legendarias y una épica.

Por mi parte, en uno de los mazos que no tengo desarrollados, tengo en alineación cuatro cartas raras y una común que, evidentemente, no podrán hacer frente al poder que pone mi rival en el campo de batalla. Victoria sin paliativos para mi contrincante.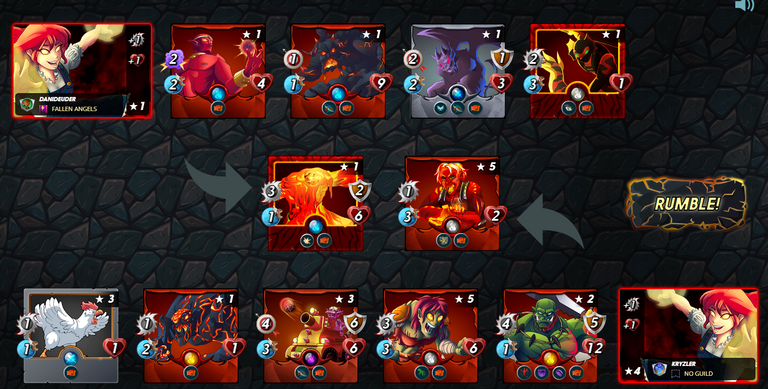 | Card | Explanation |
| --- | --- |
| Tarsa | The basic summoner of the fire deck. |
| Living Lava | One of the most used tanks in this deck with his ability to reduce the damage he takes with each opponent's attack. |
| Djinn Aprentice | Magic attack for the second position in my weak line-up. |
| Molten Ash Golem | The star. |
| Gargoya Devil | Also, like Molten Ash Golem, it has Close range to boost its ranged attack. |
| Serpentine Spy | A card that completes my line-up and thanks to his Opportunity ability will make attacks from the last position of my team. |
Defeat was absolutely inevitable. My opponent is far superior and won very easily. We were able to test, twice, the Close Range ability with Molten Ash Golem and then with Gargoya Devil An ability that, while interesting, is not powerful enough to give me a victory while being far inferior to my opponent.
Derrota absolutamente inevitable. Mi rival es muy superior y se hizo con la victoria de manera muy asequible. Hemos podido comprobar, por dos ocasiones, la habilidad Close Range con Molten Ash Golem y, después, con Gargoya Devil. Una habilidad que siendo interesante no es lo suficiente poderosa para darme una victoria siendo muy inferior a mi rival.

CONCLUSIONS
Molten Ash Golem is one of the weakest cards in the fire deck. As always, the irrefutable proof is its low market price. Also, if you look at your battles, you will rarely see this card on the opposing side, as a starter card it is part of our basic deck, but even so, it is one of the cards that is rarely used in developed decks. Its strong point is its special abilities and its low speed means that the most interesting playability of Molten Ash Golem is in those battles in which we find ourselves with the Reverse Speed rule. A very improvable card to which, after this analysis, I give it a rating of 3.5/10.
Molten Ash Golem es una de las cartas más débiles del mazo de fuego. Como siempre, una prueba irrefutable es su bajo precio en el mercado. Además, si te fijas en tus batallas, verás a esta carta en muy pocas ocasiones en el bando rival. Al ser una carta starter forma parte de nuestro mazo básico, pero aún así, es una de las cartas que se utilizan poco en mazos desarrollados. Su punto fuerte son sus habilidades especiales y su baja velocidad hace que la jugabilidad más interesante de Molten Ash Golem es en aquellas batallas en las que nos encontremos con la regla de Reverse Speed. Carta muy mejorable a la que, tras este análisis, le doy una calificación de 3,5/10.

¿Quieres unirte al Clan Fallen Angels? Clica aquí

All the images in this article are credited to splinterlands.com. Cover image made in canva.com
Divider credited to @kyo-gaming. You can find more dividers from kyo here.
Don't have an account in the game. Join us and conquer splinterlands with my referral link.
---
---