Survival of the fittest | My Entry To Create Your Zombie Challenge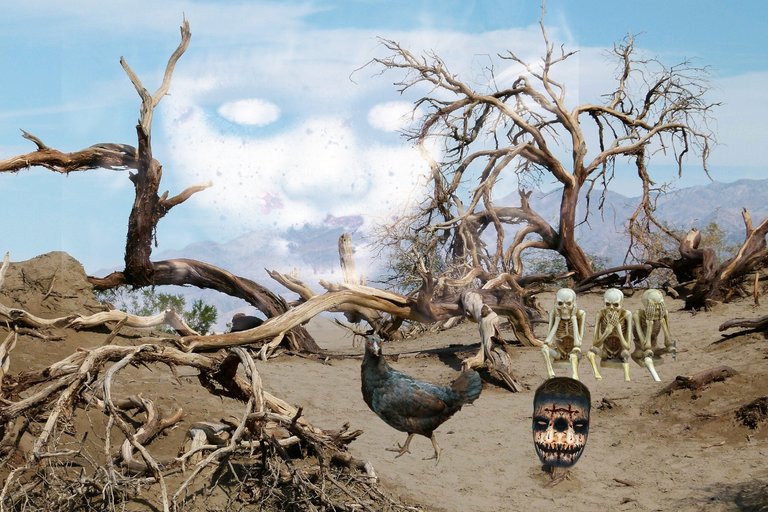 Once upon a time in the land of Erin, there was farming and hunger filled the land.
Those who could get out before the sea dried up we're considered as the wise ones while those who stayed to take good care of the land were considered the weak and unwise.
Before the farming began, there were signs and warnings.
The sun began to shine harder and scorching. People dehydrated and died of it. The rivers and lakes dried up in few months. The bigger waters began to loose their sizes, dried up in less than 3 years.
This brought us to this day were people are found leaving their mansions to find caves, underground tunnels and many other places that can offer temperatures below 45°C.
After few years of survival of the fittest, fleshy man turned to skinny bones, dried up in suffering. Some offered themselves as food to their children while many were made prey in the hands of the fittest.
After all the weak ones got eaten up, man made findings on how to survive without eating food. They experimented it and it turned out to be zombies living as human since those alive wished to continue living.
It came like a vaccine and everyone got vaccinated.
In a space of three days, the whole land became a Zombie island.
Ziang (the black bird) choose to become an animal while Willy her brother became a man with just two heads and no body.
Life became easier for everyone who took the vaccine, but few decided to go further with superiority.
They became gods and planned on rulling everyone else.
Chiaka was the goddess of bones and ligaments. She tasked her followers to hunt for those whose organs were still fresh and spicy in order to receive special abilities in return.
Ziang and Willy had all that was needed by the goddess but lacked the skills to keep it.
One day, Chiaka followers discovered the two and attacked them by staging a discussion with them while waiting for the invited goddess to arrive.
The two unskilled individuals were just making fun of the whole discussion, not knowing that their last day has come.
The goddess mate them on scene, picked them like how the kite used to pick chicks 🐤🐤.
Help!
Help!!
But no one attempted helping the two kids.
They finally became the goddess's breakfast.
---
The collage used for this story was made using these images which the links is seen below.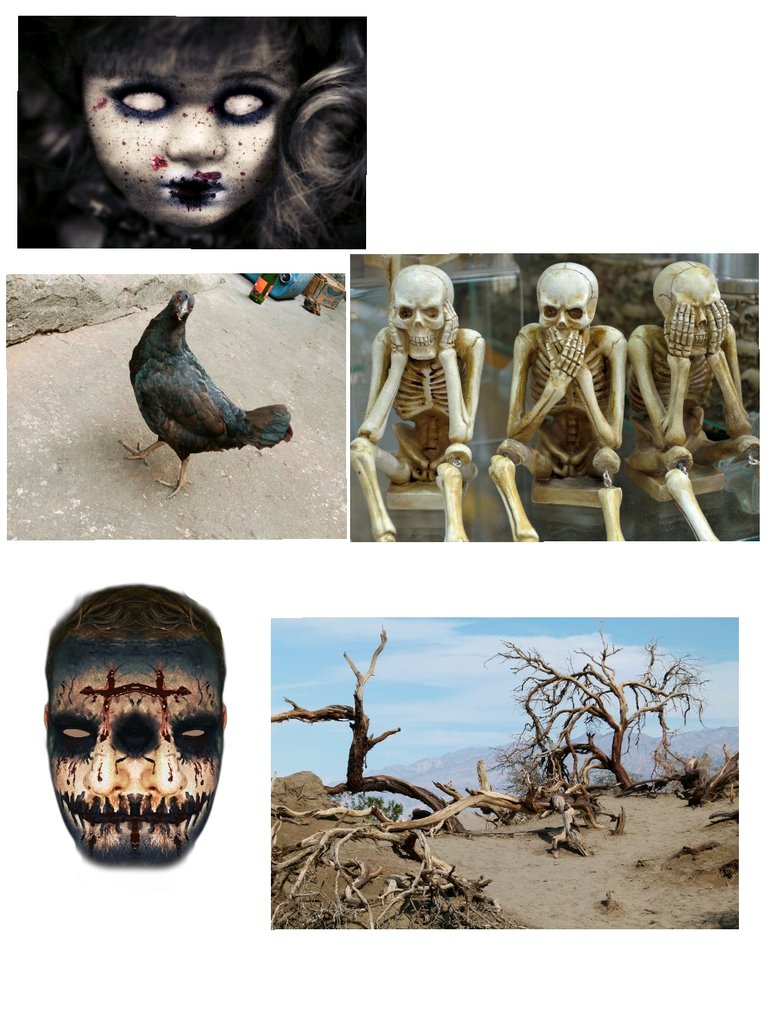 Bird - Black fowl 2 by @ddn688
Death valley
Skeletons
Zombie doll
Witch Mortimer By @eve66
---
This is my entry to @snook's create your zombie challenge round 5 using the tag #snookschallenge5
Thank you for stopping by to read my story tale.
---
---