Probando efecto de Photoshop con Carlita 📷 Testing Photoshop effect with Carlita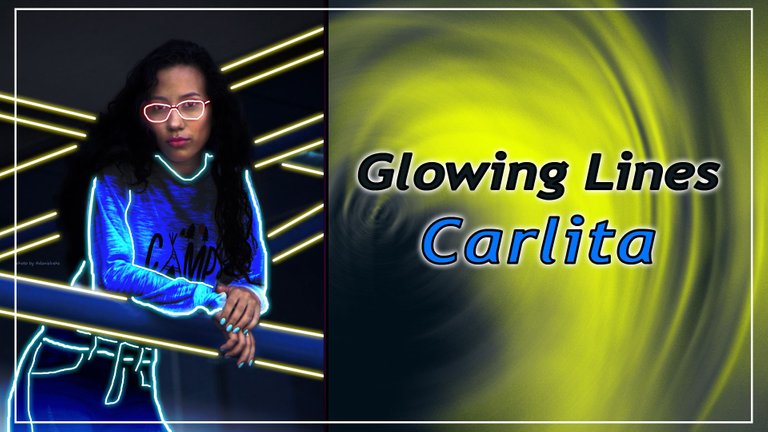 Hola chicos. Hoy me puse a practicar un efecto que vi en Youtube con el Photoshop CC sin embargo tengo 3 versiones antes que esa, así que muchas opciones no las puedo usar. Sin embargo lo hice lo más parecido posible.
Elegí una fotos de la sesión de Carlita. Buscaba un fondo urbano y con líneas arquitectónicas. La idea de este efecto es resaltar certas partes de la composición con líneas de neón.
Hi guys. Today I started practicing an effect I saw on Youtube with Photoshop CC however I have 3 versions before that, so many options I can't use. However I made it as close as possible.
I chose a photo from Carlita's session. I was looking for an urban background with architectural lines. The idea of this effect is to highlight certain parts of the composition with neon lines.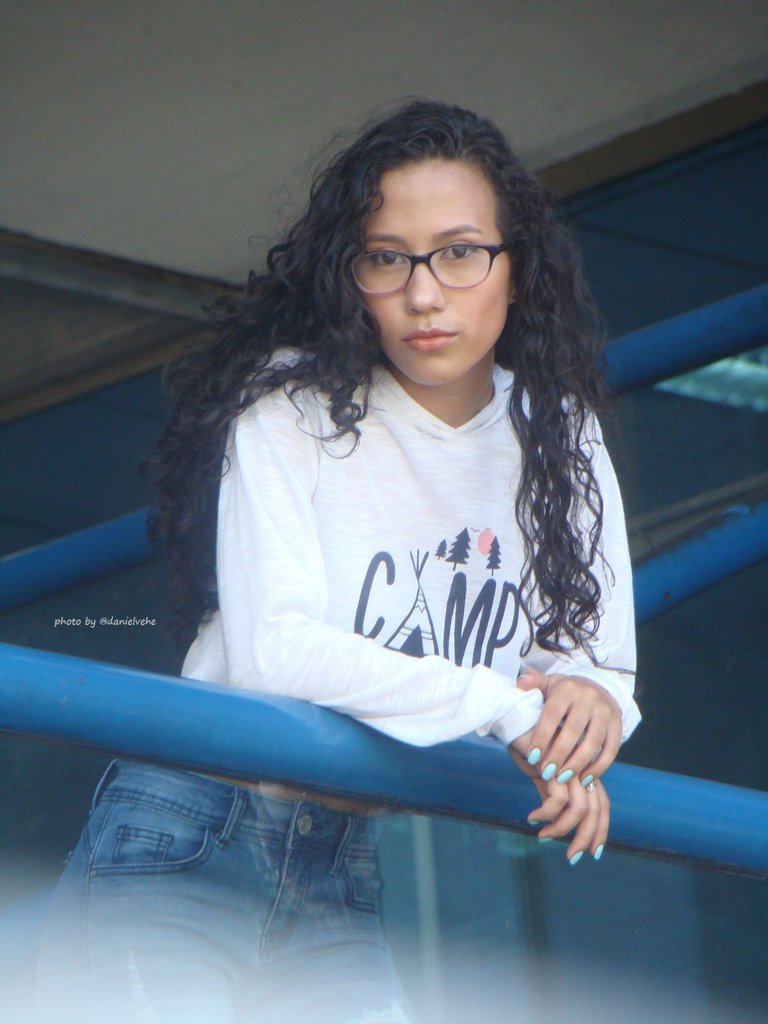 El primer paso o realmente varios pasos por no tener la versión de Photoshop actual; fue que la foto se vea de noche. Para esto usé una capa de ajustes de color sólido azul oscuro y la puse en Overlay.
The first step or actually several steps because I don't have the current version of Photoshop; was to make the photo look at night. For this I used a dark blue solid color adjustment layer and set it to Overlay.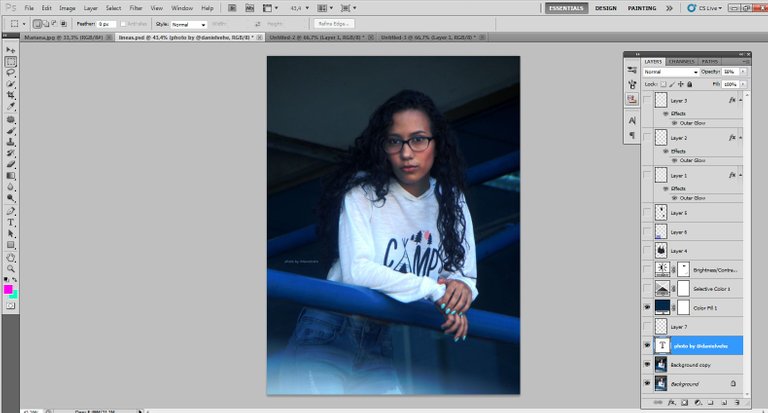 Después apliqué dos capas de ajustes más. Una de color selectivo para quitarle la saturación de la cara y así parezca más de noche y la otra de brillo y contraste. Con estas tres capas busqué eliminar sobretodo la iluminación natural del sol que se colaba.
Then I applied two more adjustment layers. One of selective color to remove the saturation of the face to make it look more like night and the other one of brightness and contrast. With these three layers I tried to eliminate the natural illumination of the sun.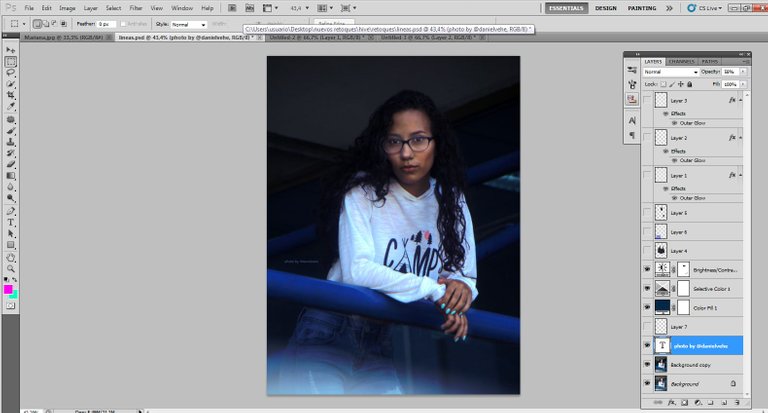 Comencé con las líneas. Las de la modelo las hice a mano alzada, con un diámetro de 20 y con una fusión de capa de resplandor exterior. Línea en blanco y fusión en azul. Esto por todo el borde del pantalón. En la parte interior bajé el diámetro.
I started with the lines. Those of the model I did freehand, with a diameter of 20 and with an outer glow layer fusion. Line in white and blend in blue. This all around the edge of the pants. On the inside I lowered the diameter.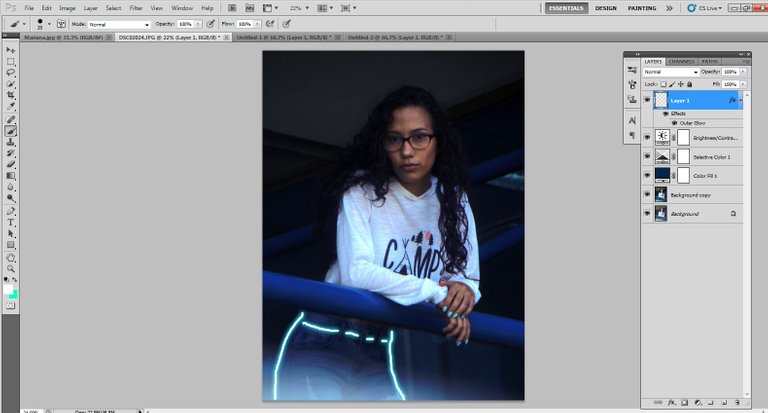 Terminé con el pantalón y usé la misma configuración para la camisa. En este efecto no se toca la piel ni el cabello.
I finished with the pants and used the same configuration for the shirt. In this effect no skin or hair is touched.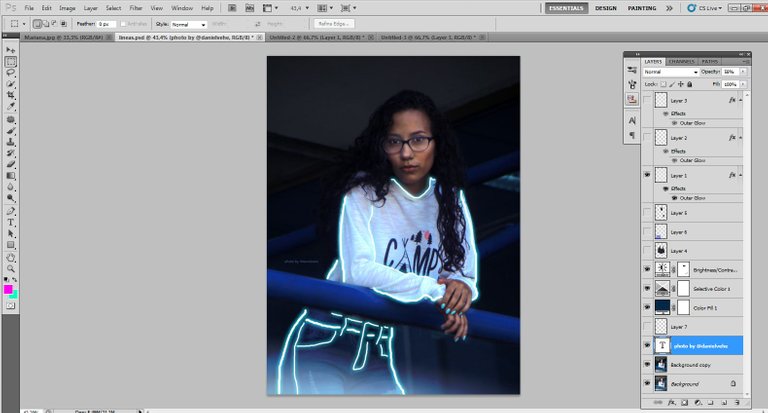 Otros accesorios como los lentes se pueden cambiar de color.
Other accessories such as lenses can be changed in color.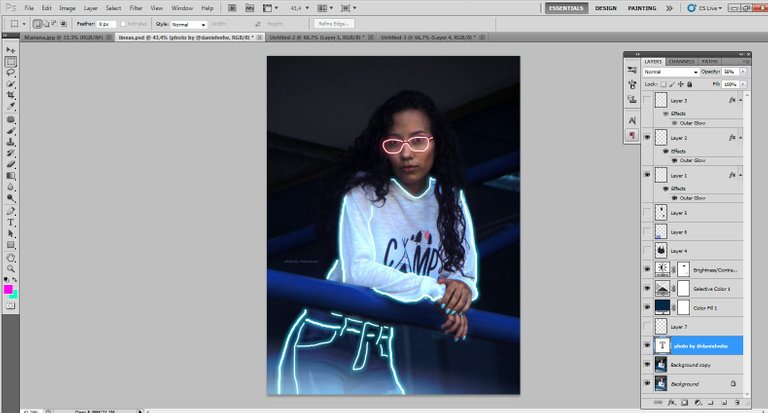 Por último en cuanto a las líneas, se trabaja el fondo. En este caso las líneas ya eras más que obvias por la arquitectura. Esto le dio un especial dinamismo a la imagen. También porque el contraste entre dos colores el azul y amarillo, le dan mucha fuerza.
Finally, as for the lines, the background is worked on. In this case the lines were already more than obvious because of the architecture. This gave a special dynamism to the image. Also because the contrast between two colors, blue and yellow, gives it a lot of strength.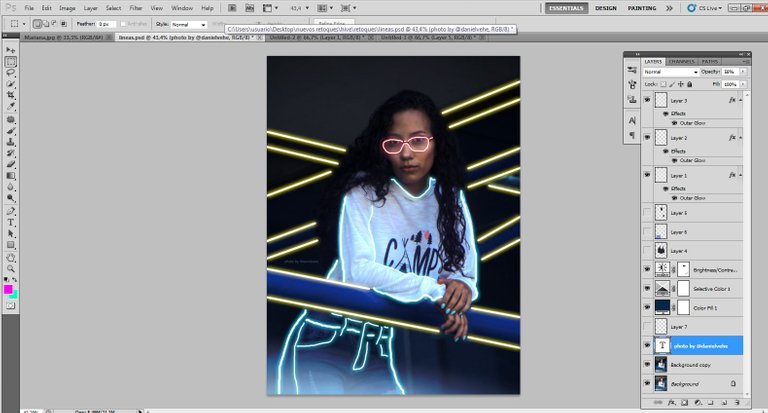 Después de ver el resultado con las líneas sentí que le faltaba algo. Veía a la ropa muy "normal" para su entorno; así que probé algunos efectos.
Lo que hice fue pintar con el pincel encima de la ropa, con el color que quería que se saturara más. Esto en capas apartes. Después esas capas las coloqué en modo fusión de "linear burn".
After seeing the result with the lines I felt something was missing. I saw the clothes as too "normal" for their environment; so I tried some effects.
What I did was to paint with the brush on top of the clothes, with the color that I wanted to be more saturated. This in separate layers. Then I placed those layers in "linear burn" blending mode.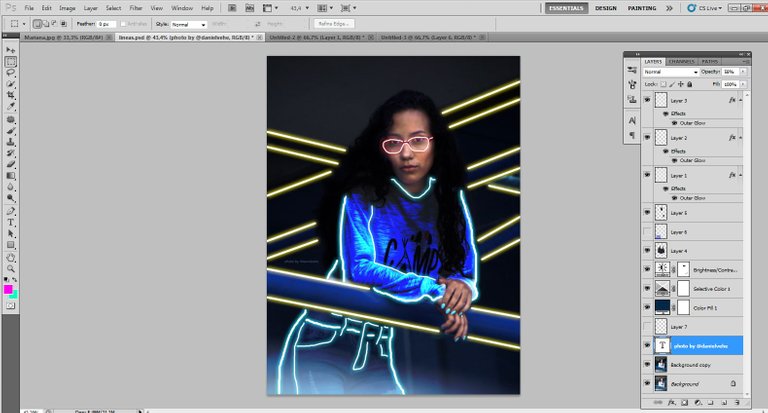 En el resultado final se observa y sobre todo en la camisa, cómo combina más con este efecto luminoso y dramático.
In the final result you can see, especially in the shirt, how it combines more with this luminous and dramatic effect.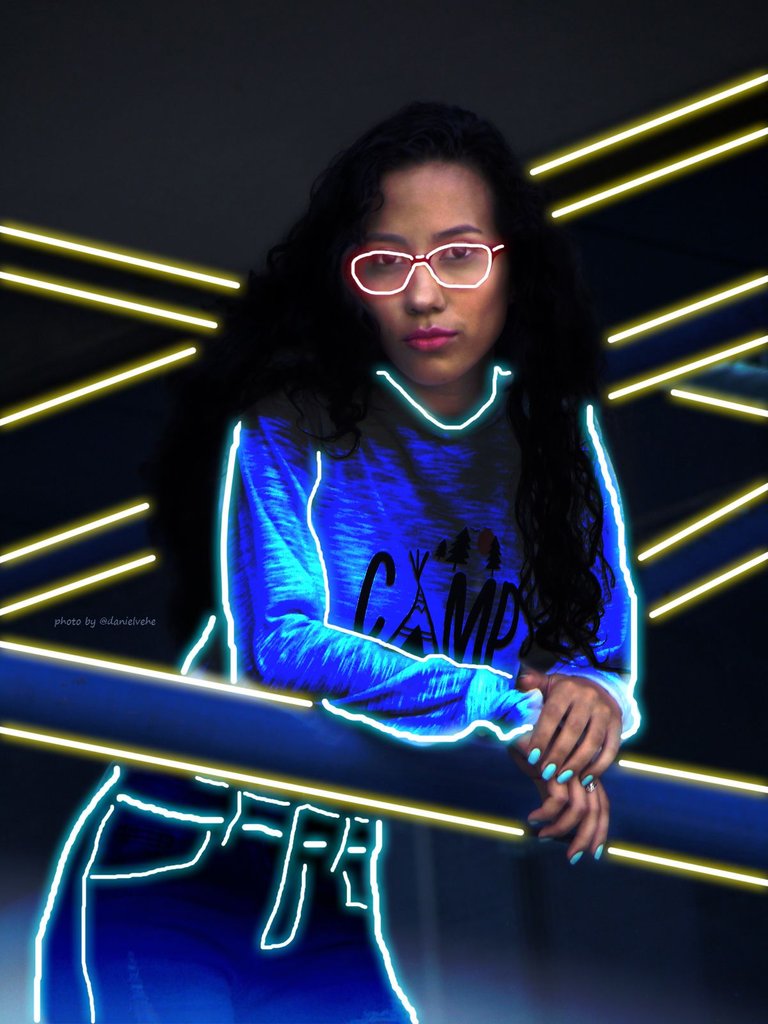 Translated with www.DeepL.com/Translator (free version)
---
---