Axie Infinity is growing but can it be sustained
AXS Price Statistics
Axie Infinity Price $129.61
24h Low / 24h High $127.12 / $141.88
Trading Volume 24h $694,657,834.78 | 111.40%
---
It is no news that many new players come into the Axie Inifinity through scholarship or should I dare say through a lease. These players are not coming in via the channel of buying axis, but rather as a form of lease from players who bought Axies.
Buying Axies means that you are breeding Axies. So when players are not breeding because of the high cost of entering the game. The question so sustainability comes into play.
Is Axie infinity sustainable on the long run?
Perhaps understanding what has been created and developed will answer and make sense to this question. This is not just a game but a metaverse. Excuse me - Axieverse
---
These Axies are non-fungible tokens that are used to play the game. Some are common while some are rare, which obviously depicts the value of these axes. Players are expected to purchase at least 3 Axies at a start when the game started. Now current players are rewarded for breeding new Axies.
The potential for sustainability is there. I mean people are literally living in the Axieverse and using the rewards to fund their lifestyle. More people are looking to join and enter the Axieverse like it is the Matrix
"Since September, nearly half of the traffic has come from prior Axie purchasers due to the slow increase of Axie consumers. According to the analysis, published by Covalent researcher Brandon Rochon, "the consistent rise also predicts a high churn rate for new members."
Here are the top notable points from Covalent's research on Axie
Because new players get less reward money, "the whales get richer" and the game "may wind up with a league of elite." (The Axieverse is a world on its own where you create your own merit as I have been saying)

This may prevent new participants, jeopardizing the game. (but couldn't it, really) - I am also looking forward to joining this metaverse, TO start from the bottom, rise and make a name from myself. The research shows good insights, but are the players bothered about who is getting rich or richer... Hmmm)

Breeding Axies costs SLP depending on how many times each Axie has previously bred.

The benefits of breeding outweigh the costs of buying Axies, as seen by a drop in breeders since August.

"In May, about half of new users were breeders." This number has steadily declined to the point where only 2.7% of newly enrolled users are breeding now.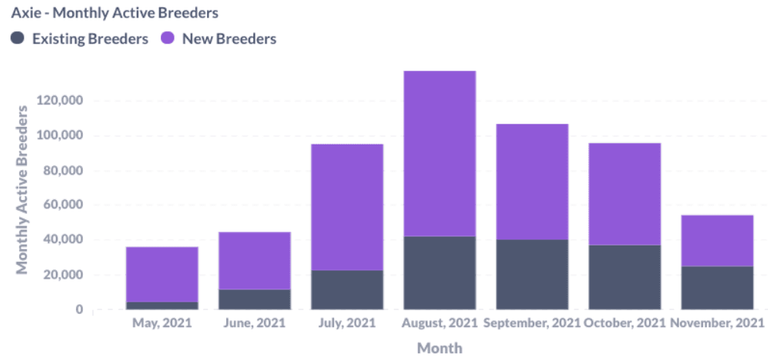 Source: Covalent
Interestingly, more people are joining Axie inifitny at an escalating rate. Axie Inifnity has gone to record the sale of a virtual plot at $2.3M.
Axie Infinity's rapid expansion continues, with the company boasting over 1.8 million daily users in August and a daily sales volume of $33 million.
Axie infinity is a success. The economy is sustainable and scalable. It hold more promisises. The game could get harder and that alone excites the player. Firstly, it is a game that rewards users, it is a metaverse, it is an economy and it is fun.
If I haven't added anything else you think Axie Inifnity is, kindly share.
Also, What are your thoughts on SUSTAINABLITY?
...
---
---