A journey to Discover Da Lat City - Vietnam's "Land of Thousands of Flowers" 🌸🌼 - Part 2
Hi guys, how are you today? Do you have any fun in the first days of the new year? I will be happy to know your share.
Today, I will take you to the most unique and famous tourist attractions of Dalat City where I spent the remaining 2 days in my 3 days 2 nights journey. These are places that I have not been able to visit on previous trips. In my previous post about this trip, I took you to visit Dalat Railway Station and Da Lat Pedagogical College. Follow me to discover two other interesting places today.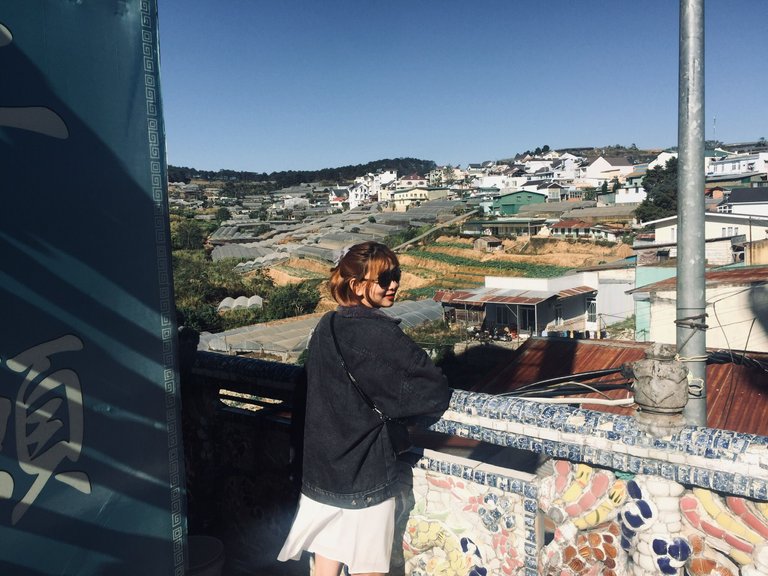 ---
1. Ve Chai Pagoda - The Most Unique Temple in Vietnam
The next place I want to introduce to you is Ve Chai Pagoda, also known as Linh Phuoc Pagoda. The temple is located at 120 Tu Phuoc, Ward 11, City. Da Lat, about 8km from the city center. The way there is also quite easy. I started from Da Lat Market - Ong Dao Bridge - Tran Quoc Toa Street - Ho Tung Mau Street - Tran Hung Dao Street - Hung Vuong Street - followed Highway 20 - I reached Ve Chai Pagoda.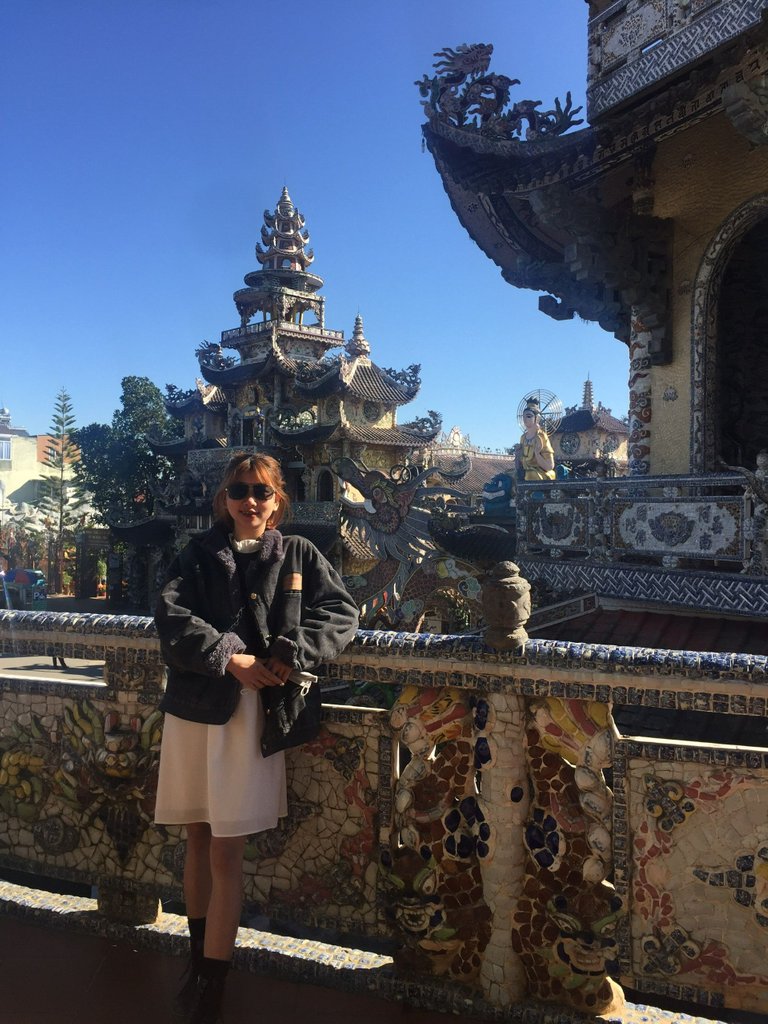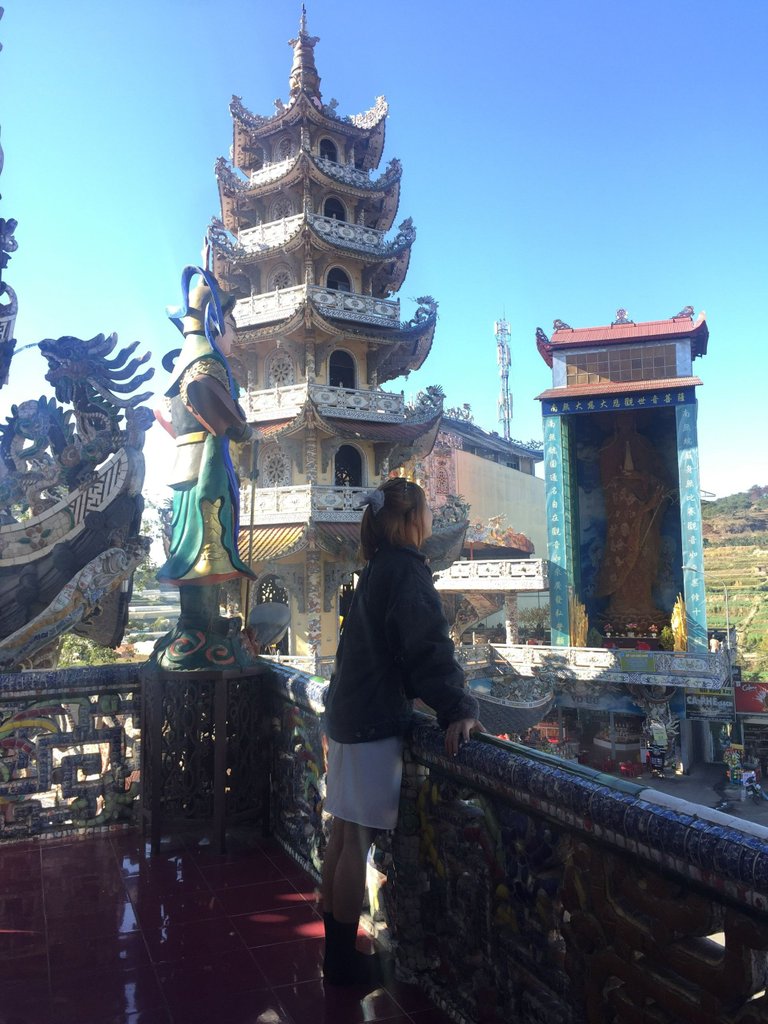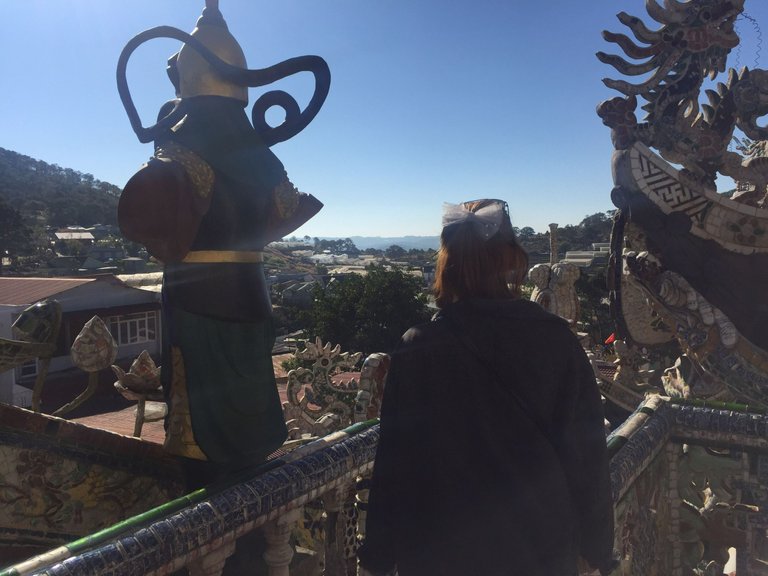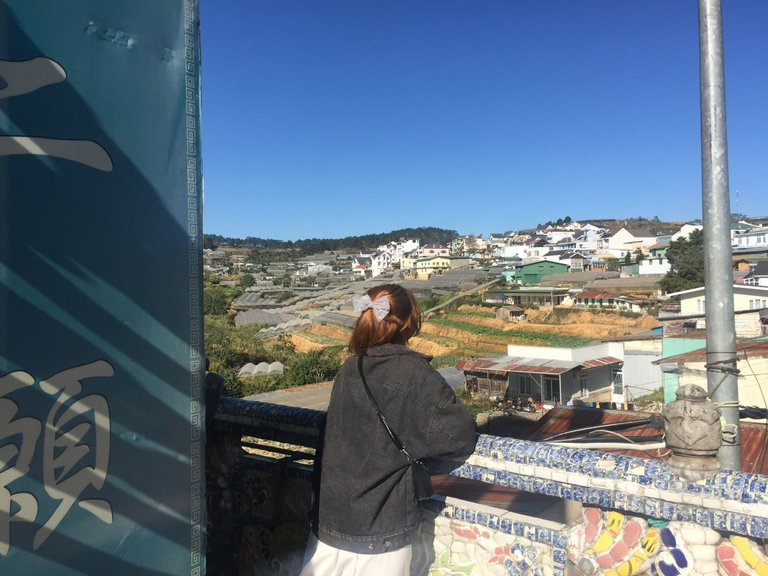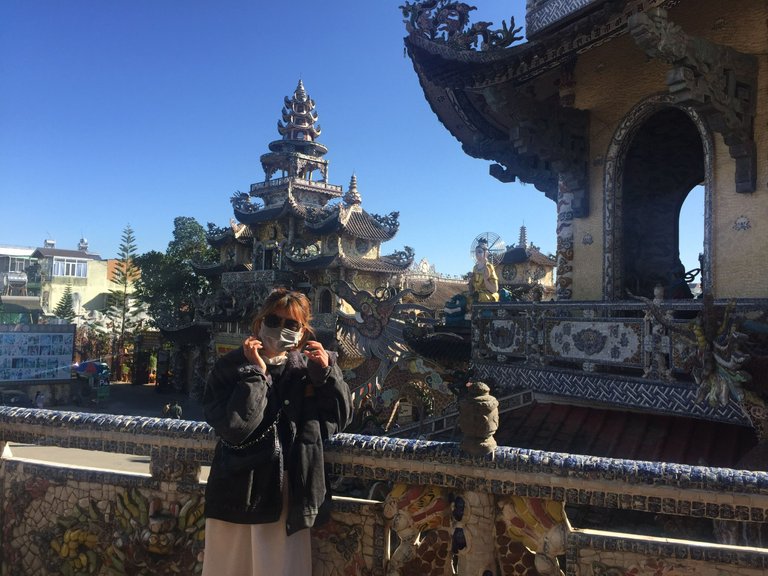 This is a famous pagoda not only in Da Lat but also on the list of the most unique pagodas in Vietnam. It is the temple known with the most records of the "Land of Thousand Flowers". This pagoda is not only special because of its exterior architecture but also the interior with simulation of 18 floors of hell. When looking for places to visit when coming to Da Lat, I saw the name of this Ve Chai temple, I was surprised and curious with the information I read, so I decided to come here when I came. Da Lat. And of course this temple did not disappoint me because its beauty was so outstanding.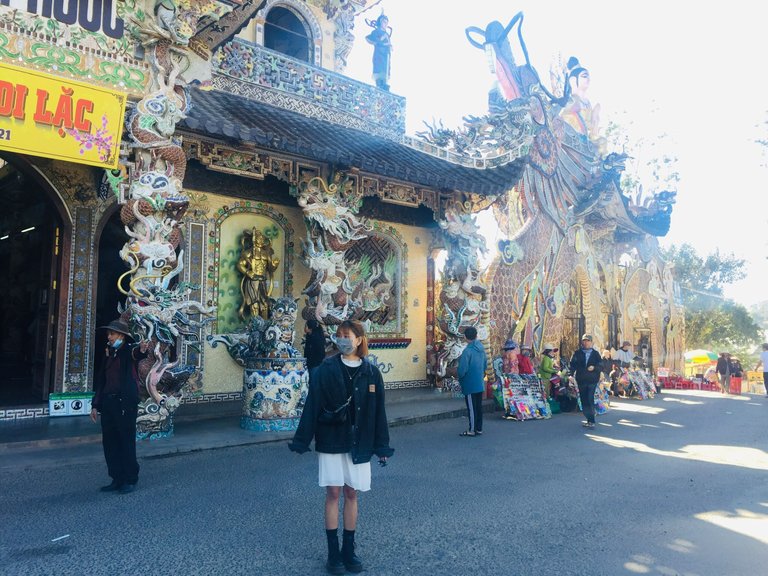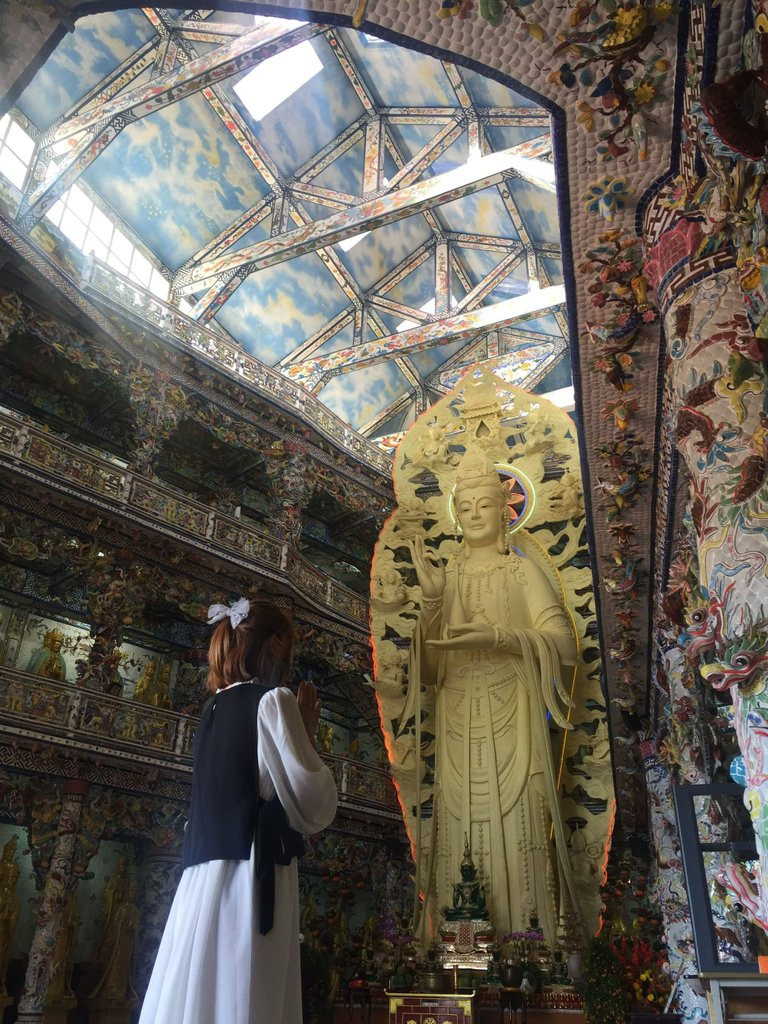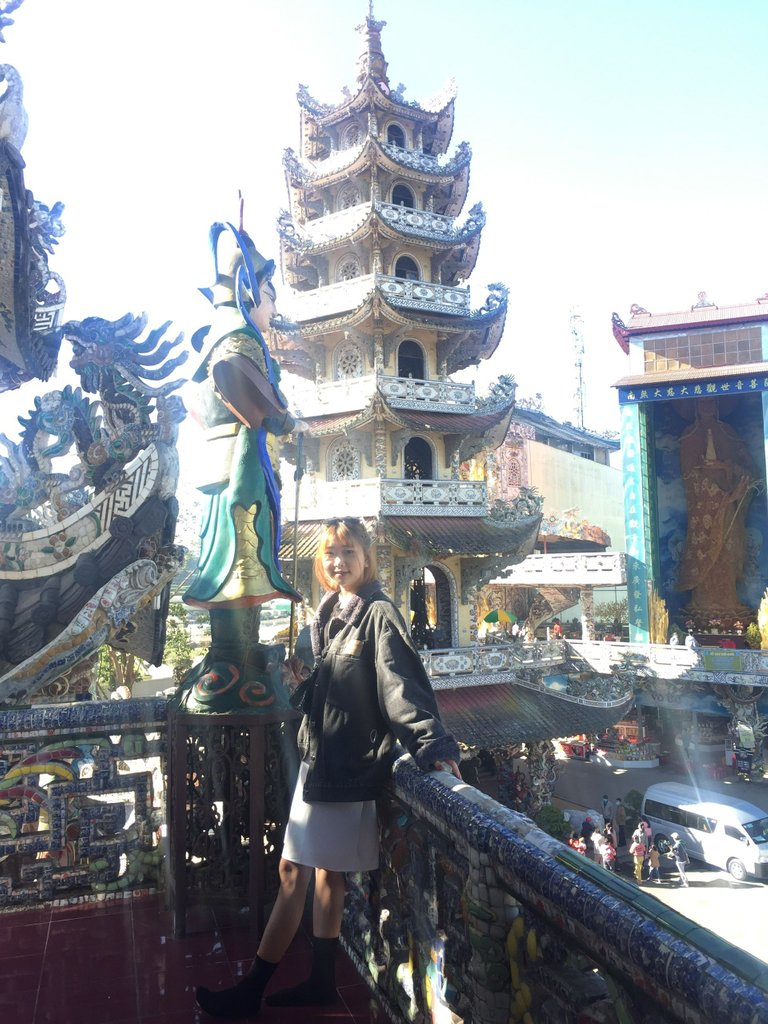 The reason why the temple is called Ve Chai Pagoda is because the entire architecture of the temple is built entirely of recycled waste (Ve Chai). People bought hundreds of tons of porcelain pieces from Bat Trang pottery village, Ha Hoi. All the walls, from the balustrade to the temple walls, are meticulously and meticulously decorated with pieces of crockery and reused trash. Although made of recyclable trash, it is very beautiful. I was surprised and delighted by this impressive construction.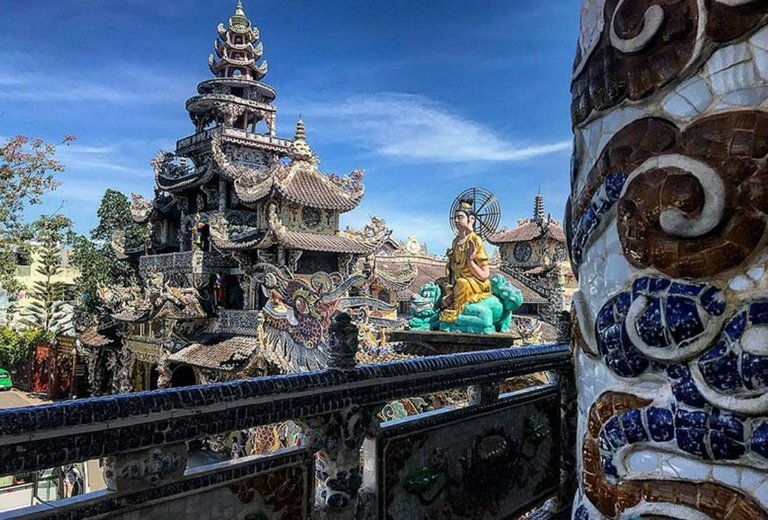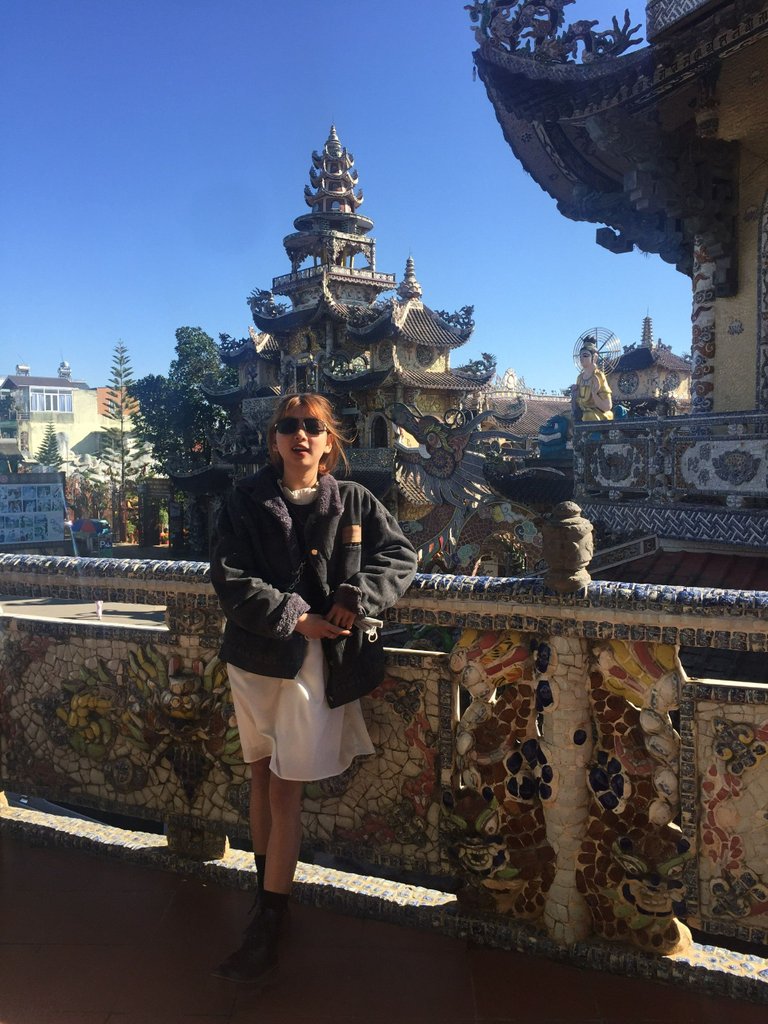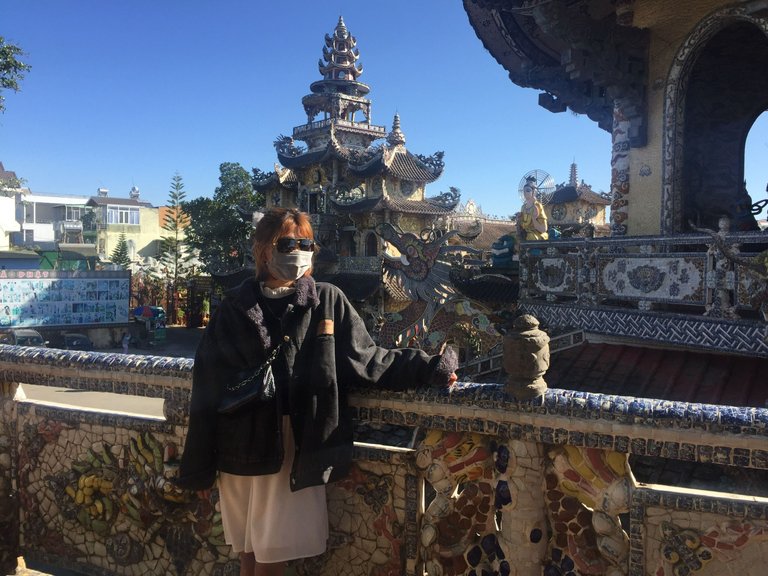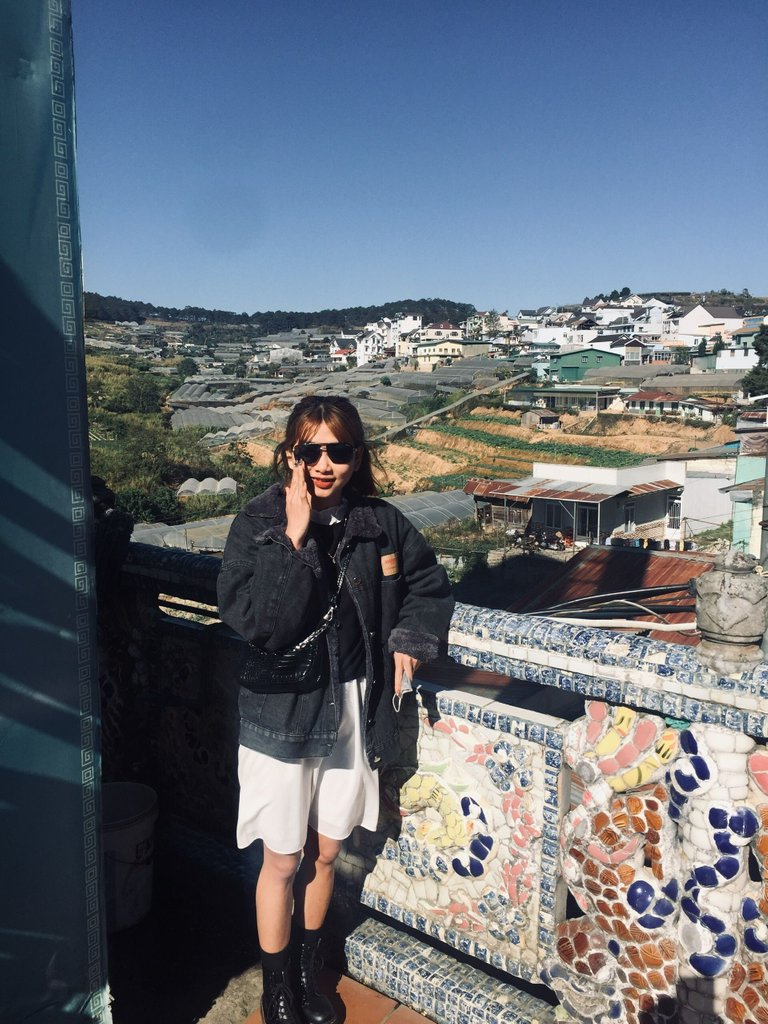 What does Ve Chai Pagoda have? When visiting Ve Chai Pagoda, I learned about the unique architecture of the temple. Ve Chai Pagoda includes the main hall, garden (or Hoa Long Vien), Quan The Am Bodhisattva temple, Bao Thap, antiquities display area and the 18th floor of Hell. The first main hall is on the left side when you enter from the main gate. This is the place for your pilgrimage and prayer - a very sacred place of the temple.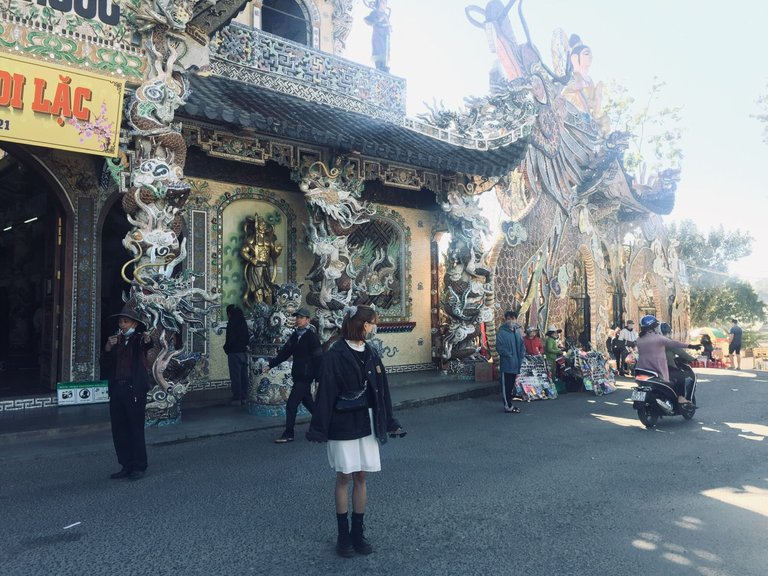 The "18 gates of hell" area is located at the Seven Floor Stupa, going inside the tower, we will see a signboard to go down to each level of hell. I have heard a lot about the story of 18 floors of hell and was very curious about this, so when I learned that Ve Chai Pagoda has the "18 gates of hell", I decided to come here to visit.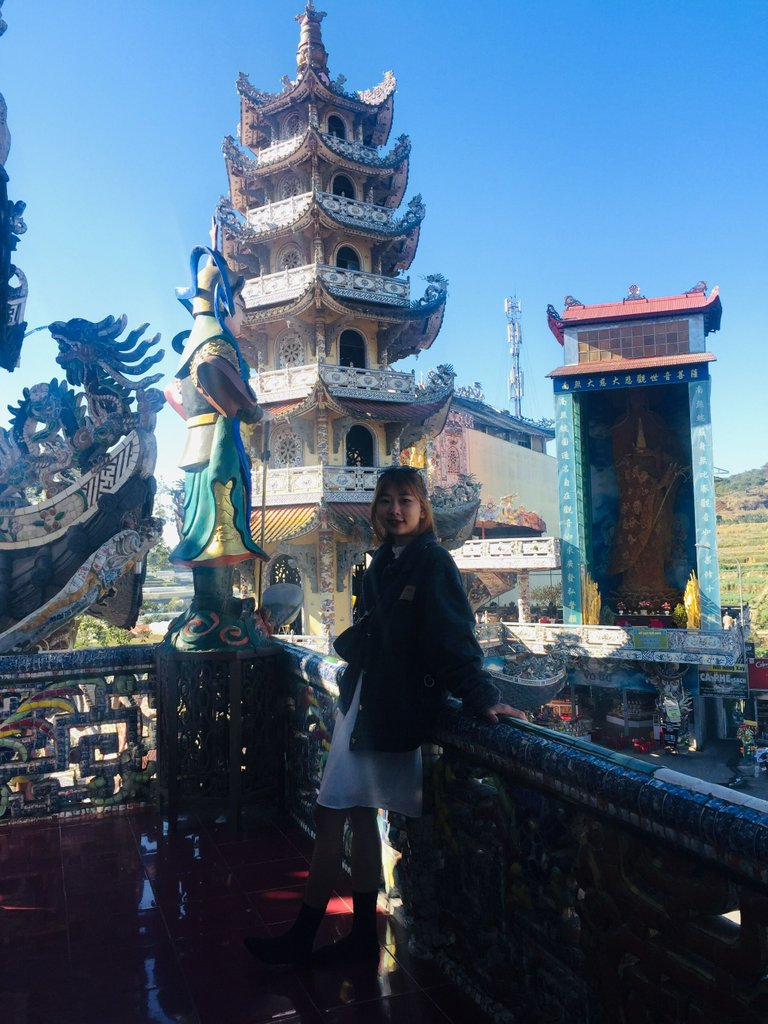 In the "18 floors of hell", I watched the reenactment of the process of Pluto's trial, the crimes that people face while they are alive and the punishments that people have to suffer when they commit those crimes. Muc Lien is the main character in this story of being in the 18 levels of hell with the story of the extremely filial Bodhisattva Muc Kien Lien who saved his mother from a life full of misery and suffering. The whole story is shown very realistically by wax figures with strange and creepy shapes. Besides, with the explanation of each floor, I have a better understanding of the law of cause and effect and I am aware that I must live honestly, do not commit crimes, do not waste food, and most importantly, Humanistic message about filial piety in life. Surely this will be an interesting and meaningful experience for those who come here to visit.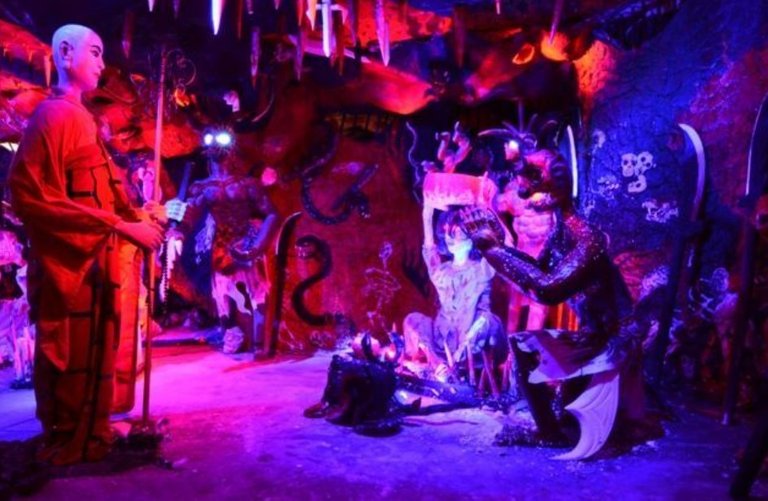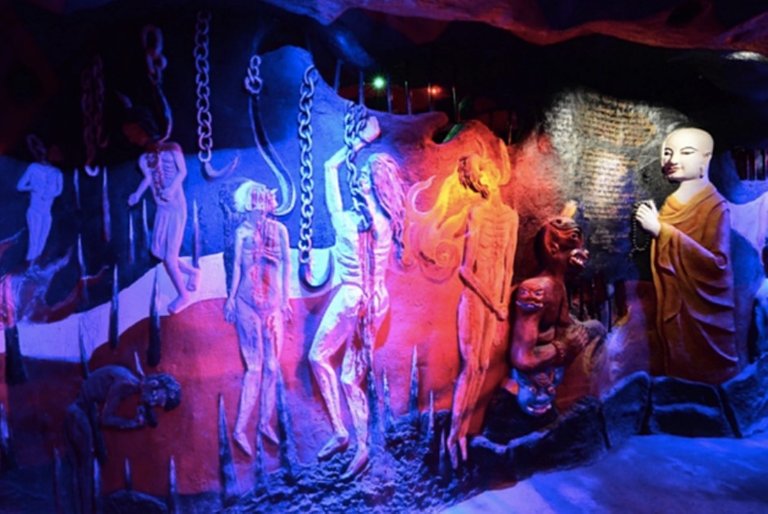 After visiting "18 floors of hell", I went to visit and admire the beauty of the most unique statue of Bodhisattva Avalokitesvara in Vietnam. This is a 17m high statue of Avalokitesvara, designed on a lotus with the right hand holding a willow branch and the left hand holding a vase of orange trees, the core of the statue is made of bearing steel and the outside is made of 600,000 immortal flowers
With a harmonious combination of pagodas and towers of oriental architecture, over the centuries, the temple still retains its original beauty and sanctity. This will be an interesting and attractive spiritual tourist destination that you should not miss when coming to Da Lat.
---
2. Cafe "Tui Mo To"
Leaving the unique "Ve Chai" temple, I regretted that I couldn't stay longer to explore every little corner and feel all the beauty of the temple. Maybe I will come back to it next time, but now I have to spend my little and precious time to explore other interesting places of Da Lat. My next stop is a pretty famous Cafe in this "dream city". Da Lat is not only famous for its unique architectures but also many of the most beautiful and strange cafes, because each cafe here has its own distinct beauty.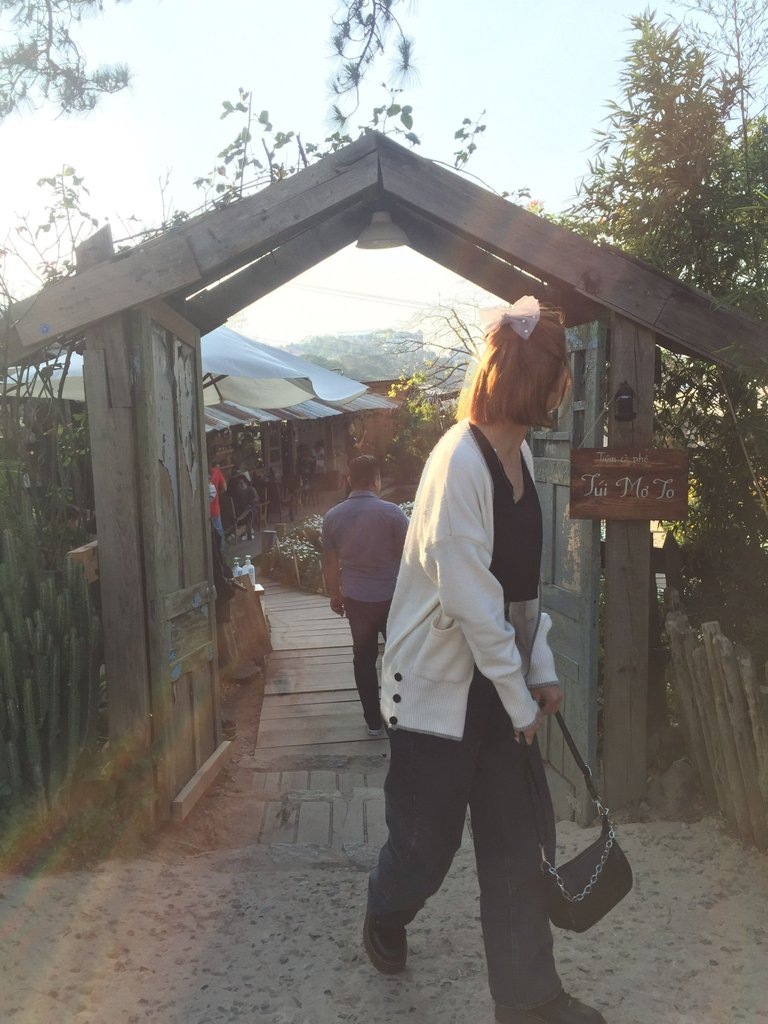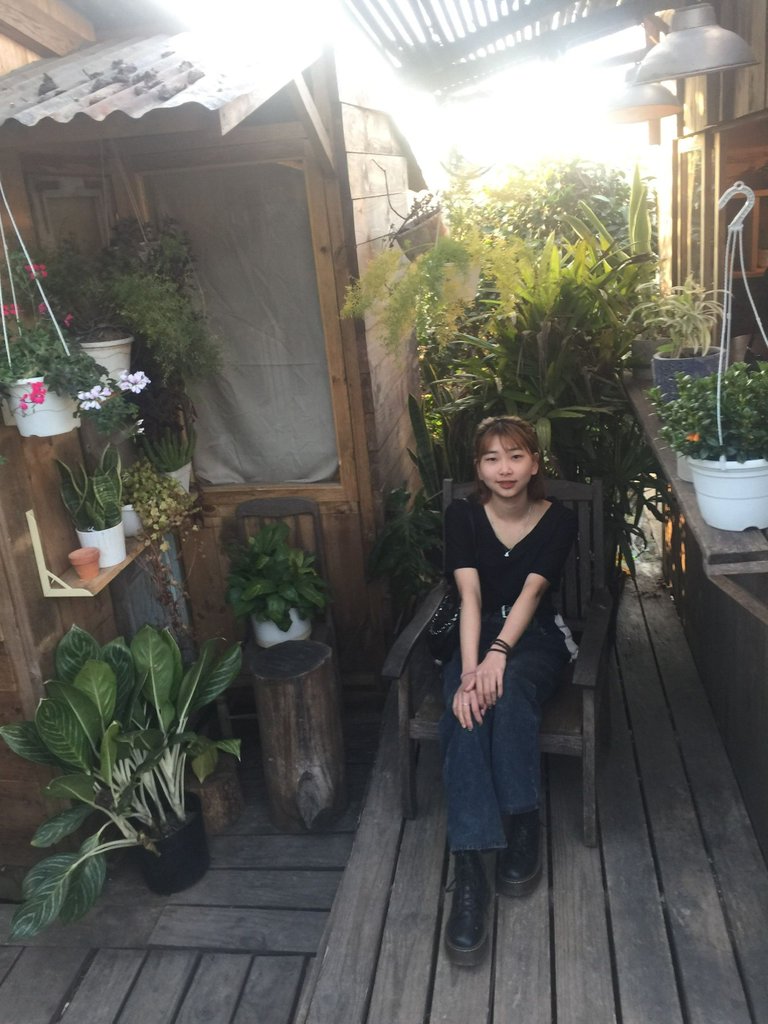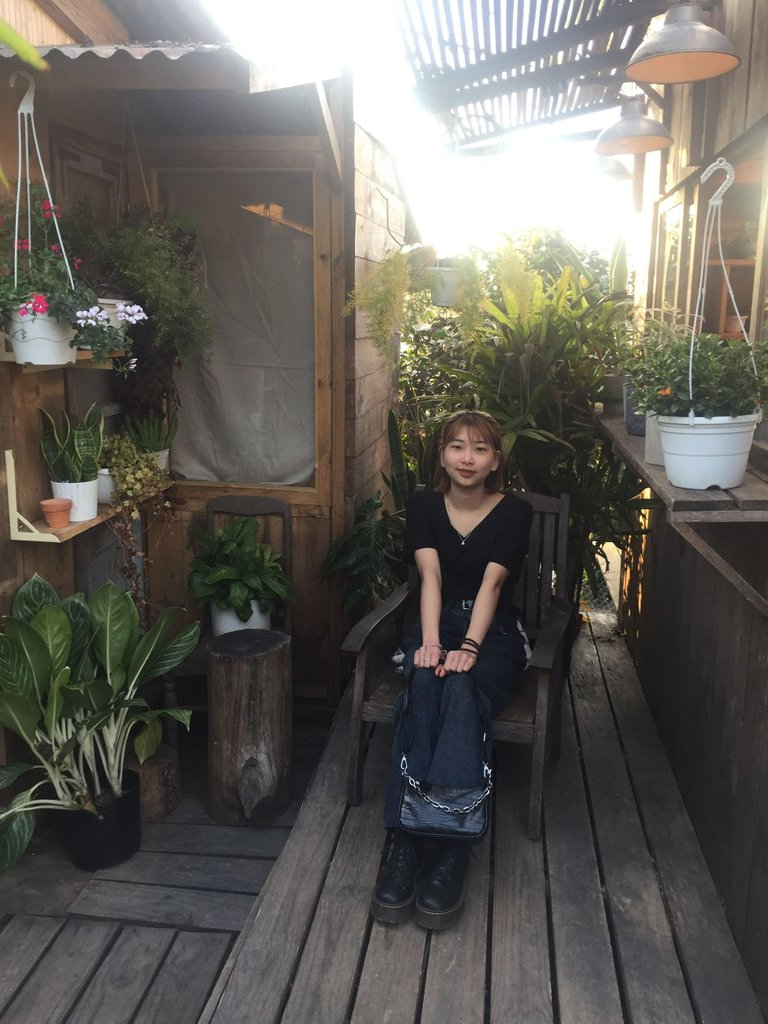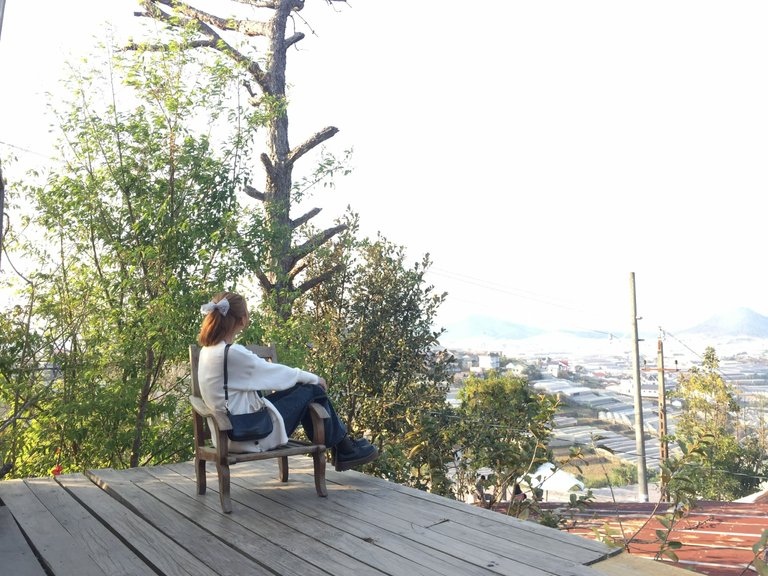 Cafe "Tui Mo To" is located in a peaceful alley 6km from the city center. You can go to this cafe by going to 116 Hung Vuong, then continue about 150m, you will see a concrete alley on the left hand side. This is one of the cafes with the most beautiful chrysanthemum garden in Da Lat.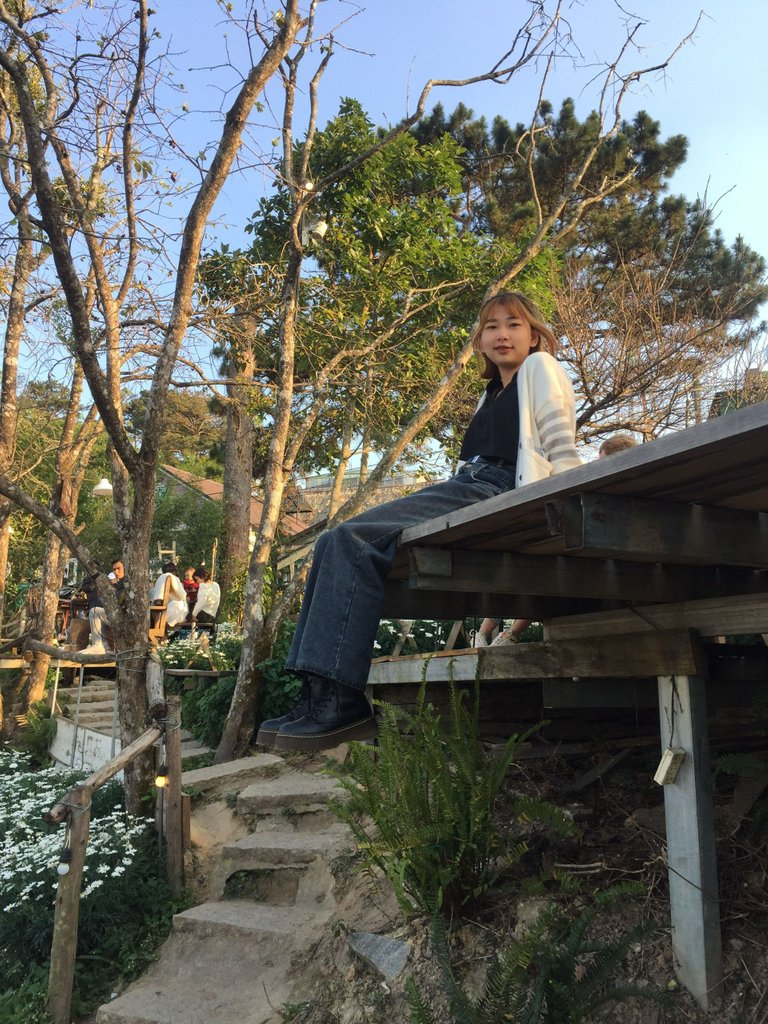 To soften my heart and warm me up in the cold of Dalat weather, I chose a warm Latte for myself. There is nothing more wonderful than enjoying the delicious taste of drinks while looking at the beauty of this place. The cafe has an outdoor space and I can enjoy the view and breathe in the fresh air. Because this cafe is located on the premises of Reply 1994, the scenery here is vintage and ancient. The wooden house with old corrugated iron is decorated in a retro style, exuding a rustic, simple but no less delicate beauty because the decor of the cafe is very pretty, it looks really nice.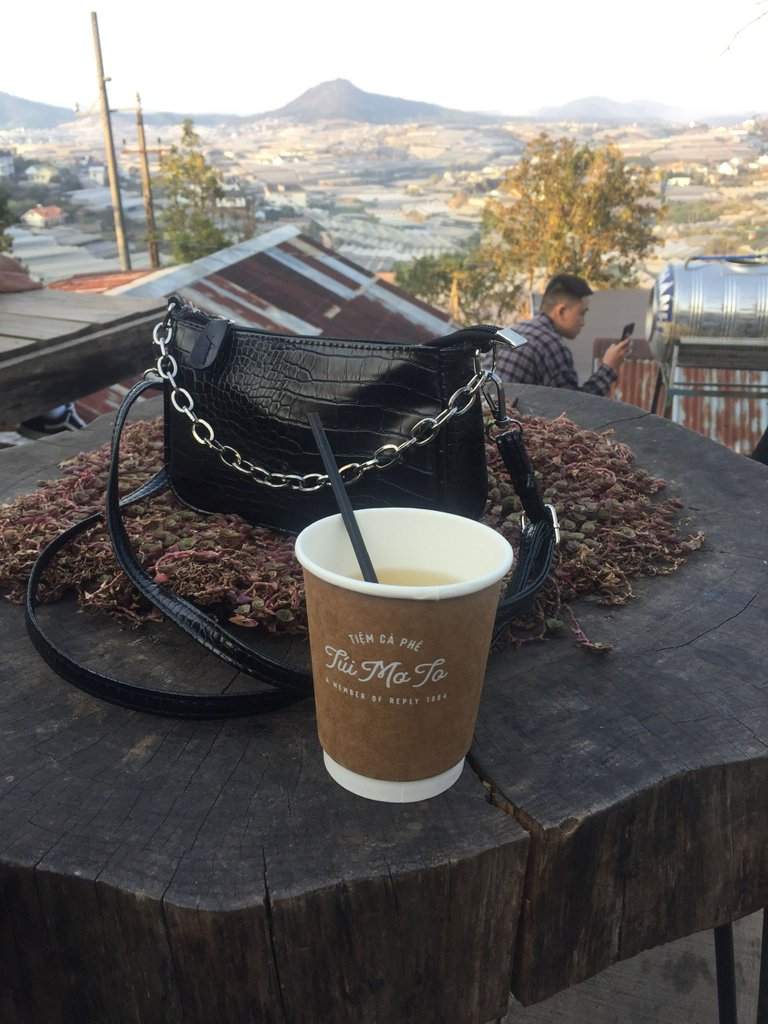 From the cafe, I can see both Lang Biang Peak and Hon Bo Peak, the valleys of cages below. All create a poetic and romantic scene, I just wish time could stop for me. enjoy this moment a little longer.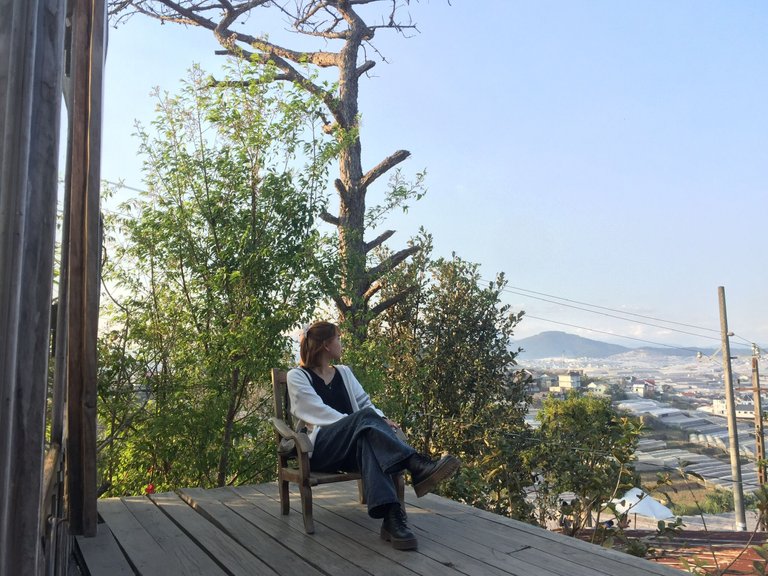 Because my journey to discover Da Lat is limited, I can only use my feet a little bit at each place, then get on a motorbike and continue to move to the next place.
---
3. Experience picking strawberries at a clean strawberry garden in Da Lat
One of my favorite things about coming to Dalat is visiting the strawberry garden. This is also my last stop. Strawberry is one of the specialty fruits in Lam Vien Plateau. Most of those who come to Da Lat also want to once visit the vast strawberry gardens laden with fruit and be able to pick delicious fruits by hand as gifts for friends and relatives.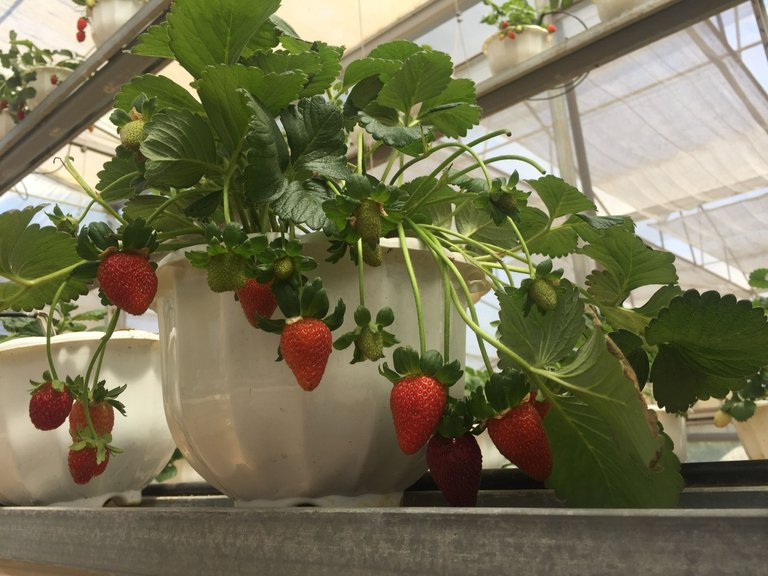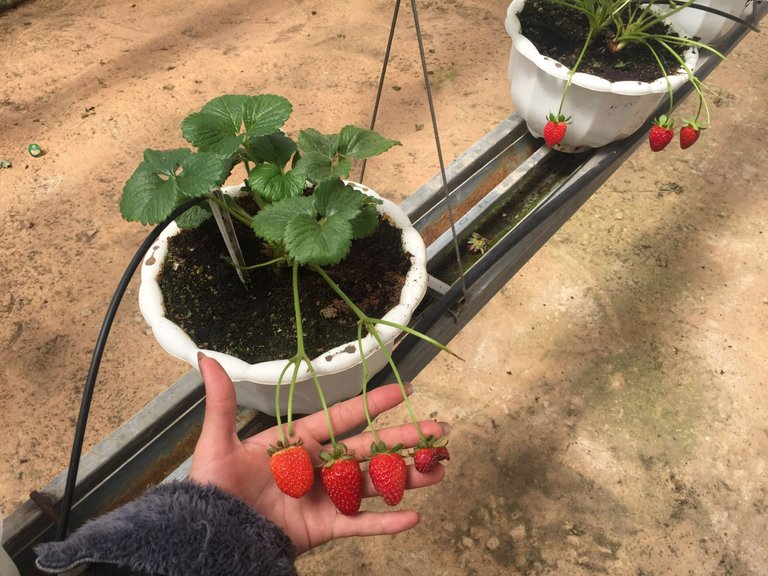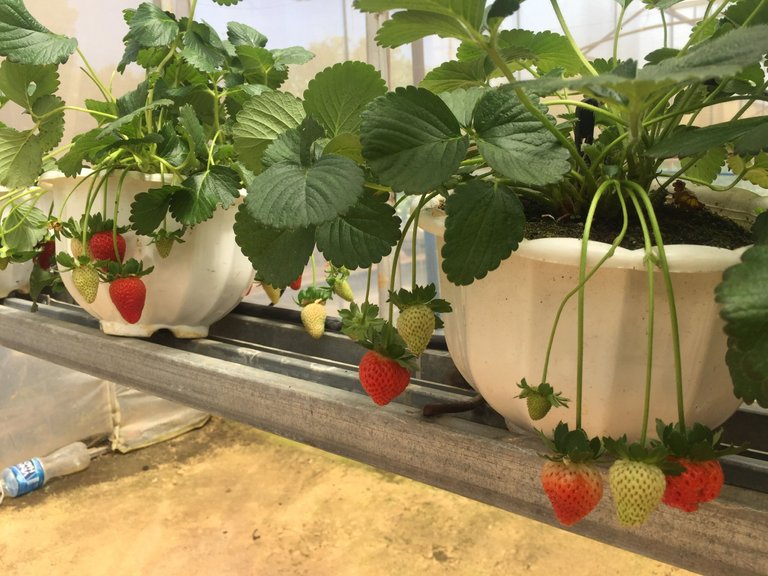 I chose a clean strawberry garden on the way back to facilitate travel and it didn't take much time. The cold of Da Lat is the most ideal climate to grow berry fruits like Strawberries, although the people here also have to take care of the strawberry plants very carefully to avoid pests and diseases.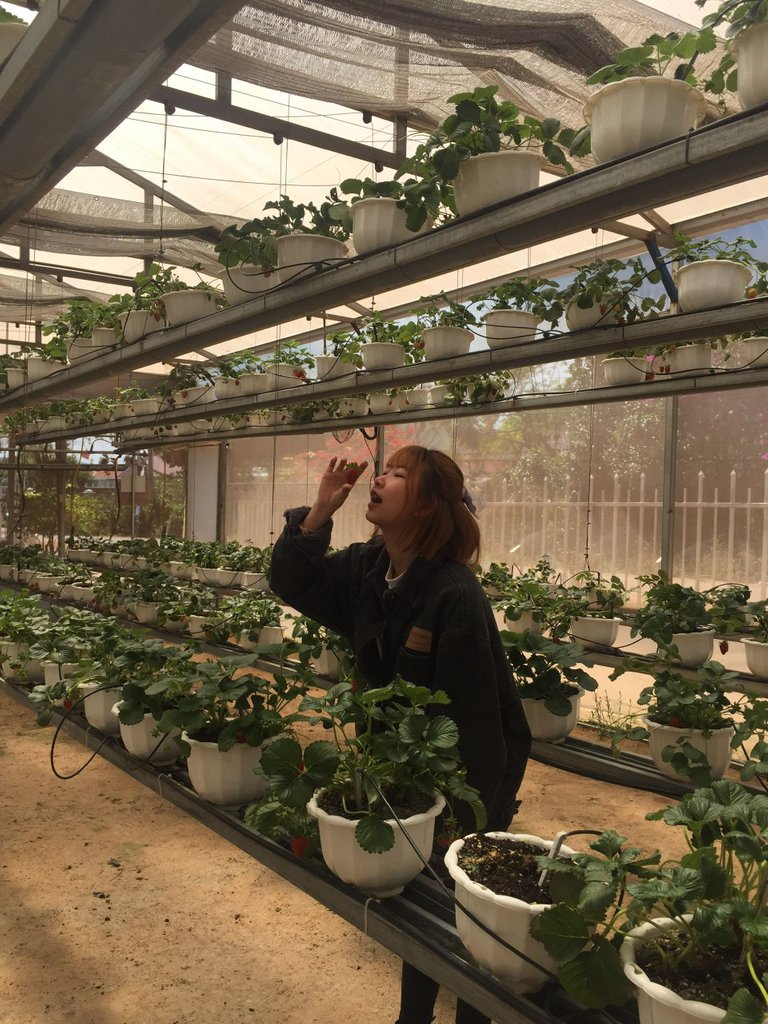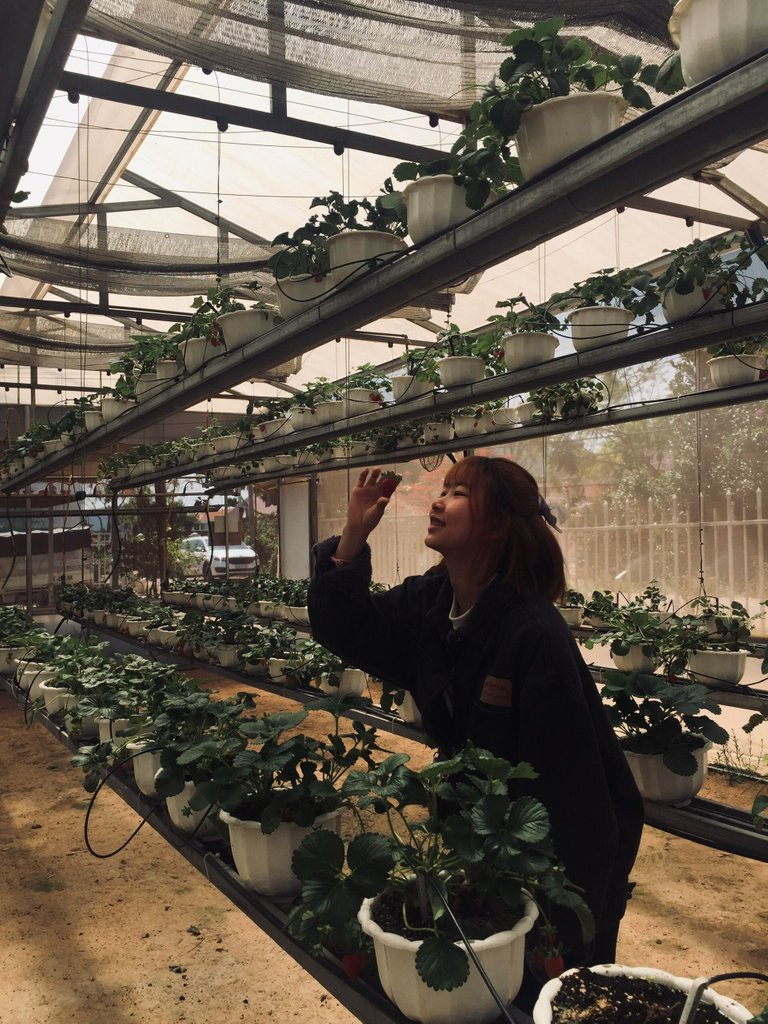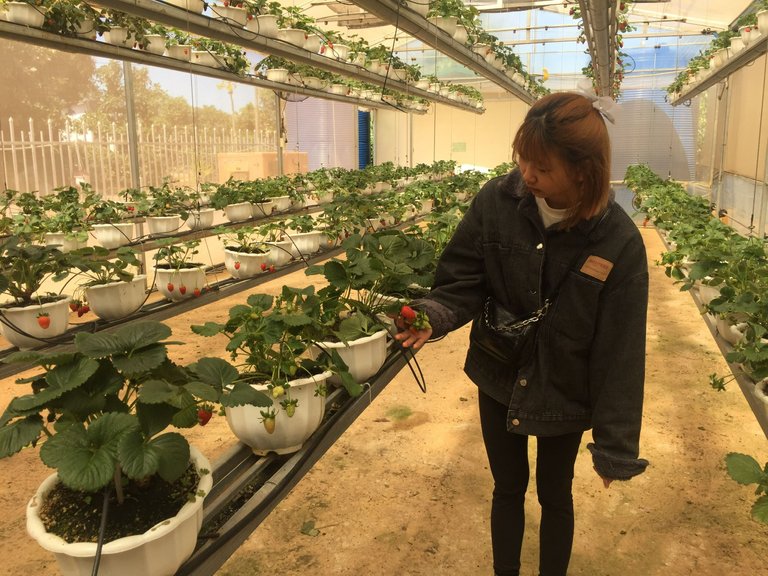 Visiting the strawberry garden, I enjoyed the fresh green space while watching the attractive red ripe strawberries. I chose for myself large round and ripe red fruits to enjoy right at the strawberry farm. The feeling of eating freshly picked strawberries is really great, and I did not forget to bring it home as a gift for my parents and friends.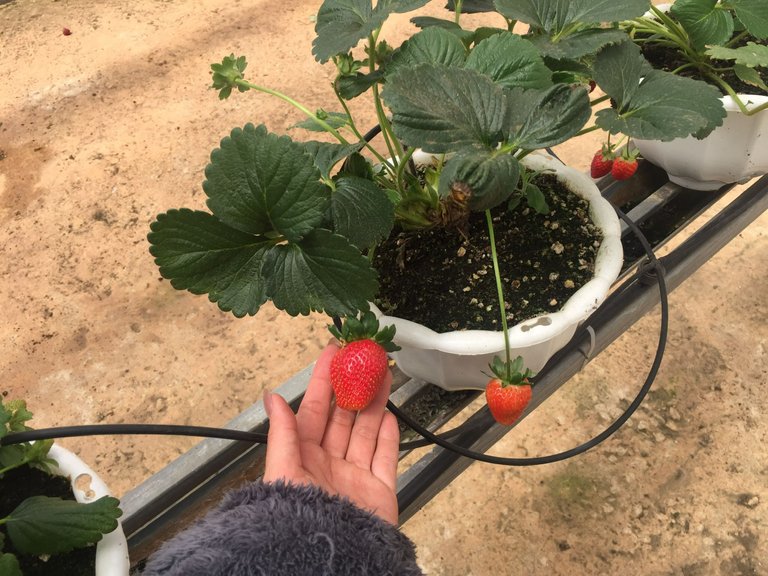 I had an interesting trip to Dalat and had to leave with regret. I regret not being able to stay here a little longer and there are many interesting places that I haven't visited yet. But perhaps those regrets will become the motivation and reason for me to come back to Da Lat next time. This is the time when I enjoy peaceful moments and also reward myself for my efforts. Back to my daily life and daily work, I will try my best to have more trips like this this year. If you have the opportunity to come to Da Lat, please visit the places that I share, you will surely find it very interesting.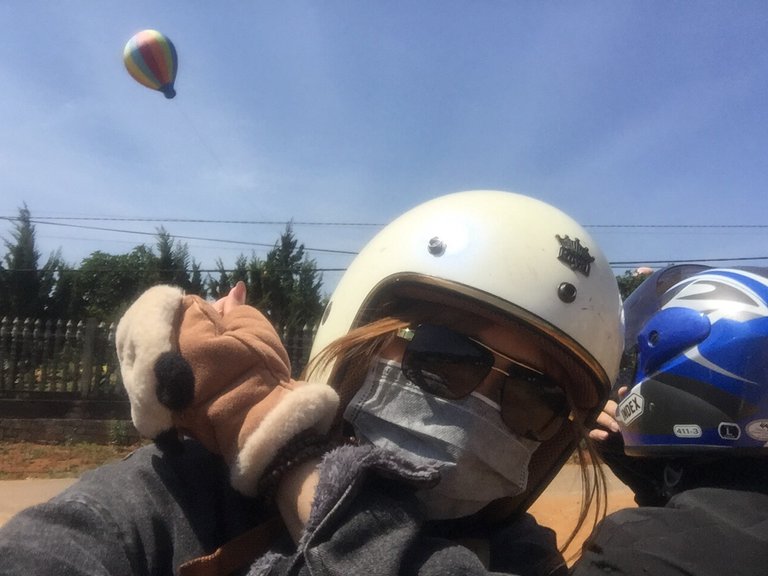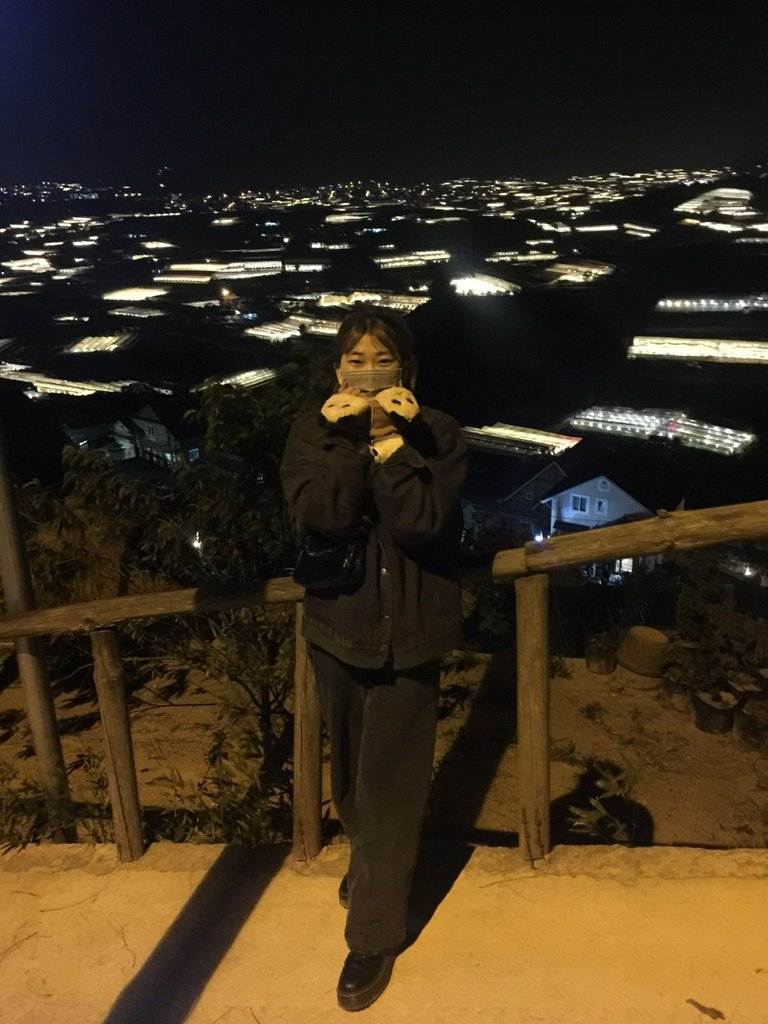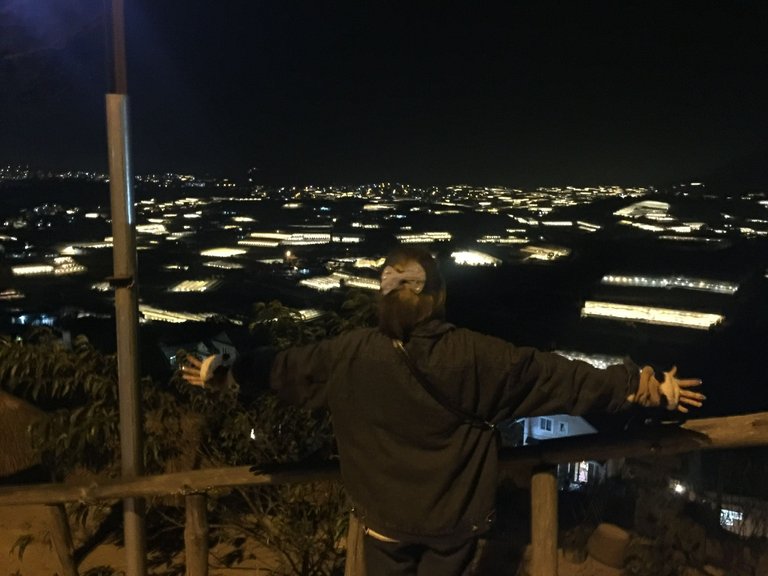 Thank you for reading my post. Wishing you a new week full of energy ❤️
---
---