Splinterlands - Gelatinous Cube Card Very Under Rated
Sometimes you come across a card that just seems like it costs to much mana to be useful in any matches. There are cheaper cards out there that I can add to my lineups to get better results.
Gelatinous Cube
I found the Gelatinous Cube to be one of those cards that just on the surface, you would not want to use. It cost 6 mana with no attack. It is slow with only a speed of 1 and has 8 Health.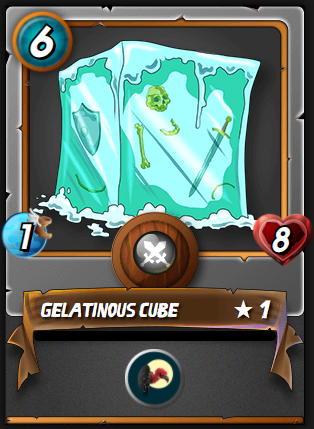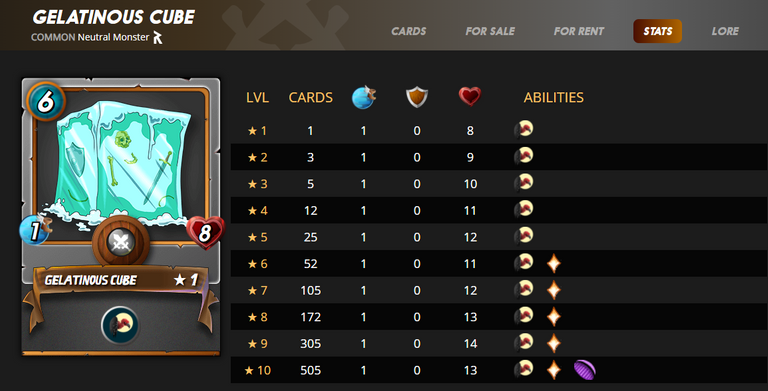 Noxious Fumes
I found a very good use for this card. The Gelatinous Cube has the Scavenger Ability. It gains 1 Max health every time a monster dies. When you get match set rules that have Noxious Fumes, the go to card should be Gelatinous Cube because a lot of monsters will die. It is a neutral card that can be used with any splinter so it will not matter which splinter the rule set limits, the gelatinous cube can still be added to your lineup.
Here is one of my matches where I used it so you can see how it works. The match had a 42 mana limit with Holy Protection and Noxious Fumes. The only splinter that could not be used was Dragon. I have also found that it can not be used with the rule set "Taking Sides" because it is a Neutral card.

https://splinterlands.com?p=battle&id=sl_3ad23fc1e08d587e409b0c8a3d8340bf&ref=darmstrong
My Splinterlands player account is @darmstrong and my blogging account is @darmst5339.
Buy Vs Rent
I would suggest that you rent the card first to see how it would fit into your lineup prior to making the purchase based on the current card prices.
I am currently renting it but will be adding it to my card collection in the near future. Several believe the card prices will decrease when the new Chaos Legion card packs can be opened. If that is the case, I have started a list of several cards that I will be purchasing and one of them will be the Gelatinous Cube
Cost of renting the Gelatinous Cube is only 0.10 DEC per day with a collection power of 15 for the level 1 card. I find it very cheap to rent vs buy at this time. To purchase the card, it costs $3.10 or 289.182 DEC so you could rent it for 2,892 days or about 7.9 years to breakeven.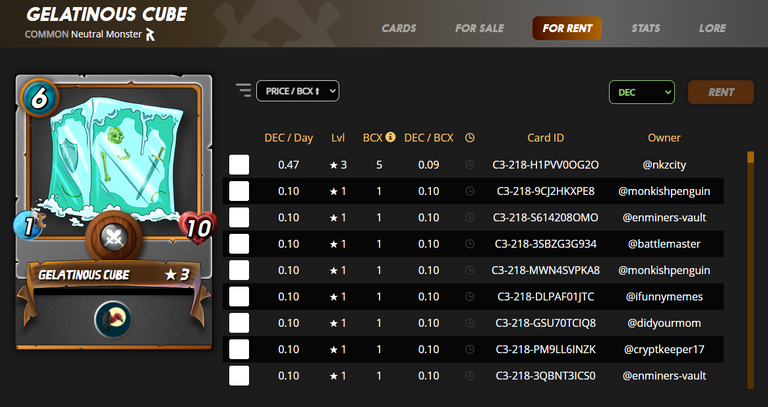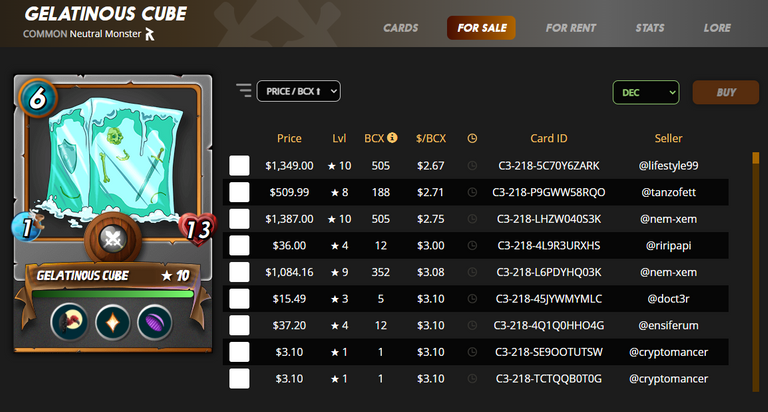 Lore
I always like sharing the Lore of the cards I present in my blogs so that the user can understand the backstory. It find the Lore very interesting for all of the cards. With all of the Lore, the foundations for a great TV series or Movie is already established.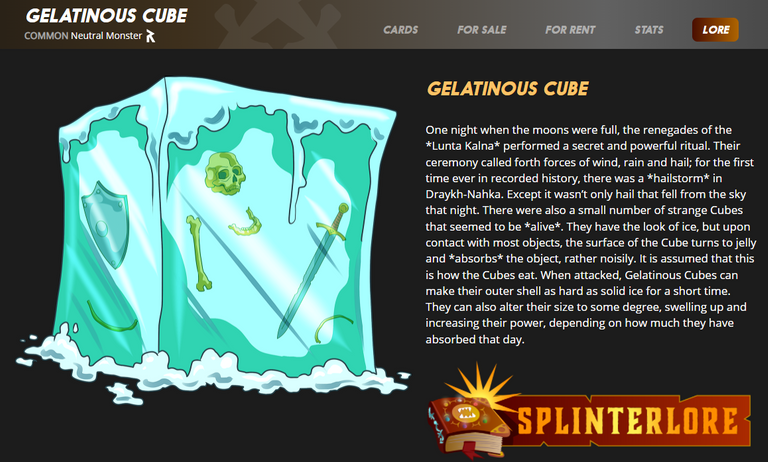 ---
---