Amiga World (May/June 1986)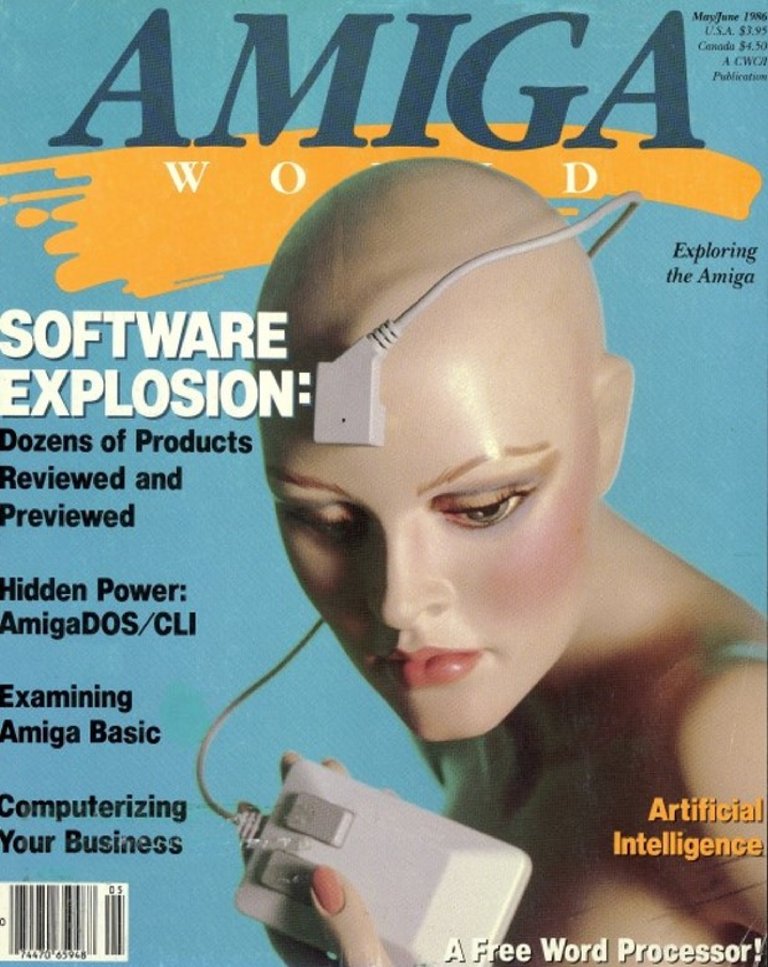 Cover of the May/June 1986 issue of Amiga World
Amiga World is really the only major Amiga magazine that I am aware of that was published in the U.S. There was also Commodore Magazine which covered both Commodore 8-bit computers and the Amiga until 1989 when it ceased being published. There were also a couple of other magazines that covered the Amiga in addition to other computers. But if you were really looking for an Amiga magazine, Amiga World was the only one you could count on finding at your local book store.
The May/June 1986 issue includes:
Features
Window on AmigaDOS: Using the Command Line Interpreter - While the Amiga may have been known more for its GUI interface, it also had a powerful CLI. This is a tutorial on how to use it effectively.


Using the Amiga Editor - AmigaDOS includes a full-screen text editor that can also serve as a basic word processor. This article explains how to use it.


Computerizing a Small Business - Selecting and using the right computer for your small business.


Artificial Intelligence: Expert Systems in the Business World - An article on the state of AI and Expert Systems in particular in 1986.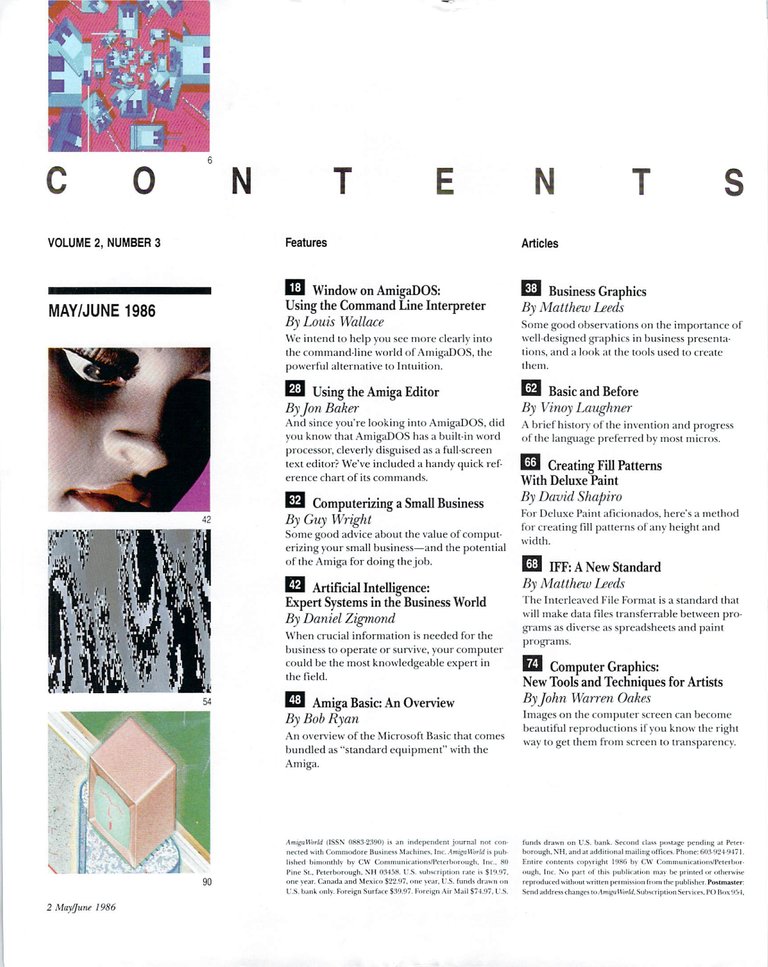 Table of Contents from the May/June 1986 issue of Amiga World
Articles
Business Graphics - The state of creating business graphics (graphs, charts, etc.) on the Amiga.


Basic and Before - A history of the BASIC language.


Creating Fill Patterns With Deluxe Paint - Defining fill patterns and using them to fill different shapes.


IFF: A New Standard - IFF, short for Interleaved File Format, is a standardized file format created by Electronic Arts on the Amiga to make it easier to move data between different computers.


Columns
Avision - An overview of some of the third party add-ons that have been created for the Amiga, including memory expansions from 1MB to 8MB, 20MB hard drives, a 68020 based upgrade, MIDI interfaces, and more.


Zeitgeist - Responding to criticism of the Amiga and Amiga World.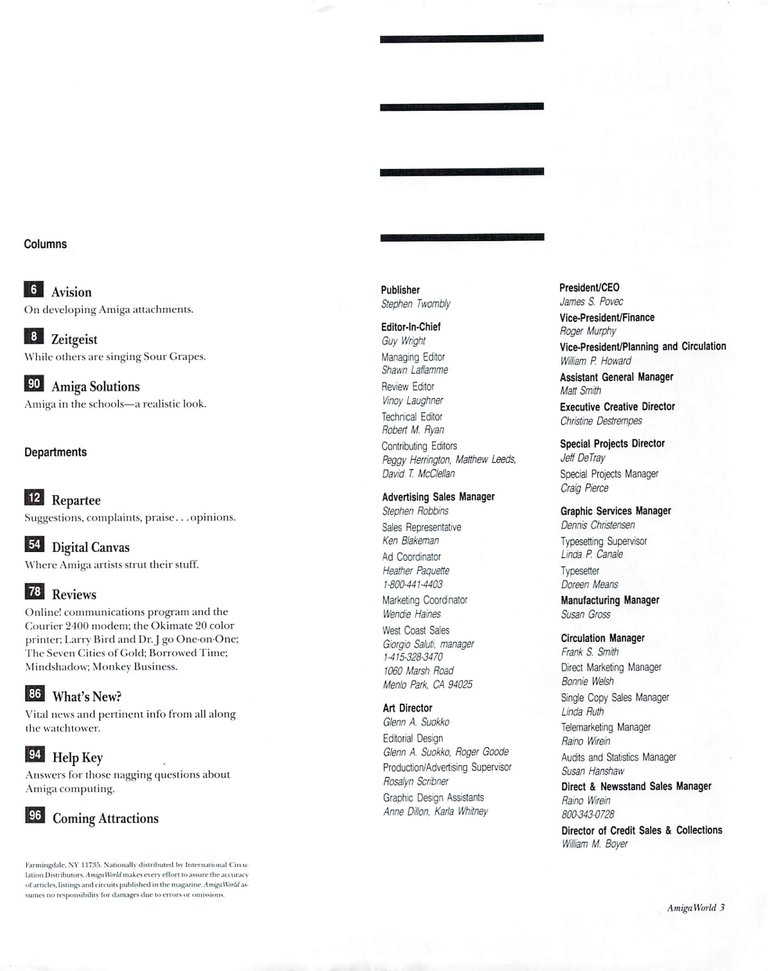 Table of Contents from the May/June 1986 issue of Amiga World (continued)
Departments
Repartee - Letters from readers on topics such as the Macintosh, converting from being a Tandy user, Andy Warhol, Amiga development, OS-9, Amiga vs. the Atari ST, and more.


Digital Canvas - Creating fractals from the Mandelbrot set on the Amiga.


Reviews

Online! and the Courier 2400 - A review of the U.S. Robotics Courier 2400BPS modem and the Online! terminal software.
The Okimate 20 - An inexpensive for the time color dot matrix printer.
One-on-One - The classic basketball game from Electronic Arts.
The Seven Cities of Gold - A graphical adventure set starting in 1492.



What's New? - New this month for the Amiga: Turbo Amiga, a 68020 based upgrade; Aegis Images and Aegis Animator graphics programs; The Halley Project, Keyboard Cadet, Racter and other software from Mindscape; True BASIC Language System; A-Time clock/calendar module; BBS-PC, a Bulletin Board System for the Amiga; various 256K memory upgrades; and more.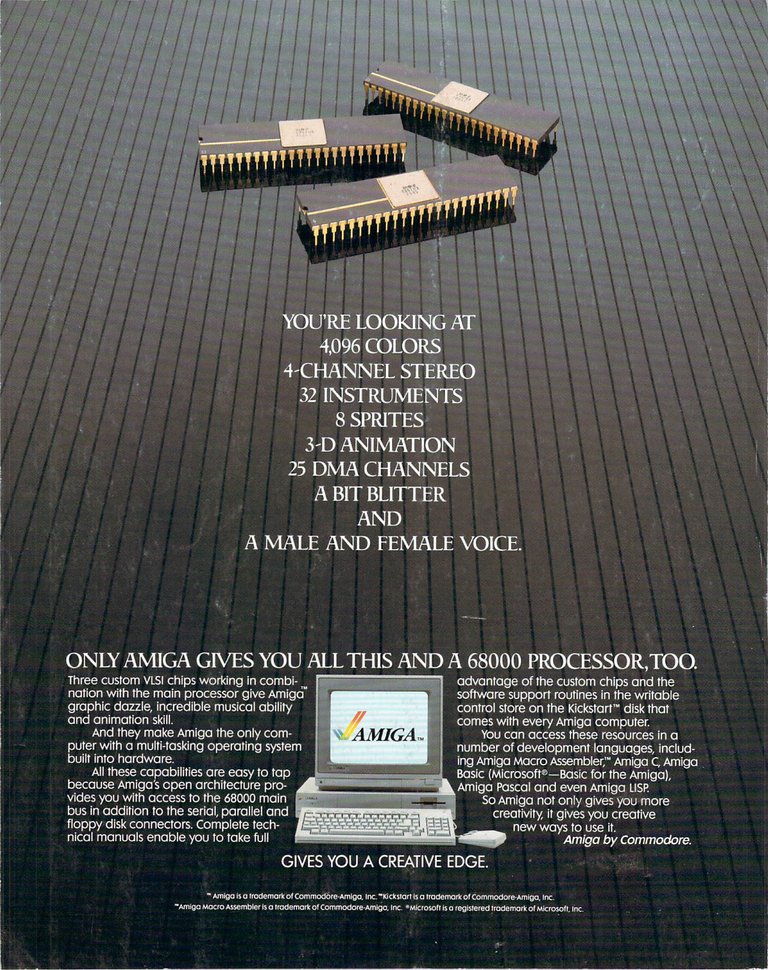 Back cover of the May/June 1986 issue of Amiga World
Read more: https://www.megalextoria.com/wordpress/index.php/2022/07/01/amiga-world-may-june-1986/
---
---