Electronic Gaming Monthly (October 1996)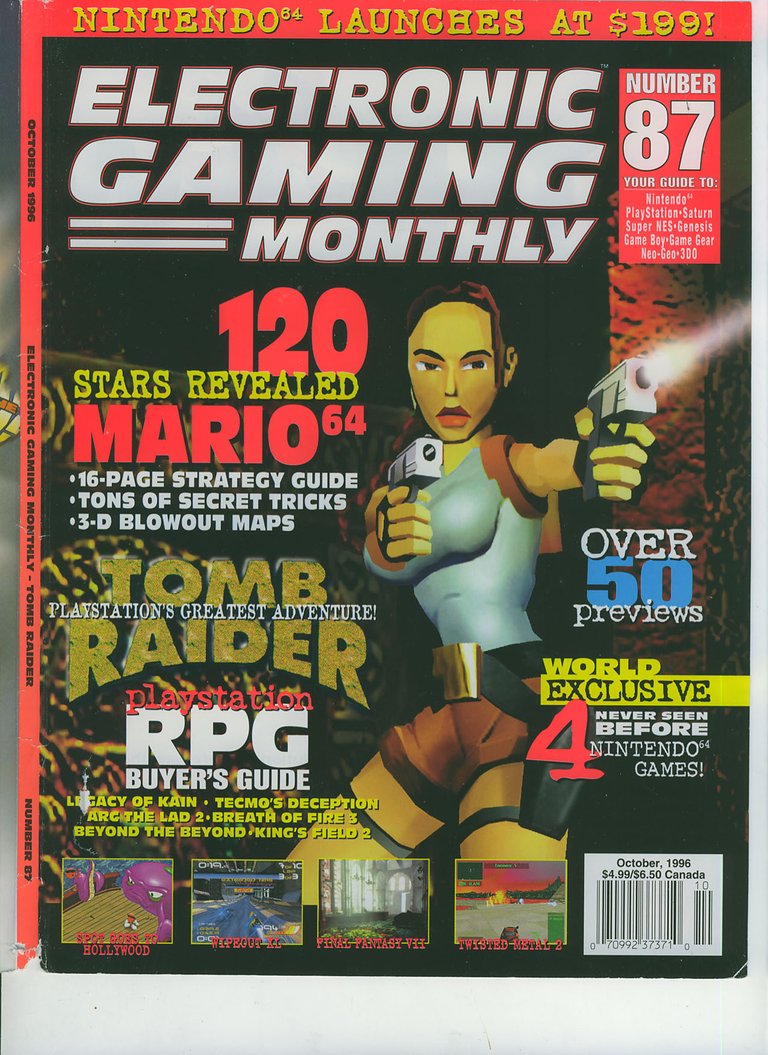 Cover of the October 1996 issue of Electronic Gaming Monthly
Electronic Gaming Monthly was perhaps the most popular and longest running gaming magazine there ever was. At least in the U.S. The October 1996 issue includes:
Departments
Insert Coin - Editorial by Ed Semrad. This month, the topics include shortages of the Sega Saturn, PlayStation and Nintendo 64 for the upcoming holiday season, new games for those systems, and predicting the winner, among other topics.


Press Start - News this month includes: Nintendo dropping the price of the N64 to $199, Matsushita revamps the M2, Interplay elects to bring Clayfighter 3 to the N64 instead of the M2, Gumpei Yokoi leaves Nintendo, and more.


Gaming Gossip - This months rumors include: Nintendo demanding that retailers in Japan had to take at least one copy of Mario 64, PilotWings and at least one 3rd party game as Nintendo 64s; tons of possible new games for the N64; Sony hints that memory cards will become more important for the PlayStation; Capcom passes release duties for Street Fighter Alpha 2 on the SNES on to Nintendo; and more.


Next Wave Protos - A look at games still in development, including: Re-Loaded (PlayStation), Mega Man 8 (PlayStation), Necrodome (PlayStation), Ultimate Mortal Kombat 3 (Genesis, SNES), Tobal #1 (PlayStation), Cruis'n USA (Nintendo 64), Shadoan (PlayStation), Wipeout (PlayStation), Wild 9 (PlayStation), Down in the Dumps (PlayStation), Major Damage (PlayStation), Rev Limit (Nintendo 64), Wild Choppers (Nintendo 64), Tiger Shark (PlayStation), Rebel Assault 2 (PlayStation), Broken Helix (PlayStation), Ball Blazer (PlayStation), Final Doom (PlayStation), Warhammer: Shadow of the Horned Rat (PlayStation), Seta Open Golf (Saturn), Werewolf (Nintendo 64), and Tenka (PlayStation).




Table of Contents from the October 1996 issue of Electronic Gaming Monthly

Tricks of the Trade - The trick of the month is how to get invulnerability in Gunship for the PlayStation. Tricks are also included for other games including: Super Mario 64 (Nintendo 64), Need for Speed (PlayStation), Bladeforce (3DO), Gun Griffon (Saturn), Tetris Attack (Super NES), International Track and Field (PlayStation), Skeleton Warriors (PlayStation), Pilotwings 64 (Nintendo 64), Golden Axe: The Duel (Saturn), Clockwork Knight 2 (Saturn), Resident Evil (PlayStation), and lots more.


Special Features - Includes detailed coverage of Tomb Raider for the PlayStation (cover story) and Virtua Fighter 3 for the Saturn.


Contests - An NBA Jam contest, a Formula 1 contest and a Shining Wisdom contest.


Team EGM - Coverage of sports games including previews fro Power Move Pro Wrestling, Ten Pin Alley, NHL Hockey '97, Coolboarders, and Waverace 64; reviews for Madden '97 (PlayStation), NCAA GameBreaker (PlayStation), NFL QB Club '97 (Saturn), and Andretti Racing (PlayStation); and an interview with John Madden.


Features
Here Come the RPGs - An overview of RPGs for the PlayStation. Games covered include Blood Omen: Legacy of Kain, Arc the Lad I & II, Suikoden, Breath of Fire 3, King's Field 2, Ark of Time, Final Fantasy Tactics, Final Fantasy VII, Beyond the Beyond, and Tecmo's Deception. As you can see, they have a pretty broad definition of "RPG".


Sega Gamers' Day - Sega Gamers' Day was a Sega game exhibition where members of the press were allowed to view Sega's latest games. Games demoed in 1996 include Krazy Ivan, Mr. Bones, Sonic X-Treme, Bug Too!, Virtual On, X-Women, Scud, Mechwarrior 2, Vectorman 2, Mass Destruction, Herc's Adventure, World Series Baseball 2, Swagman, Tempest 2000, PTO II, ID4, Waterworld, Hexen, Lunar, Mega Man 8, Doom, Street Racer, and Black Dawn.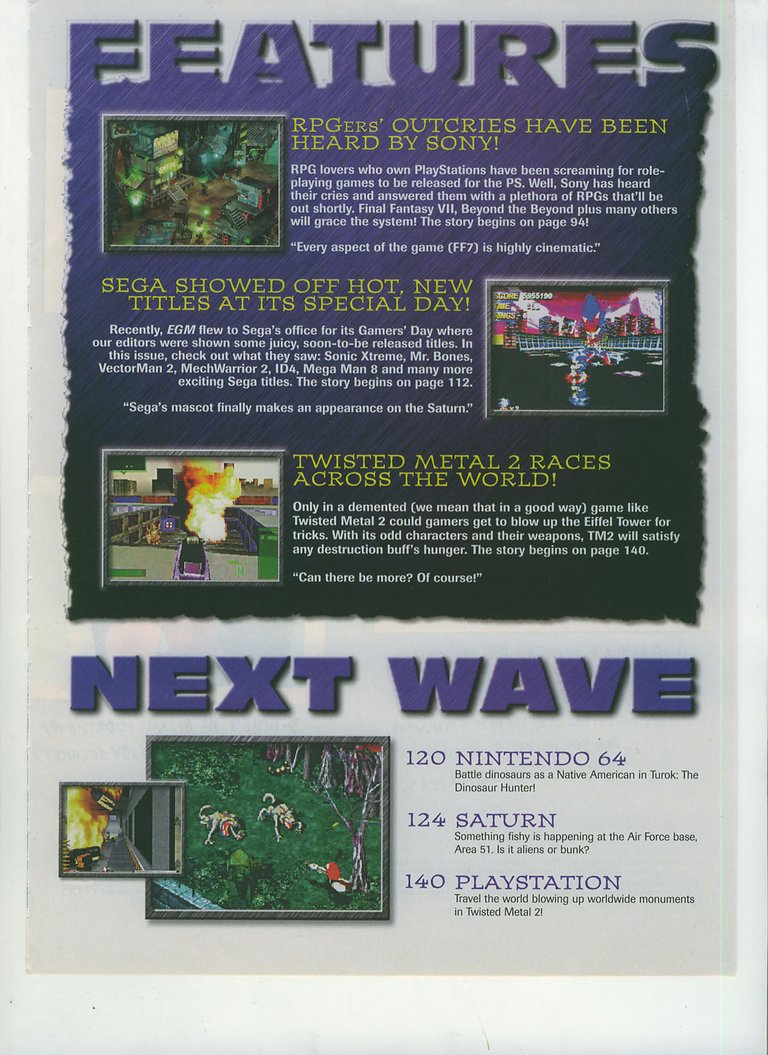 Table of Contents from the October 1996 issue of Electronic Gaming Monthly (continued)
Next Wave
Nintendo 64 - A preview of the upcoming Turok the Dinosaur Hunter for the Nintendo 64 (50% complete).


Saturn - Previews of the upcoming Area 51 (70% complete), Three Dirty Dwarves (75% complete), Machinehead (70% complete), Robo Pit (100% complete), Tetris Plus (100% complete), Alien Trilogy (100% complete), and Twisted Metal 2 (60% complete) for the Saturn.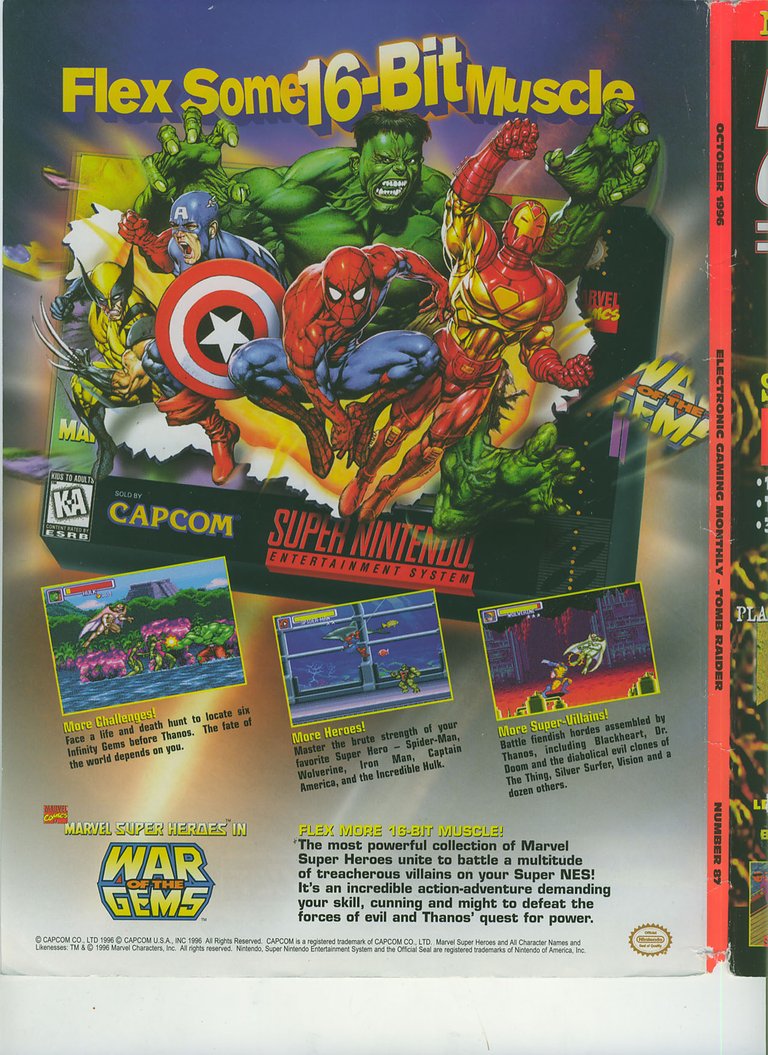 Back cover of the October 1996 issue of Electronic Gaming Monthly
Read more: https://www.megalextoria.com/wordpress/index.php/2015/09/22/electronic-gaming-monthly-issue-number-87-october-1996/
---
---