PC World (December 1999)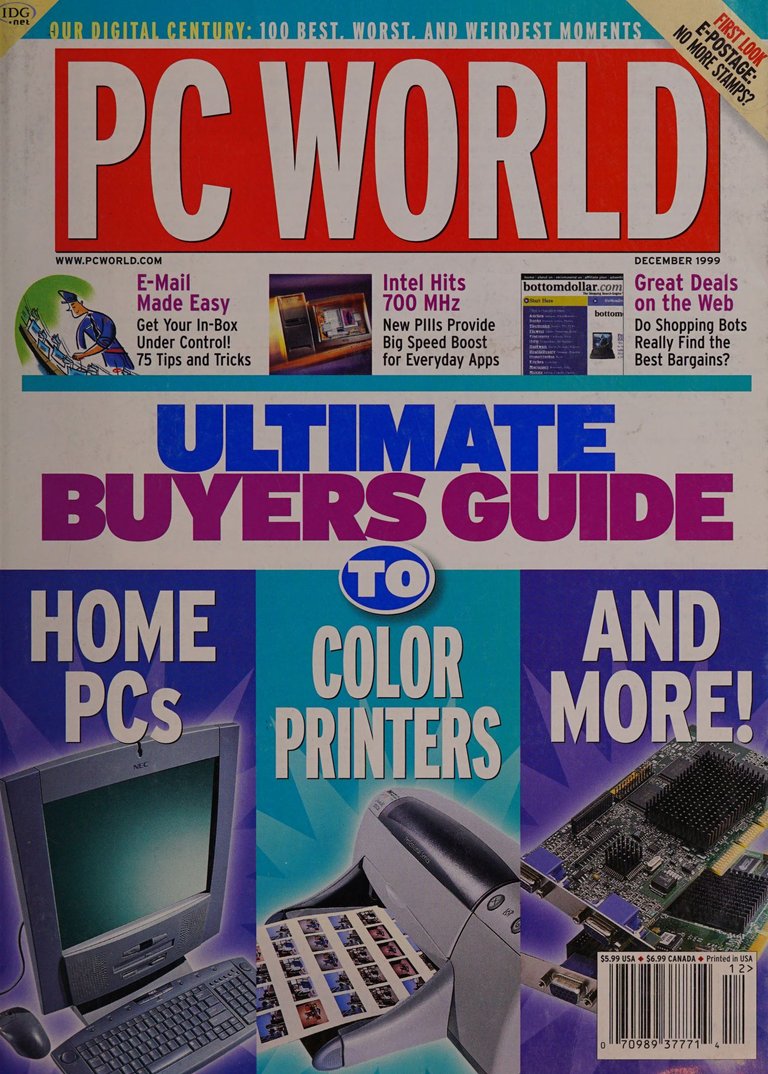 Cover of the December 1999 issue of PC World
A computer magazine with around 400 pages at a cover price of under $6. This is what it was like in 1999. 400 pages is getting close to Computer Shopper territory. A lot of it was ads of course but there was a lot of content too. The December 1999 issue of PC World includes:
Cover Story
Ultimate Buyers Guide: Home PCs - The best power PC this month is the Dell Dimension XPS T600 featuring a Pentium III-600, 128MB of RAM, 512K L2 cache, 20.4GB hard drive, and 19-inch monitor (CRT of course) for $2549. The best midrange PC is the similar Dell Dimension XPS T500 featuring a Pentium III-500, 128MB RAM, 512KB L2 Cache, 13.6GB hard drive and 17-inch monitor for $1659. The best budget system was the Micron Millennia C466 featuring a Celeron-466, 64MB RAM, 128KB L2 cache, 4.3GB hard drive and 15-inch monitor.


Ultimate Buyers Guide: Color Printers - The best color ink jet printer was the HP DeskJet 812C for $149. Printers from Canon, Lexmark, and Epson were also in the Top 10.


Features
The Digital Century - 100 of the best, worst and weirdest events in computing history. Some highlights include the introduction of the IBM PC in 1981, the creation of the Apple I in 1976, the Pentium math bug in 1994, VisiCalc (the first killer app) was released in 1979, people line up for the midnight release on August 23 1995 of Windows 95, and tons more.


Postmasters - 75 e-mail related tips. Tips include switching from HTML to plain text and other formatting tips, saving e-mail without the attachments, encrypting e-mail, using webmail, and much more.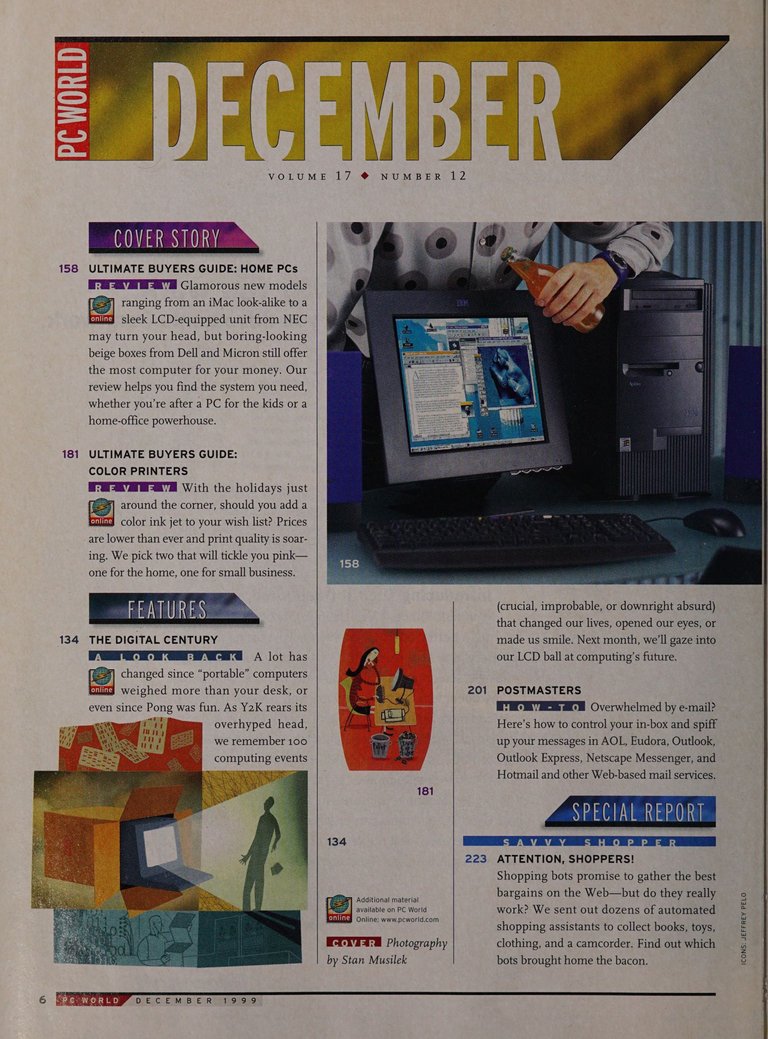 Table of Contents from the December 1999 issue of PC World
Top of the News
700 MHz...and Beyond - Intel introduces the Pentium III-733 (Coppermine) and AMD introduces the Athlon-700 for the fastest processors available so far.


PIII Notebooks: Speed and Power - A look at new PIII based notebooks including the Dell Inspiron 7500 (Pentium III-500), Gateway Solo 9300 (Pentium III-450), and HP OmniBook (Pentium III-500) as well as some benchmarks and how the compare vs. slightly older Pentium II models.


BCENTRAL.COM for Web Business - A web site from Microsoft meant to get your small business a presence on the web.


Office Apps Move Online - Online office tools are not really a new idea but just didn't seem to get widespread use until Google Docs came along (being free helped). Here, plans from Sun Microsystems (StarOffice), Microsoft, and Corel (WordPerfect Suite) are talked about.


New Products
Compaq Deskpro EP 500, Dell OptiPlex GX110 Desktop PCs - Two new systems that use Intel's new 810e chipset. They each feature a Pentium III-500 and 128MB of RAM and cost a little over $1400. I have a GX110 at home waiting for a hard drive and memory upgrade.


Paint Shop Pro 6 - Paint Shop Pro was my favorite image viewing/editing app for a long time.


Compaq Presario 305 ultralight notebook; Corex CardScan 500 scanner - The Presario 305 is an ultraportable weighing a little over 3 pounds featuring a Celeron-333 CPU and 64MB RAM for $2199. The CardScan 500 is a business card scanner (along with software for the purpose) for $299.


Epson Stylus Scan 2500, Xerox WorkCentre XK35c multifunctions; SmartOnline.com - The Stylus Scan 2500 and WorkCentre XK35c are presented here as the first multifunction devices with a flatbed scanner at a reasonable price ($440 amd $349).


Gateway Astro desktop; Matrox Marvel G400-TV graphics card - The iMac popularized the all-in-one PC design and the Astro is Gateway's version featuring a 400-MHz Celeron CPU and 64MB RAM for $799. The Marvel G400-TV is a graphics card from Matrox that combines 2D/3D output along with video capture capabilities.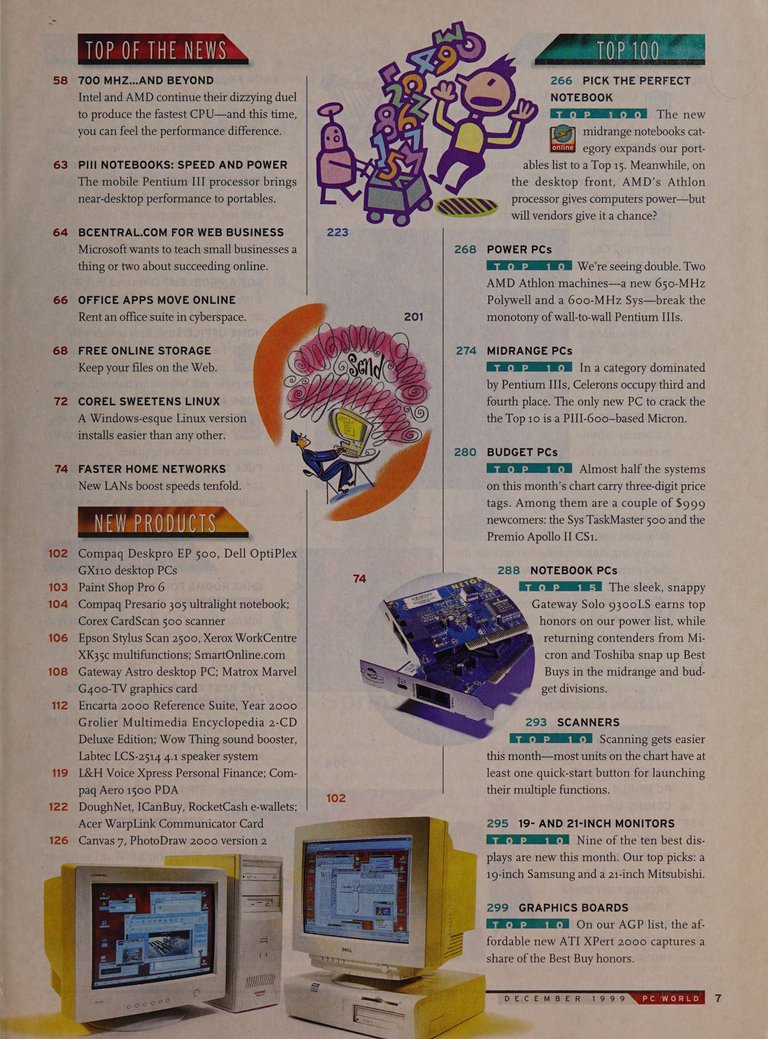 Table of Contents from the December 1999 issue of PC World (continued)
Top 100
Power PCs - Three Pentium III-600 systems make the top 10 along with one Athlon-600, one Athlon-650, one Pentium III-500 and a few Pentium III-550s.


Midrange PCs - Mostly Pentium III-450 to 600s and a a couple of Celerons. My favorite PC maker, Gateway, is on this list at #4 with the Gateway GP6-466c. It's a Celeron based system though and I never would have bought one of those.


Budget PCs - Mostly Celerons on this list though there is a Pentium III-450 and a K6-III-400 based system as well.


Notebook PCs - The top power notebook this month is the Gateway Solo 9300LS featuring a Pentium II-400, 128MB of RAM, 15-inch screen and 12GB hard drive for $3374. The top midrange notebook is the Micron TransPort Trek 2 featuring a Celeron-400, 64MB of RAM, 14.1-inch screen and 4.3GB hard drive for $2299. The top budget notebook is the Toshiba Satellite 2595CDS featuring the Celeron-400, 64MB of RAm, 14.1-inch screen and 4.3GB hard drive for $1499.


Here's How
Windows Tips - Tips for viewing thumbnails, setting a default replacement for "My Documents", accessing the Program Files folder in Windows 98 from Windows 95 or NT 4, and more.


Windows NT - Tips for using the command line in Windows NT 4.


Answer Line - Questions answered about bypassing the logon password in Windows 98, closing multiple programs at the same time, and sharing a printer among others.


Internet Tips - Solving crashing and freezing problems on AOL 4.0, printing web pages, using Hotmail as your default e-mail in Internet Explorer, and more.


Word Processing - Using macros in Word, correcting errors in custom spelling dictionaries, removing line numbers from blank lines, and more.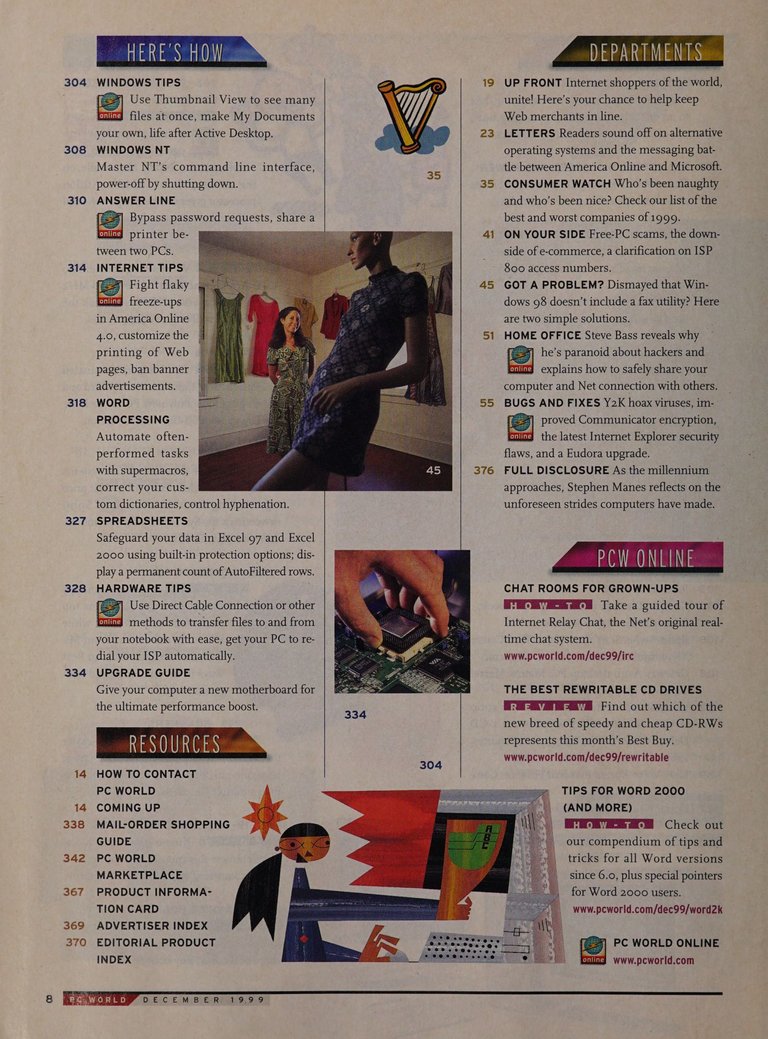 Table of Contents from the December 1999 issue of PC World (continued)
Departments
Up Front - Web sales are expected to be up 6twg_sh0% compared to the previous holiday season but customer satisfaction was not especially high. Web sites that can't handle the load, late shipping, and poor customer service in general were big problems the previous year.


Letters - AOL vs. Microsoft in the online world. Microsoft Messenger challenges AOL Instant Messenger (both now dead), and more. Plus questions about BeOS, OS/2 and Linux and more.


Consumer Watch - A look at Intel's processor serial number, cable companies, Yahoo and Geocities, and more.


On Your Side - Problems with Microworkz, so-called "free" PCs, and more.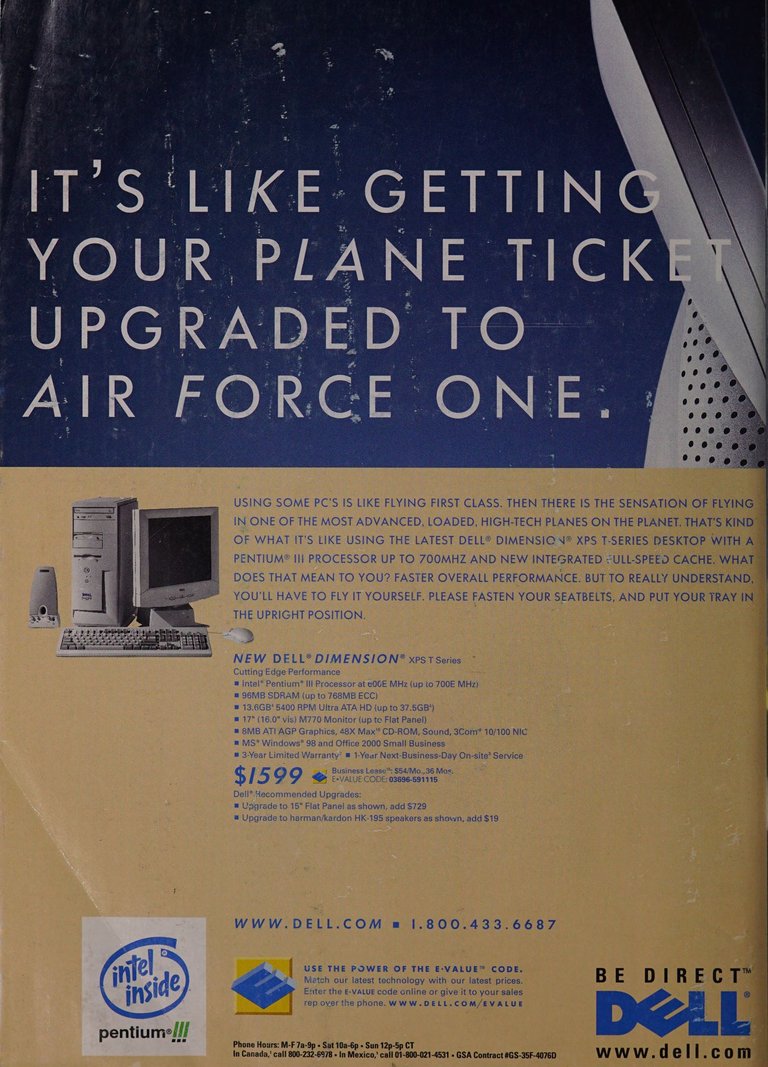 Back cover of the December 1999 issue of PC World
Read more: https://www.megalextoria.com/wordpress/index.php/2023/09/28/pc-world-december-1999/
---

Check out my other Social Media haunts (though most content is links to stuff I posted on Hive or reposts of stuff originally posted on Hive):

Wordpress: https://www.megalextoria.com/wordpress
Tumblr: https://www.tumblr.com/blog/darth-azrael
Twitter: https://twitter.com/Darth_Azrael
Blogger: https://megalextoria.blogspot.com/
Odyssee: https://odysee.com/@Megalextoria:b
Rumble: https://rumble.com/c/c-2385054
Daily Motion: https://www.dailymotion.com/Megalextoria
---
Books I am reading or have recently read:
The Templars by Dan Jones
The Lies of Locke Lamora by Scott Lynch
Republic of Thieves by Scott Lynch
---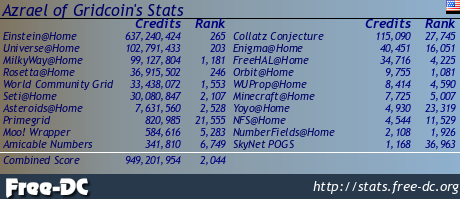 ---
---