TV Gamer (March 1984)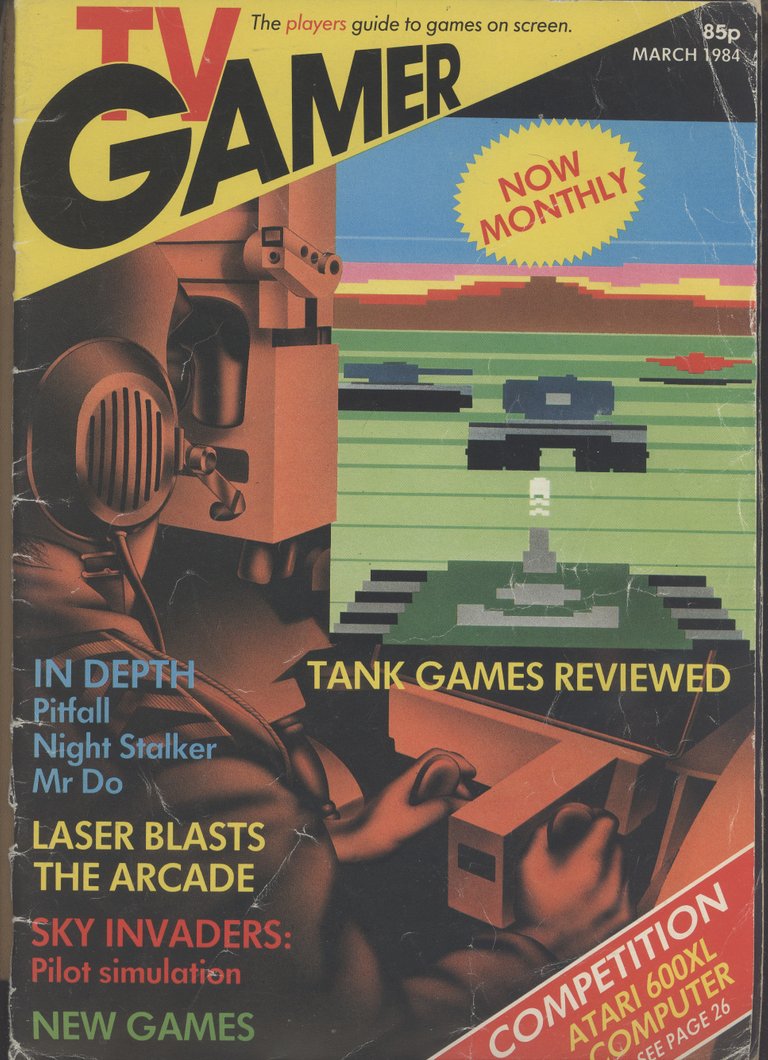 TV Gamer Magazine was published in the U.K. from the Summer of 1983 through March 1985 and covered the various video game consoles of that time. The last two issues were incorporated into Big K before disappearing completely. The March 1984 issue includes:
Cover Feature
Tanks a lot - Taking time out from outer space, we beam down to earth for tank-based battle games, with a survey of tank games.
Reviews
The New games - Big Brother - that's Darrin Williamson to you, folks - takes a look over the new goodies, and finds the future far from black.
In Depth Reviews
Night Stalker - New it isn't, but this intriguing Mattel maze is still adding new addicts, so perhaps they'll be relieved that assistance is at hand, in the form of Paul Whiffin who shows you how to zap the robots, spiders and other meanies.


Pitfall - Harry, the hero of Pitfall, has a total of 256 jungle screens to negotiate before he can collect enough money bags, gold and silver bars, and diamond rings to make it worthwhile braving the crocs, scorpions, fires and death pits that lie in wait. Dave Bishop shows you how harry can make it.
Systems
Atari Excels - Inside the new XL generation of computers, we find there's a lot of power, plus a keyboard that really works. We take the lid off while not baffling you with the scientific jargon. Don't you wish all hardware reviews were written this way?
Competition
Special Delivery
Getting games into your machine - A no-nonsense guide to carts, cassettes, floppies, microdrives and other thingies, from Karl Dallas, who got it all out of his bubble memory - before it burst.
The Arcade Scene
The laser game is here - After its frenzied fictional role as a space weaponry, the laser finds a real-life existence as the technology behind some of the finest video graphics you've ever seen. Andy Harris spits on his hands and climbs into the cockpit of two of the most realistic ones.
Games Governments Play
Sky wars - These games are deadly serious, as today's Biggleses throw themselves about a computer-generated sky, without endangering a million quids' worth of jet fighter. Plus some dazzling full-color pictures of what it feels like to be in the cockpit.
Regulars
The green eye shade department
News
Top 20
Read more: https://www.megalextoria.com/wordpress/index.php/2021/10/20/tv-gamer-march-1984/
---
---