Genealogy: William de Radclyffe (1164-1220)

I'm experimenting with posting some random bits of my genealogy research here with the goal of eventually creating a linked family tree on Hive. You can see the index here.
This is yet another individual that is far enough back that the only way you'll find him in a family tree is if there is a royal relationship somewhere. I can tell from my family tree structure that this person is a direct ancestor through my great-great-grandfather's mother on my father's side. Not sure exactly how many generations back as I am too lazy to try to count and the Gramps relationship calculator doesn't seem to want to do more than about 27 generations or so without hanging. Anyway, other than dates, I haven't collected a whole lot of info on William de Ratclyffe except to note that he was High Sheriff of Lancaster.
I use GenoPro to maintain my family tree but I use other programs to generate reports/web pages. Gramps is open source software for Windows, Linux and MacOS that I have been using to generate static HTML reports and is what the info you see below is based on. I also use its relationship calculator functionality as noted above. I've also been exploring GedSite, a program that takes a gedcom file and converts it into html, and The Next Generation of Genealogy Sitebuilding which is web based and requires a setup with a web server, PHP and mySQL. Mostly I've been playing around with TNG which is excellent but I'll get back to GedSite eventually.
I actually like TNG enough that I have contemplated just using that as my only reporting software. However, there are a few reasons why I probably won't. First, it's "closed source" commercial software whereas Gramps is open source. Second, Gramps generates pure HTML/Javascript so that it is easy to copy and move around whereas TNG relies on having a database and web server. Finally, it's easier to extract data out of for adding here, for example. While I have been using GenoPro and Gramps for many years, I've only started using TNG and GedSite within the last year or so. I kind of want to get back to exploring GedSite more but it's such a pain to shift gears like that...
The chart at the top is an ancestry chart out to four generations from Gramps. The chart at the bottom is a descendancy chart out to four generations as produced by TNG. The index of all individuals I have posted so far can be found here.
The Skaggs-Files
de Radclyffe, William 1a
| | |
| --- | --- |
| Birth Name | de Radclyffe, William |
| Gender | male |
| Age at Death | 56 years |
Source References
Michael Neuman: http://wc.rootsweb.ancestry.com/cgi-bin/igm.cgi?op=GET&db=clcaldwell&id=I027206 @ RootsWeb Caldwell and related families

Source text:

ID: I027206
Name: William de Radclyffe , High Sheriff of Lancaster 1
Sex: M
Birth: 1164 in Radcliffe, Lancashire, England 1
Death: 1220 in Radcliffe, Lancashire, England 1

Father: Henry de Radclyffe b: ABT 1144 in Radcliffe, Lancashire, England

Marriage 1 Cecilia de Montbegon b: ABT 1165 in Hornby Castle, Lancaster, Lancashire, England
Children
Adam de Radclyffe b: 1188 in Radcliffe, Lancashire, England
Geoffrey de Radclyffe b: ABT 1190 in Radcliffe, Lancashire, England
Hugh de Radclyffe b: ABT 1192 in Radcliffe, Lancashire, England

Sources:
Title: robert de radclyffe.ged
Repository:
Media: Other
Text: Date of Import: 23 Mar 2005

 

Citation:
Generated by Gramps AIO64-5.1.5-1
Last change was the 2023-08-15 14:59:43
---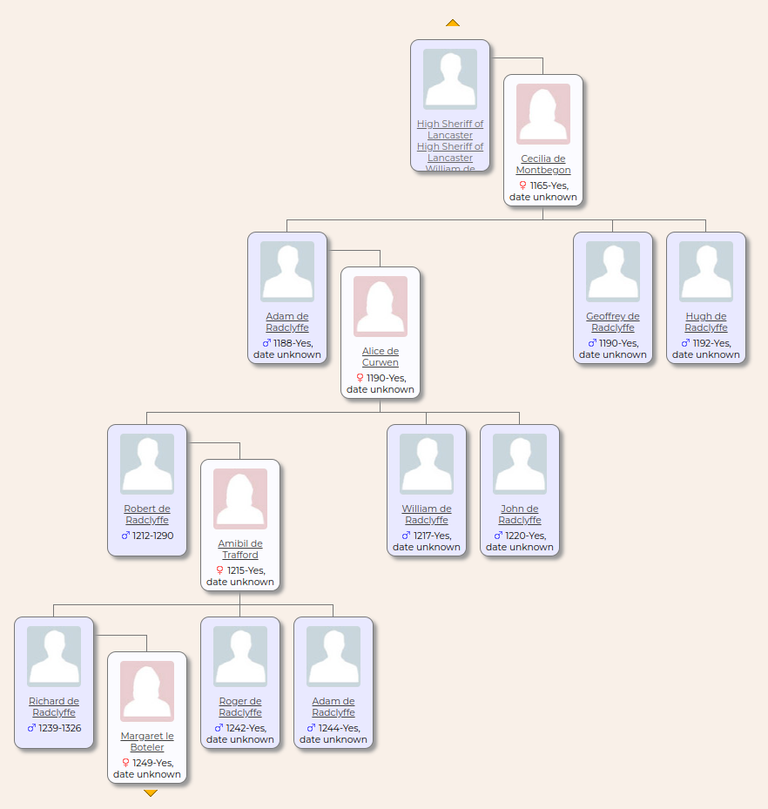 ---
---