𝚃𝚑𝚎 𝚈𝚘𝚞 𝚆𝚒𝚝𝚑𝚒𝚗 𝚃𝚑𝚎𝚖 🔗

As in, practically everyone adjacent to me is a close buddy. I love interacting, and I am natural at socializing. I spent years at seven academic institutions as well as five distinct dormitories. I've seen a lot of folks, but I've never come across anyone with more friends than I do. It's not for being in so many destinations. In every dormitory, I was the one with the most friends. I used to wonder how I happened to be this way. But now I know why I am like this and whom I have to thank for the finest gift of getting along with others. The way I perceive things, they look a lot more intriguing today.
I was tasked with interviewing someone, and the result says so much. That's the reason I want to share it with everyone. People need to know and realize things. The earth is the same, but the center is distinct from person to person.
𝐈𝐧𝐭𝐫𝐨𝐝𝐮𝐜𝐭𝐢𝐨𝐧 𝐨𝐟 𝐦𝐲 𝐈𝐧𝐭𝐞𝐫𝐯𝐢𝐞𝐰𝐞𝐞
His name is Falkner. We used to stay at the same dormitory. I was in class nine when I was enrolled in Cambrian, and he was there from seven. It took me only two days to learn about him. He was living with some tags, and if I am honest, nothing appeared wrong. People used to call him "Self-Whale," since fish appeared too small for someone of his caliber. He had numerous classmates but no buddies. Yes, people used to engage with him, but everyone preferred to taunt him for his behavior. He will eat from you, but sharing isn't on his agenda. If he was exposed while bunking class, the teacher will know about all others as well. This was my friend. self-centered, pompous, and greedy.
I approached him for an interview, and as I feared, he didn't want to do that. He was too timid to speak, but in friendship, we understand how to deal with our mates. And I have already told you how good I am. So I asked him all the necessary questions. I didn't get all the answers, but it was enough.
𝐓𝐡𝐞 𝐈𝐧𝐭𝐞𝐫𝐯𝐢𝐞𝐰
He is the elder son in his family, with two small sisters. His father is a politician, whereas his mother is a homemaker. Aunty has always desired a peaceful and honest life for him. He had so many constraints while growing up. He wasn't allowed to play with all the kids since Aunty only wanted the best around him. She was extremely passionate about his education, and she always endeavored to keep him out of politics. This is the reason he was staying in a hostel. She used to visit him and the teachers every weekend. Punishment was inevitable for any infraction, even the tiniest. He was renowned in his neighborhood for being the oldest kid of a politician, so he had to cope if something went wrong and ended up at his home, which was a dread for him. He didn't like to convey his emotions. He was terrified of Auntie all the time. She was really protective as well. She used to take him out, and he wasn't permitted to go out on his own from the hostel, even in college. This was my friend. Little, terrified and anxious.
As for now, he shares his difficulties with his wife, and occasionally I am the chosen one. When a crisis or conflict emerges in the relationship, he feels more comfortable distancing himself. He won't even hesitate to blame the other person if necessary. But I was ignorant of this aspect. Yes, I knew Auntie was excessively anxious about his future, but what he felt must have been tough to swallow for a little kid.
𝐌𝐲 𝐂𝐨𝐧𝐧𝐞𝐜𝐭𝐢𝐨𝐧
I feel sorry for him, but I'm also proud. The tags he was lugging in the dormitory brought him additional trauma. He was never given the opportunity. Yes, he threw up my name when I bunked the class. I was so mad at him. I dealt with this problem nicely, but in the end, he transpired. A few days back, I was enjoying Coke, and he asked for some. I shared it with him, and to be honest, I wouldn't say no to anybody either. The following day he was drinking speed, and as soon as he spotted me, he kissed the bottle so hard that I chuckled heartily. I wasn't even going to ask. He did it because he believed in the concept of reciprocity. A few days later, I was entering a restaurant near my school. He asked me whether I would pay for his biriyani. There was a saying among us: Don't offer him anything because until you say no, he will come back to you. For a school attending youngster, paying that was a big deal. I don't know why I consented to do so. His conduct was still the same. One day, while on vacation, he phoned me and requested 500 taka. He told me he was on tour and all the money was spent. He was very hungry, yet terrified to call home. He tried everyone except for his close relatives since his parents wouldn't like it. I was a young lad, but I managed to bkash him. That was it. We have been buddies since then. He was too touched. I saw a different person in him. And that is my friend. Not selfish, not greedy, not pompous.
𝐖𝐡𝐚𝐭 𝐈 𝐡𝐚𝐯𝐞 𝐭𝐨 𝐒𝐚𝐲
I believe that the person you identify in others is also a reflection of yours. Why do we judge people? Who are we to do that? It's God's staff. Why can't we leave it for him? All we need to do is comprehend one another and aid to accomplish the finest of ourselves.
𝐀𝐭𝐭𝐚𝐜𝐡𝐦𝐞𝐧𝐭 𝐒𝐭𝐲𝐥𝐞𝐬
Now I know why I supported him. When my mother used to scold me, my aunt and uncle were there to support me. My cousins used to defend me, even in my wrongdoing. My father has withstood innumerable beatings from my mother while safeguarding me. I used to share what I felt with my father, uncles, aunts, and grandparents. I used to spend my time in numerous residences with so many relatives. My two brothers died before me, therefore I was not less significant to them than a president. This is how I devised the secured attachment style.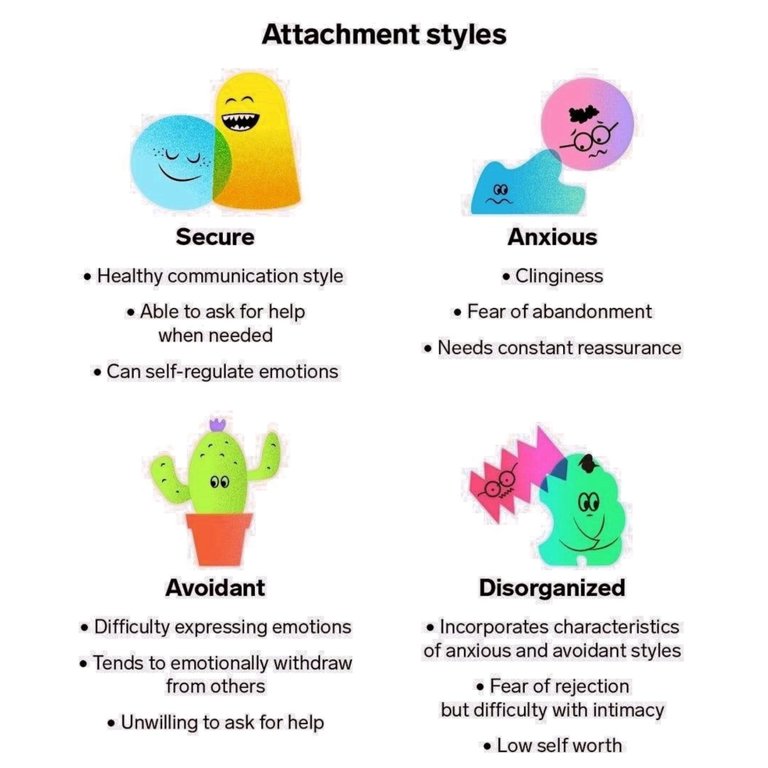 Unfortunately, for my friend, it went wrong. There is no doubt his parents love him as much as my parents do. Auntie used to visit him no matter the weather or her life's problems. but that wasn't the way. It was too much for a little boy. All this forced him into an anxious and avoidant attachment pattern, leading to a disorganized attachment style.
𝐖𝐡𝐞𝐫𝐞 𝐖𝐞 𝐍𝐞𝐞𝐝 𝐭𝐨 𝐅𝐨𝐜𝐮𝐬
But there is always an opportunity to rectify that. My friend has changed. My tiniest gesture of compassion changed everything for him. He was willing to accept and change. He used to listen to me. I am delighted that he met the love of his life and got married to her. It was the love she provided that made him the man he is today.
So, I would ask "before criticizing,have you tried to fully understand the person?" Who are you? It doesn't matter. All that counts is who you are going to be.
🅷🅰🆅🅴  🅰  🅽🅸🅲🅴  🅳🅰🆈 ❗   🅰🅳🅸🅾🆂 ❗


---
---
---